Today it is my pleasure to Welcome romance author
Lizbeth Selvig
to HJ!
 Hi Lizbeth, welcome to HJ!
What would you say are the 5 best things about being a writer?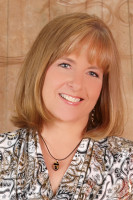 Number 5. I get to listen to the voices and ideas in my head and people don't think it's weird.
Number 4. It's a very cool thing to tell people I do.
Number 3. There's an amazing sense of accomplishment to have finished a 400-page book and have someone other than a family member read it!
Number 2: I get to meet the most amazing people in person and online!
And the number 1 best thing about being a writer? I get to write!
Let's talk about your newest release: Rescued by a Stranger
If you had to summarize the book for the readers here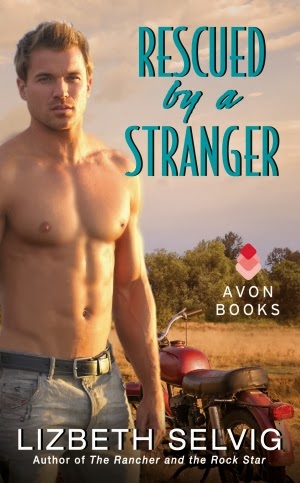 My newest book is "RESCUED BY A STRANGER" Here's the blurb from my website:
Jill Carpenter is a woman with big Olympic dreams and an even bigger heart. When a sexy stranger with a tragedy in his past and a secret too painful to share rides to her rescue on a vintage motorcycle, Jill's vision of her future changes quicker than she ever imagined it could.
Chase Preston wants nothing more than to forget his past and keep his identity to himself. He has no business getting in the way of Jill's dreams, even if he can't help but fall in love with her. But a very unusual stray dog, two teenage sisters with attitude problems, and a crotchety old farmer, conspire to push Chase and Jill deeper and deeper into a love like they've never experienced before—a love that could lead to understanding, absolution, and a perfect happily-ever-after–if only they can learn to trust.
Please tell us about the characters in your book?
I have so many favorites! I adore my secondary characters as much as my hero and heroine.
Chase Preston is an everyday hero. In his "real life" he's even got a touch of alpha. But he's an alpha who's hurting and I think that's what I love about him–he's vulnerable and he has to make the best of not knowing how to handle it.
Jill Carpenter is a total sweetheart. She ha a true heart of gold–to the point where Chase has to tell her she can't please everyone. She needs to learn to please herself. She'd fix the world if she could.
Robert McCormick is the definition of curmudgeon. He's 82 but quick, snarky, insightful, blunt and a complete marshmallow heart. I love that he gets an entirely new lease on life when Jill and Chase burst into his world!
Jamie and Becky Barnes couldn't be more opposite even though they're twins. After an accident left Jamie in a wheelchair, Becky slid into anger and attitude. Her parents are trying desperate measures to bring back the cheerful A-student she once was, like putting her in riding lessons. Unfortunately, it's Jamie who's horse-crazy.
Dee Carpenter–Jill's beautiful, narcissistic sister. She's annoying and sometimes mean–but even she learns a few lessons.
Angel–possibly the most insightful dog on the planet. The question is — where did she come from and what was she doing in the road?
Finally–James Krieger, my antagonist. He works for the company where Chase gets a job. Unfortunately, he takes an intense dislike to Chase after their first volatile meeting.
Was it love at first sight for your characters? If not what was the pivotal moment of change?
In a way it was love at first sight–in the sense that there was no animosity–they liked each. But neither Jill nor Chase wanted to act on the attraction. Chase learned very quickly how talented Jill was and what potential she had. Her future was so bright–including a chance to make the Olympics. He didn't plan to get involved with anyone because his own life was in such a mess.
The pivotal moment of change came through Angel, the stray dog. When a dark, quiet barn, and a cleanly bedded stall presented itself–no way was that dog going to let them miss an opportunity for a first stolen kiss!
If your characters could go back in time and change one thing what would it be? Why?
For Chase that's an easy question to answer. In a heartbeat he would go back and pick up his young patient Tiana Washington on time, before she was hit by bullets from a gang shooting. He could assuage his guilt over Tiana's death.
Jill would go back in time and keep her father from leaving their family. She's never really come to grips with the fact that her father lied about coming back. He left for good. Having her father around would have healed a lot of mistrust throughout her life.
What scene did you have the most fun writing? Why?
Although some of my favorite scenes are the love scenes, I have to admit I had the most fun writing the ones where Gray Covey (from my first book "The Rancher and the Rock Star") made his short cameos. It was a lot of fun to connect the two books and see what Gray was up to. And it was fun to have Gray have the words of wisdom for someone else rather than need them himself!
"Wouldn't be Jill Carpenter you're waiting for?" Camaraderie shone in Gray's eyes. "Not to pry. Kim takes lessons from Jill and we've heard, that's all. She's great. Kim loves her."
Chase tore off a piece of roll and set it in front of the dog. "Jill's terrific," he admitted. "Wish it were her, but I'm waiting for Robert McCormick."
"I heard you were staying out with him. I've never met him, but I think he's either very brave or very foolhardy standing up to Connery."
"Robert? He's a good man. Smart. He knows what he's doing."
"I hope he holds out. He may be our only chance."
Chase debated telling Gray about Krieger's double set of numbers, but he was still trying to figure out what to do. He didn't dare spread rumors until he was sure.
"I heard a new song on the radio the other day," he ventured instead and then felt a little silly. Did you talk to Gray Covey about his music when he was, what, off duty?
"Yeah?" Gray seemed mildly surprised. "It's a little different. Dawson arranged it. Said I needed to modernize myself."
"Impressive. So, he can work with you, just not drive with you."
"You think girls are hard to understand. Try a teenager. I love the kid, both our kids, and this crazy little town to death. But some days like this, I sure don't recognize my life."
"Are you kidding? I came to get away from the big city. Nothing else. Now look at me."
"You met a girl."
"Before I'd reached Main Street."
"Sorry, buddy." Gray shook his head in mock sympathy. "All I can say is, things have a way of working out. Abby wanted nothing to do with my life, believe me. She's a strong, quiet country girl and I'm a … well, God knows what I am, but it isn't quiet. Unless I'm here. This place has a way of taking care of a person. It gets to you pretty quickly."
Chase glanced up and down the street. In the few weeks he'd been here more buildings had been restored, businesses were opening back up. The next project he was slated to start with Connery was a new library. And he felt as if he'd always been invested.
"It does," he agreed. "The question is being the smart choice for the girl. I'm no saint—which is pretty much what she deserves."
"Man, you are speaking to the king of being wrong for the girl. Fortunately, those soft feminine hearts are far bigger than make sense to us. Give your girl a chance—she has a capacity for love and forgiveness you won't believe."
They fell silent. Angel scooted herself between them and nudged Gray on the cheek. Then she licked three times beneath his ear—her way of showing approval. And begging.
"She's getting very spoiled, sorry," Chase said. "C'mon, girl. You've had treats."
Gray slipped her a piece of his roll before she obeyed. "Nothing more fun than spoiling a girl." He winked.
What scene was the hardest to write? Why?
The hardest scene for me to finish was the black moment between Chase and Jill. When Jill finds out Chase's secret she gets so hurt and angry that it just puts Chase into defensive mode rather than make him willing to explain his summer-long deception. What was difficult was that both of them were acting like idiots. I knew it and they knew it. Several beta readers went through it and some sided with Jill others with Chase. I tried to get the two of them to tone down their reactions but neither would have it—they were just going be annoying until they came to their senses. So, if you read the scene and want to smack one or both of them—that's okay.
And so his secret was out. He was a doctor. It was a heroic profession, something to cause pride, not anger. So why was she so angry?
Because. She knew of the lie only because of a crisis.
"Since day one you've let me think you're somebody you aren't."
"Yes." His voice finally softened.
"You aren't sorry?"
"I am more sorry than you could possibly know." His back remained as stiff as one of the boards he'd been pounding onto Robert's porch all summer. "You've deserved to know what I really am. I had every intention of telling you. That's what tonight was for."
Did he think she was stupid? "My, how convenient that is."
His shoulders finally sagged. "If we're going to be at the hospital for him, we'd better get moving," he said, ignoring her, his voice weary. "Go get Sun, and I'll toss some hay in a stall."
Angel trotted two steps after him and barked, a sharp, admonishing sound. Chase ignored her, too. Jill fought the urge to follow the stranger he'd suddenly become and … and what? Smack the old Chase back into existence? She couldn't because this wasn't the stranger—this was the real man.
Angel trotted to her, and Jill sank to her seat in the grass beside the beautiful dog that had brought her together with Chase in the first place. Angel gazed at the barn, her luminous brown eyes registering an eerily human sadness, then crawled fully onto Jill's lap.
When Jill and Chase left ten minutes later, Angel laid herself resolutely in front of Robert's favorite chair and watched them drive away. Silence choked the interior of The Creature. Jill couldn't shake her anger. She knew not every facet of the Chase Preston she'd loved had been faked, but his impenetrable silence dealt ax blows to her faith. If he was this unwilling to talk now, how could she believe he'd ever intended to tell her?
She parked near the hospital emergency entrance. Once out of the truck, Chase met her eyes cautiously.
"I deserve your anger," he said. "I hoped for something else. I've hoped all summer that when you found out you'd understand. But I get that you don't. Just know this reaction is why I never told you."
"That's ridiculous. You're a doctor. That's not the issue here? Why lie to me on the very first day?"
"Because some things just plain cause pain."
"Yes. Like lying."
He turned for the hospital doors without explaining anything further.
How did your character spend the week just before the story starts?
Chase spent the week before pretty much in hell. He had to attend the funeral of a favorite patient, a nine-year-old girl named Tiana. He also had to deal with police authorities trying to find the gang members who shot Tiana. He drove to his grandfather's home, picked up his '75 Triumph Bonneville, and rode two days to Minnesota.
Jill's week was much simpler. She finished her second year of vet school and came back home from Minneapolis. She started teaching riding lessons as she does every summer, and went back to work at the vet clinic where she's been an assistant since she was eleven.
Who would you cast in the role of your characters if your book was optioned for a movie?
The photos I used for character inspiration were perfect stand-ins for Chase and Jill, but since they aren't either one of them actors, I'll go with some pros for the movie! For Jill I'd pick someone like Malin Ackerman and for Chase maybe Henry Cavill. Yeah, they'd make a very pretty couple!
What are you currently working on? What other releases so you have planned for 2013 into 2014?
I'm working on the third book in this series, that started with "The Rancher and the Rock Star" last year. Another character in "Rescued" is David Pitts-Matherson, the proper, straight-laced Brit who owns the prestigious riding stable where Jill teaches and trains. The third book (so far untitled) is David's story. And his heroine, a tough-sweet little redhead from the inner city named Rio, blows into his proper life with tattoos, a confused sister, a gang-member brother and trouble like crazy. To say sparks ensue is to put it mildly!
I hope to release that book as well as a novella also set in Kennison Falls–it's the story of town fix-it man Dewey Mitchell, who also appears in all three first books. Ex-jock Dewey doesn't know how to deal with his fascination for the new Kennison Falls librarian and her glasses-wearing, unathletic son. My working title for that one is Handyman's Special.
Thanks for blogging at HJ!
Giveaway:

1 paperback copy and 1 e-book copy of RESCUED BY A STRANGER

(2 winners)
To enter Giveaway: Please complete the Rafflecopter form and Post a comment to this Q:

I'd love to know what one thing you, my friends visiting this blog, would go back in time and change if you could.
Except
"Heck, what good is having a big, strong, Southern biker around if he can't protect you from boogie men?" Her eyes began to focus in the dim light. "Where's the dog?"
"She was right here."
"Angel?" Jill called. "C'mon, girl. Let's go get you something to eat." She'd responded to her new name all evening. Jill frowned.
Chase gave a soft, staccato, dog-calling whistle. Angel stuck her head out from a stall a third of the way down the aisle. "There she is. C'mon, girl."
Angel disappeared into the stall.
"Weird," Jill said, and headed down the aisle.
At the door to a freshly bedded, empty stall they found Angel curled beside a mound of sweet, fragrant hay, staring up as if expecting them.
"Silly girl," Jill said. "You don't have to stay here. We're taking you home. Come."
Angel didn't budge. She rested her head between her paws and gazed through raised doggy brows. Chase led the way into the stall. "Everything all right, pup?" He stroked her head.
Jill reached for the dog, too, and her hand landed on Chase's. They both froze. Slowly he rotated his palm and wove his fingers through hers. The few minor fireworks she'd felt in the car earlier were nothing compared to the explosion now detonating up her arm and down her back.
"I've been trying to avoid this since I got off that dang horse." His voice cracked into a low whisper.
"Why?"
He stood and pulled her to her feet. "Because I am not a guy someone as young and good as you are should let do this."
"You've saved my life and rescued a dog. Are you trying to tell me I should be worried about you?"
She touched his face, bold enough in the dark to do what light had made her too shy to try.
"Maybe."
The hard, smooth fingertips of his free hand slid inexorably up her forearm and covered the hand on his cheek. Drawing it down to his side, he pulled her whole body close, and the little twister of excitement in her stomach burst into a thousand quicksilver thrills. Her eyelids slipped closed, and his next question touched them in warm puffs of breath.
"If I were to kiss you right now, would it be too soon?"
Her eyes flew open, and she searched his shadowy gaze, incredulous. "You're asking permission? Who does that?"
"Seemed like the right thing."
"Well permission granted, now hush."
She freed her hands, placed them on his cheeks, roughened with beard stubble, and rose on tip-toe to meet his mouth while he gripped the back of her head.
The soft kiss nearly knocked her breathless with unleashed power. Chase dropped more hot kisses on each corner of her mouth and down her chin, feathered her nose and her cheeks, and finally returned wondrously to her mouth. Again and again he plied her bottom lip with his teeth, stunning her with his insistent exploration. The pressure of his lips and the clean, masculine scent of his skin, took away her equilibrium. She could only follow the motions of his head and revel in the heat stoking the fire in her belly.
Book Info:
She's a woman full of dreams
When a stranger arrives in town on a vintage motorcycle, Jill Carpenter has no idea her life is about to change forever. She never expected her own personal knight in shining armor would be an incredibly charming and handsome southern man—but one with a deep secret.
He's a man hoping to outrun a tragedy
When Chase Preston jumped on his motorcycle to escape his wounded life, he didn't expect the perfect woman to fall into his arms… literally! But though he can't deny his feelings for the sweet and beautiful Jill, he doesn't see any way he and his mistake-filled past will fit into her bright future.
Falling in love may require more than either can give
The longer Chase stays in Kennison Falls, the more deeply Jill and the people of her home town pull him in. The more Jill discovers heroic qualities in Chase, the more she wants to find a home in his arms—if only he would trust her with the truth. But will truth tear them apart when Jill's dreams start coming true and Chase's past finally returns to haunt him? Or, can they get beyond dreams to find the love that will rescue their two hearts?
Author Bio
Lizbeth Selvig writes fun, heartwarming contemporary romantic fiction for Avon books. Her debut novel, The Rancher and the Rock Star, was released in 2012. Her second, Rescued By A Stranger is available now. Liz lives in Minnesota with her best friend (aka her husband), a hyperactive border collie named Magic and a gray Arabian gelding named Jedi. After working as a newspaper journalist and magazine editor, and raising an equine veterinarian daughter and a talented musician son, Lizbeth entered Romance Writers of America's Golden Heart® contest in 2010 with The Rancher and the Rock Star (then titled Songbird) and won the Single Title Contemporary category. In her spare time, she loves to hike, quilt, read, horseback ride, and play with her four-legged grandchildren, of which there are nearly twenty, including a wallaby, an alpaca, a donkey, a pig, two sugar gliders, and many dogs, cats and horses (pics of all appear on her website www.lizbethselvig.com). She loves connecting with readers so contact her any time!
Website | Facebook | Twitter |