Today it is my pleasure to Welcome author
Laura Kaye
to HJ!

Spinning off from her New York Times bestselling Hard Ink novels, the first in Laura Kaye's sexy, thrilling Raven Riders series about the alpha men of a Motorcycle club and the women they protect

Thank you! I'm so excited to be here celebrating my twenty-fifth novel, Ride Hard!
Please summarize the book for the readers here:
Ride Hard is the first book in my new Raven Riders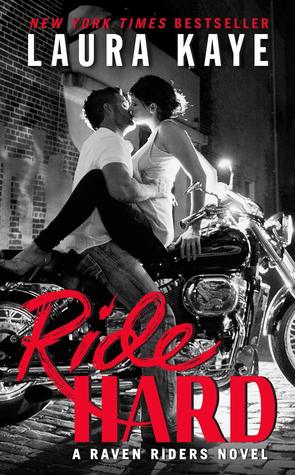 Motorcycle Club series, a spin-off of my bestselling Hard Ink series, and it features a new kind of MC with a protective mission. My biker heroes might be rough around the edges, willing to cross lines when necessary, and able to defend their own at all costs, but they have good hearts, value loyalty and family above all else, and they're sexy as hell—on and off their bikes! The book is a love story between an older, experienced man and a younger, sheltered woman who are both damaged souls. I just adored writing it!

Please share the opening lines of this book:
To say that Haven Randall's escape plans were not going as she'd hoped was quite possibly the understatement of the century. Especially since she wasn't at all sure her current situation was any better than the one she'd run from three weeks before.

But today could be the day she found that out for sure.
Please share a few Fun facts about this book…
I wrote the entire book while listening on repeat to the song Skeletons by Papa Roach
Dare Kenyon is brooding, intense, and rough around the edges, and his voice in my head is just filled with curse words. In the first draft of the book, various versions of the F-word appeared almost 400 times. My editor thought that was just a tad excessive and asked me to take at least half of them out. I did. LOL
So, it turns out I have a thing with including food in my novels LOL. You may find yourself hungry for cinnamon buns and peanut butter cookies while reading this. It's Haven's fault!!
Please tell us a little about the characters in your book. As you wrote your protagonist was there anything about them that surprised you?
Dare Kenyon is the president of the Raven Riders—he's older (37), super intense, and values family and loyalty above all else. He feels that the safety of the club and all those associated with it is his personal responsibility, something that stems from a formative experience in his childhood. Haven Randall is Dare's opposite in so many ways—younger (not quite 23), inexperienced, and sheltered, even though she's on the run, she's full of hope but also scared to reach out for what she wants after a lifetime of being controlled. I absolutely loved these two together. What surprised me most was that Haven is a different kind of a heroine for me—she starts off shy, timid, and full of anxiety—natural consequences of her upbringing. But what I loved was seeing just how much she came out of her shell when she finally knew she was safe. Her story is one of the biggest character arcs I've written.

If your book was optioned for a movie, what scene would you use for the audition of the main characters and why?
Oooh, wouldn't that be awesome? I think I would have to pick the fight scene between Dare and Haven. She's not only come out of her shell, but she's finally standing up for herself after living a life where that was really dangerous to do. And when all that anger flashes to heat, it's absolutely incendiary! I think both of their characters really come through in this scene!
In some distant part of her mind, Haven tried to tell herself to stop. Did she really want to spend her last hours fighting with him? When she had so few left? But now that her anger had escaped, she couldn't stuff it back down.

"Haven," he said, stepping closer.

"No," she yelled, moving back against the opposite counter. She pointed at him, a silent command for him to stay put.

He did. "You're right. I'm an asshole for all of that. And for lying to the guys about you."

"Lying," she repeated, weighing the word on her tongue. She scoffed.

Dare nodded, the circles under his eyes darker, his face a shade paler. Tired. "It's true. I didn't mean what I said to them. And I hated that you overheard me say it."

Shaking her head, Haven resisted the words. Believing them would just open her up again. Open her up for more hurt.

"I didn't mean it," he said again. He took a small step closer.

She threw her hands out in exasperation. "Then why did you say it? And why did you let the words stand until now if you didn't mean them? Why would you let me believe them?" Giving voice to the questions that had been weighing on her drained away some of her anger.

"I said it because I didn't want to admit that I cared," he said, coming closer. "Because then I'd have to admit that letting you go was going to fucking suck." Closer. "And I let you believe it because I hoped maybe, somehow, it would make it easier for you to leave and for me to watch you go." Closer still until he stood an arm's reach away.

She shook her head. "Don't tell me what you think I want to hear."

Suddenly he was right up in her face. "I didn't mean it. You are special to me. Very special. And I am interested, even more than I should be, given our age difference and my general moody disposition and your innocence and all the good things you deserve. And I don't fucking think it will be better for me for you to go, but it will be better for you. Safer. The fresh start I promised and you deserve after everything you've been through. That's not a line, that's the God's honest truth. On my mother's and brother's graves." His expression was fierce, his eyes blazing.

Haven's heart was a runaway train in her chest. His declarations were thrilling and healing. He'd never invoke his mother and brother that way if he didn't mean it—she believed that down into her very soul. Not that she knew what to do with what he'd said. It didn't change the fact that she was going away. Soon. She shook her head, exhaustion settling over her and calming the fight inside her. "Okay."

"Okay?" he asked, an eyebrow arched. "That's it?"

"I don't know what else to say," she said. "Thank you for telling me."

His whole face frowned. "Don't thank me. Not for that."

"Then what do you want?" she asked, meeting his intense gaze.

"You, Haven. Always you. I'm fucking starving for you. All the time. You think you're not wanted? I want you. I want you so much I don't know what I'm doing half the time. Every minute of every day, all I can think about is you." Breathing hard, eyes flashing, Dare loomed over her, the words hanging in the tight space between them.

And they were the most amazing, life-giving words anyone had ever said to her. Which made her know exactly what to say. "Then have me."
What do you want people to take away from reading this book?
I hope they'll fall in love with my somewhat different honorable bikers. I hope they'll love Dare as much as I do. I hope they'll given Haven a chance to become the strong woman she does. And I hope they take from the book that we all deserve something beautiful in our lives, every one of us.

What are you currently working on? What other releases so you have planned for 2016?
I'm writing Ride Rough, the second Raven Riders novel, and Hard to Serve, the last Hard Ink story and a novella in the 1001 Dark Nights series (6/28/16). I'm also hoping to release my first indie series this fall – more to come on that!

Giveaway:

Print copy of Hard As It Gets: A Hard Ink Novel by Laura Kaye
To enter Giveaway: Please complete the Rafflecopter form and post a comment to this Q:

If you read MC books, what do you most love about them? If you haven't read MC books before, why not – is there something you haven't enjoyed about similar stories before or are they just new to you? Thanks!
Book Info:
Brotherhood. Club. Family.
They live and ride by their own rules.
These are the Raven Riders…
Raven Riders Motorcycle Club President Dare Kenyon rides hard and values loyalty above all else. He'll do anything to protect the brotherhood of bikers—the only family he's got—as well as those who can't defend themselves. So when mistrustful
Haven Randall lands on the club's doorstep scared that she's being hunted, Dare takes her in, swears to keep her safe, and pushes to learn the secrets overshadowing her pretty smile.
Haven fled from years of abuse at the hands of her criminal father and is suspicious of any man's promises, including those of the darkly sexy and overwhelmingly intense Ravens' leader. But as the powerful attraction between them flares to life, Dare pushes her boundaries and tempts her to want things she never thought she could.
The past never dies without a fight, but Dare Kenyon's never backed down before . . .
Order on Amazon | B&N | iBooks | Kobo Add to your Goodreads
Join Laura's Ride Hard FB Party on 4/26!  Get a bonus story for grabbing Ride Hard (U.S.) by 4/30


Meet the Author: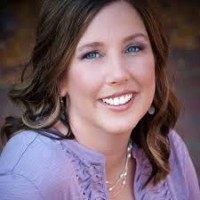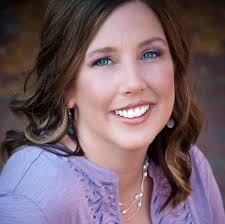 Laura Kaye is the New York Times and USA Today bestselling author of over twenty books in contemporary and romantic suspense. Laura grew up amidst family lore involving angels, ghosts, and evil-eye curses, cementing her life-long fascination with storytelling and the supernatural. Laura lives in Maryland with her husband, two daughters, and cute-but-bad dog, and appreciates her view of the Chesapeake Bay every day.
Website | Facebook | Twitter | Newsletter SignUp