Today it is my pleasure to spotlight the release of 

RIGHT KIND OF WRONG

 by Chelsea Fine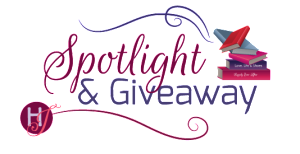 Sometimes wrong can feel oh so right . . .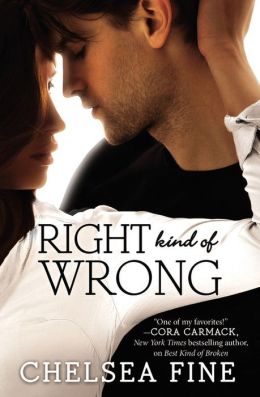 Jenna Lacombe needs complete control, whether it's in the streets . . . or between the sheets. So when she sets out on a solo road trip to visit her family in New Orleans, she's beyond annoyed that the infuriatingly sexy Jack Oliver wants to hitch a ride with her. Ever since they shared a wild night together last year, he's been trying to strip away her defenses one by one. He claims he's just coming along to keep her safe-but what's not safe for her is prolonged exposure to the tattooed hottie.

Jack can't get Jenna out from under his skin. She makes him feel alive again after his old life nearly destroyed him-and losing her is not an option. Now Jack's troubles are catching up to him, and he's forced to return to his hometown in Louisiana. But when his secrets put them both in harm's way, Jenna will have to figure out how far she's willing to let love in . . . and how much she already has.


Exclusive Excerpt from Right Kind of Wrong:
"Angry-girl music? Come on. Could you be any more obvious?"
I try not to overthink that as I flick a hand at him. "You'll listen to polka if I so desire. That's the cost of inviting yourself into my vehicle."
He looks at me. "Fine, diva. I'd rather listen to polka than to a scorned woman
screaming about how all men are no good."
With a sugar-sweet tone, I say, "Too close to home?"
He smiles sharply. "You tell me."
Yeaaah. There's no way I'm spending another hour with this man, let alone
another week. We have more unresolved issues than the characters on Gossip Girl.
"That's it," I say, veering right for the nearest exit ramp.
"What are you going to do, pull the car over and give me a firm talking-to?" he
mocks.
"Ha. We're way beyond talking."
He looks out the window again. "Oh, I know."
I glare at him. "See? That's what I'm talking about. You keep alluding to shit,
trying to provoke me, and I'm done."
"What?" He crinkles his brow in confusion. "No one in their right mind would try
to provoke you, Jenna. You're like a caged cat in heat. All claws and teeth. You're
already provoked—and you have been since the moment I met you. So why don't you
just calm down and get back on the freeway." He looks around. "Where are we,
anyway?"
"Oh, I'll tell you where we are." I point a finger in the air and lift my chin, utterly
pissed that he just referred to me as a cat in heat. I whip into the parking lot of Willow
Inn and skid to a stop. "We're at your final destination."
Thank God Willow Inn is out here in the middle of nowhere and, therefore, an
ideal drop-off station for unwanted passengers. I couldn't have handled one more second
with Jack and his laid-back attitude.
I throw the car in park and look at him, waiting.
A small smile peeks at the corners of his mouth, but otherwise he doesn't move.
"You think you're dropping me off at this…"—he peers up at the quaint-looking
building—"large replica of Snow White's cottage in the middle of nowhere?"
I nod once. "This is where Pixie works—or worked—this summer and I'm sure
her aunt can make arrangements for you to catch a cab back to Tempe. Or to Little Vail,
if you so desire. But Jenna's Chauffeur Service is officially closed for business. Now get out."
He scans my face and inhales slowly, then lowers his voice. "I know it's not easy,
this thing with you and me, and I'm sorry if I've been more of a dick than usual, but Jenna…" He shakes his head. "I'm not leaving you."
His tone, his words, everything about his presence in this moment completely
contradicts everything about him so far today. And this is where the Jack Conundrum
comes into play. It's easier when he's acting like an ass. More simple when he tries to
annoy the hell out of me. But when he's this person…this deep, genuine, intense soul
with gunmetal eyes and a determined jaw…that's when things get complicated.
And I don't want complicated.
"I wasn't asking," I say. Then, exiting the car, I grab his duffle bag from the
backseat and march for the inn's front doors. Good God his bag is heavy. What did he
pack in here, barbells?
Behind me, I hear the passenger door open and close. "It'll be a lonely trip
without me, you know." Jack's voice rumbles up my back and over my shoulders.
"There's only so much companionship your angry-girl music can give you."
I make a face at the inn's front porch steps as I climb them. Companionship, my
ass.
"I'll pay for all the gas," he sings, like that's worth tolerating his presence for
days on end. "And I'll drive when it gets dark."
I slow my steps. I hadn't thought about how exhausted I might be driving at
nighttime. Having another driver to help ease that burden would be nice…What? No! No.
I scoff, more at myself than at Jack's words, but he perceives it differently and responds in typical Jack fashion.
"Oh, come on," he says. "You hate wearing glasses when you drive and we both know you're pretty much blind as a bat at night without your glasses on."
"I am not blind as a bat."
I hear the smile in his voice. "Okay. Blind as a cat, then."
I growl in frustration. "I can't believe I even considered driving back home
with you. I would've ripped your head off long before we crossed the Texas border." Heaving open the inn's front door, I charge through and shoot my eyes to him over my shoulder. "Frankly, I'm impressed we made it this far without me killing you."
He grins. "What's with all the death threats? Is that how you handle all of life's problems? By committing murder?"
Dropping the duffle bag, I spin around and sneer at his tall body. "Just the really
big ones." Briefly—like so brief it's not even a second—I glance him over in an appreciative way. Because he really is gorgeous, with his broad shoulders and square jaw
and dark tattoos covering his big arms—but then I pull it together and lift my chin in
anger. But it's too late.
He caught my wandering eyes and now his eyes know. They always know,
dammit.
His smile goes crooked. "First of all, there's no need to take your frustration out
on my luggage." He points to the bag on the floor, then leans down so our faces are close
together. Too close. Close enough to smell the woodsy scent of his shampoo and feel his
warm exhaling on my cheeks. "Second," he says with playful eyes. "Is that your way of
telling me I'm big?"
We lock gazes and my heart beats against my chest. Ugh. If only I could hate this
infuriating man. Life would be so much easier.
Giveaway: 

2 Print sets of the series (BEST KIND OF BROKEN, PERFECT KIND OF TROUBLE, and RIGHT KIND OF WRONG), US/Canada only
To enter Giveaway: Please complete the Rafflecopter form and Post a comment to this Q: 

What did you think of the excerpt spotlighted here? Did it hook you in…leave you craving more? 
Meet the Author: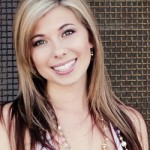 Chelsea lives in Phoenix, Arizona, where she spends most of her time writing stories, painting murals, and avoiding housework at all costs. She's ridiculously bad at doing dishes and claims to be allergic to laundry. Her obsessions include: superheroes, coffee, sleeping-in, and crazy socks. She lives with her husband and two children, who graciously tolerate her inability to resist teenage drama on TV and her complete lack of skill in the kitchen.
Learn more at:
ChelseaFineBook.com
Twitter, @ChelseaFine
Facebook.com/ChelseaFineBooks