Today, HJ is pleased to share with you

Dawn Ryder's

new release: 

Rock Steady

What was the most fun part about writing Rock Steady?
Well, let's be frank…. Rock and Roll is fun!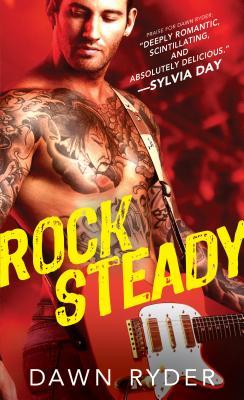 Summer concerts are a blast. A place where a fan can really feel the beat and let's face it, that's the whole point. I mean, it's a hassle to get tickets, drive into the venue, park, make your way into the arena and wait for that show. So, in the age of having music at out finger tips on all manner of media devices….what is the pull?

The buzz…

The high…

It's a mental feast that fills all your senses and leaves you feeling like you just got rolled off a surf board and tossed up onto the beach in a wet pile of quivering limbs.
Yeah…at least, when I wrote Rock Steady….that is what I wanted to paint on those pages. Romance can take a lot of forms, an author has so many different plot devices out there to choose from. Ways to twist the tension, to keep the reader interested in how it will all work out. With Rock Steady, I wanted to give credit to the musicians, it's a true art form. They work hard at it and I didn't want my rock Stars to come across as just play boys.

I also wanted it to be a book that didn't have any life and death struggles going on. I wanted to blast home the reality factor of dealing with life and trying to achieve goals. Rock Steady is that 'fun' read, when maybe, you want to take a little break from guns and bullets. I hope you'll all take a moment to take a copy of Rock Steady onto the porch for a warm summer night.

Cheers!

Read an exclusive excerpt from Rock Steady: 
She had a seat.
Not that Jewel stayed in it.
The moment the members of Toxsin took the stage, the fans near the long catwalk surged to their feet and crowded the edge of the stage. The temperature felt like it was going up from the frenzy the crowd was working itself into.
Ramsey seemed to know exactly how to push their buttons too. He took the stage. He didn't walk onto it. He fucking stormed it and claimed it as his domain. There was no just watching him. The audience was captivated, held in a grip that was nearly hypnotic. Ramsey and his bandmates were putting out such high levels of energy, everyone in the area was moved to screaming.
Jewel was no exception.
Nor did she want to be.
She surged to her feet and smiled at the pulsing in her blood. It warmed her like alcohol and was just as devastating to her wits. Thinking was completely out of the question as Toxsin finished one song and rolled into another one that punched up the level of frenzy surrounding them. The fans were like desperate disciples who reached out for their idols. The reason was clear. The members of Toxsin embodied what everyone fought for.
They were truly free.
What they were, was on display, along with all of their inner demons.. The music was an outpouring of all the emotions everybody tried to ignore as they went about being respectable, civilized people. The cravings they had and were too self-conscious to admit to having.
Tonight, they all roared as Toxsin gave them permission to embrace those feelings, the seedy and the oh-so-often labeled immoral sexual passion. Jewel screamed with the rest of them, feeling freer than she ever had. She got it, really got it. Inside her was a person who wanted to be accepted for what she was. It wasn't always decent, and it certainly didn't fit into anything that might be termed "civilized," which was why she and everyone around her kept that part of their soul bottled up. The day-to-day grind made them all contain their cravings; Toxsin showed them how to embrace them.
Ramsey was a true badass, because he wasn't afraid of what the world would say about him.
She realized he was the most honest man she'd ever met.
"Oh. My. God! Look at the tat!"
Ramsey was arched back, playing a solo on his guitar. His lean, ripped abs were stretched out, his neck corded as he pushed the instrument and filled the arena with a perfect blending of sound. His leather pants slipped lower; his vest rose higher, baring his waist and the top of the dragon. There was a hint of the head and tail, tantalizing glimpses as he moved.
"It's a dragon!"
"I want one!"
"I have to have one!"
She lost track of all the comments, feeling the praise wash through her. That dream she'd so carefully nurtured for the last few months suddenly surged back to robust health like a drowning victim who'd received CPR. It was no longer limping along as she fought for enough morsels of strength to resist tossing in the towel and falling into line with the rest of the world because it was the sensible thing to do. The thing that would help her sleep at night, because she wasn't wondering how she was going to scrape together the rent.
Ramsey was a mythical creature who had defied the odds and won.
She let out another scream, enjoying the high of the moment. When the concert ended, she melted into the crowd, leaving the VIP pass in her bra. She made her way onto the pavement and followed a huge bunch of people toward the underground BART trains.
She was wrung out, but happily so.
And you're a chicken…
Well, it was a necessity, self-defense at its best. One kiss, and her self-control was going to be a goner. Poof! Up in smoke for sure.
Chicken…
Oh, she was guilty as charged. No argument. Just a twinge of regret kept her company on the train ride back to her end of town. Okay, a little more than a twinge. More like a bucketful, leaving her sexually frustrated and kicking herself for walking away from a prime opportunity.
Which was why she'd done it.
Ramsey was a lot of things, but she didn't want to see him as an alley cat. She wanted to hold the memory of him being an artist. Keep him on a pedestal. Let him be a panther, a creature with nobility.
Whimsical.
And she wasn't even drunk.
No mere mortal man could claim to have intoxicated her.
Only a god.
So she'd leave him in the heavens and hold onto her worship of him.
Excerpt. ©Dawn Ryder. Posted by arrangement with the publisher. All rights reserved.
Giveaway:

Print copy of Rock Steady (Rock Band) by Dawn Ryder
To enter Giveaway: Please complete the Rafflecopter form and post a comment to this Q:

What did you think of the excerpt spotlighted here? Leave a comment with your thoughts on the book…
Book Info: 
Second in Dawn Ryder's sizzling new Rock Band series.
HE KEPT IT CASUAL
Superstar guitarist Ramsey's reputation as a bad-boy rocker is exceeded only by his dedication to his music. He's worked hard for the success of his hit metal band Toxsin, and he intends to enjoy it—completely. When a jilted groupie gets back at him for a one-night stand with an intimate—and completely inappropriate—tattoo, he needs it fixed, and fast. Sparks fly between Ramsey and his new tattoo artist, and Ramsey finds himself hoping for more than new ink.
UNTIL SHE MADE HIM WANT MORE
When a high-profile tattoo job lands Jewel an invite on Toxsin's latest tour, she can't say no. It'll be great exposure, after all. What she's really worried about is ruining the gig by hooking up with the first guy to completely rock her world. She knows she should resist—Ramsey's not the kind to stick around for a morning after. But the way he makes her feel—as an artist and a woman—could be worth any risk.
Buy the Book
Amazon: http://amzn.to/1WwbVD7
Barnes & Noble: http://bit.ly/1SPQDhB
iBooks: http://apple.co/1NH0k2C
Books A Million: http://bit.ly/21kdxkf
!ndigo: http://bit.ly/1N8pB5H
Indiebound: http://bit.ly/1VXPpVv


Meet the Author:
Dawn Ryder is the erotic romance pen name of a bestselling author of historical romances. She has been publishing her stories for over eight years to a growing and appreciative audience. She is commercially published in mass market and trade paper, and digi-first published with trade paper releases. She is hugely committed to her career as an author, as well as to other authors and to her readership. She resides in Southern California.
Connect with Dawn
Website: http://www.dawnryder.com/
Facebook: https://www.facebook.com/Dawn-Ryder-541256915951279/
Twitter: https://twitter.com/dawnryder_write
Goodreads: https://www.goodreads.com/author/show/853496.Dawn_Ryder