Today it is my pleasure to welcome New York Times and USA TODAY bestselling author

Sherryl Woods

to HJ!
Sherryl it's such a pleasure to host you here today, thanks for doing this interview 🙂
5 things readers should know about you?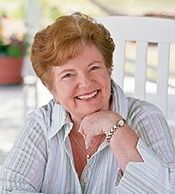 (1) That I treasure my friends, just like the characters in my Sweet Magnolias novels.
(2) That I'm an only child who always longed for a huge, crazy family just like the O'Briens in my Chesapeake Shores series.
(3) That I spend a week every summer with extended family in the North Carolina Outer Banks, which inspired the Ocean Breeze trilogy.
(4) That my Dad played semi-pro baseball, which probably influenced the number of baseball heroes in my books.
(5) That I'd love to be on Dancing With the Stars if only I thought I could survive the first week of rehearsals.
What would you say are the defining characteristic of your Novels?
I hope readers will relate to characters who are real and face the sort of problems that many of us have faced. The women in my stories not only survive, but thrive!
Five best things about being a writer?
(1) I get to create whole new worlds populated with people I'd love to know…and none of the guys talk back!
(2) I hear from readers who can identify with my characters or who've been through similar situations and found hope or laughter in the stories.
(3) Writing allows me to work wherever I happen to be.
(4) I'm able to work on a schedule that suits my crazy body rhythm.
(5) My office is never more than a five-minute walk away!
What romance book character you most identify with & Why?
I think I share one characteristic with all of the heroines in the new Ocean Breeze trilogy. I'm always struggling to balance my career and my personal life.
What are you currently reading?
I just finished Summer Rental by Mary Kay Andrews and have started Last Chance Book Club by Hope Ramsey.
If you had to summarize Sand Castle Bay for the readers here ….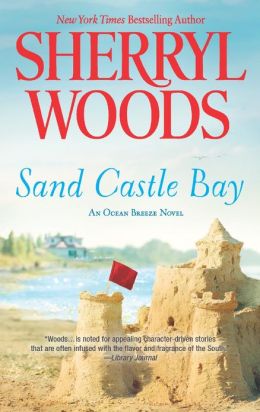 Sand Castle Bay introduces the three Castle sisters and focuses on the youngest, Emily, who's reunited with the man she's never forgotten. Will she be wise enough to seize her second chance at love?
Please tell us about the characters in your book
Emily Castle has become a successful interior designer with a business based in California. When a hurricane brings her back to Sand Castle Bay to help her grandmother with the family restaurant, she has to face her past with Boone Dorsett, now a widower with a young son
What scene did you have most fun writing? why?
My favorite scene from the entire series actually takes place in book three, Sea Glass Island. Emily convinces her oldest sister, Samantha, to jump out of a cake at Boone's bachelor party. Unfortunately the plan goes wildly awry when she gets stuck in the cake. When her hero, Ethan Cole, finally frees her, she tumbles straight into his arms. The scene revealed the lengths the sisters would go to for each other. Just envisioning it made me laugh.
Who would who cast in the role of hero and heroine if your book was optioned for a movie?
If I'm allowed to go for broke with the casting, I'd say Jennifer Aniston and Bradley Cooper.
What are you currently working on? What other releases so you have planned for 2013?
Of course, there are the two other books in this trilogy — Wind Chime Point in stores April 30 and Sea Glass Island on May 28. There will be a new Chesapeake Shores book — A Seaside Christmas — in stores this fall. Also this fall two books long out of print — Temptation and Twilight – will be reissued. I'm also doing revisions on a sequel to Seaview Inn — Home to Seaview Key — for early 2014!
Where can readers get in touch with you?
I love to hear from readers. They can email me directly at Sherryl703@gmail.com, visit my website, www.sherrylwoods.com, and contact me from there or link to my Facebook fan page and "like" it for frequent updates.
Giveaway: 2 print copies of SAND CASTLE BAY
To enter Giveaway: Please complete the Rafflecopter form below and post a comment to this Q: What romance book character you most identify with & Why?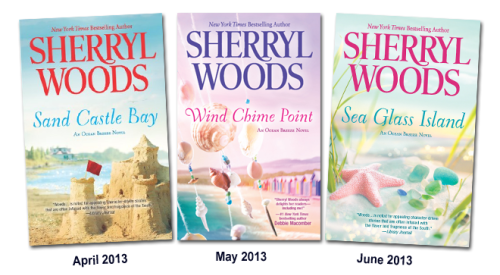 New York Times and USA TODAY bestselling author Sherryl Woods takes readers to the North Carolina coast with a new family and her trademark heartfelt emotions.
In a trade-off she's lived to regret, Emily Castle left home years ago to become an interior designer. The youngest of three sisters, Emily desperately wanted to prove herself. Success, though, came at the cost of leaving behind the man she loved.
For Boone Dorsett, losing Emily left his heart shattered, but another woman was waiting in the wings. Now a widower with a young son, Boone has a second chance with Emily when a storm brings her home. But with his former in-laws threatening a custody suit, the stakes of loving her are higher than ever.
Will fate once again separate them—or is the time finally right for these two star-crossed lovers?