Today it is my pleasure to welcome romance author

Cheryl Harper

to HJ!

Christmas Songs and Santa, Bring My Baby Back
I love Christmas music, although I think if I were still working retail, I'd walk around with ear plugs in every minute of the day.
Singing "Do You Hear What I Hear?" has long been one of my Christmas pleasures because I can really belt out the king's line: "Listen to what I say!" One of my favorite parts of the "research" I've done for Santa, Bring My Baby Back is watching YouTube videos. Yes, because I'm such a dedicated writer, I've lost track of the hours I've spent immersing myself in Elvis music and videos.
It's a very demanding job. And with every book I've written at the Rock'n'Rolla Hotel, I've found a new favorite Elvis song. If you're like me, when you think Elvis and Christmas, "Blue Christmas" comes to mind. Now "Santa, Bring My Baby Back to Me" is on my Christmas playlist. Don't know it? Here's a handy YouTube link:
It's a finger-snapping, foot-wiggling song. It makes me smile. The idea that, no matter what gifts you get at this time of year, having someone to share the holidays with means so much is perfect for this book.
Santa, Bring My Baby Back is a story about second chances, love in unexpected places, Christmas, weddings, and a bloodhound named Misty. I hope it makes you smile too.
GIVEAWAY: Digital copy of SANTA, BRING MY BABY BACK.
To enter Giveaway: Please complete the Rafflecopter form and post a comment to this Q:

What is your favorite Christmas Song? Tell us why it tops your list. 
About the Book:
A bride abandoned at the altar . . . just in time for Christmas? 'Tis the season for second chances at Cheryl Harper's Elvis-themed Rock'n'Rolla Hotel.
After trying and failing at acting, modeling, dog grooming, and a dozen other jobs, Grace Andersen thought for sure she'd nail marrying a rich man. But dumped in a hotel chapel and strapped for cash, Grace needs a miracle—and a job.
If it were up to Charlie McMinn, Grace would be a married lady by now. Officiating weddings in gold lamé and a rock star pompadour may not have been his idea of getting into the holiday spirit, but with a gorgeous bride asking for his help, Charlie doesn't mind sticking around his mother's hotel a few more days. Especially if it means getting Grace settled …
Grace isn't sure what to think of sexy, rugged Charlie, except that she can't deny the attraction between them, or how good it feels to finally fit in somewhere. Is she ready to give a certain place—and a certain someone—a real chance? Or will she abandon a true Christmas miracle?
SANTA, BRING MY BABY BACK is available now at Amazon | B&N | iTunes | IndieBound
There's a tourwide Giveaway: A copy of Elvis Presley: The Christmas Album. Enter to win here:  a Rafflecopter giveaway
Author Bio: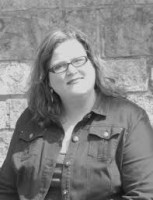 Whether she's writing, reading, or just checking the items off of her daily to-do list, Cheryl Harper loves her romance mixed with a little laughter. When she's not working, you will find her ignoring housework, cursing yard work, and spending way too much time with a television remote in her hand.