Today it is my pleasure to Welcome author
Sarah Robinson
to HJ!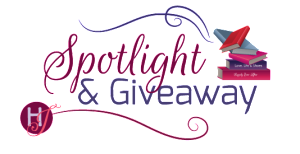 Sarah Robinson's Saving a Legend goes another round with the brooding Kavanagh brothers: MMA fighters who won't call it quits in the ring, or in romance.
Please summarize the book for the readers here: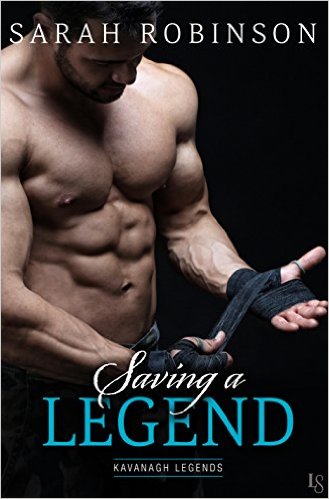 Saving a Legend is as much a love story between Kieran and Fiona, as it is between Fiona and her little sister, Shea. After their mother's shocking murder, Fiona fights for custody of her special needs 8-yr-old sister and dedicates her life to caring for her. Meeting Kieran, dating Kieran, falling head over heels in love with Kieran? That was never part of the plan.
Kieran's past has its own grim details as he's just been paroled from a two-year prison term for a fight that went very, very wrong. Once an up and coming MMA star before his life behind bars, Kieran has to relearn what its like to be free, and what is really important in life. With what looks like insurmountable odds from their past, finding love and settling down seems an impossible goal.
Saving a Legend was one of the hardest books I've ever written, but also one I learned the most about. I did extensive research into autism and trying to portray it correctly, and respectfully, in little Shea. The protective big sister in me is everything Fiona is, and I bled my heart into this book. I am so excited to bring this to readers, and yet, terrified at the same time! This book is everything, and I'm so in love with Kieran and Fiona.

Please share the opening lines of this book:
Oh my goodness, it's super hard to pick just the first 3!! Here's the first …more than 3… because I'm a rule breaker! ☺
"Did you call the cops?"
"What the hell did you do, Kavanagh?"
"Is he dead?"
"Run!"
Kieran Kavanagh's sneakers hit the cement hard as he pushed off and sprinted toward the
edge of the empty swimming pool. Glancing down at his hands, he realized they were covered in blood, and it wasn't his. He pulled the wrap tape off them and threw it to the side as he ran, hoping to rid himself of the evidence.
Gripping the top edge of the pool wall, he hoisted himself up to the ground, his biceps straining with the swift movement, only to come to a dead stop when confronted with three uniformed police officers, their weapons drawn.
"Hands where I can see 'em!"
Please share a few Fun facts about this book…
I was super honored to have several mothers of autistic children beta read this novel as I wrote it, including a really big New York Times bestselling author!
I named Kieran's parole officer after my best friend's dog. #noshame
I'm super jealous of Fiona's flower shop because I love flowers but CAN NOT keep them alive for more than a day.
If your book was optioned for a movie, what scene would you use for the audition of the main characters and why?
This scene is in chapter one, and super important because it's how they meet and shapes what they think about each other. It's also a little funny, a little romantic, and a little sweet all wrapped up in one! This snippet below starts right after Kieran has entered Fiona's Flower Shop to purchase flowers for his mother.
"Hi, may I help you?" She forced a nervous smile, her light blue eyes making him pause. She was absolutely stunning, but in a muted way, as if she was trying to hide it from the world. Or as if she didn't know she was beautiful. Whatever it was, he was having trouble taking his eyes off her.
"I need a bouquet," he announced, forcing himself not to reach out and run his fingers through her long brown hair, which fell in thick waves just past her shoulders. Because that wouldn't be creepy or anything, he thought, and wondered if two years in prison could have stunted his game.
"Sure, a bouquet of what?"
"Flowers."
Kieran wanted to grab the word as soon as it left his mouth, realizing how juvenile he
sounded. His game was definitely lacking. The young woman stifled a smirk, her body visibly relaxing and her lips twitching.
She cleared her throat, peering at him with kindness. "All right, well, who would it be for? Maybe that can help us narrow down our choices."
"It's for my mother."
"Do you know what her favorite flower is?"
He shook his head, trying to think of the last time he had seen his mother with flowers. In truth, he hadn't purchased flowers for his mother since her birthday the year before he went to jail. He didn't think she was the stereotypical roses type of woman, but he wasn't sure.
"No, I can't remember. I've been, uh, gone for a while. Just got back." "Welcome back, uh—" She paused, raising one brow.
"Kieran. Thanks."
"I'm Fiona."
"As in 'Fiona's Flowers'? This is your shop? Wow, that's impressive. You don't look old enough to have your own business."
She walked out from around the counter and toward a refrigerated section. "And you look too old not to know your mother's favorite flower."
"Ah, Fiona: 1, Kieran: 0." He followed her to the glass doors that separated a wide selection of floral bouquets.
"What about one of these? Think she might like this?" Fiona slid open the large refrigerator door and touched some pink flowers he didn't recognize. "This has always been one of my favorites, ever since my mother first taught me about flowers."
"If you like it, I'll take it." He agreed without hesitation, unable to keep his eyes from roaming the length of her perfectly curved yet long body.
Fiona nodded and removed the vase from the shelf of the refrigerated case, slid the door closed, then carried the vase over to the counter. She pulled some clear cellophane from under the counter and began wrapping the arrangement, taking care not to crush any of the blooms. Next, she brought out some ribbon and tied it around the vase, finishing it with a small bow.
"Beautiful," Kieran said, complimenting more than just her work as he pulled out his wallet. "How much do I owe you?"
"Forty-nine, ninety-nine."
"Fifty bucks? Do these flowers also come with dinner and a movie?" he asked.
She blushed and dropped her eyes to the counter, not saying anything. Shit. Not two days
out of the joint, and he was already offending people. "I'm kidding, Fiona." He handed her a few bills. "Unless you'd be interested in that?"
"In what?" She took the money from him and opened the cash register to put it away. "In dinner and a movie. With me."
She looked up at him suddenly, wide-eyed, her lips parting slightly. Her cheeks blushed crimson, and that only made him like her more. She screamed innocence and purity when he was the opposite. "I, um, sorry. I don't date."
"I don't buy that—you're too beautiful." He leaned against the counter, trying to get closer to her, but she handed him his purchase instead.
"What did you get Ma?" Kane came up behind him, interrupting his flirtation.
"Your mother should love these pink Gerber daisies." Fiona smiled at Kane, which Kieran guessed was her way of avoiding looking at him.
Avoiding looking at him by looking at his twin instead . . . Yeah, he really didn't understand women.
"Thanks, miss," Kane said to the florist before turning to him. "Come on, bro, we're going to be late."
Kane took the vase of flowers from him and was already walking toward the door. Kieran started to follow, but paused to look back at Fiona.
"Don't give me your answer now, flower girl. Think about it, and I'll be back for your answer," he added with a wink.
Fiona's mouth fell open before he turned and followed his brother out the door. A few years in jail hadn't changed anything; he knew he still had game. He just hoped it was enough to charm the beautiful brunette.
What do you want people to take away from reading this book?
I hope that people read this book and think that it's okay to be "damaged", it's okay to have a messy past, because all that matters is what you do with your future and who you give your future too. At the end of this book, I hope the reader knows that everyone deserves good things in their life, and it's okay to ask for help. We all deserve love, and we all deserve to be happy—no matter what we've done in the past.
What are you currently working on? What other releases do you have planned for 2016?
I just finished writing Becoming a Legend, which is the follow up to this one and is about Kieran's twin brother, Kane. This should be out by the end of the year, and I'm so excited about it. It's one of my favorite books so far (although I say that with each book!). I'm also working on an exciting indie book, and a women's fiction novel, but I can't talk much about that yet! Subscribe to my newsletter (http://eepurl.com/RUobv), follow me on Facebook (www.facebook.com/booksbysarahrobinson) or see my website (www.booksbysarahrobinson.net) to find out about when those releases will be!

Thanks for blogging at HJ!
Giveaway:

Kindle Ebook: SAVING A LEGEND by Sarah Robinson (Gifted via Amazon)
To enter Giveaway: Please complete the Rafflecopter form and Post a comment to this Q:

Would you be able to date and fall in love with a man who just got out of prison? (I swear he's a good guy, though! I promise!)
Book Info:
His family's gym has produced a roster of mixed martial arts legends, but so far Kieran Kavanagh hasn't followed in their footsteps. After a brawl lands him in jail, Kieran is assigned to work at a center for at-risk youth. Though given a second chance, Kieran's simply going through the motions—until he meets one very special kid, Shea Doherty, and falls hard for her very beautiful, very grown-up big sister, Fiona. The trouble is, Kieran's best opening moves are getting him nowhere fast.
Fiona Doherty has too many responsibilities to fool around, especially now that she has custody of Shea. Sure, she'd love to find a devoted partner. But she won't jeopardize her sister's happiness—or risk revealing her tortured past—on a love-'em-and-leave-'em type of guy like Kieran . . . so it's up to him to prove her wrong. As Fiona spends more time with Kieran, she starts to see a softer side of the reckless warrior. Now she must admit that when it comes to the possibility of real love, well . . . there's a fighting chance.
Book Links:

Meet the Author: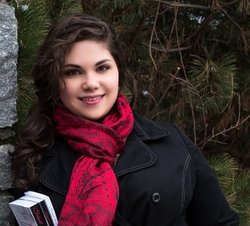 Aside from being a Top 10 Barnes & Noble and Amazon Bestseller, Sarah Robinson is a native of the Washington, DC area and has both her Bachelors and Masters Degrees in criminal psychology. She is newly married to a local police officer, Justin, who is just as much of an animal rescue enthusiasts as she is. Together, they own a zoo of rescues including everything from mammals to reptiles to marsupials, as well as volunteering and fostering for multiple animal shelters.
Website | Facebook | Twitter |