Today it is my pleasure to welcome USA Today bestselling author Kieran Kramer

to HJ!
About Kieran Kramer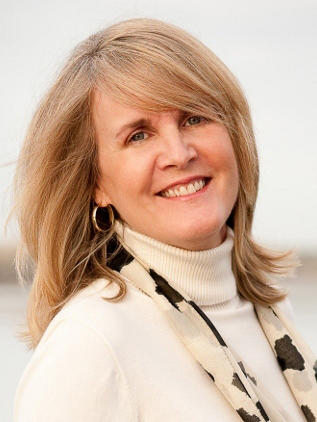 USA Today bestselling author and double Rita-nominee Kieran Kramer grew up on Johns Island, a rural sea island near Charleston, SC, and is the author of the funny Regency-set historical series called The Impossible Bachelors, published by St. Martin's Press.
Her new Regency historical romance series, The House of Brady, follows the adult romantic lives of six siblings from a blended family. LOVING LADY MARCIA, the first book in the series, out in August 2012, was a Library Journal Book Expo 2012 Editors' Pick. To keep up with Kieran's book news, find her on Facebook, her website, and Twitter. She also has a free app on the iPhone and Droid. Search your app store under "Kieran Kramer."
Kieran If you had to summarize Say Yes to the Duke for the readers here…
It's about the middle daughter in a wealthy, blended family in Regency England who goes to the country to meet a duke. Her parents hope they'll fall in love, but instead she winds up having a wild crush on a groom in the stables!!!
Please tell us about the characters in your book.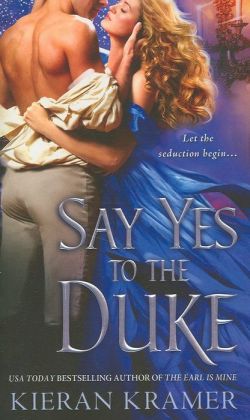 Lady Janice Sherwood is wedged between an older, beautiful sister and a younger, adorable one. No one seems to particularly notice her. So this is her chance to shine…if she marries the duke, who can top that? The only problem is, she finds herself falling for that hunky guy in the stables. His name is Luke Callahan, and he has a big secret. He's not even sure he can prove what he needs to prove, but he needs Lady Janice's help! He didn't count on her demanding more from him than anyone ever has before, nor did he count on falling for her, a woman he clearly can't have.
What scene did you have most fun writing? Why?
I had the most fun writing the first meeting scene–I always love writing the part where the hero and heroine first encounter each other! It was a lot of fun. Some misunderstandings happen, there are some laughs, and I'm happy to say, a sexy kiss (or two).
Who would who cast in the role of hero and Heroine if your book was optioned for a movie?
Easy–Channing Tatum and Emma Stone!
What are you currently working on? What other releases so you have planned for 2013?
This is my last release for 2013, and right now I'm writing SWEET TALK ME, which is a contemporary romance set in South Carolina. I'm really excited about it!
Where can readers get in touch with you?
Readers can always find me on my website, kierankramerbooks.com, on Facebook, and on Twitter…I'm also at kkramerbooks@aol.com.
Thanks so much for having me here today, Sara!!!
Giveaway:
2 print copies of Say Yes to the Duke
To enter Giveaway: Please complete the Rafflecopter form and complete this sentence:
I like reading historical romance because…….
Excerpt
Chapter 1
Lady Janice Sherwood—the one with the gorgeous older sister–had literally waltzed, however inelegantly, through several London Seasons and still hadn't found a husband. Everyone knew what a proper young lady did when she wasn't in demand. She rusticated in the English countryside in the hopes she'd be missed. And it went without saying that if she were wise, she'd develop her own magical charm while she was there—perhaps even catch the attention of an eligible gentleman in residence.
The chances that the dowager's grandson, the fabulously handsome Duke of Halsey, would fall madly in love with her when she was to stay at his house as a guest of his grandmother were next to nil. But Janice's parents, knowing the duke was to be there hovering about his prize horses, hoped the impossible would happen.
"But it won't," she said that very frosty morning she left London. "Me? Marry a duke?"
It was a ridiculous notion. She was going to the country to hide, for goodness' sake!
"If you have to fall in love, it might as well be with a duke," Mama said in utter seriousness, Daddy nodding solemnly behind her.
They actually believed that Janice, in her diminished state, was capable of attracting such a lofty personage. Which was touching, of course, if a bit deluded, the way all parents' hopes were.
She might not be able to fulfill her parents' dreams of glory for her—after all, her three best suitors had deserted her last Season–but she could be sporting about it. So when Lord Brady's glossy black carriage broke a wheel at the beginning of the long drive leading to the ducal manor, Janice put down her book and was willing to walk the rest of the way. But Oscar said no, she should wait for him to return with a fully-equipped carriage from His Grace's stables.
"Because the daughter of a marquess doesn't arrive on foot at the front door of a duke's house," he said. "Nor does she ride in a cart."
Of all the Brady drivers, only Oscar had the privilege of speaking so freely.
"I thought you told me nothing happens in the country, my lady," her maid Isobel fretted.
Oh, dear. Perhaps Isobel had that privilege, too.
"Nothing ever does happen," Janice asserted, hoping her confident delivery would lend her words extra power. A month dawdling in the country would allow her to forget for a while that she was the invisible sister, wedged between a glorious beauty—Marcia–and an adorable charmer, Cynthia, who'd soon make her own debut. "We'll play cards until Oscar comes back, shall we?"
"Very well," said the maid, "but you're not very good at cards, my lady. Do you think you'll have better luck with the duke?"
"Izzy!"
"Don't you want to marry him? Every eligible young lady should if she's got a head on her shoulders."
"But I want to marry for love." Janice did, too. Not that she had much hope for it, at the rate she was going.
Isobel dealt out the cards. "I should think loving a duke would be easier than loving someone else." Her tongue stuck out of the corner of her mouth as she eyed her hand.
"The question is how easy is it for a duke to fall in love with someone like me," Janice murmured. "And we both know the answer."
"You're being much too hard on yourself," protested Isobel. "You're very agreeable, my lady. And you had plenty of beaus in London."
"Had is the operative term." Janice sighed.
Isobel gave a luxurious laugh. "Perhaps you were too sparing with your kisses…."
Janice likely had been. She drew a card. Another heart! "I refuse to think any more of love," she said. "It's much too overwhelming a subject." And kissing was dull. It had been a grave disappointment to her to discover that fact. "Now let's play cards until Oscar returns. I vow to beat you this time."
But when the carriage door opened fifteen minutes later, Janice had lost yet again, and the person standing there wasn't Oscar. From what she could see of the stranger through the new-falling snow, he was tall, broad-shouldered, in his late twenties, she guessed—likely one of the duke's grooms in his well-cut but serviceable coat and simply tied cravat. Beneath his beaver hat, his hair was like coal, curling around his ears and framing a square, shaven jaw.
His horse stood waiting patiently behind him.
Janice's spine straightened. The man's eyes, thickly fringed in black lashes, were deep blue, the color of Daddy's sapphire ring. And his mouth—ah, his mouth. It was a work of art. Hard, male, yet as expressive as his eyes, which radiated intelligence, good humor, and a bold, restless intensity that proclaimed him his own man, despite his servant's garb.
The slight imperfection of his aquiline nose suggested he'd been in a fight or two. But the mystery and threat its crooked line hinted at only made his sheer masculine beauty more compelling. Indeed, his appearance was a shock, especially when she was expecting potato-eared—but perfectly lovable–Oscar.
Isobel, too, found the stranger riveting, judging from the way her chin dropped onto the thick violet muffler with extra pom pons Janice had knitted for her.
The man's eyes glittered with interest when he perused Janice's face, setting her heart racing. What on earth? He was a servant, of all things. He shouldn't be looking at her that way.
"You're obviously unhurt," he said, "so I'll dispense with the niceties." His voice was rich yet faintly bitter, like one of the coffeehouse brews she craved on a regular basis and sneaked out to get when Mama wasn't looking. "State your business, my lovelies. No one with good intentions comes down this road."
"Of course, we've good intentions," said Janice, mortified. "We've been traveling for hours with good intentions, and we intend to get out of this carriage and have a cup of tea with His Grace and the dowager duchess." Her heart pounded like a herd of stallions crossing a plain. She was dressed modestly, in a navy cape and simple matching bonnet. And as for her hair, she'd taken no time to pin it back up after a few ringlets had fallen out at their last stop.
Yet the man eyed her as if she were a mysterious, compelling creature. He was the only man who'd ever looked at her that way, and she immediately thought of her underthings, all of them practical but with scraps of the finest Avignon lace sewn here and there. Mama had made them and stitched Janice's initials on every garment.
"You're after more than tea with the duke and the dowager." He grinned, exposing strong, white teeth. "We received no notice of your arrival, yet you've enough trunks to stay for weeks."
"Your impertinence is remarkable," said Janice. "We are staying longer than tea. We plan to stay for a month." She sat up higher on her seat, and despite her pique with this man, felt an insane desire to lean forward, lay the flat of her palm against his jaw, and cup it, just so she could trap that grin and stare at it all day long. She didn't need the rest of him. Oh, no. The rest of him could jump in a lake. "The dowager summoned me herself."
"How can that be when she's incapable of summoning anyone? She thinks she's the Queen."
Janice felt a great shock course through her. "Well, queens do summon people."
His skeptical glance didn't faze her.
"I'll have you know she was quite lucid in her letter." Janice's tone was cool, but inside her heart was clamoring. How could the dowager think she was the Queen? "I have that letter in my trunk and am ready to produce to the appropriate person, who wouldn't be you. Who are you, pray tell? A tenant farmer? One of the duke's grooms?"
The man lofted an elegant brow and opened his mouth to speak.
"I knew it!" gasped Isobel before he could say anything. "He's the duke himself!"
"Izzy!" Janice cried, embarrassed. He was clearly dressed like a working man.
His mouth twitched in amusement. "I am a groom, actually." He sounded quite proud of the fact. "My skills venture beyond the stables, however. I'm tasked with preserving the integrity of the place, so don't bother making up a wild story about why you simply have to stay. I've heard them all, I assure you."
The twinkle in his eye unnerved Janice like nothing else. What was so amusing? And even if something was, how dare he look that way at her? She was a marquess's daughter, and while she didn't often flaunt that fact, she was owed at least a bit of dignity, wasn't she?
She looked down her nose at him. "But we haven't done anything wrong. The dowager did summon me—I have the letter and seal to prove it–and you're the most disrespectful"—handsome—"groom I've ever met–"
"I assume your driver has gone ahead with the horses," he interrupted her smoothly. "This road is impeccably kept, not a pothole in it. Which of you engineered that? Or was that your driver's trick? The letter is easy enough to discount—forgers abound–but a broken wheel permits a second chance at staying while the letter is examined. An ingenious complication to the ploy, ladies."
"There is no ploy," Janice returned hotly.
But she could hardly hold onto her shock and anger. His eyes had filled with jealous admiration. Or perhaps it was reluctant respect, not the kind she usually got—the "I'm-looking-through-you" token respect that men, servants, and everyone gave her as the stepdaughter of a marquess.
It was very much like the respect she'd earned from her old friend Dickon. When she was eight and he was nine, she could balance on one leg much longer than he could. This man was looking at her the same way, as if she had a talent. A skill of some kind. A special trick.
And you do, the thought came to her. You've got all sorts of special tricks and talents.
It was a big, wonderful notion, and it hadn't occurred to her in a very long while. Confidence surged through her. "I'd like to know what trick you're up to, sirrah. I'm Lady Janice Sherwood. And this is my abigail, Miss Isobel Jenkins."
"Of the traveling circus Jenkins," Isobel interjected proudly.
He raised a brow, and Janice let him wonder. Izzy never passed up an opportunity to speak of her family and their interesting way of life, and Janice, for one, adored her all the more for it.
"You're being most irregular suggesting we're here under false pretenses and planned our little accident," Janice accused him. He leaned lazily against the carriage door frame, presumably unaffected by her ire. "Had I not been rattled by the shock of hearing that the dowager isn't well, coupled with the tumble we nearly took within this carriage, I'd take even more offense. What's your name?"
"Luke Callahan," he said in serious tones. "Thank you for asking. You're the first ever to ask, of all the strumpets who've come to see the duke in the six weeks I've been here."
Oh, goodness. His eyes. The pupils were like little black diamonds inside those sapphire irises.
"You're welcome, Mr. Callahan." Janice swallowed. "Wait a minute, what did you say?" She stared at Izzy. "Did he call me a strumpet?"
Izzy nodded, her eyes wide.
"I'll take it back"–his tone was completely unapologetic, but his gaze felt like a wonderful caress–"if you'll cooperate. It's too late to return you to the village. The snow has lent you the best excuse yet to stay—even better than that broken wheel. But you'd best behave while you're here."
"Behave?" Janice practically squeaked the word, she felt so prim at the moment—and she only felt prim whenever she was in over her head. "I don't know what you're about, but it makes no sense. No sense at all. Why, look at my bonnet and cloak! They're perfectly respectable—"
"Come now." He shot her a sympathetic grin. "You and I both know they don't disguise your true hot nature."
"My what?" She inhaled a breath. "If you don't stop spouting nonsense–"
"Let me explain a little closer," he said, and without ceremony, half-entered the carriage, grabbed her by the hand, and pulled.