Today it is my pleasure to welcome romance author

Cara Elliott

to HJ!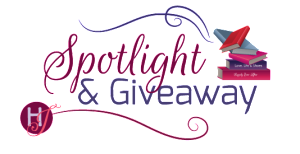 If you were written about in the newspaper, on the front page what would the headline say? Why?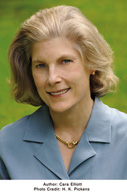 The headline would have something to do with me playing a part in encouraging literacy and reading, both in this country and around the world, especially for girls and women. Books give people hope and help them dare to dream big dreams.
Are you a plotter or a panster? Tell us a little bit about your writing process.
I'm a total pantser. I have a very clear idea of the beginning, and know where I plan on ending up, but as for the rest . . . Well, there are many days when I lean back in my chair after a day of writing an important scene between my hero and heroine and say, "Yipes, I didn't know they were going to do that!" But for me, that's part of the magic of writing. I've tried to draft out a detailed synopsis of stories, but my brain just doesn't seem to function that way.
What can you tell us about the Hellions of High Street Series?
It's all about a trio of unconventional sisters with a passion for writing. Olivia, the eldest, pens fiery political essays, Anna, the middle sister, writes racy romance novels and Caro, who is not quite out of the schoolroom, is a budding poet. However, proper young ladies of the ton—especially ones who have very small dowries—are not encouraged to have an interest in intellectual pursuits. Indeed, the only thing they are encouraged to pursue is an eligible bachelor. Preferably one with both a title and a fortune. So, the headstrong, opinionated Sloane sisters must keep their passions a secret. Ah, but secret passions are wont to lead a lady into trouble . . .
If you had to summarize Scandalously Yours for the readers here..

.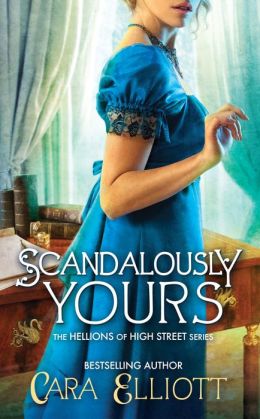 It's all about family, friendships and the bonds of love—which sometimes knot in delightfully quirky tangles—that tie us all together.
Please tell us about the characters in your book
Well, there are the three talented and opinionated Sloane sisters, the widowed Earl of Wrexham—known as the Perfect Hero—and his young son who is determined to quash his father's courtship of a strait-laced lady known as the Steel Corset. Add a number of secret letters crossing paths and, um, things begin to get a little complicated . . .
As you wrote your protagonists was there anything about them that surprised you?
Ha—all my characters are constantly surprising me! I'm very bad at making them behave.
What scene did you most enjoy writing? Why?
That's such a hard question—I enjoyed writing so many of the scenes! But one of the things that was such fun was creating the camaraderie between the three sisters:
Olivia sank into one of the armchairs by the hearth and took her head in her hands. "Drat, I should be smart enough to come up with a clever solution."
A thoughtful silence came over the study, punctuated only by the crackling coals and the scratch of Anna's pen.
"I have it!" Caro suddenly snapped her fingers. "We can kidnap the Steel Corset and sell her to a ring of white slavers." She chortled. "Just like in Lord Byron's poem, The Corsair.
"I'm not sure we'll find any pirates cruising along Piccadilly Street," said Olivia dryly.
"Thank God," murmured Anna. "My book earnings would not be near enough to bail both of you out of Old Bailey."
What scene was the hardest to write? Why?
Oh, when the book is done, the struggles are all forgotten! That said, one of the last scenes, which called for a very powerful mix of complex emotions bonding Olivia and Wrexham together, needed a very special balance to strike the right chord. I spent a lot of time working and reworking it—and am very happy with how it turned out.
John pulled Olivia into his arms. Sparks flew up from the crackling logs, and somewhere in the nearby trees a pair of nightingales broke into a twittering song. Taking her hand, John slid into the figures of a waltz. He was humming, the soft notes in perfect harmony with the music of the night.
"That's lovely," she murmured after several bars. "What is it?"
"Beethoven's Sonata 'Quasi una fantasia.'" A silver shimmer winked over his smile. "Which is more popularly known as the Moonlight Sonata."
Moonlight. Firelight.
A tangled glow traced over the planes of his face, the flame-tipped lashes, the stubbled whiskers, the lean jaw. Silhouetted against the iron gray stone he looked like a wild Druid warrior. Dark. Dangerous.
Olivia felt the breath shiver in her throat. This was not the civilized, straitlaced earl of a London ballroom, but a far more primitive male . . .
Who would you cast in the role of your characters if your book were optioned for a movie?
Keira Knightley in her Pirates of the Caribbean persona would make a great Olivia. And Matthew Macfadyen in his Pride and Prejudice persona would make a great Earl of Wrexham.
What are you currently working on? What other releases do you have planned for 2014?
The next two books in the series are coming out in February and March, so I have a very busy beginning of the year. As for what's next. I'm working up a new series idea that I think has lots of fun possibilities. That's all I'll say right now, but stay tuned!
Where can readers get in touch with you?
They can visit me at my website: www.caraelliott.com and my group blog, The Word Wenches: http://wordwenches.typepad.com/
They can also connect with me on Facebook: https://www.facebook.com/cara.elliott.71 , Twitter: CaraElliott_1 , and Pinterest: http://www.pinterest.com/cara3379/
GIVEAWAY:

2 print copies of SCANDALOUSLY YOURS
To enter Giveaway: Please complete the Rafflecopter form and post a comment to this Q:

Okay, here's a fun question: the Earl of Wrexham is nicknamed The Perfect Hero because of his bravery on the battlefield. He's tall, dark, strong, yet sensitive . . . what actor would you cast to play him?Why?
Excerpt
Ignoring his retort, John's sister ducked around a dancing couple and tugged him into the alcove. "Miss Sloane, how nice to see you here tonight."
The lady spun around with an odd little herky-jerky step. John blinked. Was that a pencil and paper she had just jammed in her reticule?
"What a crush," went on Cecilia brightly. "How clever of you to find a spot where one can catch a breath of air. I hope you don't mind if we join you for a moment? Oh, and this is my brother, Lord Wrexham, who has just come up to Town for several days."
Miss Sloane seemed flustered by the sudden intrusion. She jerked her head up, the abrupt motion loosening one of the pins holding her upswept tresses. John stared in fascination as a curl sprang free and slowly tumbled across her cheek. Her hair was dark, but not quite as dark as it had appeared in the hazy shadows of the game room. He saw now that it wasn't black but rather a deep auburn flecked with sparks of red-gold from the hide-and-seek flicker of the wall sconces.
"Y-yes, of course, Lady Silliman." Olivia turned to meet his gaze. "Milord."
John felt his throat tighten. She was by no means a conventional beauty, but there was something about the molten intensity of her jade green eyes that rendered him momentarily speechless. Aswirl in their smoky hue was a hint of fierce intelligence, along with a rippling of other emotions he couldn't quite fathom.
"Wrexham," murmured his sister, flicking him an exasperated look.
Though still tongue-tied, he forced himself to speak. "Miss Sloane. You…you have lost one of your hairpins. And another appears in imminent danger of coming free."
Her hand flew her face, which was fast turning a shade redder. Embarrassment pinched at her mouth. "Yes, well, that happens more often than not, milord," she said, quickly tucking the errant strand behind her ear. "As you see, there is a good reason the tabbies call me the Hellion of High Street."
"Do you not care about fashion?" he inquired, distracted by the graceful, shell-pink curve. He had never before thought of an ear as erotic, but there was something strangely sensual about hers.
"Not as much as I care about other things," she replied, her husky voice holding a faint note of challenge.
What things? he wondered. Other than chess. But aware of how stilted his comments were sounding, John remained silent.
The awkwardness stretched for several moments before his sister edged back a step. "Oh look, there is Lady Repton. If you will excuse me, I must have a word with her before she disappears for good into the card room." said Cecilia. "Wrexham, the musicians are striking up a waltz. I am sure that Miss Sloane would like to dance."
"His Lordship need not trouble himself—" began Olivia.
"Oh, it's not trouble at all," said Cecilia breezily. "Indeed, my brother adores dancing."
John mechanically held out his hand . . .
About the book
Proper young ladies of the ton-especially ones who have very small dowries-are not encouraged to have an interest in intellectual pursuits. Indeed, the only thing they are encouraged to pursue is an eligible bachelor.
Preferably one with both a title and a fortune.
So, the headstrong, opinionated Sloane sisters must keep their passions a secret.
Ah, but secret passions are wont to lead a lady into trouble . . .