Today it is my pleasure to Welcome author
Kira Archer
to HJ!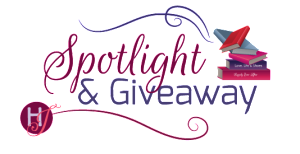 Hi Kira and welcome to HJ! We're so excited to chat with you about your new release, Scotland or Bust!
Please summarize the book for the readers here: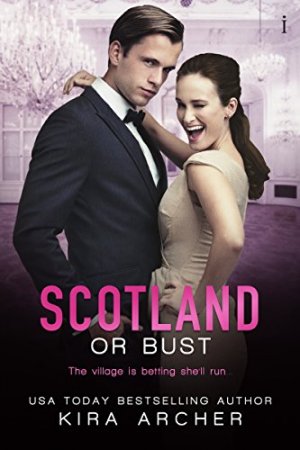 S: Scotland! A little on the nose but totally relevant 😉
C: Castle – Harrison owns one!
O: Outlander – otherwise known as The Book That Must Not Be Named
T: Treasure – Granny is sure there is one, but it's not what you think
L: Lust, Love, and Loony Grannies – this one has them all!
A: Austin – the butler of Awesome
N: Nosy – small towns, amirite?
D: Dilapidated – castle upkeep is expensive, yo
O: Off Her Rocker – a good description for Granny 😉
R: Rocky Relationships – but all end with a HEA!
B: Bets flying everywhere, because in this series OF COURSE THERE ARE!
U: Unfazed – not the reaction Harrison was expecting from Nikki
S: Summer – summer trip, summer fling, summer job, summer wedding?
T: Temporary Assistant turned Billionaire's Fake Fiancee.

Please share the opening lines of this book:
Harrison Troy stood staring down at the so-called seats on the plane. He'd had marginal hopes that he could at least fly in some comfort. However, this particular plane didn't have the new upgraded first-class pods that most airlines had. Instead, they had the larger seats—leather and fully reclining perhaps, but still side by side with one another. The last thing he wanted was to be saddled with a talkative seatmate all the way across the Atlantic. Or any kind of seatmate, really. What he wanted was to fly on his own private plane with its fully stocked bedroom from New York to London.
Please share a few Fun facts about this book…
There are many references to Outlander, which my hero HATES, but I actually really love. Reviewers seem to have mixed feelings about this lol But it was a lot of fun playing with a character who hated something I loved so much.
The village fool of eccentric characters was inspired by the village in Vicar of Dibley, one of my favorite British comedy shows. I would really love to live in a village like this someday.
My vision of Harrison's castle is inspired by the movies The Money Pit and High Spirits. Both movies about renovation projects that go terribly wrong.
The book is dedicated to my fellow rabid Outlander fans. #JamieFraser4eva
The butler Austin's name came from those games Homescapes and Gardenscapes, which I was unfortunately addicted to while writing this book.
Was there a scene in this book that was harder to write than others?
The opening scene on the plane was a little difficult because my heroine kisses my hero to distract him from the plane's takeoff. But they are strangers and it was really important to me to make sure there was consent there. She may have been kissing him out of the blue, but consent works both ways and I wanted to make sure to portray that and show that consent can still be spontaneous and sexy and fun. So this scene was rewritten several times until my editors and I were happy with it. Here is an excerpt:
The plane taxied to the end of the runway, and the engines powered up. He shoved his case back under the seat and gripped the armrests.
"Hey, are you okay?"
"Fine," he said through gritted teeth. The engine noise reached almost screeching level. "Bollocks," he muttered.
"Why don't I believe you?"
He didn't bother to answer her.
"Harrison."
"Shhh," he muttered.
He closed his eyes and tried to conjure up an image, any image, that would take his mind off the plane revving up. The first image to hit his mind was the irritatingly perky woman next to him climbing into his lap and doing unspeakable things to him. So wrong. His only excuse was that she was the last person he'd laid eyes on, and with her chattering away next to him, she was hard to ignore. He fought to think of something else, but failed. He'd feel bad about it later. Right then he was enjoying what imaginary her was doing to him.
"Harrison," she said again.
Ignore, ignore, ignore.
"Yo! Harry," she said, loud enough that it startled him.
He turned to her and she leaned in, her eyes roving over his face until they focused on his lips. She bit her own and let out a little breath that had the blood rushing south so quickly he had to resist the urge to cover his lap with his notebook like he'd done back in his early teen years.
"Ever make out with a total stranger, Harry?" she asked, in a low, sultry voice that had him imagining all sorts of new things he'd like to do.
"Not lately, no."
Those full lips of hers turned up, and she leaned in even more, her fingers winding into his tie. "You should try it sometime. It's extremely liberating. Not to mention just flat out hot."
She gave it a little tug and he obliged by moving closer. He had no idea why. This was beyond inappropriate, but she was right there. Acting out what he'd just been fantasizing about like some sort of magic genie in a bottle who'd been created to bring his every wish to life.
Her lips parted in invitation. The vanilla scent of her tantalized him.
Her eyes locked with his again. "I'm available for your kissing pleasure if you were so inclined."
Her lips were only a breath away from his now.
He felt like he was being hurtled through space…though whether that was her or the plane screaming down the runway, he wasn't sure.
Oh God. The plane…
"Harry," she whispered. He refocused on her. "Kiss me."
His head swam. He wasn't sure if it was in arousal or terror, but if he had to choose, he was going to go for arousal.
He cupped the back of her neck. "Don't call me Harry." Then he yanked her to him and crushed her mouth to his.
Excerpt. © Reprinted by permission. All rights reserved.

What do you want people to take away from reading this book?
I really just want my readers to be entertained. If they walk away from my books with a smile on their face and a little extra warmth in their hearts, I've done a good job.
Thanks for blogging at HJ!
Giveaway:

$10 Amazon gift card
To enter Giveaway: Please complete the Rafflecopter form and Post a comment to this Q:

If you could live anywhere in the world other than where you are now, where would you go?
Book Info:
After dumping her boyfriend, Nicole Franklin impulsively jumps on a plane and heads to Europe. Sure, money and a job would have been nice to line up first. Even a visa, for that matter. So now she has to play tour guide at an Outlander experience for the most obnoxious man on the planet. Until she stumbles into the wrong bed in the middle of the night and wakes up in Harrison's arms. Now his family thinks they're engaged, and the entire village is betting on how long before she'll be running for the hills.
Harrison Troy has a reputation in the town for burning through assistants. And the bubbly new one he's just hired is likely no different. But his family quickly has them "engaged." He should be upset, but she's the perfect buffer for his interfering family. She says she doesn't need another man in her life–even if he comes with a castle–and that's fine with him. So why can't he stop thinking about the woman who is charming everyone in the town, and maybe even him?
Book Links: https://entangledpublishing.com/scotland-or-bust.html 


Meet the Author: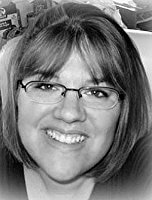 Kira Archer resides in Pennsylvania with her husband, two kiddos, and far too many animals in the house. She tends to laugh at inappropriate moments and break all the rules she gives her kids (but only when they aren't looking), and would rather be reading a book than doing almost anything else. Most of her non-writing hours are spent hanging with her family and running her kids around because they are busy and she's the taxi driver. She loves her romances a little playful, a lot sexy, and always with a happily ever after. She also writes historical romances as Michelle McLean.
Website | Facebook | Twitter | Instagram | GoodReads |