Today it is my pleasure to Welcome romance author
Jill Shalvis
to HJ!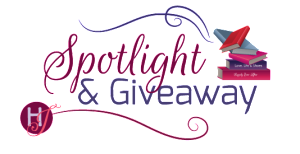 Hi Jill and welcome to HJ! We're so excited to chat with you about your new release, Second Chance Summer!

Thanks for having me!

Please summarize the book for the readers here: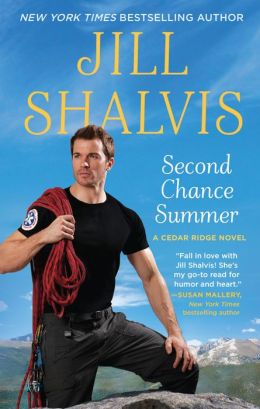 Second Chance Summer is a sexy fun romp about forgiveness. And let's not forget about the hero. Aidan Kincaid: firefighter, S&R expert, and heartbreaker… 🙂

Please share the opening lines of this book:
After fighting a brush fire at the base of Cedar Ridge for ten straight hours, Aidan Kincaid had only three things on his mind: sex, pizza, and beer. Given the way the day had gone, he'd gladly take them in any order he could get them.
Not in the cards.
Please share a few Fun facts about this book…
Five fun facts about Second Chance Summer:
Aidan was originally going to be named Ian. But then I remembered I had an ex boyfriend by that name…
Lily was going to be named Brooklyn. But that name was too long to type a thousand times a day so I switched her to Lily.
Five boxes of Lemon Double Stuffed Oreos were consumed during the writing of this book. I gained five pounds.
Cedar Ridge was going to be set in California but my editor talked me into Colorado and I'm glad she did.
I had a LOT of fun researching ski resorts and behind the scenes of how they work. And I use the word "research" loosely because mostly what I did was ski… ☺
If your book was optioned for a movie, what scene would you use for the audition of the main characters and why?
He moved toward her, right into her personal space.
She took a step back and came up against the wall.
This didn't stop him. He kept his forward momentum until they were toe to toe. And then while she was still standing there a little dumbfounded and also something else, something that felt uncomfortably close to sheer, unadulterated lust, he put his hands on the wall on either side of her head.
This both escalated her heart rate and stopped her lungs from operating. "Um—"
"You had your chance to tell me what's wrong with you," he said. "You passed. Now I'm going to tell you what's wrong with me."
Oh, God. Talking would be a bad idea. As for a good idea, she had only one, and before she could consider the consequences, she gripped his shirt, hauled him down, and kissed him.
He stilled for a single beat and then got on board quick, pulling her in, sinking a hand into her hair to tilt her head to the angle he wanted, and taking over the kiss.
The next thing she was aware of was the sound of her own aroused moan, and she jerked free.
The corner of his mouth quirked. "Did you just kiss me to shut me up?" he asked.
She blew out a sigh. "It made a lot more sense in my head."
He grinned, one of those really great grins that made something low in her belly quiver. Needing some space, she pushed him, even though her instincts were telling her to pull him in tighter instead of pushing him away.
"Back to what's wrong with me," he said, still looking amused. "It's you."
She opened her mouth to say something, but he set a finger against her lips. "My turn," he said, and lowered his head and kissed her.
And oh. Oh, damn… There were some men who just knew how to kiss, the kind of kiss that could send a woman reeling. The kind of kiss that could take away problems and awareness and…and everything. The kind of kiss that could shatter her into a trillion little pieces. The kind of kiss that somehow both calmed her body and soul even as it wound her up for more.
Aidan was that kind of kisser. Shocking, really, to also realize that in between their first kiss all those years ago to now, that there'd been nothing else like it for her.
What do you want people to take away from reading this book?
Well it's not brain surgery or anything. In fact, it's brain candy. So just read and enjoy… 🙂
What are you currently working on? What other releases do you have planned for 2015?
Coming up next is MY KIND OF WONDERFUL, Aidan's brother Hudson Kincaid takes front stage… Head of ski patrol for Cedar Ridge Resort, Hud thinks he has life all figured out. Until Bailey Moore blasts into his world and turns his life upside down…

Thanks for blogging at HJ!
Giveaway:

Two winners can win their choice of any book in the Lucky Harbor or Animal Magnetism series, print or digital. US only.
To enter Giveaway: Please complete the Rafflecopter form and Post a comment to this Q:

I usually write series but always keep the books as stand alones for those who don't like to follow an entire series. How about you, what is your preference?
Excerpt from Second Chance Summer:
Lily Danville was most definitely back in town. Because he couldn't help himself, Aidan watched as she rushed to the door of the convenience store balancing an armful of junk food. Nice to know some things hadn't changed.
Clearly she was trying to avoid him—a plan he could get behind. He had no desire to take a walk down Memory Road either, especially when that road had ended in a spectacular crash with no survivors.
Just the walking dead.
Still, after all these years she looked the same, hauntingly vulnerable and yet somehow tough at the same time. It was that willowy, curvy body coupled with those drown-in-me green eyes that she so carefully didn't turn his way.
She almost got away, too, and then neither of them would have had to face each other, but someone jostled her at the doorway. Lily staggered backward, right into a five-foot postcard display of the Colorado Rockies.
The entire thing began to wobble.
With a gasped "Oh, no!" Lily reached out for it, sacrificing her bag of chips to do so. The bag hit the floor and then a package of donuts slipped out of her arms as well, landing next to the chips.
And that was it. The domino effect came into play, and sure enough the cherry pie went next.
The very last thing to go was the postcard display itself, falling over with dramatic flair, scattering postcards and Lily's armload from here to Timbuktu, leaving her standing there, a junk food massacre at her feet.
"Damn," Cliff, the store clerk, said. "That always happens."
"I'm so sorry!" Lily bent and began to scoop the postcards.
"No worries," Cliff assured her. "Seriously, I'll get it."
Very carefully not looking at the line where Aidan stood, she shot the clerk a grateful smile and vanished so fast that Aidan had himself half convinced he'd imagined the whole thing. Except the postcards sprawled across the floor said otherwise.
So did the odd ache in his chest.
He moved to help Cliff, who he knew from last summer, when the guy had accidentally set this place on fire.
Cliff grinned as together they righted the display. "She was kinda hot. A mess, sure, but a hot mess, right?"
Aidan made a noncommittal sound and pulled out some cash to pay for the soda he'd come in for.
"Wait," Cliff said, and picked up a package of cookies Lily had left behind.
And a set of keys.
"Hot Chick forgot these," the clerk said. "Could you run them out to her for me?"
Shit. The very last thing he wanted to do was go have a one-on-one. Especially since clearly she didn't want to talk to him any more than he wanted to talk to her.
"I can't leave the store, man," Cliff said. "You're a firefighter, you rescue people all the time. Go rescue the hot chick, she'll probably be super grateful." Cliff waggled his brow. "You're welcome."
Shit. Aidan took Lily's keys and forgotten cookies and strode out of the store. As expected, Lily was still in the lot, sitting in her car, thunking her head against her steering wheel muttering something he couldn't hear through her closed window.
He shook his head, braced himself, and knocked on the glass.
Lily startled and smacked her head on the sun visor. Rubbing the top of her head, she turned and glared at him.
He lifted his hand, her keys dangling from his fingers.
She stared a moment and then thunked her head on the steering wheel again.
"How long are you going to pretend you don't see me?" he asked.
"Forever?" she asked.
Okay, enough of this. "It's just a set of keys."
When she still hesitated, he revealed the cookies in his other hand, jiggling them enticingly.
As he'd suspected, that did the trick. She opened her car door a little bit, just enough to stick her hand out for the goods.
Aidan dropped both the cookies and keys into her palm and then made his move, quickly crouching between the opened door and the driver's seat so that she couldn't shut the door on him—though she did give it the ol' college try.
Excerpt. © Reprinted by permission. All rights reserved.

Book Info:
Cedar Ridge, Colorado, is famous for crisp mountain air, clear blue skies, and pine-scented breezes. And it's the last place Lily Danville wants to be. But she needs a job, and there's an opening at the hottest resort in her hometown. What has her concerned is the other hot property in Cedar Ridge: Aidan Kincaid-firefighter, rescue worker, and heartbreaker. She never could resist that devastating smile . . .
The Kincaid brothers are as rough and rugged as the Rocky Mountains they call home. Aidan has always done things his own way, by his own rules. And never has he regretted anything more than letting Lily walk out of his life ten years ago. If anyone has ever been in need of rescuing, she has. What she needs more than anything are long hikes, slow dances, and sizzling kisses. But that can only happen if he can get her to give Cedar Ridge-and this bad boy-a second chance . . .
Book Links:

Meet the Author: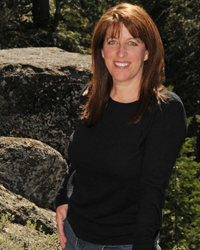 New York Times and USA Today bestselling author Jill Shalvis lives in a small town in the Sierras full of quirky characters. Any resemblance to the quirky characters in her books is, um, mostly coincidental. Look for Jill's sexy contemporary and award-winning books wherever romances are sold and click on the blog button above for a complete book list and daily blog detailing her city-girl-living-in-the-mountains adventures.
Website | Facebook | Twitter |