Today, HJ is pleased to share with you

Nancy Herkness's

new release: 

Second Time Around

A former love makes a lasting impression in a warm and sexy romance from Nancy Herkness.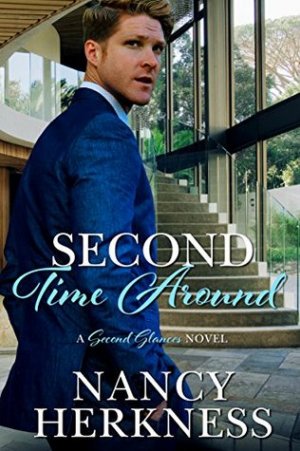 Kyra Dixon, a blue-collar girl from the boondocks, is dedicated to her job at a community center that matches underprivileged kids with rescue dogs. When she runs into Will Chase—Connecticut blue blood, billionaire CEO, and her old college crush—she's surprised that he asks a favor from her: to be his date for his uptight family's dreaded annual garden party. If his parents don't approve, all the better.

Kyra's not about to say no. It'll give her a chance to be oh-so-close to her unrequited love. What begins as a little fling turns so mad hot, so fast, that Kyra finds herself falling all over again for a fantasy that won't come true. How can it? She doesn't belong in Will's world. She doesn't want to. But Will does want to belong in hers.

All he has to do now is prove it. Will is prepared to give up whatever is necessary to get what his heart most desires.

Enjoy an exclusive excerpt from Second Time Around 
The helicopter came to a hover and slowly lost altitude. Kyra practically smashed her face against the window to watch the aircraft ease down in the middle of a well-mowed field. She was also relieved to be back on solid ground.

The rotors slowed to a halt and Will unlocked the door, pushing it upward, while the steps dropped down. He exited before turning to hold out his hand.

It was an angle she hadn't often seen him from, so she enjoyed the view of his face tilted up. She could examine the way his hair swept back in waves from his forehead, the tiny lines at the corners of his eyes, and the dark lashes that outlined his brilliant eyes. For a long moment, she crouched in the doorway, mesmerized by his beauty.

Kyra indulged herself in leaning on Will's strength as she came down the helicopter's steps. His grip was firm and his arm was steady as a rock. A rush of longing coursed through her as she thought of how wonderful it would be to occasionally have someone to lean on. It was exhausting to fend for herself all the time.

He dropped her hand but put his palm against the small of her back to guide her toward what looked like a miniature sports car parked on the grass. It was bright red and "Will" was painted on the hood in swirling gold script.

"Honey, I shrunk the Ferrari," Kyra said.

Will gave her a pained look. "It's a golf cart. My parents gave it to me when I was a kid. Schuyler has one that looks like a classic Mustang Shelby."

"You really did grow up in Disney World," she said as he helped her into the passenger seat.

"Is that what you think?" He released her hand but didn't move.

She met his gaze. "Disney World also has rides that make people scream."

He laughed, but the sound held no joy. "No one would dare raise their voice in my family."

He walked around the cart, settled into the driver's seat, and turned the key. "It doesn't have the same pickup as a real Ferrari, but I loved it as a kid."

She grabbed the side as they bounced across the meadow before turning onto a paved lane. As the stone turrets of the house came into view, the sound of big band music wafted over the hum of the golf cart's electric motor. The muscles in her throat tensed as she faced the prospect of meeting Will's parents and a few hundred of their closest high-society friends.

She fiddled with the bracelet Emily had loaned her. It was eighteen-karat gold, set with Peruvian opals that glowed a soft, translucent aqua. She wore matching teardrop earrings as well. At least her jewelry would pass muster.

"No reason to go in the front door," Will said, swinging the cart off the lane and across the grass. He steered through an arched trellis and pulled up in the crook of a stone wall. Now the murmur of voices mingled with the music.

Kyra took a deep breath.

"You look worried." Her head snapped around to find Will leaning on the steering wheel as he watched her. "No need for it," he said. "My parents will be scrupulously polite to you."

"What are their names?" Kyra swallowed to clear the tightness in her throat.

"Twain and Betsy. My father got the nickname because he's William the second."

She would have a hard time calling them anything other than Mr. and Mrs. Chase.

He sprang out of the cart and came around just as her feet touched the ground. Her taupe patent leather sandals had wedge heels, which would prevent her from sinking into the grass. She'd gotten the idea from studying photos of Kate, the Duchess of Cambridge, at garden parties. She'd figured that the stylish young duchess would have practical experience with such events.

"Anyone else I should know about?" she asked.

"Schuyler might have a date, but I'll be meeting him for the first time, too."

Will rested his hand on the small of her back again. She was getting to like that little gesture that claimed her.

They walked around the wall and through a formal garden, where a cascading fountain glittered in the sunlight. The party sounds grew louder just before they rounded a corner of the house.

Kyra stopped to take in the swirl of brightly colored dresses and the charm of natty bow ties, the dance of white-jacketed waiters balancing silver trays filled with drinks in various hues, and the flutter of pastel tablecloths, all highlighted against the brilliant emerald of closely mowed grass.

"Having second thoughts?" Will's tone was sardonic.

"No, it's so beautiful, I want to admire it a moment." It was also way out of her league.

She glanced up at Will to find him surveying the scene before them. "I suppose it is, on the surface. But like the ocean, there's an undertow," he said.

A young woman with a tray of champagne flutes approached them. Will took two, handing Kyra one before touching her glass with his. "Morituri te salutant."

"I didn't study Latin."

"The slaves who were forced to fight to the death in a staged naval battle for Emperor Claudius greeted him by saying, 'We who are about to die salute you.'" Will took a sip of his champagne, his movements stiff with tension.

"You're being dramatic." Kyra tilted her glass in the direction of the party. "There's no blood on the grass."

"Yet." Will took another gulp of champagne before offering her his arm, along with a tight smile. "Let me introduce you to my parents."
Excerpt. ©Nancy Herkness. Posted by arrangement with the publisher. All rights reserved.


Giveaway:

Ebook: Nancy Herkness' SECOND TIME AROUND
To enter Giveaway: Please complete the Rafflecopter form and post a comment to this Q:

What did you think of the excerpt spotlighted here? Leave a comment with your thoughts on the book…
Meet the Author:
Nancy Herkness is the award-winning author of the Wager of Hearts, Whisper Horse, and Second Glances series, as well as several other contemporary romance novels. With degrees in English literature and creative writing from Princeton University, she has earned the New England Readers' Choice award, the Book Buyers Best Top Pick honor, and the National Excellence in Romance Fiction Award, and she is a two-time nominee for the Romance Writers of America's RITA Award.

 Nancy is a native of West Virginia but now lives in suburban New Jersey with a goofy golden retriever.