Today it is my pleasure to welcome New York Times and USA Today bestselling author

Roxanne St. Claire

to HJ!

Hi Rocki, Welcome back to HJ!
What would you say are the defining characteristic of your Novels?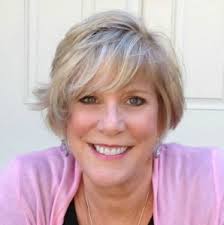 I try to write a book that will make a reader laugh and cry while it entertains and provides a great escape. When someone writes and tells me they 1) broke out the tissues or 2) lost sleep or 3) didn't want the book to end, I've done my job.
What can you tell us about Billionaire novellas:
The new trilogy (all novellas) are set in the same place as the first four books in the "Barefoot Bay" series — a fictional island off the Gulf Coast of Florida. In the first four books, four friends came together to build and run a small but extremely high end beachfront resort and spa. They each had a story, and have found their Happy Ever After. Now it's time to meet the people who visit the resort…which has become both a playground for the rich and a destination wedding setting. So we've got the Billionaires of Barefoot Bay (three novellas) which will be followed by Barefoot Brides (three novels).
If you had to summarize SECRETS IN THE SAND for the readers here ….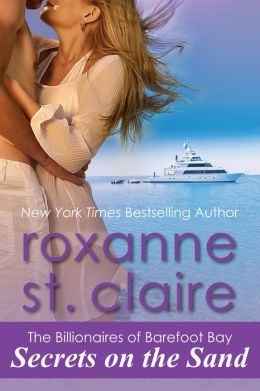 Up first, SECRETS IN THE SAND, the first of the Billionaire novellas. Here's the blub:
Zeke Nicholas has turned his mathematical genius skills into a mountain of money. But Zeke sits on that mountain all alone, longing for the one thing money cannot buy: the true love of a lifelong partner. Zeke grew up near Barefoot Bay and is staying at the resort for a week while he's in town for a family event. Enter Mandy Mitchell…the maid. Except to Zeke, Mandy is much more than that—she was the object of his every teenage fantasy back in the days when she was known as "Mandy the Magnificent" and he had the unflattering high school nickname of "Ezekiel the Geekiel."
Zeke is no longer a geek — he's gorgeous. And Mandy doesn't feel so magnificent since her marriage fell apart and left her up to her eyeballs in debt and despair. One look at Zeke, and she knows he's exactly the kind of trouble she should avoid. One look at Mandy, and Zeke turns his relentless ability to get what he wants into a full-on seduction. But can Mandy face down the secrets of her past to find a fairy-tale future with Zeke?
As you wrote your characters was there anything about them that surprised you? 
Everything surprises me about my characters! I have no clue who they are until I start writing them and they come alive for me on the page. I loved that Zeke had a very tender heart and still nursed a crush on Mandy. And I enjoyed Mandy's unexpected fear of flying and how her first helicopter ride turned out.
What scene did you most enjoy writing? Why?
Definitely that helicopter ride. I could finally call all those hours of watching The Bachelor and The Bachelorette what they really are: RESEARCH. Except instead of a romantic flight over breathtaking scenery, the rough ride scared the heroine to death and the hero had to "calm" her.
SNIPPET:
The helicopter jolted again, knocking them hard and turning her words into a soft shriek.
The pilot was too busy getting them down to even throw back an apology, so Zeke pulled her closer, but it didn't work. "Of course not."
But his words were lost as the whole chopper vibrated and rumbled, bouncing in the wind like a kid's toy on water.
"Oh, my God." She barely mouthed the words. "I'm sorry to be so scared. I hate this."
"Don't be sorry. But I promise, I travel like this all the time. This is really rare."
She nodded, biting her lip and holding his gaze. "I don't want to die before I start my business," she whispered.
"You're not going to die."
She closed her eyes without answering.
"Mandy." He pulled her into him, fighting the pressure of his seat belt to get closer and wrap her in his arms. "Don't be scared," he said. "Don't be…"
It wasn't working; she was shuddering. With one quick look to the pilot, he snapped his mouthpiece down and did the same to hers.
Just as they plunged another few feet, he kissed her. She moaned into his mouth but didn't move away because this…this felt so good. If she was going to die, it would be kissing this beautiful billionaire.
He tasted like peppermint and safety, closing his hands over her face to hold her right where he wanted, each second of contact making the wind seem to die down. Or maybe she forgot to be afraid because this felt so good.
She took a breath, let out a soft sigh, and deepened the kiss. They stayed that way until they jolted one last time, hitting the concrete of Fisher Island Heliport.
"Uh, we made it, folks."
The pilot's voice, back in their ears, jolted them apart.
"Sorry for the rough ride."
She closed her eyes. "That wasn't rough," she whispered. "That was perfect."
What scene was the hardest to write? Why?
Always the opener. I wanted to let the reader know the heroine's backstory right away but didn't want a "dump" to slow things down. Enter one of my favorite characters — a genuine "mean girl" who does this for me in a funny, relatable way:
SNIPPET:
"Oh, how the mighty have fallen."
Amanda froze at the sound of Tori Drake's sneer, refusing to react even though the cold porcelain of the toilet rim pressed against her forearm as she brushed the bowl.
"Mandy Mitchell's up to her elbows in someone else's shit."
Of all the other housekeepers to be assigned to the same floor, she had to get Tori. "As you know, I go by Amanda Lockhart now."
"Ah, you'll always be Mandy Mitchell to me, hon. Homecoming queen. Head cheerleader. Runner-up for Miss Teen Florida. Junior housekeeper." She choked softly. "What's wrong with this résumé, kids?"
Breathing slowly, holding it together, Amanda sat straight, the move pressing the hard tile into her knees with the same force that Tori's insults hit her heart. But not as much force as she'd like her fist to hit the other housekeeper's face.
"Do you need anything to finish your rooms?" Amanda asked, faking nice as much as she possibly could. She was too far behind this morning to get into it with Tori. Besides, if the universe decided it hated Amanda enough, she could very well be calling this woman "boss" soon. The thought made her almost want to hurl into the toilet instead of clean it.
"Oh, I don't need a thing," Tori said.
"You sure? Because my supply cart is right there, and I've got plenty of Pine-Sol and Clorox." In case you want to drink a little.
If you could have given your Characters one piece of advice before the opening pages of the book, what would it be?
Zeke, don't make assumptions. Mandy, don't keep secrets.
Who would who cast in the role of your characters, if your book was optioned for a movie?
Oh, I hate this question! Anyone! Make a movie!! But let's dream big – Henry Cavill and Emma Stone.
What are you currently working on? What other releases so you have planned for 2013 into 2014?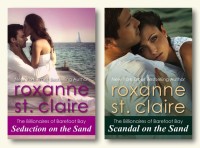 The next two books in the Billionaires of Barefoot Bay, SEDUCTION ON THE SAND (January) and SCANDAL ON THE SAND (February). The three novellas are connected in that the billionaire heroes all know each other (they play on a recreational softball team called "The Niners" — a reference to the number of zeroes in their net worth!) and they have a plan to build a minor league baseball team in Barefoot Bay. Each book stands completely alone, but starts up in the scene where the last one ended, picking up a brand new story.
After that, the Barefoot Brides — a trilogy about a group of wedding planners who open a business at the resort. They will be full length novels, released in the summer and fall of 2014.
Thanks for blogging at HJ!
Giveaway:

A digital copy of SECRETS ON THE SAND!
To enter Giveaway: Please complete the Rafflecopter form and post a comment to this Q:

IF YOU RAN INTO YOUR HIGH SCHOOL CRUSH….WHAT WOULD YOU WANT TO SAY TO HIM?
Excerpt:
With a little uncertainty, Amanda stepped into the cool air and rich comfort of the Moroccan-inspired decor. He fit in a place like this, as though the high-end designer had planned the dark wood and plush furnishings around someone with his size and command.
Deep inside, a familiar warning bell rang with a reminder that she'd sworn off men. All men in general. This kind of man in particular. Especially one who continued to look at her too intensely.
"Why don't I start upstairs so I can stay out of your way?" Without waiting for a response, she walked toward the wrought iron banister, gripping her bucket and mop so they didn't slip out of damp palms. Still, she could feel him looking at her, those gas-flame blues burning a hole in her back. Tensing, she put one foot on a step before sneaking a peek over her shoulder.
Sure enough, he was staring. With so much intensity it stole her breath.
"Is something wrong?" she asked.
"I…I have the strangest question," he said, coming closer.
"Yes?" She braced herself for whatever it might be. A cleaning suggestion? A proposition? Maybe something as innocent as his favorite beer in the fridge? Guests could be strange. Not usually this drop-dead delicious, but strange.
He let out a self-conscious chuckle, shaking his head, a little color rising. Good heavens, was he nervous? Did this tall, dark, imposing master of the universe even know what insecurity was?
"Are you…" He angled his head, frowning hard, looking almost apologetic. "Are you Mandy Mitchell?"
Oh. Her knees buckled a little. Maybe with relief, maybe with that same shame that threatened her when Tori taunted with "senior adjectives" ripped from the pages of a yearbook.
"Not anymore," she said softly, the weight of the bucket becoming too much at that moment. As she set it on the step, she nodded with resignation. "But, yes, I was. Do I know you?" Because, whoa and damn, how was it possible she didn't remember meeting him?
"It is you." He broke into a slow, glorious smile that was like someone had switched on a spotlight, blinding and white, that softened the sharp angles of his face and shadow of whiskers in hollow cheeks.
"Zeke Nicholas." He took a few steps closer, reaching out his hand. "Mimosa High? Class of '02?"
She'd gone to high school with this guy? And hadn't dated him? Impossible. Without thinking, she lifted her free hand to his, getting another shock to the system when his fingers closed over hers, large and warm and strong and…tender. "I'm sorry…Zeke." Zeke? She'd never met a man with that name.
"Don't be sorry," he said, reluctantly releasing her hand. "We didn't exactly run in the same circles."
And why the heck not? "Are you sure?"
He laughed, the rumble in his chest a little too hearty and sincere. "Yes, I'm sure."
"I'm sorry, I don't remember…" Anyone or anything that looked like him. "A Zeke."
"I went by my full name then." He gave her the most endearing smile that reached right into her chest and twisted her heart. "You're going to make me say it, aren't you?"
"To help me out?"
He looked down for a split second, then back to her face, the gesture shockingly humble for a man who couldn't be too familiar with humility. "Ezekiel Nicholas."
Her jaw dropped as a memory snapped into place. "Ezekiel the Geekiel?" The second she said it, she gasped softly and lifted her hands to her mouth. "I'm sorry."
"No, no." He turned his hands up in surrender. "Guilty as charged by the dreaded senior adjectives." Then he leaned a little closer and lowered his voice, his face close enough for her to count individual lashes. "Mandy the Magnificent."
About Roxanne
Roxanne St. Claire is a New York Times and USA Today bestselling author of more than thirty novels of suspense and romance, including three popular series (The Bullet Catchers, The Guardian Angelinos, and Barefoot Bay) and multiple stand alone books.
In addition to being a six-time nominee and one-time winner of the RITA Award, Roxanne's novels have won the National Reader's Choice Award for best romantic suspense three times, as well as the Daphne du Maurier Award, the HOLT Medallion, the Maggie, Booksellers Best, Book Buyers Best, the Award of Excellence, and many others. Her books have been translated into dozens of languages and are routinely included as a Doubleday/Rhapsody Book Club Selection of the Month.
Roxanne lives in Florida with her family, and can be reached via her website, www.roxannestclaire.com or on her Facebook Reader page, www.facebook.com/roxannestclaire and on Twitter at www.twitter.com/roxannestclaire.