Today, HJ is pleased to share with you Tamara Morgan new release: 

Seeking Mr. Wrong

A fool-proof way to spice up any relationship: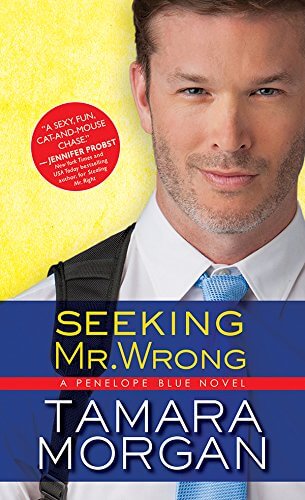 1. Infiltrate a deadly ring of thieves, cons, and crooks.

2. Try to escape with your lives.

Penelope Blue used to be one of the best jewel thieves in New York City—but that was before falling in love with FBI poster boy Grant Emerson. Now she works at his side, helping her former enemy catch her past-life colleagues, and she couldn't be happier.

If only Grant would remember to play by the rules.

Now he's gone undercover on a cruise ship full of hardened criminals. To keep him safe, Penelope must pretend they're nothing but strangers…while searching for an information broker desperately wanted by the FBI. While doing her darndest not to backslide and steal 20 million dollars' worth of diamonds from beneath the noses of the criminal elite. It's all Penelope can do to keep this mission afloat…

Good thing this cat burglar has plenty of lives to spare. 

Enjoy an exclusive excerpt from Seeking Mr. Wrong: 
"I think you can go ahead and cut me loose now," I say, straining against my bonds. "I'm plenty interrogated now."

Grant must not agree with me, because he doesn't, as expected, let me go. He stays exactly where he is instead, those dark eyes never leaving mine.

"Why are you looking at me like that?" I ask, a slight waver in my voice. "We're done now. We should head back upstairs." "

But Kit O'Kelly is a man who likes to take his time, remember?" he asks with a quick glance at his watch. "By my estimation, we have a good fifteen minutes before anyone starts to ask questions."

"Oh, no, you don't." I jerk against my bonds again, but it's no use. "You're supposed to be doing less activity, Grant. Not more. Not—Ohhh." The moan escapes before I can stop it, and I jump as one of his fingers slips underneath the hem of my skirt. The legs of the chair give a small leap from the ground with me.

"You're the one who said we need to make this look convincing," he taunts.

And I regret it. I regret everything. "Maybe you should just rough me up a little instead."

"I'm going to have to do a lot more than that." His voice is a low croon. "Nothing but torture will satisfy this bloodthirsty crowd."

"Grant, you sneaking, traitorous—"

"And nothing but torture will satisfy this bloodthirsty man," he adds with a deepening grin. "Unless you want me to stop? It could be days before we're alone together again…"

The firm and insistent movement of his hand up my skirt stops as he awaits my answer. Which is silly, because we both already know what I'm going to say.

Touch me, tease me, take me.

Grant Emerson, FBI agent and mule-headed guard dog, always has been and always will be my biggest weakness.

Fortunately for us both, he's also my greatest strength.

"I hope you have a lot more in mind than just tying me to a chair and smirking at me," I say, tilting my chin up in a gesture of defiance and acceptance. "You won't break me that easily."

"Don't rush me," he says. "There's a fine art to intimidation. It's all about the anticipation, the slow reveal of the intended instruments of torture, the promise of what's to come—"

"Yes, well, I've just been given a very important top-secret assignment," I say. "So if you could speed things along…"

He doesn't. He begins by slowly rolling up his shirtsleeves. That man's forearms are a gift to womankind, all ropey sinew and hard swells of muscle that he reveals one glorious inch at a time. He also loosens the tie at his collar, completing a look of dishevelment that has me breathing harder.

"You don't have anything I haven't seen before." Since it's the only movement I can make, I give a disdainful sniff. "You're going to have to work harder than that."

"I haven't even warmed up yet," he warns as he kicks off his shoes. That part I do find slightly alarming, mostly because the second his shoes come off, all chances of me tracking his movements are discarded with them.

As if to prove this, he slips behind me. Once he's out of my peripheral vision, I can no longer tell where he is in the room or how he plans to attack next.

That's when the slow reveal of torture instruments starts to happen. The first is a breath of warm air on the nape of my neck. There's something haunting about that sensation coming from a virtually undetectable source, especially since the pattern of his movements is familiar. Up and down over the gentle slope of my shoulder, lingering painfully long over the sensitive spot behind my ear. I twitch but don't move, though at considerable cost to my self-control.

"Bo-ring," I claim in a singsong voice. "It's just air."

His lips are the second torture device. They land unerringly on my pulse point, the soft pressure sending my heartbeat into overdrive—especially since he follows up that first gentle kiss with a succession of decreasingly gentle kisses. Each press of his mouth against my skin is its own kind of agony.

"You won't leave here until I get what I want from you," he mocks in a low voice as his lips reach my ear.

He doesn't wait for a response before continuing his assault. Under my chin, down my neck, along the delicate ridge of my clavicle… By the time he reaches the upper swell of my chest, I'm breathing heavy and seeing stars.

"Is it a confession you're after?" I manage to ask. "Because I have nothing to confess. For the first time in my life, I'm completely innocent."

"No, not a confession." He continues moving further downward, landing more of those kisses on the line of my bra. Inadvertently, I arch closer, mentally willing him to flick a tongue inside the fabric. He anticipates my desire and stops himself short.

That's the first rule of surviving an interrogation, I guess. Never show your captor your weaknesses, or he'll use them.

"Do you want my secrets?" I ask, a low moan escaping my lips as he continues ignoring my body's pleas for more. He opts instead to stroll casually in front of me, pure masculine arrogance glinting in his eye.

"For the first time in my life, I don't have any of those, either," I add. "I've been too busy trying to ferret out yours."

"No, not secrets." His lips lift in a smile that crinkles all the way up to his hairline. "You've never been as good at keeping those as you like to think."

Rude. There's plenty about me that he doesn't know yet. Just this morning, Lola showed me a trick for converting decimal points to fractions in my head. I'm a trove of hidden mysteries.

"Well, out with it, then," I say. "We don't have all day."

I try not to let his stare intimidate me into saying more, but it's hard—mostly because his stare is concentrated a little too closely on the spread of my legs. His gaze has the ability to turn my insides to fire under almost any circumstances. In these circumstances, the fiery feeling is rapidly taking over every other sense I have.

"What I want is for you to beg."
Excerpt. ©Tamara Morgan. Posted by arrangement with the publisher. All rights reserved.
Giveaway:

Print copy of Seeking Mr. Wrong (Penelope Blue) by Tamara Morgan (US)
To enter Giveaway: Please complete the Rafflecopter form and post a comment to this Q:

What did you think of the excerpt spotlighted here? Leave a comment with your thoughts on the book…
Meet the Author: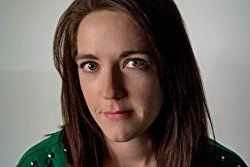 Tamara Morgan is a contemporary comedy romance author. Ninety-nine percent of her information comes from television, movies, books, and all other pop culture activities that limit the amount of time she has to spend in polite company.

Her long-lived affinity for romance novels survived a B.A. degree in English Literature, after which time she discovered it was much more fun to create stories than analyze the life out of them. She lives with her husband and daughter in the Inland Northwest, where the summers are hot, the winters are cold, and coffee is available on every street corner.
Buy: Amazon | Barnes & Noble | iBooks | Kobo | Google Play