Today it is my pleasure to Welcome author
Sara Wolf
to HJ!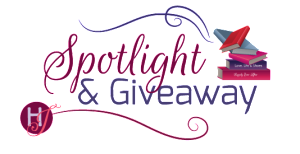 Hi Sara and welcome to HJ! We're so excited to chat with you about your new release, SEND ME THEIR SOULS!

Hey everyone! Sara Wolf here! Thanks for having me!!!

Please summarize the book a la Twitter style for the readers here: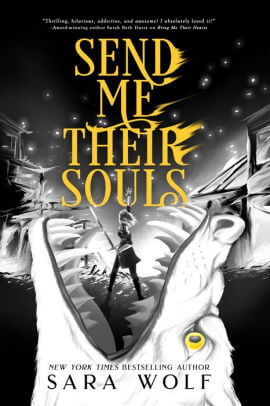 SEND ME THEIR SOULS is the conclusion to the YA Fantasy/Romance series BRING ME THEIR HEARTS. With the help of her love Prince Lucien and her friends, feisty Heartless Zera races to stop the world from being destroyed by an incursion of giant wyrms magically controlled by the crown princess.

Please share the opening lines of this book:
Prince Lucien d'Malvane looks at me with the steady gaze of a
wolf across a meadow. Waiting. Waiting for the others of his
pack to join him. For me to join him.

And I look back at him, with six eyes Weeping blood.
Please share a few Fun facts about this book…
1. SEND ME THEIR SOULS was actually the first book title I came up with in the series!
2. I exclusively ate chocolate almonds while editing this book…oops!
3. The ending is inspired by a favorite childhood videogame of mine – Final Fantasy IX.
4. I aimed for a really morally gray area with this book – people are villains by their own choices, not by how 'good' or 'evil' they are.
5. The word 'polymath' is a real word! It means 'scholar of many studies'!
What first attracts your Hero to the Heroine and vice versa?
Lucien is first attracted to Zera because of her absolutely blistering wit, of course. She stands out from the crowd by twisting her words in incisive and honest ways, and I also super love that about her.

Using just 5 words, how would you describe Hero and Heroine's love affair?
Two witty little things entangled.

The First Kiss…
The first kiss happens in book 1, BRING ME THEIR HEARTS. It's at the very end, in a candlelit tent. It's pretty dang romantic, if I say so myself. It's full of angst, because Prince Lucien is being so honest with Zera about his feeling, but she can't be honest about her feelings back, or she'll reveal who she truly is! Ack!
Without revealing too much, what is your favorite scene in the book?
"Not a master yet," Yorl corrects. "An adjutant."

I laugh and step around a boulder. "You mistake me for
someone who gives a shit about any titles ever, darling."

"I thought you're engaged." Fione sniffs. "Shouldn't you be
calling fewer people 'darling' now?"

Dead silence. The matronic hisses a little. Malachite makes
a sputtering noise behind me.

Oops.

"E-Engaged? SINCE WHEN?"

"Keep your voice down!" Yorl hisses at Mal. "Lest you start
a rockslide!"
If your book was optioned for a movie, what scene would be absolutely crucial to include?
"If destroying the Trees will save Varia, then I'm with you,"
she finally says.

"And if it doesn't?"

Her periwinkle eyes search mine. "Then I'm against you."

It's a serious moment. I shouldn't laugh. But I do. I do, because I know if the roles were reversed, if it were Lucien and me, I'd say the same thing. Over and over again. Always. Because I know now, like she does. I know what love means.

I know what loss means.

I know what a heart means.

She and I have to follow our hearts, no matter where that
takes us. So many untranslatable concepts. So many important
things that would take years—whole libraries of books—to say.
To even explain. That's why, when I stand up and grab a sailor's
sword lying on the deck and walk toward a waiting Malachite,
all I say back to her is:

"Good."
Readers should read this book …
if they absolutely adore scorching tete-a-tete, dramatic and beautiful fantasy places, and complex magic systems with gray moralities!
What are you currently working on? What other releases do you have planned?
I'm currently working on a super-secret scifi! GIANT ROBOTS! I've wanted to write it for nine years, so I'm thrilled to finally be cracking down on it.
Thanks for blogging at HJ!
Giveaway:

Ebook copy of SEND ME THEIR SOULS.
To enter Giveaway: Please complete the Rafflecopter form and Post a comment to this Q:

Do you fall for the sweet prince type in books, or the sour prince?
Excerpt from SEND ME THEIR SOULS:
"True." I wave a finger. "But even immortals appreciate being
saved from pain from time to time."

A blazing heat streaks into my palm, fitting there against my
skin. He pulls, the momentum whirling me around and into the
crook of his arm, pressed against his chest.

"Were you?" His brows knit down at me. "In pain?"

His mouth is so close, his cheekbone smeared with mud, his
hair disheveled in a way it never got in the palace. Breathless.
Sincere.

"N-No." The shameful truth squeezes out of me. "I—I just
wanted your attention."

He tilts his head, outline near-fitting like a hovering puzzlelock
before my nose and mouth. "You have it."

Warm ribbons wind down my throat, through my chest,
pulling me closer to him. Enmeshed. When did it become so
easy to touch him, so perfect? When did it become so easy to
imagine him against my skin, over and over—
Excerpts. © Reprinted by permission. All rights reserved.


Book Info:
here are worse things than death.
With the rise of Varia d'Malvane comes the fall of the Mist Continent. Cavanos is overrun by the brutal rampage of the valkerax, led by its former crown princess. Vetris is gone. Helkyris is gone. As each mighty nation falls, the grip of the crown princess closes around the throat of the world.
But Zera Y'shennria isn't out yet.
Alongside Malachite, Fione, Yorl, and her love Lucien, Zera seeks aid from the High Witches and the Black Archives, with the valkerax horde hot on their heels. Seemingly unstoppable, Varia can track Zera through her dreams, ensuring there is nowhere to run. Thankfully, an ancient book holds the key to stopping the incursion forever.
But at what cost comes freedom?
At what cost comes love?
At what cost comes the end of the world, and the beginning of a new one?
Book Links: Amazon | B&N | Goodreads |


Meet the Author:
Sara Wolf is a twenty-something author who adores baking, screaming at her cats, and screaming at herself while she types hilarious things. When she was a kid, she was too busy eating dirt to write her first terrible book. Twenty years later, she picked up a keyboard and started mashing her fists on it and created the monster known as the Lovely Vicious series. She lives in Portland, Oregon where the sun can't get her anymore and not enough fruit tarts ever.
Website | Twitter | | Instagram |