Today it is my pleasure to welcome contemporary romance author

Jennifer Bernard

to HJ!
Hi Sara thanks so much for having me!
Jennifer if you are ready to get started…. 5 Random facts about you?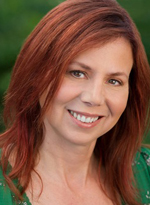 I love tropical climates yet I live in Alaska.
My parents taught me to read when I was three.
I met my husband at a supermarket.
I'm a believer in the "what doesn't kill you will make you laugh someday" theory.
I drink about a gallon of tea a day.
What would you say are the defining characteristic of your Novels?
I like sexy heroes who also have some depth to them. I like hot sex scenes. I like a certain amount of absurdity and laughs. Above all, I love a happy ending, one with not only a romantic resolution but one that involves the soul growth of the hero and heroine.
What is your favorite trope to read, one you will never get tired of?
When I was a kid I had a huge crush on a boy who never returned it, so I love reading stories about childhood "friends" who meet again as adults and fall in love. The ugly duckling trope is also one of my favorites. Also, the girl who's special in some way (she's a lost princess, or possesses supernatural assassination skills) but doesn't know it. Beauty and the Beast, in which the hero seems monstrous in some way, until the heroine learns to see his true self. These are just a few!
If you were a heroine in a book, your character would be – The girl next door, the damsel in distress, Kick-butt take charge heroine or the aloof ice queen and why?
Wow, that's a great question! I actually think I'd be the wise and occasionally wisecracking best friend of the heroine, who finally gets her story in book three of the series.
What are you currently reading?
I am currently obsessed with Lisa Kleypas. How can one author be so wonderful in both contemporary and historical, not to mention her latest magical contemporaries? I'm in absolute, utter awe.
If you had to summarize Sex and the Single Fireman, A Bachelor Firemen Novel for the readers here ….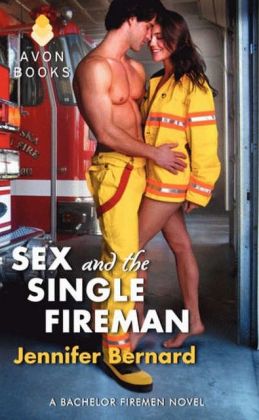 Single father Fire Chief Rick Roman takes over San Gabriel Station 1, only to find his life turned upside down by firefighter Sabina Jones. Roman's mission is to restore order to the station; but Sabina has a secret that could throw everything into chaos.
Please tell us about the characters in your book
The hero, Rick Roman, is a firefighter from New York. He lost his wife, who was also a firefighter, on 9/11. He's been focusing on raising his son, and the last thing he wants is to get involved with another firefighter, especially one who works under him. The heroine, Sabina Jones had a very different life before she became a firefighter. She grew up in the limelight, but sought out a more meaningful life for herself. She doesn't want her secret to get out and ruin the life she's created for herself. We also have Sabina's movie star mother and Roman's son Luke, not to mention a firehouse full of firefighters who love to have a good time when they're not saving lives.
What scene did you have most fun writing? why? 
My favorite scene in most books is either when the hero and heroine first meet, or when they first go to bed together. Here's Roman and Sabina's "first time." (Read Excerpt below.)
Who would who cast in the role of hero and Heroine if your book was optioned for a movie?
For Roman, I'd go with Gerard Butler (in the 300 era) or Joe Manganiello. Roman's tall, dark and ripped, and he has an Italian background. But anyone dark and intensely smoldering and sexy would do. Sabina is very fit and athletic, as female firefighters have to be. I threw the question out to my Facebook readers and the top choice was Kate Beckinsale. She'd be fantastic. Other choices were Evangeline Lilly or Olivia Wilde. They could all pull off the physical demands of playing a firefighter.
What are you currently working on? What other releases so you have planned for 2013?
I just started Book 6 in the Bachelor Fireman series, which doesn't have a title yet. The next book out will be HOW TO TAME A WILD FIREMAN on September 24. Then FOUR WEDDINGS AND A FIREMAN will be out on February 25. There may also be a novella in there somewhere, but I don't have a date yet for that. I'm up to my ears in firemen, and I couldn't be happier about that.
Where can readers get in touch with you?
I have lots of fun on my Facebook page. I do tons of giveaways there and post hot fireman pics whenever the mood strikes me. Readers can also find me on my website or on Twitter as @Jen_Bernard, and I send out a fun quarterly newsletter as well. I also love hearing from readers via email at JenniferBernard.author@gmail.com.
Thank you for stopping by HJ!
Thank you so much for having me, I had a blast!
Giveaway: Signed copy of 

Sex and the Single Fireman
To enter Giveaway: Please complete the Rafflecopter form and post a comment to this Q:

Why do you think firefighters make good heroes?
Excerpt: Jennifer's Fav. Scene
Sabina clung to Roman's broad shoulders as a feverish sort of madness overloaded her senses. With one iron arm banded around her middle, Roman bent her backwards and kissed her with ferocious intensity, as if nothing else existed in all of San Gabriel but the two of them. Blood pounded in her ears to the rhythm of yes, yes, yes.
His shoulder muscles felt like boulders. The phrase "built like a brick shithouse" zipped through her mind. He was all rock-solid man, through and through, and the way he kissed her … ravenously, lavishly, as if every corner of her mouth had some secret to discover. She returned fire with fire, kissing him back until her lips tingled and her insides went hot and liquid.
He wrenched himself away from her, panting. "We shouldn't do this."
But in the next second he was on her again, cupping her face in his huge, calloused hands and consuming her mouth with devastatingly thorough greed.
This time she pulled away. "No, you're right. We should stop. Right?"
He stared at her with burning eyes and swept his hand through his black hair, more rattled than she'd ever seen him. "I don't know. I've been trying to stay away from you. You don't know how hard it is to be around you and not toss you on the training room couch and ravish you."
"Ravish me?" She liked the sound of that.
"Okay, fuck your brains out."
She gulped, speechless.
He lowered his voice to a hot, secret growl. "Or back you up against the wall in the apparatus bay. Do you know how many times I've pictured it? If the department could read minds, I'd be out on my ass by now."
Sabina slid her palm across his wide chest, edging her fingers under his black leather jacket. It made him look tough, all man, very Italian, and extremely sexy. "I wish I could read your mind right now."
"Jones, you don't have to be a mind-reader to know what I want."
She glanced around to make sure the street was empty, then slid her hand down his firm stomach, feeling the heat of his body through his shirt, down past his belt buckle, to the hard, rigid lump beneath. When she touched him, he groaned, low and gritty.
"I give you three seconds to stop doing that. After that I can't answer for the consequences."
Slowly, deliberately, she traced the long shape pushing against his jeans. "One." With her hand firmly on his erection, she found an opening in his shirt and licked his chest. "Two." Moving the heel of her hand down his hard length, she whispered hotly into his neck. "Three."
In a voice as thick and hot as a triple espresso, he growled, "You were warned." He swooped her up, caveman style, opened the passenger door and tossed her into the Jeep. He scrambled to the driver's side, using one hand to half-vault himself over the hood.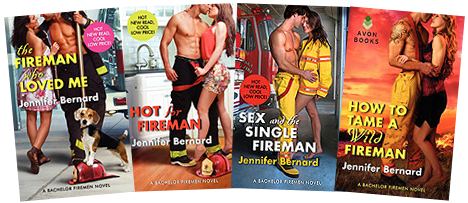 About the book:
There's a hardnosed new training officer in town, and that's bad news for the
Bachelor Firemen of San Gabriel . . .
But great news for firefighter Sabina Jones . . . maybe.
The toughest captain on the East Coast, single father Rick Roman has come thousands of miles to San Gabriel to put an end to the "Bachelor Firemen" media hype. But when a stunning woman he nearly hooked up with in Reno turns out to be a firefighter from his new station, Roman realizes it's going to be tough keeping the tabloids at bay.
But there's even more Sabina isn't telling him. Before dedicating herself to battling blazes, Sabina led a very different life, one that made her famous. The last thing she wants is to have her secret exposed. The papers, bloggers, and TV gossips will have a field day with that—expecially when they sense the obvious sexual heat between Sabina and Chief Roman, who's torn between firing her . . . and falling in love with her!
Buy links: IndieBound | Amazon | Barnes & Noble | Books-A-Million