Today it is my pleasure to Welcome author
J. Margot Critch
to HJ!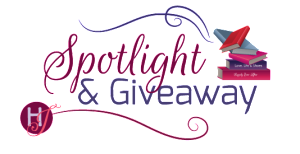 Hi J. Margot and welcome to HJ! We're so excited to chat with you about your new release, Sins of the Flesh!

Hey everyone! Thanks for having me!

Tell us about the book with this fun little challenge using the title of the book:
Sexy music is so important to my writing process, especially when my heroine is a dancer. Here is my list of some of the sexiest songs of all time, using the letters from the title…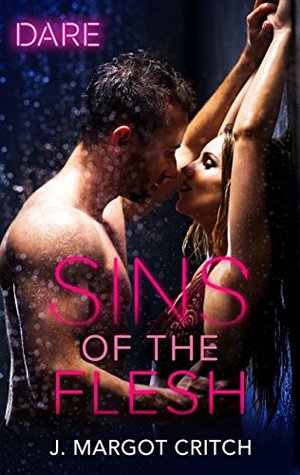 Scandalous" by Prince
I Put A Spell On You by Annie Lennox
No Diggity by Blackstreet featuring Dr. Dre
Skin by Rihanna
One Kiss " by Calvin Harris ft. Dua Lipa
Feeling Myself by Nicki Minaj ft. Beyoncé
Tonight (Best You Ever Had)" by John Legend feat. Ludacris
Hands To Myself by Selena Gomez
Earned It by The Weeknd
Fire by Babyface & Des'ree
Love by Kendrick Lamar feat. Zacari
EL BAÑO by Enrique Iglesias
Six Inch by Beyonce ft The Weeknd
Hot As You Want by Lane 8 feat. Solomon Grey
What's your favorite line(s) from the book?:
Some of my favourite lines in this book are the competitive, but playful banter between Rafael and Jessica. They are rival candidates but they can't dismiss the heat between them. These are the interdepartmental memos they sent to each other on the day of their big debate, as they try to psyche each other out:
"Put up your dukes. I'm going to destroy you tonight. -J" … "After thinking about last night, my dukes aren't the only things that are up. -R"
When you sat down to start this book, what was the biggest challenge you faced? What were you most excited about?
Oh boy! Believe me, it was definitely a challenge to write a sexy, take-what-he-wants politician in 2017… Yikes! So I changed things up a bit. Rafael still has a take-charge attitude, and he gets what he wants, but you'd better believe that Jessica makes him work for it.
But I was most excited to bring Jessica, a working-class heroine, to life. She is in politics, but she doesn't have the resources that Rafael does, and she knows the struggles faced by the marginalized people she wants to help. I knew I wanted to write an unapologetic stripper who didn't need to be rescued from her career. She loves what she does, and she's good at it, and it was important to me to positively represent the profession. Part of me wasn't sure how she would received because sometimes we are hard on women, especially when it comes to sex. But I think I pulled it off!
What, in your mind, makes this book stand out?
I think this book, and the entire Sin City Brotherhood series stands out because they are scorching hot, but still kind of funny, and are ultra-modern with a feminist twist. My heroines are strong, confident, funny, sexy, potty-mouths, and they don't take any sh*t.
The First Kiss…
As we know, Jessica and Rafael are rivals in the battle to become mayor of Las Vegas. But their first kiss occurs shortly after Rafael catches her stripping in a San Francisco club. Rafael convinces her to go to a diner to discuss just what he's going to do with the information that could hand him a solid victory. They share a cab, and in the confines of the back seat, they become slaves to their desires, and share a scorching kiss, and more…
Perhaps feeling his eyes on her, Jessica turned her head and they locked eyes. The air between them was still charged. Jessica said nothing, but her lips parted; the movement was small, but he caught it. Before he knew he was doing, Rafael reached for her and, putting his palms on either side of her face, brought her lips to his.

She was hot, sweet, and the moment his lips hit hers, he knew she would either reciprocate, fall into his kiss, or smack him with rejection. At first, she was stiff, but when he took her bottom lip between his own, nibbling her lightly, she sighed and softened, yielding to him. She lifted her hands and fisted them in the front of his T-shirt as her lips parted with his. She tasted like lemon from the tea she'd had at the diner, and her tongue dueled with his as he tried to maintain control of the kiss.
If your book was optioned for a movie, what scene would you use for the audition of the main characters and why?
This scene takes place at a political event in Las Vegas. I would use this as an audition scene to guage the chemistry between the main characters. They have already shared an extremely steamy moment in the back of cab. They have to act like professionals, rivals, but their conversation is undercut with sexual tension.
"Hello," she replied politely. She turned to the crowd, if only in an attempt to not look at him.

"Great crowd, huh?"

"Certainly is. Pollsters think voter turnout is going to reach an all-time high."

"I didn't think you listened to the polls," she said, referring to the conversation they'd had at the diner. Maybe he cared more than he let on.

Another flash of white teeth. "You caught me."

"And from what I hear, most of them are going to vote for me." She looked at him to gauge his reaction to the polls that had been released earlier that morning, which had shown her ahead by a couple of points. Nowhere near a landslide, though.

His face remained neutral. If her words had had any effect, he didn't show it. "It's not over until it's over."

"It could be over," she continued to prod at him. "You could just save face and drop out now. Save yourself the embarrassment of being beaten by me."

He looked at her, silent for a moment, before he threw his head back and let loose with a loud laugh. A photographer took the opportunity to take their picture, it probably looked like they were enjoying a cordial joke, but the subtext behind the moment was much heavier.

He leaned over her, close enough to her ear. "I could say the same thing about you. Have you forgotten that I could end your campaign in a second?"

He was right, and she tried not to let her confidence waver. "You wouldn't."

"Are you sure? Maybe I'd do anything to win."

And he would, too. "Go right ahead," she challenged him. "I mean, if you don't think you can beat me fairly on the merit of your campaign, go against your word. You could win in a dirty way if you really want to. But your term as mayor would always have an asterisk next to it."

He raised an eyebrow and smirked at her. "You're good." He changed his stance, moved closer.

"I've got to be honest, I've been thinking about you since yesterday."

That caught her off guard. "Really?" It surprised her that she'd left him just as affected as he'd left her. "I've been thinking about you, too." Her voice lowered to a whisper. "I've been especially thinking about whether or not I'd go online and see my picture splashed all over the internet."

"I didn't tell anyone."

"I know."

"Not yet."

Jessica pulled back and frowned. "I don't have time to fool around with you. If you're going to expose me, then just do it."

"But this is too damn fun, don't you think?"

"I'm not having fun." She reconsidered. "Well, I wasn't up until a couple of hours ago."

"Oh, really? What changed?"

"Yeah, you're not the only one with information. I may have unearthed one of those skeletons you spoke of."
If your hero had a sexy-times play list, what song(s) would have to be on it?
Rafael watches Jessica perform several times in the book, and the songs I wrote them to are Imagine Dragons' Believer, David Guetta's Hey Mama, and Bruno Mars' Gorilla remix. These would definitely all be included on his playlist.
What do you want people to take away from reading this book?
I want the takeaway to be that it only takes one voice to make a difference. We can fight for equality, and against injustice, and we can win!
What are you currently working on? What are your up-coming releases?
Sweet as Sin, the third novel in the Sin City Brotherhood will be out in February 2019. I'm really excited for people to read Alex's HEA.
As for what I'm currently working on? I've switched gears a little and have been working on a thriller. It's kind of dark, and not anywhere close to being finished, but it's been nice stretching my creative muscles on it.

Thanks for blogging at HJ!
Giveaway:

Two people will each win an ebook copy of BOARDROOM SINS (Sin City Brotherhood #1). Open internationally.
To enter Giveaway: Please complete the Rafflecopter form and Post a comment to this Q:

I've talked a lot about music here, so here's my question to the readers: If you had to perform a striptease (for an audience, or your partner), which song would you choose?
Excerpt from Sins of the Flesh:
When Rafael gets news that Jessica is performing at a San Francisco strip club, he heads there to bust her.
THE NEXT NIGHT, Rafael walked into Charlie's Gentleman's Club, which he'd learned was one of the classier strip clubs in San Francisco. The space was dark, like many nightclubs, and most of the light came from the stage, which was highlighted in yellow-and-red up-lights. A woman was on the stage, naked but for a G-string and a pair of platform heels, dancing to a classic rock song, and he watched her with some interest. He might have enjoyed the show more if he hadn't been there strictly on business. The woman, though gorgeous and talented, wasn't the woman he was there to see.

He stopped at the bar and ordered a beer, and turned around on the barstool to watch the stage. Charlie's was not anywhere near as seedy as he'd imagined it would be. It was clean, hip and filled with mixed patrons who were all respectful and well behaved, as they took in a show and socialized.

From being in the nightclub business himself with Di Terrestres, The Brotherhood's erotic members-only club, he knew that a safe and clean environment was the most important factor. Their club was a popular Las Vegas gathering place, an erotic playground for its exclusive clientele on every night of the week. They were the only thing like it in the city, and he was glad that he and his friends had clinched the market early on. Di Terrestres was the crown jewel of all their combined ventures and had proven to be their most profitable. In fact, being at Charlie's in San Francisco felt kind of like being at Di Terrestres in Vegas, except that here, Rafael most certainly did not have the home court advantage. This was Jessica's turf. But luckily, he had the element of surprise in his favor.

"Is Jessie M working tonight?" he asked the bartender over his shoulder.

She didn't respond at first, probably not too eager to talk to a random man who was looking for one of the dancers, in particular. She rolled her eyes and went back to her work, serving other thirsty patrons. Rafael slid a fifty across the bar top.

"Is Jessie working?"

The bartender looked at it before picking it up and slipping it under the low neckline of her tank top, which was almost bursting at the seams with ample breasts. "She's on in five minutes," she answered.

"Sounds like I'm just in time, then," he noted, and sipped his beer.

When the music quieted, Rafael turned back to the stage to watch the previous dancer leave, gathering her bills and clothing as she went. The buttery-voiced DJ came over the loudspeaker. "Everybody give Lola another big hand." After a burst of clapping from the audience, he played some prelude music as he spoke over the beat. "And now, ladies and gentlemen, we have a special treat for you. We don't see this lady perform here every day, but we love it every time she comes home. Tonight it is our pleasure to welcome, for one night only, the wonderful, sexy, award-winning, world-champion pole dancer, Jessie M, to our stage."

World champion? He turned at the sound of the huge round of applause, toward the stage in time to see a Las Vegas councilwoman, his main political opponent, the opinionated thorn in his side, Jessica Morgan, Jessie M, take the stage as her music, with its fast, steady, driving hip-hop beat filled the club.

She was confident and graceful, her movements quick, trained, controlled, completely in time with the music. She was passionate as she moved about the edge of the stage, making eye contact with every patron in the first couple of rows. He knew the look. It was the same she gave when she spoke one-on-one with a person. Sure, her gaze was somehow just as intent, but it was more intimate from the stage than it was when she spoke to her constituents or colleagues. He knew the passion was there no matter what job she undertook. And to Rafael, that was admirable. She gyrated on the stage and removed the top of her stage costume, revealing a rhinestone-covered bra that pushed her already high and full breasts to an unbelievable level.

When she approached the pole in the middle of the stage, Rafael pushed away from the bar and walked closer; then he took a seat at an empty table next to the stage. He almost missed it when, in one quick spin, she was at the top of the pole. She wrapped her legs around it and inverted her body, holding herself aloft with just the strength of her thigh muscles, gripping the metal, while somehow managing to still spin. With careful, deliberate moves, she lowered herself down the pole. He bit back a groan, as she spun again and held herself by her arms as she performed moves of acrobatics and flexibility, as if it were as natural as breathing. Rafael was in great shape himself, but he wasn't sure if he possessed the sheer strength that Jessica was exhibiting onstage while she worked the pole.

As he watched her, he felt his temperature rise as a flush of desire broke out all over his body. She might be his political rival. He might have gone to San Francisco to bust her. But goddamn, watching her perform was the hottest thing he'd ever seen. She stood in front of the pole and dipped low, spreading her legs. Then pushing herself back up and popping her round, firm ass at the audience, she undid the snap between her breasts with a quick flick of her fingers and shrugged off her bra.

Rafael's breath stopped in his chest as the article of lingerie hit the floor, the rhinestones clattering on the stage. Now topless, she held the pole and ground against it, her hips moving to the thrum of the music. She reached back and undid the bow that held her skirt together, and it fluttered to the floor, as well. Now wearing only a thong and her high-heeled shoes, she did a few more spins around the pole. Meanwhile, Rafael left his beer untouched, the rest of the room was forgotten, and he watched her as she swayed and swiveled under the spotlight, so comfortable there.

It was impressive, and Rafael sat back as Jessica commanded the crowd. She dropped to her knees on the stage, she crawled slowly over to him. Then, in a controlled movement that involved every muscle of her upper body, she pushed her chest down to the floor, and then arched her back, gracefully pushing herself up. Maintaining eye contact, as she danced for only him at the edge of the stage, Rafael reached into his wallet and pulled out a one-hundred-dollar bill. He stood close enough to slip the bill in the string of her thong over her hip, letting his fingers graze her soft skin. She winked at him and blew a sultry kiss, but the realization dawned in her eyes, followed briefly by panic, then fear. She knew it was him, but somehow schooled her reaction to keep cool, then she sauntered away as the lights dimmed and the music stopped. The crowd erupted in applause for Jessica. But Rafael took a seat, certain that she would come find him.

He sat stunned, his heart pounding, his dick straining against his zipper, as he watched his competitor in the Las Vegas mayoral race, almost naked, gathering her clothing and the various bills that had been thrown across the stage, trying not to look directly at him. He had shaken her. He'd gone to San Francisco to bust her, to make her quit her campaign, which would hand him a tidy victory by default. But something had sparked a change in him. He was no longer quite as interested in outing her, and now he was intrigued, and he wanted to know more about her. More than what she looked like dancing in a thong and high heels, he reasoned.
Excerpts. © Reprinted by permission. All rights reserved.


Book Info:
They're fighting to be mayor of Las Vegas. And now their politics aren't just getting sexual…they're getting dirty.
The race for mayor in Las Vegas is heating up, and Jessica Morgan is in for the fight of a lifetime. Her rival? None other than Vegas's own golden boy, Rafael Martinez. He's rich, condescending and so unbelievably hot that he stars in most of Jessica's solo sexy time. Now Rafael has information that could completely ruin her campaign, and Jessica's only option is to fight very dirty indeed. Fortunately, one spicy little secret always deserves another…
Rafael isn't just elite. He wants to make a difference, even if his political opponent is a walking, talking temptation. Those pouty lips and creamy skin drive him out of his mind with lust. He has everything he needs to take Jessica down. The problem is, since he has her where he wants her, there are far more important—not to mention X-rated—things he'd like to do to her.
Now Sin City's two greatest enemies are giving in to the raw, carnal lust they just can't seem to control. With every illicit taste, they have more power to ruin the other's campaign. Until one naughty act turns a hands-down win into a hands-on scandal…
Book Links: Amazon | B & N/a> | iTunes | Kobo |


Meet the Author: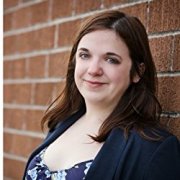 J. Margot Critch writes steamy contemporary romance for HARLEQUIN BLAZE, and romantic suspense. She graduated from Memorial University with a BA in Religious Studies and Folklore. She currently lives in St. John's, Newfoundland, with her husband, Brian, and their two little fur buddies, Otis and Chibs. She spends equal amounts of time writing, listening to Jimmy Buffett music and looking out at the ocean, all the while trying to decide if she should have coffee or margaritas.
Website | Facebook | Twitter |