Today it is my pleasure to Welcome author
Angela Smith
to HJ!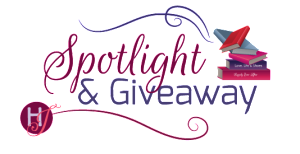 Hi Angela and welcome to HJ! We're so excited to chat with you about your new release, Slopeside!
Please summarize the book for the readers here: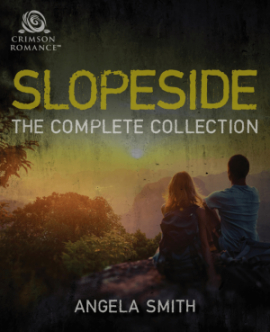 Slopeside is a series of three novels set on the ski slopes of Montana, featuring half-siblings Garret, Chayton, and Winona. In Burn on the Western Slope, Garret is an undercover FBI agent who falls for a woman involved in a jewel theft scandal. In Fatal Snag, business owner Chayton falls for the fashion consultant handling his brother's wedding. In Final Mend, Winona is a private investigator who falls for the man who hires her to find his missing godchild.

Please share the opening lines of this book:
From Final Mend:
Jake Inman's head was about to explode. His lungs ached. His limbs burned. The pressure of his body filled his ears with a dark, cavernous force, demanding attention, leaving him fearful this could be it. His last breath.
Please share a few Fun facts about this book…
Burn on the Western Slope is not only about jewel fencing but special and rare collections. One of those collections includes an ancient fossilized ammonite, which is something I fell in love with during a vacation in Florida while I was writing the book. I initially wanted this story to be called Slopeside, and subsequently name my books something with Slope or Side in it.
Fatal Snag has one of my most favorite scenes of all time, and one my husband actually gave me the idea for. Garret, the hero in the first book, is kidnapped at his own wedding, and it's up to Chayton, his brother, to save him. Initially, my husband said I should kill Garret, but he obviously doesn't get romance and has no idea that I would never do that, even if I could.
Final Mend has a flood scene that was actually inspired by flash flooding that was happening where I live in Texas at the time. It was another of my favorite scenes to write, and one I am very proud of.
Please tell us a little about the characters in your book. As you wrote your protagonist was there anything about them that surprised you?
Reagan is stronger than she gives herself credit for but sometimes questions herself and is prone to give into her self-doubt. Naomi, her cousin who is the heroine in the second novel, has a bit of OCD tendencies. She reminds me of one of my favorite actresses, Leslie Mann, who always played a supporting actress and had such funny and quirky tendencies until she shined in her own lead role. Then there is Winona, who surprised the heck out of me. She was strong, in so many ways, and capable of doing many things I could never dream of doing. She was determined and wasn't scared of anything. Writing her was a challenge—but so much fun.
If your book was optioned for a movie, what scene would you use for the audition of the main characters and why?
This is a difficult question, because there are so many I could use, but I think I would choose the scene in Burn on the Western Slope where Garret and Reagan go snowmobiling on the mountains. They consider themselves friends at this point, and she has no idea he's investigating her. I love this scene because it shows sexual chemistry, but also high-octane suspense when they discover a dead body.
He dismounted the machine and took her hand. She sensed his touch through the gloves they both wore, inflaming her.
It looked like the entire forest was on fire. She sniffed, but instead of smelling smoke she smelled the freshness of snow, pines, mountains. Even sun. She swore she tasted the sun on her lips. Not the muggy, salty, stagnancy she was used to but something much more powerful. Appetizing. Piquant.
Fresh. Free from a city's pollution. A city's lights, a city's commercialism. Natural.
"The creek rolls through here, and you can see frozen waterfalls," Garret said as he pointed in the distance.
Reagan turned to him, feeling reckless and powerful and playful. She stepped into him, grabbed his coat, and kissed him.
He let out a sharp gasp of breath before returning her kiss. Good, she had shocked him. He should feel safe knowing there was nothing they could do here. If they took off their clothes, they'd freeze to death. His mouth was warm but his lips were cold, creating a fire in her throat. She fought the urge to open herself and consume him. Right now, she only wanted a kiss and was taking control. To prove it, she ended the kiss and stepped back.
She plopped on the ground and leaned against a rock, soaking in the grandeur. "You're right, this is beautiful," she said nonchalantly, as if they hadn't just shared the most magnificent kiss of their life. Well, maybe he hadn't, but she had. Still, the way he stood there, as if shell-shocked, made her pretty damn proud. "There's something new to see every day," she continued.
He always wore those damn shades, so she couldn't see his eyes. Were they hazy and full of desire for her? He hadn't moved, hadn't said a word.
She'd wanted to surprise him. Tease him. Make him want her like she wanted him. It empowered her, but her whole body quaked as she strived to remain composed.
Was it possible the chemistry she felt wasn't reciprocated? On one hand she feared losing his friendship if they slept together, but on the other hand she feared losing his friendship if they didn't sleep together. She didn't want to be friends. She wanted to be lovers.
As she adjusted herself to get comfortable, she turned and caught a glimpse behind the rock that made her take a second look. Everything—her desire for Garret, sensual sensations, and her quest to make him want her—fell away.
Glassy eyes stared straight into hers. A pale arm encased in white icy powder stretched toward her, the palm held straight up. The rest of the body was covered in white. Except his face. His grotesquely frozen face.
Clamping a hand over her mouth, she surged upward and screamed. She slipped and fell, rearing up as she darted her gaze across the icy mounds of snow, biting down panic, afraid she'd fall on another dead body.
Garret reacted, his body stiffening as he bounded toward her. "What is it?"
Glassy eyes, glassy eyes, glassy eyes. She'd never seen a dead body before. Well, not like this. Usually, they had their eyes closed. Made to at least appear peaceful.
Hysteria bubbled in her throat. Losing her balance, she tumbled to the ground. Digging her heels in the snow, she crawled backward.
Instead of straining to talk any sense into her, Garret veered to see what caused her hysterics.
"Shit." Even in panic mode, he remained controlled. He grabbed his phone. Opened it, punched in numbers. Closed it, opened it again. Punched more numbers. Reagan's heart beat too loudly to hear the cadence of the digits, but it must be 9-1-1.
"I can't get a signal out here." He approached the body—that dead body—and poked.
"What…what are you doing?" Reagan asked, teeth chattering. She was cold, so cold, where earlier she was warm and secure in her winter garb.
"Making sure he's dead. Making sure I can't revive him."
"Re…revive him?"
Garret used his gloved hands to close the dead guy's eyes. Reagan looked away. She didn't want to see anymore.
"We need to go back and report this."
What do you want people to take away from reading this book?
Something Sandra Brown, one of my favorite authors, said many years ago really hit home with me. She writes to thoroughly entertain readers as if that is enough. Frankly, that's what I hope to do. Thoroughly entertain readers to where, even if they forget about the book, they won't forget about the author and will continue to enjoy my work.
What are you currently working on? What other releases do you have planned for 2017?
I recently completed my newest romantic suspense novel that includes an FBI agent and a woman who witnesses a terrible crime. This standalone has a series potential with more siblings, as I am now working on the story about her brother, who was just released from prison.

Thanks for blogging at HJ!
Giveaway:

2 Kindle Ebooks of SLOPESIDE (The Complete Series) by Angela Smith.
To enter Giveaway: Please complete the Rafflecopter form and Post a comment to this Q:

Most of my stories have some kind of adventure in them, whether it's heliskiing or Jeeping or skydiving out of a perfectly good airplane. I would never do many of those things (though I do love Jeeping). What is your favorite adventure? If you could see the future and knew you would be okay, what's one dangerous adventure you would participate in?
Excerpt from Slopeside Collection: Final Mend.:
The Jeep bounced along the road, up steep mountain slopes, as rain fell in sheets. Winona gasped as the Jeep slid through slick channels of mud, but Jake managed to hold it tight. The roads were spongy, absorbing water, then wringing it out in a collection of goo.
She imagined water gushing around her. Imagined falling to their death. Being sucked into the earth by sludge. The sky had turned dark, merciless, and she couldn't see a damn thing but the Jeep lights soaking an otherwise indistinguishable trail. The wind clamored across the ragtop as if it wasn't even attached.
"We're almost there," Jake had assured her several times as she clenched the grab handle. They had made it past the public roads just fine, and she felt this trail was way worse than he'd described. "It feels worse than it is," he continued. "I've traveled this road hundreds of times."
"We should wait for backup." She checked her phone yet again but had no service. She couldn't call Garret to find out what was going on at his end, and none of her texts was going through. As a private investigator, she'd done many stupid things alone. This ranked top of her list.
She opened the glove compartment. Searched under the seats, behind the seats.
"What are you doing?"
"Looking to see if Chayton has any ammo or guns in his Jeep. Knowing my brother, he doesn't."
Her arsenal consisted of the .380 she'd hidden in her pants and the 9mm she kept in her purse. She'd feel much better if she had an assault rifle as backup, or at least her shotgun. Not that she could handle any more than two at a time anyway, if she was lucky to handle more than one.
Jake cracked his knuckles. "The only ammo I need is right here."
Winona settled in her seat and faced him. He continued to peer out the window as the heavy downpour seemed to crack the Jeep's ragtop. But the Jeep held steady. "Really, Jake?"
"Yep. That and adrenaline."
"So your fists, your arms, will help you dodge bullets? You don't think that whoever we meet at this cabin won't have their adrenaline? You know we could be heading into a trap, right?"
"You think I care about that right now? All I care about is my little girl."
"How do we know she's even there? Lillian could be lying to you. Setting you up. If she had anything to do with Brandon's murder, anything at all, then—"
"You didn't have to come!"
"We can't just go in there without a plan."
"I have a plan."
"We don't even know who's there. How many are there. If Amy is even there."
"I know that cabin like the back of my hand. We're close, and I'm damn sure not stopping or turning around."
She squared her shoulders, digging in her purse for the 9mm. She checked the clip and handed it to him.
"Do you at least know how to shoot?"
"Are you kidding me, Winona?"
"No, I'm not kidding you. If it comes down to it, can you shoot a living, breathing human being if he's threatening your life or those you love?"
"Maybe you're a tough street chick who carries a couple of guns everywhere she goes. I can picture you with an AK on your back and a belt of bullets strapped around your chest. But I can hold my own. I might not be a cop, but I'm probably a better marksman than most. I was four years old when I shot my dad's rifle for the first time. I grew up around hunting and fishing, spitting and shooting."
"Hunting is a lot different than killing a person."
"And you would know better than me how?"
Excerpt. © Reprinted by permission. All rights reserved.


Book Info:
Mystery and matchmaking are in the air in this romantic suspense trilogy set in the Montana mountains.
Danger lurks in the shadowy peaks and valleys for three couples, who are about to discover that love can be a slippery slope indeed.
Burn on the Western Slope: After a deceased uncle mysteriously leaves Reagan McKinney a sizable inheritance, including a condo in the mountains and a stash of stolen jewels, she's determined to find out more about the man. But FBI agent Garret Chambers is assigned to investigate her. The spirited brunette staying in the condo next door can't really be involved with a large jewel fencing organization, can she? His attraction to her heats up, but his investigation just might destroy everything, including a future with Reagan.
Fatal Snag: Hollywood fashion consultant Naomi Fisher is happy to assist with her cousin's wedding, but she has history with the sexy and sullen Chayton Chambers, the groom's brother. When the groom is kidnapped on his wedding day, Chayton and Naomi rush to find an important relic to satisfy the ransom before her cousin becomes a widow before she's a bride.
Final Mend: A recovering alcoholic, Jake Inman has found a new, healthier addiction: training for his successful triathlon career. But when his manager is murdered and beloved goddaughter kidnapped, he turns to private investigator Winona Wall. He finds temptation in her whiskey-colored eyes, but he knows he must resist his attraction when the situation takes a turn for the worse.
Sensuality Level: Sensual


Meet the Author: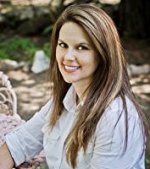 I'm a Texas native who, years ago, was dubbed most likely to write a novel during my senior year in high school. I always had my nose stuck in a book, even hiding them behind my textbooks during school study time. My dream began at a young age when my sister started reciting 'Brer Rabbit' after Mom reading it to us so often. I love research and creating new characters, and I've never been able to write a novel where falling in love doesn't come into play. I'm a certified paralegal and work full time as an office manager at my local District Attorney's Office. I have a lot of hobbies and constantly love to learn new things, and love spending time with my husband and other animals on our small farm. Although life in general keeps me very busy, my passion for writing and getting the stories out of my head tends to make me restless if I'm not following what some people call my destiny.
Website | Facebook | Twitter |