Today it is my pleasure to Welcome author
Victoria James
to HJ!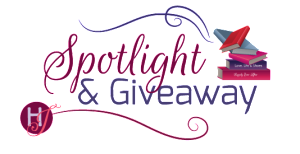 Hi Victoria and welcome to HJ! We're so excited to chat with you about your new release, Snowed in with the Firefighter!

Thanks so much for having me back!

Please summarize the book a la Twitter style for the readers here: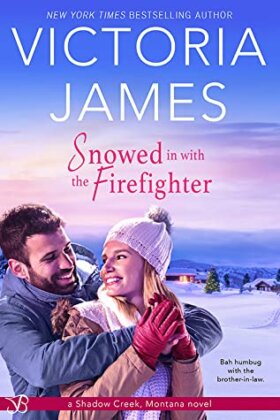 When two opposites are stranding in a remote cabin during the holidays, sparks fly-especially when they learn they are victims of a setup by their families. So they plan revenge-except they end up falling for each other in the process.

Please share the opening lines of this book:
It was the cutest, most cheerful-looking little cabin Melody
Mayberry had ever seen.
She hated it instantly.
It was exactly the opposite of how she was feeling
right now. And, okay, maybe she didn't hate it. It was just
so…happy, and she was the furthest she'd ever been from
happy.
Please share a few Fun facts about this book…
This is the 7th book in my Shadow Creek Montana series. But, it can be read as a standalone.
The hero in this book has been injured since the end of book five in the series–so many readers have been asking about him! He's finally getting his HEA.
My working title for this book was "Snowed in for the Holidays"
The heroine asked him to prom and he said no. He still regrets it 🙂
Their families are scheming, well-intentioned matchmakers
What first attracts your Hero to the Heroine and vice versa?
They are both trying to get over some traumatic life events. The heroine has always projected that she has everything together and Finn starts to see another side to her as they rget to know each other at the cabin. He finds himself falling for her, the more he gets to know the real Melanie. The heroine has always had a crush on Finn but moves away from Shadow Creek after high school and only returns a few years ago. Finn has always had a natural easy-going nature except after his accident, he's changed. She finds herself falling for this more vulnerable side to him during their stay at the cabin.

Using just 5 words, how would you describe Hero and Heroine's love affair?
Opposites attract + Snowed in together.

The First Kiss…
His third mistake was slipping his fingers into the
silky hair at her nape and slowly lowering his head, his lips
brushing against hers. "Mel," he said, half hoping she'd pull
away and all their problems would be solved.
But she didn't. She reached up and wrapped her arms
around his neck, and he tasted and reveled in a moment he'd
never expected. But Melody was so much more than he ever
expected. He deepened the kiss, and she pressed her soft
curves against his body, like she trusted herself with him.
He left one hand in her hair and let the other roam over
the side of her body, wanting more. She'd reached a part
of him he'd thought was gone, lost in the fire along with so
much of him. She pulled at his heartstrings and drew him
out of himself. He stopped thinking about himself and his
problems when he was around her. He was able to enjoy the
moment. With her.
Without revealing too much, what is your favorite scene in the book?
Two hours and two more beers later, Finn came to the
conclusion that Melody was actually more competitive than
him and Ben combined. She was counting her piles of cash,
and he knew she was checking if she had enough money to
buy hotels on Boardwalk and Park Place, her eyes glittering
with impending victory. Little did she know he wasn't the
type to go down that easily. He stretched his bad leg out in
front of him and groaned, clutching his thigh.
She put down her wad of cash and leaned forward, the
evil gleam gone, replaced by a frown of concern. "Are you
okay?"
He winced and took a deep breath. "Yeah. Yeah, I'm
fine. It's your turn," he said, finishing off his beer, his hand
still on his leg.
She bit her lower lip, her gaze going from him to her
pile of cash. He stifled his grin when she made the move
he thought she would and just rolled the dice, intentionally
missing her opportunity to buy property. "Your turn. I hate
the Chance pile," she said under her breath after having to
fork over cash for a card she picked up from the Chance
deck.
He cleared his throat and proceeded to place hotels
on all the green, yellow, and red properties he owned. He
shifted uncomfortably when she swore under her breath,
and her eyes narrowed on him. "Did you set me up? Did
you fake leg pain so that I would feel sorry for you and not
buy hotels?"
He straightened some errant hotels, not looking at her.
"Maybe."
"This means war, Finn," she said, leaning forward.
He sat back, enjoying the taste of impending victory. "I
welcome the challenge."
If your book was optioned for a movie, what scene would be absolutely crucial to include?
The smile in his voice made her smile, and as she rolled
the boulder to his feet, she stood, dusting the snow off her
gloves and looking up at him as innocently as possible. "Is
this big enough?"
He glanced at the large boulder they'd made for the
base in the center of the front yard and then back to the
boulder she'd rolled over. "I guess it'll do for beginners. Not
perfect, but it'll do."
She smiled. "I'm so glad. So now what?"
"I'll kneel down and position it. Just be careful as you
lift it up. You don't want it to fall apart. It's actually quite a
delicate job."
"Yes, definitely. I have no idea how someone like me
can manage such a delicate procedure," she said, placing
her hands on either side of the perfect boulder.
"Just try your best, sweetheart," he said.
She knew he was baiting her, and that was fine,
because she planned on continuing the fun. He stared at
her expectantly. "Sure, Finn. Whatever you say, Finn." She
picked up the boulder, trying desperately not to give herself
away, and at the last moment, instead of placing it on the
base of the snowman, she dumped it on Finn's head.
His roar of surprise should have made her run in the
opposite direction. But she was laughing too hard at the
sight of him covered in snow. The giant boulder of snow had
collapsed all over his head, and he looked like he should be
in an animated movie. She was going to tell him he reminded
her of Olaf, but she kept her mouth shut as he rose slowly to
his feet, the gleam in his eyes making her take a step back.
"Melody…"
She swallowed hard and stood her ground. She gave him
her sweetest smile. "Yes, Finn?"
"Run."
"Run?" she repeated blankly.
He nodded slowly, taking another step closer to her, his
mouth twitching.
She swore under her breath and spun around.
Readers should read this book …
To feel the warmth of the holidays and get wrapped up in the warmth of this love story.
What are you currently working on? What other releases do you have planned?
I'm currently working on edits for my upcoming mass market paperback book for Entangled, Amara: Wishing for a Cowboy. This will be the third book in my Wishing River Series. It'll be on shelves, March 9, 2021!
Thanks for blogging at HJ!
Giveaway:

A digital copy of the first book in my Wishing River series-The Trouble with Cowboys.
To enter Giveaway: Please complete the Rafflecopter form and Post a comment to this Q:

Do you like holiday romances where the main characters are stranded somewhere together?
Excerpt from Snowed in with the Firefighter:
"Hey, do you remember the time
you asked me to go to prom and I said no?"
He cringed at how that came out. It was probably so out
of left field, and he should have broached it with a little more
delicacy. Her face turned bright red, and then she covered
it with her hands. "If this is a strategy to throw me off my
Monopoly game, that is very shrewd and cold, Finn. Not at
all what I'd expect from you."
"Sorry," he murmured, filling the gap between them.
He gently pried her hands from her face. She stared up
at him, her face bright red, but her eyes were filled with
gut-wrenching humiliation. He regretted every inaccurate
assumption he'd ever had about her. He held her hands in
his, and for a second, he thought she was going to pull away
from him and just leave.
"No, you don't have to be sorry. I do. I'm sorry I asked
you to go to prom with me. You were right—it wasn't just
because I wanted to go with you. I mean, I would have loved
to go with you—I thought you were amazing—but I had
no time for guys or friends. My entire life was focused on
getting my mother's approval and being better than Molly.
I was even jealous of Molly and Ben's relationship. That's
why I asked you to prom. Because if Molly had Ben, then I
wanted you."
Tears filled her eyes, but she blinked rapidly and took a
labored breath. "If I had known everything that was going
to happen after, then I would have been a better person. I
would have been a better sister to Molly, and then maybe
she wouldn't have had to go through what she did alone.
Maybe I could have spared her everything," she said, and
this time, the tears actually spilled from her eyes.
When she made a move to run from him, he pulled her
into his arms. She was as stiff as a board for a moment, and
then she wrapped her arms around him and cried. It was
the only time he'd ever seen her cry or be emotional, and
he held onto her tighter because her pain affected him. Her
self-loathing was painful to witness. She had been going
around carrying all this guilt and blaming herself for what
her sister had endured.
"Hey," he said, unable to stop himself from letting his
lips graze over the top of her head. "You are way too hard
on yourself. Everything that happened in your life led you
to the person you are now. You thought I was amazing?
Well, I think you're amazing, Melody. Your sisters love you.
You are not the girl your mother forced you to be, and it's
not your fault that you were ever that way. You were set up
to fail, and you have to let go of that guilt. It's not who you
are now. It's hard to change. And you did and you need to
give yourself some credit for that."
He pulled back slightly to look at her. His first mistake
was raising his hands to cup the sides of her face, telling
himself that he was only trying to be a friend, to be there
for her. "The prom thing is water under the bridge. I said no
to you because I didn't think you weren't interested in me,
and I knew it was some kind of a plan that had nothing to
do with us."
His second mistake was grazing his thumb over her
cheekbone and pulling her closer instead of stepping back.
"Thank you for being so kind to me," she whispered.
He frowned. "I'm not being kind. That's actually what
I think. You don't see yourself the way the rest of the world
does. The way I do."
Her mouth dropped open. "Finn…"
He clenched his teeth, his gaze going from her eyes to
her mouth. He couldn't remember a time in his life he'd
wanted to kiss a woman as much as this. A time where he'd
wanted to just stay in one moment because it felt so right.
But he couldn't walk away from her without telling her the
rest, without her believing him. "If you asked me now to
prom, I'd say yes. If you asked me for anything right now,
I'd say yes."
Excerpts. © Reprinted by permission. All rights reserved.


Book Info:
Dr. Melody Mayberry's life just took a turn that's left her questioning everything. Where better to hide out than the remote family cabin in the mountains? The last thing she expects to find there is her swoon-worthy brother-in-law, the one man who may have more baggage than her.
Finn Matthews is not ready to face the fact that the recent injury he sustained in a fire may have ended his firefighting career. He's not interested in sharing the cabin with anyone, let alone Melody, and their family just texted with yet another unwelcome surprise—they'll be there Christmas Eve.
To keep their meddling family at bay, the two team up to fake a little holiday cheer. But between ridiculously competitive Monopoly games, marathon Christmas decorating, and a storm that strands them together with nothing but a fire and a warm couch, they realize something major—their fake holiday cheer isn't feeling so fake anymore, and that's something neither of these two Grinches expected…
Book Links: Amazon | B&N | iTunes | Goodreads |


Meet the Author:
Victoria James is a New York Times and USA Today bestselling author of contemporary romance.
Victoria always knew she wanted to be a writer and in grade five, she penned her first story, bound it (with staples and a cardboard cover) and did all the illustrations herself. Luckily, this book will never see the light of day again.
In high school she fell in love with historical romance and then contemporary romance. After graduating University with an English Literature degree, Victoria pursued a degree in Interior Design and then opened her own business. After her first child, Victoria knew it was time to fulfill her dream of writing romantic fiction.
Victoria is a hopeless romantic who is living her dream, penning happily-ever-after's for her characters in between managing kids and the family business. Writing on a laptop in the middle of the country in a rambling old Victorian house would be ideal, but she's quite content living in suburbia with her husband, their two young children, and very bad cat.
Sign up for Victoria's Newsletter to stay up to date on upcoming releases and exclusive giveaways, follow her blog for daily antics and insight into her daily life, and get to know her on twitter and Facebook. She loves hearing from readers! www.victoriajames.ca
Website | Facebook | Twitter | Instagram |