Today it is my pleasure to Welcome USA Today bestselling author
Kimberly Lang
to HJ!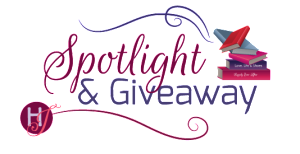 Hi Kimberly and welcome to HJ! We're so excited to chat with you about your new release, Something to Prove

!


Hey, y'all!

Please summarize the book for the readers here: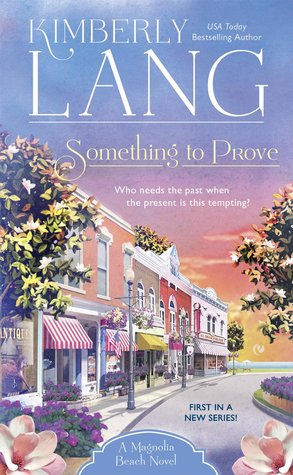 I'm so excited about Something to Prove, the first book in my new Magnolia Beach series! It's a "reformed wild child returns home" story, but Helena isn't really looking for redemption in the eyes of her hometown. Falling in love with the town's golden boy really wasn't in the plan, either. It's a fun story of coming home *and* moving on.

Please share the opening lines of this book:
If I'd known I was going to attract this much attention, I'd have worn lipstick.

Forcing herself to smile, Helena Wheeler waved at the elderly couple frowning down at her from their porch swing. Mr. and Mrs. Riley had been ancient twelve years ago, and though she assumed they'd been long dead by now, she realized they might be living proof that time really did stand still in Magnolia Beach, Alabama.
Please share a few Random facts about this book…
I just want to remind everyone that this is a work of fiction. Any resemblance to you is just the workings of your own guilty conscience…
Please tell us a little about the characters in your book. As you wrote your protagonist was there anything about them that surprised you?
Helena Wheeler was known as "Hell-on-Wheels" growing up, and she earned the nickname fairly. Ryan Tanner is former football star and all-around BMOC who is now the mayor of Magnolia Beach. So it's a good boy/bad girl book. And while I always love my characters (that's why I want to tell their stories, after all), I really *liked* them as well. They turned out to be far more complicated than I expected going in, and that changed my idea of how the book was going to go. I was definitely surprised to find my plan for these two wasn't going to work!
What, in your mind, distinguishes this book from other books out there in the same genre?
At first glance, it looks like a redemption story, but Helena didn't get that memo. Not only isn't she looking for it, she doesn't want it either, and she actively fights against her redemption every step of the way.

The First kiss…
A small smile pulled at the corner of her mouth. "You thought I was gorgeous?"

"You don't need to fish for compliments. You know you were. Still are."

There was a long, heavy moment as the whole mood shifted and the air turned thick and hot. "Careful there," she warned.

She'd started it, so he didn't see the need. And while her tone had been casual, the pulse point in her neck was fluttering, and her chest was flushing pink. That might not have been his best, most suave move, but she was thinking about it now, and that was what counted. "Why? It's true."

There was a long, disconcerting silence as Helena studied him, and it kept him in place, waiting for her to decide.

The deep breath she took stuttered in her chest, and she licked her lips, sending a bolt of heat through his blood as it rushed south so fast, he felt light-headed.

Then she smiled at him.

That smile was a match dropped on gasoline.
Did any scene have you crying or laughing (or blushing) while writing it?
When Ryan blackmails Helena for sex. Well, technically, it's extortion, but let's not split that hair. It's funny and sweet and sexy, and I giggled the whole time I wrote it. No snippet, because it won't make sense out of context, and I don't want to spoil it either.
If your book was optioned for a movie, what scene would you use for the audition of the main characters?
Probably the scene where they really talk about the past for the first time. Ryan is trying to get the "real details" behind some of Helena's more famous exploits. There's funny parts, of course, but it's also the first time Ryan sees how complicated Helena really is. The stories behind those stories open his eyes and make him see Helena in a different way. He's already physically attracted to her and amused by her teenage exploits, but the conversation is much more revealing about the true Helena than he expected.
An excerpt:

"Do you honestly think that any Tanner—especially you—was going to get into any trouble for anything less than being caught red-handed committing a felony? Pfft."

She pushed to her feet and headed downstairs. He had to trot to catch up. "Don't pretend that any Tanner, especially me, was—or is—untouchable or anything."

Helena paused at the kitchen door, giving him that same look that called him simple. "But you were. All of you were. Hell, Jamie is the one who hacked into the school's e-mails and sent those pictures to everyone. All he got was a few hours of detention because they couldn't 'prove it.'" She included the air quotes disgustedly. "I got more detention than that—without solid proof, mind you—for hijacking the PA system at the game."

"That was epic revenge, by the way. Jamie's is still sulking over it." Helena shrugged off his words, but not before he saw the beginnings of a smile. "And, if you ask me, Jamie totally deserved it, so good job. How'd you manage it, though?"

She seemed to be debating whether or not to tell him.

"The principal always thought you must've done it when he caught you breaking into the school."

She shook her head. "That's not why I was breaking into the school."

"It's not?"

"Of course not. I just liked to use the computer lab at night. The computer I had at home couldn't even handle simple Photoshop, much less the stuff I was trying to do. And hey, look at me now, so it was worth it, I think."

This was a whole new window into Helena's character. "Wait. You trained yourself for a career in graphic design by breaking into the school's computer lab? How many times did you break in?"

"Enough." With a grin, she pushed through the swinging door into the kitchen.

His entire brain was short-circuiting as he followed her. "Let's back up. If you didn't hijack the PA system by breaking into the school in the middle of the night, how did you manage it?"

For a minute, he thought Helena wasn't going to answer him. Finally, she took a long drink of her beer and shrugged again. "It's amazing how far a little side boob could get you with the A/V club back then."

"You flashed the A/V club?"

"Not completely. And it's not like I'm proud of it or anything, but you do what you have to do, sometimes."

"Oh my God."

"You said yourself that it was epic and well deserved. Epic things require extraordinary efforts." She lifted her chin. "I was willing to go the distance for that."

"You are one interesting woman, Helena."

There was that grin again. "Why, thank you."
If you could have given your characters one piece of advice before the opening pages of the book, what would it be and why?
Fortune favors the brave.

What are you currently working on? What other releases do you have planned for 2015?
I'm currently working on more stories from Magnolia Beach. I love the town and the people in it, and I want to keep writing stories set in that world.There's a novella, "One Little Thing," coming out this fall, and the second novel, Everything at Last, comes out in January of 2016.

Thanks for blogging at HJ!
Giveaway: Giveway is open to both US and International residents, but with conditions…

US residents: A print or e-copy of Something to Prove, plus a Kimberly Lang tote bag and some other swag. International residents: An e-copy of Something to Prove. Winner can request a copy of one of my backlist titles instead.
To enter Giveaway: Please complete the Rafflecopter form and Post a comment to this Q:

How do you handle people who want to bring up stuff from your past you'd rather just forget?
Excerpt from Something to Prove:
"Well, well, well, the rumors are true. If it isn't Hell-on-Wheels."

Helena spun toward the amused baritone. She was getting much quicker at putting names to faces, but she wouldn't have needed any help matching the twenty-year-old Ryan Tanner with the version standing in front of her now. Sun-streaked blond hair, strong jaw, green eyes with cute little crinkles from being outside . . . There was something just so damn wholesome about him that he could be the centerfold for Cute Boys Next Door magazine. In jeans, a black polo shirt, and work boots, he certainly didn't look like he belonged in the mayor's office, but it did give him an almost edgy sex appeal—not hurt at all by the way the sleeves of his shirt strained against his biceps.

Under different circumstances . . . hummina. But that mocking "Hell-on-Wheels" comment had her hackles up. "It's just Helena these days."

"I'm sure the chief will be glad to hear it. He's new and all, but he's very committed to keeping Magnolia Beach orderly and peaceful."

And there it was. She'd rather hoped that Ryan had outgrown his holier-than-Helena attitude. Be an adult. Let it go. "I doubt I'll have time to make his acquaintance, but please pass along my regards."

Ryan walked around Julie's desk and pulled some papers out of an in-box. "What brings you to the mayor's office? I don't think even you've been in town long enough to cause any trouble."

Don't take the bait. "I'm looking for you, actually."

Ryan's eyebrows went up in surprise. "Then maybe we should step into my office."

"It's not official Magnolia Beach business. I need to talk to you about my grandmother."

His attitude changed. It was subtle, but it was there all the same. Ryan indicated she should go into his office anyway. Somehow, she'd been expecting it to be dated and stuck in time, but it was modern, with nice, but not-too-expensive-looking furniture. Ryan's eyes were concerned as he asked, "How is Ms. Louise?"

There was something very heartening about how much everyone seemed to care about Grannie. Her hospital room had remained full of fresh flowers, and she'd had a steady stream of visitors at the convalescent center. That knowledge had helped mitigate her own guilt at not being able to be there every day.

Growing up, Helena never understood why Grannie loved living in Magnolia Beach, but then again, Grannie had never done anything to irritate the people. Well, besides having a hellion for a grandchild, of course. But even then, everyone had considered Helena to be Louise's personal cross to bear and kept Grannie as a permanent fixture on the church's prayer list for her patience and attempts to rein Helena in.

"She's chomping at the bit to be released."

"I'm not surprised. When will she be coming home?"

"Two, maybe three, weeks. That's why I'm here."

"So you'll be staying awhile?" Ryan's eyebrows went up again, as if he were calculating the cost of adding an additional officer or the possible property damage. Helena reminded herself not to be annoyed.

"A little while." She sat in the guest chair in front of his desk. "Grannie is going to need a lot of help when she comes home. Which brings me back to you. She can't come home until the house is ready for her. I need ramps built and one of those walk-in bathtubs installed downstairs. We need some grab bars, stuff like that throughout the house, because I don't want her falling again." Just the thought put a sick feeling in her stomach. "Grannie wants you, specifically, to do the work."

Ryan leaned against his desk. "Tell Ms. Louise that I'm flattered."

"But . . . ?" she prompted.

"No but. I'll be happy to do it."

"Great. That's a big relief." And it was. The construction on the house was the biggest weight on her shoulders right now. And since she really didn't have the time to vet a parade of contractors, she'd go with Grannie's assurance that he was the best in Magnolia Beach. "I have some errands to run this morning, but I'll be home after that. You can come by anytime this afternoon or tonight to take a look and give me some estimates."

Ryan pulled out his phone and checked something. "Sometime after five okay?"

"That'll be great." She started to offer the address, but caught herself. "I think you know how to get to the house."

"That I do." There was that smirk again.

Helena was desperate to ask him what was so damn funny, but she restrained herself. "Then I'll see you this evening, Mayor Tanner." She stood and hitched her bag over her shoulder.

He nodded, and Helena showed herself to the door. "Welcome back to Magnolia Beach, Hell-on-Wheels," Ryan called from behind her. "Stay out of trouble, okay?"

She had to bite her tongue to keep from taking the bait this time. With a nod to Julie on her way out, she pushed through the glass doors and into the sunshine.

Lord have mercy. If this morning was the baseline for what life was going to be like for her the next few weeks . . .

Magnolia Beach had a lot of new businesses. She sincerely hoped one of them was a liquor store.

~A longer excerpt of this scene is on my website at booksbykimberly.com~
Excerpts. © Reprinted by permission. All rights reserved.

Book Info:
Former wild child Helena Wheeler was happy to leave behind her hometown—and her sordid past—for Atlanta twelve years ago. But when her grandmother suffers an injury, Helena has no choice but to return, even if it means facing down all the people who have shunned her.
Ryan Tanner went from being a football legend in high school to Magnolia Beach's young, hot bachelor mayor. As a teenager, he never wanted anything to do with a girl like Helena. But when she hires Ryan to do some construction in her grandmother's house, he finds that she's grown up into a different person—one he quite likes.
For Helena, confronting her past has its share of surprises—and falling for the resident golden boy was definitely not on her to-do list. But will her reformed ways be enough to get her back in the town's good graces, or will her reputation keep Helena and Ryan apart for good?
Meet the Author: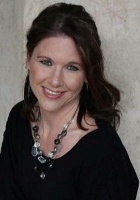 Kimberly Lang is a USA Today bestselling author as well as a Southern belle with a troublemaking streak. A former ballet dancer and English teacher, she now does yoga and writes the kind of books she always loved to read. She's married to her college sweetheart, is mom to the most amazing child on the planet, and shares her office space with a dog named Cupid.
Website | Facebook | Twitter |