Today it is my pleasure to Welcome romance author 
Erika Marks
 to HJ!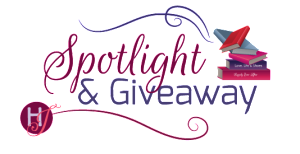 Hi Erika and welcome to HJ! We're so excited to chat with you about your new release, STEALING HEARTS!
What was your Inspiration behind this story and characters?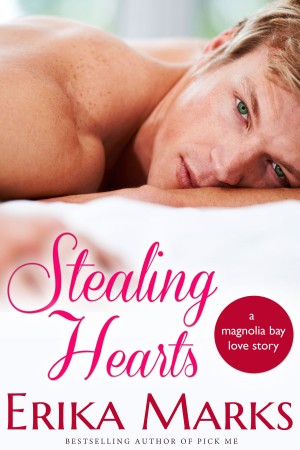 As soon as I wrote sexy bartender Mick Atwell into my holiday novella, A VERY MARRIED CHRISTMAS, I knew he needed his own love story. The only question was who would be his heroine? Enter free-spirited and mercurial Lucy Waverly, who became the perfect match—or should I say foil—for by-the-book hottie, Mick. When Mick first meets Lucy, the attraction is fierce—but so is the conflict: she's the kid sister of his best friend, not to mention that Mick is about to leave Magnolia Bay to move out to Colorado. The timing couldn't be worse—but the chemistry couldn't be stronger, so when Lucy needs Mick's help, he's all in—and in deep.

Please share a few FUN facts about this book…
I have a different Pandora station for every romance I write, depending on the style of my characters. Since STEALING HEARTS is a Valentine's Day story, I listened to a lot of sexy blues and some steamy jazz to help my hero and heroine sizzle—not that they needed any help!;)
I rarely have a favorite scene in my books—I love them all—but in STEALING HEARTS, I had so much fun writing the wine tasting scene between Mick and Lucy—all the opportunities for double-entendres and innuendo. One might say it flowed right onto the page. (Sorry, I couldn't resist the pun!)
 Every book involves some kind of research but this story led me down a REALLY fun Google rabbit hole when I needed to find out some of the typical phrases put on Conversation Hearts for a scene in the bar. I had no idea how many different phrases the company has tried over the years—or the controversy over some added phrases such as "Fax Me." But mostly just looking at picture after picture of candy hearts made me wish for a giant bowl of them!
Part of the fun of writing a series is that you get to insert characters from other books into yours so readers can catch up with them, so it was great to bring back Darcy from Kim Boykin's SWEET HOME CAROLINA when I needed a place for Lucy and Mick to hide out (among other things, ahem) for the night –Darcy's B&B was the perfect spot!
Please share an Excerpt from STEALING HEARTS:
For nearly fifteen minutes, Lucy watched him go back and forth between the bar and the cellar, before he finally decided on the three bottles he set in front of her, along with three glasses.
"Can you really open all of these?" she asked.
He smiled, already snapping open his corkscrew. "We have our liquor license now, don't we?"
"I meant is it right to waste so much wine?"
"Who said we'd be wasting it?"
"Then you plan on having us drink three bottles?"
"Not all at once. Stopped up, they keep nicely for at least a day."
"Oh, so I have a whole day to get drunk?" she teased.
"You have your whole life to get drunk. Today, I'm going to teach you about wine."
Lucy watched as he expertly uncorked the first bottle. How many times had she botched the same maneuver, snapping off a cork or leaving chunks of it floating in every glass? Watching Mick grip the bottle and turn the screw, the muscles in his forearm flexing with each twist, his grin rising with the cork, it was sexy as all get-out. He could have poured an ounce of dish water and she'd have downed it without hesitation.
He picked up a glass, cupping the base in his palm and tipped it toward the mouth of the bottle to let the red wine flow into it.
"This is a Pinot Noir." When he handed it to her, she steered the glass toward her lips before he stopped her. "Hold on. Before you sip—some basics."
She set the glass down and smiled.
"Appreciating wine isn't just about taste," he said. "You need all the senses. Your sight, your smell. Even how it feels. On your tongue, in your mouth."
Her eyes dropped to his lips and a weight dropped in her stomach. Just the suggestion of the inside of his mouth, his tongue, and her body responded. She hadn't even had a sip and already she was feeling buzzed. Were all wine tastings this much of a turn-on?
"First, you look at the wine." He gestured for her to raise the glass. "Consider the density of it. Turn the glass a little bit and see if it thins out."
"Like this?"
"Exactly. You can see this wine isn't very translucent which means it's probably a young wine. See how this one clings a little to the side of the glass when you roll it? The more sugar in the wine, the higher the viscosity. Not to mention the alcohol content. Now bring it up to your nose and take in a good, deep breath."
When she did, the aroma of fruit hit her hard.
He leaned in. "Tell me what you smell."
"I smell a lot of things."
"Start with the most obvious. The biggest one."
"It's something sweet, for sure. Definitely berry. Maybe strawberry or raspberry."
"Good. What else? Is it smoky, spicy, peppery, oaky…?"
"A little oaky," she said.
"Anything else?"
"Something like bread, maybe. Almost doughy."
"Good for you. That's a secondary aroma. The first smell was from the grapes, the secondary aroma comes from the winemaking process."
"Now what?" she asked.
He grinned. "Now you taste it."
She sighed. "Finally."
"But slowly," he added, as she tipped the glass toward her lips. "Let the wine spend some time in your mouth. Move it around your tongue so all of your taste buds get a chance to experience it."
God, he was killing her. Lucy did as he instructed, trying to keep her focus on the warm liquid in her mouth when all of his talk of tongues and taste buds was coaxing her thoughts to other places that had nothing to do with wine.
Thanks for blogging at HJ!
Giveaway: 

$5 Starbucks giftcard + an e-copy of Erika's "A Very Married Christmas" 
To enter Giveaway: Please complete the Rafflecopter form and Post a comment to this Q: For Mick and Lucy, Valentine's Day ends up being both romantic and suspenseful when they learn an uninvited guest has made a surprise appearance at their Masquerade Party. What's the most exciting Valentine's Day you've ever had?
Mick's plans to move to Colorado are set in stone—until Lucy breezes into his life, and his heart. Have you ever changed your plans for love?

Book Info:
Bartender Mick Atwell has one more commitment before he leaves Magnolia Bay for Colorado: help his best friend, Tim, get his new wine bar POUR ready in time for its Valentine's Day grand opening. But when Tim's little sister Lucy breezes into town unexpectedly from New York for a visit, Mick doesn't see how they'll keep to their tight schedule—any more than he sees how this beautiful, spirited woman could possibly be the same irresponsible "kid" Tim has been complaining about for years…
Despite her carefree smile, Lucy Waverly hasn't come back to Magnolia Bay for a vacation—she's come home to hide. After discovering her boss at the gallery is selling forgeries, she needs to lay low and figure out a plan to get herself out of this dangerous mess—a plan which can't include falling for her brother's sexy best friend, no matter how safe he makes her feel, or how his smoldering eyes turn her inside out.
Mick has one foot out the door, but when Lucy's troubles follow her to Magnolia Bay, they are thrust together to keep one step ahead of danger and get POUR open in time. Soon the man who lives by his plans is wondering if the woman who lives by chance may not be worth breaking his rules for.
Buy Link: http://www.amazon.com/Stealing-Hearts-Magnolia-Erika-Marks-ebook/dp/B00TCXMP54


Meet the Author: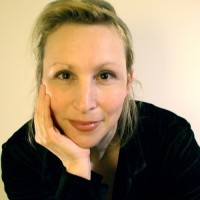 Erika Marks is a women's fiction writer and the author of Little Gale Gumbo, The Mermaid Collector, The Guest House and It Comes In Waves (July, 2014). On the long and winding road to becoming published, she worked many different jobs, including carpenter, cake decorator, art director, and illustrator. But if pressed, she might say it was her brief tenure with a match-making service in Los Angeles after college that set her on the path to writing love stories (not that there isn't romance in frosting or power tools!) A native New Englander, she now makes her home in Charlotte, NC, with her husband, a native New Orleanian who has taught her to make a wicked gumbo, and their two little mermaids.
Social Media Links

https://www.facebook.com/ErikaMarksAuthor
https://twitter.com/erikamarksauthr