Today it is my pleasure to spotlight 

A Study in Silks

by Emma Jane Holloway
A STUDY IN SILKS, is the first book in Emma Jane Holloway's new fantasy/paranormal romance trilogy. 
The book centers around Evelina Cooper, Sherlock Holmes' niece, as she faces murder, missing automations, a sorcerer, and much more in what should have been her enjoyable first season in London Society.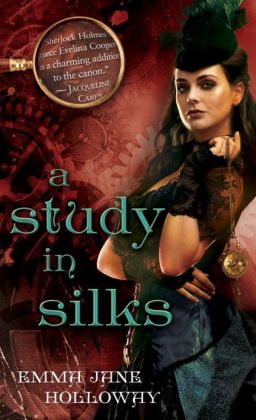 Evelina Cooper, the niece of the great Sherlock Holmes, is poised to enjoy her first Season in London Society. But there's a murderer to deal with—not to mention missing automatons, a sorcerer, and a talking mouse.
In a Victorian era ruled by a council of ruthless steam barons, mechanical power is the real monarch and sorcery the demon enemy of the Empire. Nevertheless, the most coveted weapon is magic that can run machines—something Evelina has secretly mastered. But rather than making her fortune, her special talents could mean death or an eternity as a guest of Her Majesty's secret laboratories. What's a polite young lady to do but mind her manners and pray she's never found out?
But then there's that murder. As Sherlock Holmes's niece, Evelina should be able to find the answers, but she has a lot to learn. And the first decision she has to make is whether to trust the handsome, clever rake who makes her breath come faster, or the dashing trick rider who would dare anything for her if she would only just ask.
A STUDY IN SILKS goes on sale September 24th – for more information, click here.
Giveaway:
2 print copies of A STUDY IN SILKS
To enter Giveaway: Please complete the Rafflecopter form and post a comment:

What did you think of the blurb and Excerpt? What about it caught your attention?  
Click HERE to read an Excerpt