Today, HJ is pleased to share with you Julia London new release: 

Suddenly Engaged

New York Times bestselling author Julia London proves that there's no insurance against falling in love.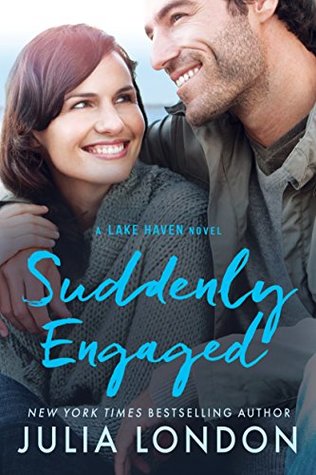 Single mother Kyra Kokinos spends her days waiting tables, her nights working on her real estate license, and every spare moment with her precocious six-year-old daughter, Ruby—especially when Ruby won't stop pestering their grumpy next-door neighbor. At first glance, Dax Bishop seems like the kind of gruff, solitary guy who'd be unlikely to offer a cup of sugar, let alone a marriage proposal. But that's exactly what happens when Ruby needs life-saving surgery.

Dax showed up in East Beach a year ago, fresh from a painful divorce and looking for a place where he could make furniture and avoid people. Suddenly his life is invaded by an inquisitive munchkin in sparkly cowboy boots—and her frazzled, too-tempting mother. So he presents a practical plan: his insurance will help Ruby, and then they can divorce—zero strings attached.

But soon Kyra and Dax find their engagement of convenience is simple in name only. As their attraction deepens, a figure from the past reappears, offering a way out. Can Kyra and Dax let go so easily, or has their sudden engagement become something more?

Enjoy an exclusive excerpt from Suddenly Engaged: 
"How long?"

"That I've been divorced? Or that I was married?"

"Both."

He glanced down. "Both a while."

He obviously didn't want to talk about it, and Kyra found the silence between them a little awkward. She could talk about Josh, offer him up in the spirit of situations gone bad. But the truth was that it had taken her several years before she could explain the situation without feeling a little sick, and now she just felt ashamed.

Dax's phone beeped. He fished it out of his pocket and looked at it. "Great," he muttered and shifted his gaze to Kyra. "I need to go."

Kyra wondered if that was Pretty Girl.

He stood up. She did, too.

He paused and looked at his phone. "Maybe I should get your number in case . . . in case something comes up again," he said.

"Good idea," she said and put out her hand for his phone. He tapped into his contacts list and handed the device to her. She typed Kyra the Neighbor and entered her number before handing it back to him.

He stuffed the phone in his pocket. "Thank for the pizza and the beer," he said. He smiled a little and shoved his hands into his pockets.

"You're more than welcome. Thank you—"

"No more thank-yous, remember?" He started down the steps.

Kyra smiled, far too brightly. "Thanks for the car—oops, I forgot. Oh geez, wait, Dax!" she said suddenly. "I forgot to pay you." She darted inside to her purse, and when she returned to the porch, Dax had gone down to her car. Kyra joined him there and held up the money. He moved as if to take it from her, but Kyra yanked her hand back. "Before I hand this over, I'm going to need some proof that the car is working."

"I like that," Dax said, nodding. "Always make sure you got what you paid for." He opened the car door, got in, turned the ignition, and it started right away without a single grind. Frankly, it purred.

Kyra gasped with delight. "It's like Christmas," she said. "A new car."

He shut down the car, got out, closed the door, and held up her keys. "That put you back two seventy-five," he said.

Kyra counted out the cash and handed it to him. He folded the bills and put them in his pocket. Kyra put her hands on her keys, but he didn't let go—his thunder-blue eyes locked on hers. One corner of his mouth tipped up in a droll smile. Kyra could feel things stirring in her, swirling around. Lustful, yearning things. She could feel a little heat tingling under her skin and her own smile slowly emerging.

Dax let go of the keys and brushed her hair from her face. "You're looking at me in that hungry way again."

"Am I?"

He nodded and caressed her cheek with a knuckle.

"Well, don't worry. I'm not going to kiss you."

"Yeah, well," he said, shrugging before he slipped his hand to her nape, "I'm going to kiss you."

His lips softly met hers. His tongue moved along the seam of her lips, then slipped into her mouth. It was a simple kiss, but it was so erotic to Kyra that she had to grab his waist to keep from flittering away.

He caught her chin in one hand and angled her head so he could deepen the kiss, and a sizzle began to creep through Kyra's body. That kiss was a shock wave of desire, electric and pulse-pounding, and her body was revving up, ready to take off.

Dax lifted his head. He ran his thumb over her lip, then her cheek.

She sucked in air, trying not to pant. "That . . . was much better than last night," Kyra said. "I mean, if you're judging kissing on a technical scale."

"Agreed."

"So . . ." she said, still staring into his eyes, "is this a thing?"

Dax chuckled. "Nope." He tucked her hair behind her ear.
Excerpt. ©Julia London. Posted by arrangement with the publisher. All rights reserved.
Giveaway:

Ebook: Suddenly Engaged (A Lake Haven Novel) by Julia London
To enter Giveaway: Please complete the Rafflecopter form and post a comment to this Q:

What did you think of the excerpt spotlighted here? Leave a comment with your thoughts on the book…
Meet the Author: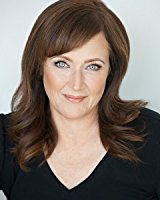 Born in Canyon, Texas, and raised on a ranch, Julia London didn't have her eye on writing romance right away. After graduating with a degree in political science from the University of Texas in Austin, she moved out to Washington, DC, eventually working in the White House. She later decided to take a break from government work and start writing. Today, she is the New York Times, Publishers Weekly, and USA Today bestselling author of more than thirty novels. She writes historical romance and contemporary women's fiction, and her most popular series include the Secrets of Hadley Green series, the Cabot Sisters series, the Desperate Debutantes series, the Lear Sisters series, and the Pine River series. She is a recipient of the RT Book Reviews Best Regency Historical Romance award for The Dangerous Gentleman, and a six-time finalist for the renowned RITA Award for excellence in romantic fiction. She resides in Austin, Texas.