Today it is my pleasure to spotlight the release of

Suddenly One Summer 

by Julie James

From the New York Times bestselling author of It Happened One Wedding comes a novel about a man and a woman whose summer is about to get very, very hot…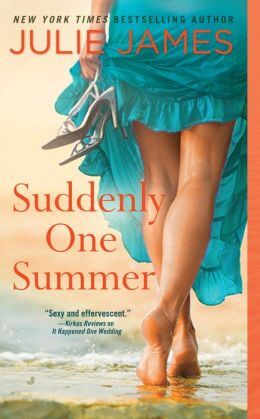 Divorce lawyer Victoria Slade has seen enough unhappy endings to swear off marriage forever. That doesn't mean she's opposed to casual dating—just not with her cocky new neighbor, who is as gorgeous and tempting as he is off-limits. But once she agrees to take on his sister's case, she's as determined to win as ever—even if that means teaming up with Ford….

Investigative journalist Ford Dixon is bent on finding the man who got his sister pregnant and left her high and dry. He's willing to partner with Victoria, despite the fact that the beautiful brunette gets under his skin like no other woman. He might not be looking to settle down, but there's no denying the scorching attraction between them. Still, the more time he spends with Victoria, the more he realizes that the one woman as skeptical about love as he is might be the only woman he could really fall for…


Read an exclusive excerpt from Suddenly One Summer 
Victoria stepped inside the loft, checking out the place as she followed Charlie and Tucker. Layout-wise, the condo was the mirror image of hers, and the kitchen granite and shelves were basically the same, but that was about where the similarities ended.

"Wow," she said, both surprised and impressed. Clearly, Ford had invested a lot of time and effort into the place. Half of the open floor plan was designated as a living space, with a leather couch and chair, brick walls, and sliding door that led out onto the terrace. But the other half appeared to be a combination dining/work space, with a striking, reclaimed wood-and-steel table and matching stools, and two entire walls of built-in reclaimed-wood bookshelves.

It was a great space, masculine and urban and yet also warm and inviting, too. The wall shelves were various heights and filled with a mixture of books, artwork, framed photographs, and other interesting odds and ends: an antique clock, a sculpture of a hand, and something that looked like a replica Star Wars blaster.

She walked over to take a closer look. Good thing this wasn't a date, because if it had been, she would've been tempted to spend a good, long time examining all the nooks and crannies of those bookshelves, trying to discover what they said about the man who owned the place. "This is nice. Really nice."

"Try not to sound so surprised," said a dry voice.

Victoria turned and got her first look at the shower-fresh version of Ford Dixon. Gorgeous as ever; six-foot-plus inches of incredibly blue eyes; wet, mussed hair; low-slung jeans; and a T-shirt stretched across his broad, solid chest.

And bare feet.

She heard the tiny cry of a hundred unfertilized eggs as one of her ovaries exploded.

She cleared her throat, pointing to the wall shelves. "Did you do this yourself?"

"I did."

"With our help," Charlie said, waving from the kitchen. "Well, mostly Tuck and I just drank beer and held a few boards. Speaking of which . . ." He tossed his empty beer into a recycle bin under the sink and opened the fridge. He grabbed another beer, then stopped short when he saw Ford staring at him.

Charlie looked between Ford and Victoria, then smiled innocently and put the beer back. "I'm guessing you two have work you want to get to."

"What are you guys working on, anyway?" Tucker asked. "Is this something for the Trib?"

"It's a project for one of Victoria's clients," Ford said ambiguously.

"Huh. Sounds very . . . boring." Tucker pointed a finger at each of them. "Well. I guess we'll let you two worker-bees get down to it. Shall we, Chuckles?" He headed to the door with Charlie, then turned and walked backward the last few steps. "Victoria, it was a pleasure." Putting his thumb and pinky to his ear, he mouthed Call me as Charlie yanked him by the back of the T-shirt and pulled him out the door.

"Yep. That would be Charlie and Tuck." Ford turned to Victoria. "Nicole asked me to not say anything to my friends about the fact that she doesn't know who Zoe's father is. That's why I was vague about what we're working on tonight." He went to the couch and pulled his laptop out of his messenger bag. Absentmindedly, he ran a hand through his hair, giving it a rakish, finger-combed look.

One stubborn, errant lock fell across his forehead.

He caught her looking at him. "What?"

For some reason, Victoria couldn't resist. "Your friends said you were quite taken with me that night at The Violet Hour."

He walked over, moving in close. "My friends say a lot of things. I learned a long time ago to ignore ninety-nine percent of them."

She smiled to herself as he strode over to table, laptop in hand.

That wasn't a denial.
Excerpt posted by arrangement with Berkley Books, a member of Penguin Group (USA) LLC, A Penguin Random House Company. Copyright Julie James ©, 2015.
Giveaway:

Print copy of SUDDENLY ONE SUMMER
To enter Giveaway: Please complete the Rafflecopter form and post a comment to this Q:

What did you think of the excerpt spotlighted here? Leave a comment for the author with your thoughts on the book…
Meet the Author: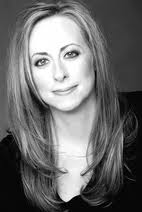 After graduating from law school, New York Times bestselling author Julie James clerked for the United States Court of Appeals. She then practiced law with one of the nation's largest firms for several years until she began writing screenplays. After Hollywood producers optioned two of her scripts, she decided to leave the practice of law to write full-time. Julie's books have been listed on the American Library Association's Reading List for Top Genre Novels, Booklist's Top 10 Romances of the Year, and have been featured as one of Cosmopolitan magazine's Red Hot Reads. Julie's books have been translated into sixteen languages, and her most recent novels are It Happened One Wedding, Love Irresistibly, and About That Night. Julie lives with her husband and two children in Chicago, where she is currently working on her next book.