Today it is my pleasure to Welcome romance author
V. K. Sykes
to HJ!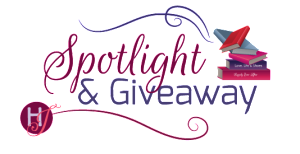 Hi Vanessa & Rand and welcome to HJ! We're so excited to chat with you about your new release, Summer at the Shore!
Please summarize the book for the readers here: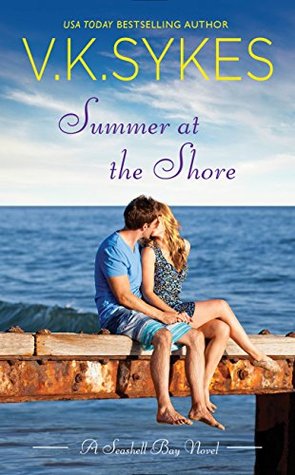 A heart-warming and emotional small-town romance with an alpha hero who has no intention of settling down—or so he thinks. It's a classic friends-to-lovers story that's both sexy and sweet!

Please share the opening lines of this book:
Ryan Butler dumped his army-issue duffel bag onto the deck and grabbed a bench seat beside the ferry's port rail. As usual, he'd kept his gear to a minimum for a visit home. And it struck him as weird that he still thought of Seashell Bay Island as home, despite his determined escape years ago.
Please share a few Random facts about this book…
Seashell Bay, the setting for SUMMER AT THE SHORE, is based on a real place: a small island community in Casco Bay, near Portland, Maine. It's really cool town with a bit of a stuck-in-time vibe. Any cars or vehicles have to come over on a special car ferry, which is complicated and expensive. So almost all the cars on the island are ancient and look like they came through a time warp. Some of the residents don't even bother with cars and get around on souped-up golf carts that can carry up to 4 passengers, groceries, supplies…you name it. There are several characters in SUMMER AT THE SHORE who zip around the island in golf carts just like that, all based on real life!
Please tell us a little about the characters in your book. As you wrote your protagonist was there anything about them that surprised you?
Ryan Butler and Morgan Merrifield grew up on the island, and have been friends for years (and both have had secret crushes on each other for years, too). But Ryan took off after high school to join the military, eventually going on to be a Special Forces soldier. He now works for a private security contract and is between jobs, so he's home in Seashell Bay for the summer. Morgan, a school teacher, stayed closer to home and is now trying to run her family's B & B after the death of her father, which is proving to be quite the challenge. There are also returning characters from MEET ME AT THE BEACH, the first book in the series, including Aiden and Lily, and Miss Annie and Rocket Roy.
That they both fought so hard against falling in love with each other, even though they were so well suited—and knew it! It was fun to explore all the emotional dynamics of a friends-to-lovers story.
The First kiss…
Morgan and Ryan have shared the occasional quick kiss as friends, but their first real kiss is very hot. They've been waiting for it for a long, long time.

Did any scene have you crying or laughing (or blushing) while writing it?
There's a tug of war scene that we think is pretty funny. It takes place during the festivities to celebrate July 4th. Ryan and Morgan are on one team, and he's serving as the anchor. The entire town shows up for the fun, although they also take their tug of war very seriously, too!
"Okay, it goes underneath your arm, like this." Morgan threaded the rope under his arm and circled behind him. "And up over your other shoulder, like so." She couldn't help running her palm down his bicep before she looped the rope back under his arm again so the loose end trailed behind him. "That's what the rules require," she finished, a tad breathless.
When she touched him, Morgan swore she could feel sparks—and a whole lot of glorious hard muscle.
"If you say so, boss lady," he murmured. "But I figure there are plenty of other rules we can break."
Morgan moved into position, hyperaware of his presence behind her. "Get your mind out of the gutter, anchorman," she flung over her shoulder.
"Get your mind into the game, Ryan Butler," Miss Annie scolded as she came down the line to them. "You too, Morgan Merrifield. Don't think I don't know what's going on between you two."
Morgan had to bite back a groan, but Ryan just chuckled at the reprimand.
Roy took a couple of steps forward as if to talk to Miss Annie but instead leaned in toward Aiden. "I got twenty-five bucks riding on you guys, so don't let me down. That's a lot of money to a senior citizen, sonny."
Morgan knew Rocket Roy wouldn't be the only islander who'd placed a bet on the outcome.
As Aiden reassured the old man, Morgan clutched the rope tightly and dug her feet as hard as she could into the short grass. She kept her eyes glued on Micah, standing off to the side and clearly about to whistle the start of the match.
"Your ass is seriously distracting me, Merrifield," Ryan murmured in her ear. "If you had a dime in the back pocket of those jeans, I bet I could tell if it was heads or tails."
Lord, help me. Morgan tried to ignore the little flutters in her stomach. "That excuse isn't going to cut it if we lose, Soldier Boy," she hissed, glancing back.
If your book was optioned for a movie, what scene would you use for the audition of the main characters?
Probably the opening scene where Morgan and Ryan run into each other on the ferry back to Seashell Bay. They haven't seen each other in a year, and there's a lot of subtext and emotion going on. They're still trying to ignore the crazy attraction between them, which gets harder each time they meet. But Morgan's father also recently died, and this is the first time she's seen Ryan since that tragic event.
The deckhands yanked the gangway on board again and closed the gate. Morgan wheeled her cart across the cabin to the port side and found an empty bench.
Ryan plopped the bag down beside her. "Okay if I sit with you? Or would you rather be alone?"
She looked at him like he'd just lost his mind. "What, you think I'd rather be alone than sit with the hottest dude to ever walk the halls of Peninsula High School? Every female on this boat is thinking I've hit the jackpot, Soldier Boy."
Though she was clearly kidding, Ryan had a sudden flash of Morgan clinging to him like a second skin at the festival dance last summer. Neither of them had been joking then.
"Oh, come on," he said, his brain momentarily seizing up as his gaze drifted to the truly nice cleavage exposed by her blue tank top.
Lame, man. Really lame.
Ryan dropped onto the bench next to her. "Sweetheart, I'm really sorry about your dad. He was a great guy." The urge to pull her into his arms to comfort her surprised him with its intensity. He gave her hand a quick squeeze instead.
Morgan's features turned somber, her gaze drifting to the dock where the water taxis were moored as the ferry moved toward the open water of the harbor. She shifted toward him on the bench, her skirt fluttering around her tanned legs. "Thanks, Ryan. And thank you for the sympathy card. I know I should have acknowledged it, but…well…" She paused to breathe a low, heartbroken sigh that practically killed him. "I just couldn't stand to go through them all again, and then it seemed too late."
If you could have given your characters one piece of advice before the opening pages of the book, what would it be and why?
Be open to endings—sometimes they're new beginnings.

What are you currently working on? What other releases do you have planned for 2015?
We're currently working on SEE YOU AT SUNSET, the third book in the Seashell Bay series. That's Micah and Holly's story, out in Feb. 2105. Vanessa is also working on her new historical romance series, which is a spin-off of her current Renegade Royals Series.

Thanks for blogging at HJ!
Giveaway:

Paperback or Digital copy SUMMER AT THE SHORE (US). Digital (World-wide)
To enter Giveaway: Please complete the Rafflecopter form and Post a comment to this Q:

IF YOU COULD HAVE ONE DO-OVER IN YOUR LIFE, WHAT WOULD IT BE?
Excerpt from Summer at the Shore:
Ryan parked his cart next to Morgan's pickup and took a good look at Golden Sunset, the first in a long time. Man, the place did need work. For starters, the mailbox listed over, there was a missing baluster on the wraparound porch, and the weather vane atop the gabled roof looked as if the next nor'easter would rip it clean off and send the metal rooster winging across the yard. So far, three jobs had presented themselves before he'd even started a close inspection of the old Victorian house with its attached annex.

No wonder Morgan had been so vague about the extent of the problems. He had a feeling there'd be a hell of a long list of work to be done by the time they'd finished going through the place.

At least the paint job looked pretty good. The coastal Maine climate hadn't yet weathered the eggshell-white siding or the hunter-green gingerbread trim. Ryan said a silent prayer of thanks to Cal Merrifield for keeping that part up, at least, because he sure didn't want to have to paint the old barn from stem to stern. He sucked at painting, probably because he'd always found it to be fiddly, slow, and boring. Give him a nail gun or a drill and he was good to go, but a paintbrush—no thanks.

Morgan emerged from the annex as he grabbed his duffel off the cart's cargo carrier. "What time did you say you were going to be here?" she said with a teasing smile.

Ryan glanced at his watch. It was eight forty, quite a bit later than his original ETA. "I figured I should give you a bit of extra time. Didn't want to barge in while you might still be getting breakfast on the table for your guests."

He'd been awake since six. As if his brain had been hardwired at birth with a built-in wake-up call, his eyes popped open every morning at that hour, rain or shine, no matter whether he was tucked in at his dad's house in Seashell Bay or grabbing some brief shut-eye in a wadi in Helmand Province. He'd used the extra time this morning to go for an even longer run than usual and had ended up completing a full circuit of the winding road that traced the circumference of the island. Then he'd had a quick cup of coffee with his dad, who delayed his normal castoff so he could spend time with his son. Though Ryan had never wanted to be a lobster boat captain, he'd always admired his father's dedication to the challenging and sometimes dangerous life on the water. Kevin Butler was the most decent man he'd ever known, and Ryan was happy he'd be spending more time with him this summer.

"We've only got two couples, and they're early risers," Morgan said. "Everything's already cleaned up and put away."

Leaning against the doorframe, she looked so damn beautiful that Ryan's pulse rate doubled. Her red-and- white-striped top displayed a nice amount of cleavage, and her white capris hugged her trim figure, showcasing curves that never failed to draw his eye. Her blond hair looked like sunshine. Morgan might be in a world of trouble, but you'd never know it from looking at her.

He rolled his eyes in mock aggravation. "Damn. I guess that means I'm out of luck for breakfast."

A small notebook in her hand, Morgan sashayed across the gravel drive to meet him, her sweet smile holding more than a hint of mischief. "Oh, maybe we can rustle you up something. Granola and yogurt? Herbal tea, perhaps?"

He hoped she was kidding but decided not to push it. "On second thought, maybe we should start right in on the inspection."

"I'm in your hands. Do you want to start outside or inside? "

Babe, I'd like to have you in my hands, all right. Ryan tossed his duffel up onto the porch. "Might as well start out here, I guess. I've already noticed a few things—the mailbox, the weather vane, and that missing baluster over there." He pointed to the side of the porch.

"Baluster? I just call it a post," Morgan said, "but I must bow to your obvious male wisdom." She followed her wiseass comment up with a flourishing mock bow that gave him an even nicer view of her breasts. Then she tapped her notebook. "And those three items are already on my project list, by the way. I'm afraid it grows almost daily."

Ryan liked that she seemed so upbeat this morning. When they talked on the boat yesterday, he'd found it hard to see her so weighed down by her troubles. That wasn't the girl he was used to. She always looked put together and gorgeous, but when she had that lively sparkle in her blue eyes, Morgan Merrifield was damn near irresistible.

But when she opened the notebook and he caught a glimpse of the long list she'd prepared, Ryan had to steel his features not to show his concern.

"Lead the way." He pulled a small, spiral-bound note- book out of the back pocket of his cargo shorts and a stub of a pencil from behind his ear. "I'll make some notes on the materials I'll need."

Morgan eyed the pencil, worn smooth and round at the tip. "I guess that outfit you work for doesn't pay too well. I could get you a real pencil if you like. Or maybe even a pen?" she asked. "So far, I have to say your tools aren't too impressive, Butler."

He laughed. Yeah, that was the Morgan he'd always known—smart, funny, and always ready to rub a little forty-grit sandpaper over his ass.
Excerpts. © Reprinted by permission. All rights reserved.

Book Info:
JUST A SUMMER FLING?
Morgan Merrifield sacrificed her teaching career to try to save her family's bed-and-breakfast and care for her younger sister. She can't let herself get distracted by Ryan Butler. After all, the rugged ex-Special Forces soldier is only in Seashell Bay for the summer. But her longtime crush soon flares into real desire-and with one irresistible kiss, she's swept away.
Ryan values his freedom. As much as he wants Morgan, he's not ready to settle down with anyone, much less in sleepy Seashell Bay. But his code of honor doesn't allow him to leave a woman in distress-and she's in desperate need of help to fix the inn. It only takes one day working under the same roof and Ryan is already hoping for a lifetime of hot summer nights . . .
Buy Links:  Amazon | B & N | iTunes | Kobo | Publisher


Meet the Author: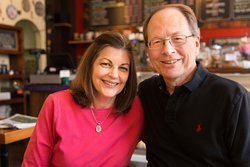 V.K. Sykes is really two people – Vanessa Kelly and Randy Sykes, a husband and wife team who write USA Today Bestselling contemporary romance and also romantic suspense. Randy excels at plot and characterization, but tends to fall down on the job when it comes to that pesky old thing called emotion. That's where Vanessa steps in. She usually writes the sex scenes too, since Randy is a bit uncomfortable when it comes to that sort of stuff. Vanessa also writes award-winning Regency-set historical romance for Kensington Zebra under her own name. You can check out Vanessa's bestselling historical romances at www.vanessakellyauthor.com
Author Links:  Website | Facebook | Twitter | Goodreads