Today it is my pleasure to Welcome author
Amalie Berlin
to HJ!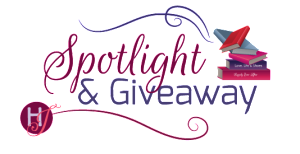 Hi Amalie and welcome to HJ! We're so excited to chat with you about your new release, Surgeons, Rivals…Lovers!

Hello everyone, so happy to make another visit to HarlequinJunkie!

Please summarize the book a la Twitter style for the readers here: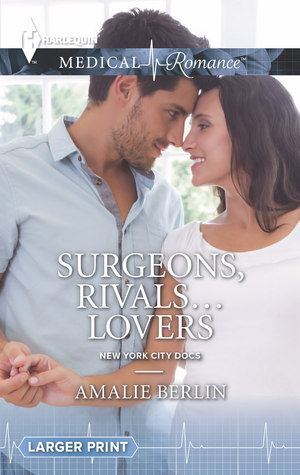 New surgeon joins hot-shot Enzo's residency program. Suddenly his place in the fellowship he desires is no longer a sure thing… But the desire he feels for her sure is.

Please share the opening lines of this book:
THE SOUND OF screeching tires stabbed Dr. Kimberlyn Davis's ear. One by one every one of her major muscle groups seized, stopping her cold on the Manhattan sidewalk, tensed for impact. One burst of sound, then another and another–rubber on asphalt, metal on metal–her every heartbeat shuddering in time with each bone-rattling sound.
Teeth gritted, she twisted toward the street in time to see a body arcing through the air, arms and legs flailing for purchase in the already warm morning sun. A man. A motorcyclist.He tumbled, rolled and came down chest first on the grille's edge of a still-moving black SUV.
Please share a few Fun facts about this book…
It's book2 of a 4 book miniseries called New York City Docs, the same characters circulate between the books. Tina Beckett's Book-1 is also out this month(see the giveaway below, and Lucy Ryder and Amy Ruttan will round out the series in September 🙂
In this book, I got to use the line: "Transplants turn me on."
Autumn nighttime carriage ride through Central Park.
There's a pink-slobber drooling, strawberry-gnawing baby in the book?
Orgasms may have been established as a form of currency between Enzo and Kimberlyn.
I may have interpreted that whole 'facts' part of the question liberally. As just things… that were fun for me 🙂
What first attracts your Hero to the Heroine and vice versa?
I'd say the first thing that attracts Enzo to Kimberlyn is her competency, but then his hormones catch up with his intellect and he finds more to want, and the forbidden fruit aspect no doubt helps matters.
Kimberlyn… I don't think she let herself think about Enzo as anything but a big jerk until she sees him with the drooly baby, that first glimpse of his vulnerabilities hooks her hard and her opinion turns so fast she can't even keep up with it.

Using just 5 words, how would you describe Hero and Heroine's love affair?
Risky. Flirty. Rascally. Hopeful. Sacrificial.

The First Kiss…
I'm not sure what the question is. There is a first kiss! And leads into the long excerpt below.
The first kiss happens the night after Enzo drives her home from his family's weekly dinner, where she's learned he is not, in fact, an ogre, he just likes to pretend he is. And then he's nice, and hormones get involved…
Without revealing too much, what is your favorite scene in the book?
I have several favorite scenes, but I guess the scene where Kimberlyn is watching Enzo's estranged father performing a transplant and texting Enzo to try and get him to come watch with her from the gallery. It's flirty and fun, and another swing between one trying to help the other against better judgment. It's quite difficult to paste here without the formatting that separates texts from narrative in the book.
Minutes ticked by and she texted again.

[Kimberlyn] Did you fall asleep? [Enzo] No. Just in a bad mood. [Kimberlyn] You should come up. Everyone's tired and leaving… Plus totally great way to flip BD the metaphorical finger. You still get to learn and you've made it clear you don't need his stupid overtures. [Enzo] BD? [Kimberlyn] Bad Dad. [Enzo] BF. And I'll pass.

Bad Father. God, she had to break that habit. His mother's second husband was the one who deserved the honor of the title Dad. Last time that mistake would happen. It was obviously important to him, the distinction between words.

[Kimberlyn] What else are you doing that's better? [Enzo] Lying in the on-call room. [Kimberlyn] You're in bed? [Enzo] Yes. [Kimberlyn] Alone? [Enzo] Yes. [Kimberlyn] Did I mention that transplants turn me on?
If your book was optioned for a movie, what scene would be absolutely crucial to include?
Boy, that's a hard one. I want to say ALL OF THEM. But I'll make myself pick… Probably the night time carriage ride through Central Park, where they stop running and start really talking. I like 'show your cards' scenes.
Readers should read this book …
If they appreciate gallows humor, naughtiness, and seeing love heal damaged people 🙂
What are you currently working on? What other releases do you have planned for 2015?
I am currently working on revisions for my first continuity book. They're due in a few weeks, and then I'm tackling another sheikh book! Very excited about that one.
My final release in 2015 is my first sheikh book, out in October, Falling For Her Reluctant Sheikh, and it involves nightmares, desert trips, and the heroine is a sleep therapist.
Thanks for blogging at HJ!
Giveaway:

As this book is the second book in the New York City Docs quartet, and released as a 2n1 with Tina Beckett's first book in the series, Hot Doc From Her Past, I'll be giving away a paperback signed by both of us along with some swag 🙂
To enter Giveaway: Please complete the Rafflecopter form and Post a comment to this Q:

Can quintessential landmarks from famous cities being used in books be cliche? If a book is set in Paris, do you look forward to the Eiffel Tower or the Louvre making an appearance, or do you dread it?
Excerpt from Surgeons, Rivals…Lovers:
Kimberlyn lost any idea of whether they were fighting or flirting. "We were just arguing."

"But you kissed me and I came up with a cunning plan on getting information from you."

Enzo's hands stayed at her waist, holding her to him so she had to crane her neck to look up at him. "What's your plan?" She really shouldn't be encouraging him. A fling—because it surely couldn't be anything else—was not part of her five-year plan. One day she might have that, and maybe a husband and children…when she deserved them. When she'd earned them by keeping her promises.

"I'll pay you in orgasms."

She laughed despite her mental reminders. "You're pretty confident. How do you know you could deliver?"

"Are you kidding?" he asked, hands kneading her hips as he slid her back to him. "I'm a master of anatomy. I know the female form intricately, and have devoted at least half of my life—probably more like three-quarters—to observing it in its natural habitat."

There it was, the rascally charm she'd witnessed at dinner with his family, only naughtier alone with her. She flushed to the tops of her ears, while a more insistent heat settled lower in her belly. It'd be inappropriate if they hadn't just been kissing a minute or two ago.

"You sound like you've been studying gorillas in the mists with Jane Goodall." She tried to sound grumpy. What she should be doing was putting space between them, but what actually happened was her sliding her arms around his waist and leaning her cheek against his chest. Dumb, but…it felt necessary.

He chuckled, and leaned down to kiss the side of her neck, causing her pulse to soar.

How had this started? Oh, yeah, she'd kissed him.

A dang good decision. Or a really awful one. "I think you're making promises you don't know if you can keep."

"I didn't say they'd be your orgasms." Enzo kept up the flirty banter, his words tickling her neck. Coupled with the heat spreading through her limbs, if she didn't stop this soon…

She hadn't felt this good in such a long time. Which was probably how it should be, but it was hard to turn away from. Playful flirting almost left her feeling nostalgic. "So it'd just be orgasms in my honor?"

"Maybe. Maybe not." Leaning back, he looked her in the eye again, his face scant inches away. "I'd certainly do my best to make sure it was the other way, but I left some wiggle room in my wager so I can fulfill the letter of the agreement if you had any sort of performance issues."

"So there will be orgasms for someone, eh?" She should stop this. "It's somewhat less convincing that way."

But no less tempting.

Only she'd have to take off her clothes for sure then, and exposing the physical signs of trauma would expose the emotional traumas…and those were the ones that could really hurt her.

Right. That did it. She shoved against his chest until enough distance opened that she couldn't feel his heat through the air. The warmth of his arms around her, the firmness of the chest and shoulders beneath the black T-shirt, the deep kisses and playful banter had all felt too good.

It might have been better when she'd been viewing him as a viper out to ruin her.

It was going to be harder to compete now that she actually liked him.
Excerpts. © Reprinted by permission. All rights reserved.

Book Info:
In bed with her rival…
When Dr. Kimberlyn Davis finds herself in the midst of an accident site, it's not just the thrill of saving a life that crackles in the air…it's working with the irresistible Dr. Enzo DellaToro!
But when Enzo is revealed as her competitor for the surgical fellowship she's always dreamed of, Kimberlyn is determined to ignore their sizzling chemistry. Yet as tensions rise and Enzo throws down the gauntlet, can she resist the temptation of her rival's sinful kiss?
Book Links:

Meet the Author: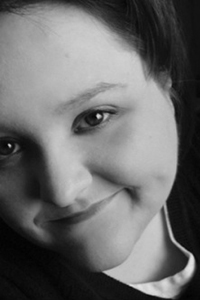 Amalie lives with her family and critters in Southern Ohio, and she writes quirky, independent characters for Harlequin Medical Romance. Her favorite stories buck expectations with unusual settings and situations, and the belief that humor can powerfully illuminate truth—especially when juxtaposed against intense emotions. And that love is stronger and more satisfying when your partner can make you laugh through the times you don't have the luxury of tears.
Website | Facebook | Twitter |