Today it is my pleasure to Welcome author
Renee Carlino
to HJ!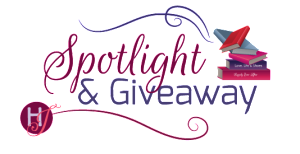 From USA TODAY bestselling author Renée Carlino, a warm and witty novel about a struggling writer who must come to grips with her past, present, and future after she discovers that she's the inspiration for a pseudonymously published bestselling novel.
Please summarize the book for the readers here: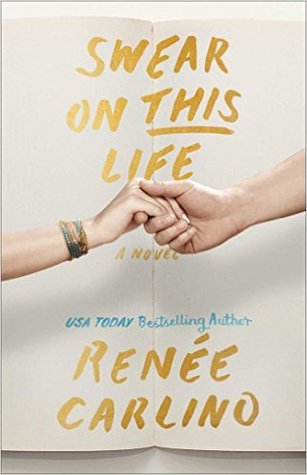 SWEAR ON THIS LIFE is a novel about a struggling writer, Emiline, who must come to grips with her past, present, and future after she discovers that she's the inspiration for a pseudonymously published bestselling novel. The novel is patterned after her own traumatic childhood in rural Ohio, the pain she endured and the boy she was forced to leave behind.

Please share the opening lines of this book:
In class we say, "That's too on the nose," when someone has written a story or a scene where exactly what you think should happen, does happen. Or when the events are too perfect or precise. But in real life we have a hard time recognizing serendipitous moments because we're not making the story up as we go along.
Please share a few Fun facts about this book…
A few fun facts about the book are that I based the location on a rural area near where I grew up, but changed it from California to Ohio. Also, Emiline lives in La Jolla, one of my favorite areas in San Diego. Emiline's name is a variation of a friend's daughter's name.

Please tell us a little about the characters in your book. As you wrote your protagonist was there anything about them that surprised you?
Emiline has low self-esteem but she is smart and determined to succeed. Once she is able to deal with the pain in her past and appreciate the gifts she has, she begins to see the world differently. Jason was always described as being insightful and introspective from a young age and that doesn't change after he grows up. I saw Jason as a character who knew something profound and meaningful about life that he was able to teach Emiline. I also thought his playfulness was a sign of confidence and self-awareness. Emiline as the protagonist didn't surprise me, but she is probably the least like me than any of my characters in prior books even though she's a writer. We share some parallels but she is the type to run from her problems and I'm not like that at all.
If your book was optioned for a movie, what scene would you use for the audition of the main characters and why?
Some of the book takes place when Jason and Emiline are children but if I had to pick a scene of them as adults, I would probably choose the first time they see each other after a decade. Here's a snippet…
With my head down, I continued to move with the line until the last woman in front of me was standing at his table. I kept my distance and looked at the shelf to my right until I heard him say to the lady, "It's so nice to meet you, thank you for coming."

When I looked up, he was standing, staring right at me, but his face gave nothing away. I took three hesitant steps toward him until we were standing directly across from each other. A beautiful woman, dressed in stilettos and a pencil skirt, stood behind him, just off to his left. She was staring at me the same way with an impassive poker face.

He blinked. I blinked. There was silence.

"Jason," I finally said.

"Emiline," he said.

Screw you and your smooth voice.

The woman behind him sauntered up to the table. "Did you want to buy a book, sweetie, and have Mr. Colby sign it for you?"

Without taking his eyes off me, he responded. "I've got this. Can you give me a minute, Andrea?"

She shook her head and then walked away. I couldn't find my voice. He crossed his arms over his chest and rocked back on his heels. His lips were flat, his expression inscrutable, but his eyes were probing mine for something, some clue, some tell.

"Why?" I said.

He grinned. What the hell?

"Don't smile at me," I shot back.

He jerked his head back and scowled. Did he not understand why I would be angry?

"Why," I repeated, but couldn't find the right words to continue.

"Why, what?" Now he looked confused.

"Why on Earth did you lie?" I said, finally.

Something happened in his eyes, and then his expression went back to that same inscrutable look. "It's a work of fiction, Emiline. Did you not read the disclaimer on the copyright page?" He looked past me toward the door, indifferent, like he wanted to leave.

Don't cry, Emiline. It's not your fault he grew up to be an asshole.

"What did you do to us?" My voice broke. "What have you done?"

"Did you read the book?"

"I read enough."

"Why didn't you finish it? That's not like you."

"You don't know me anymore, Jason." He winced. "I haven't seen or heard from you in twelve years."
Excerpt. © Reprinted by permission. All rights reserved.

What do you want people to take away from reading this book?
I think a big theme in the book is that things can happen to us that are out of our control but there are also things we can choose to accomplish in our lives. This book is about knowing what is right for us and not running away out of fear that we will lose it, be it love or a good job or just general happiness.
What are you currently working on? What other releases do you have planned for 2016?
I am currently working on my next two novels: Lucian Devine and Wish You Were Here.

Thanks for blogging at HJ!
Giveaway:

Print copy of SWEAR ON THIS LIFE by Renée Carlino
To enter Giveaway: Please complete the Rafflecopter form and Post a comment to this Q:

Do scenes in books ever make you cry and, if so what was the most heart rending scene you've read?
Book Info:
When a bestselling debut novel from mysterious author J. Colby becomes the literary event of the year, Emiline reads it reluctantly. As an adjunct writing instructor at UC San Diego with her own stalled literary career and a bumpy long-term relationship, Emiline isn't thrilled to celebrate the accomplishments of a young and gifted writer.
Yet from the very first page, Emiline is entranced by the story of Emerson and Jackson, two childhood best friends who fall in love and dream of a better life beyond the long dirt road that winds through their impoverished town in rural Ohio.
That's because the novel is patterned on Emiline's own dark and desperate childhood, which means that "J. Colby" must be Jase: the best friend and first love she hasn't seen in over a decade. Far from being flattered that he wrote the novel from her perspective, Emiline is furious that he co-opted her painful past and took some dramatic creative liberties with the ending.
The only way she can put her mind at ease is to find and confront "J. Colby," but is she prepared to learn the truth behind the fiction?
BUY LINKS: Amazon Barnes & Noble Books-a-Million IndieBound Apple Blio Google Kobo
Meet the Author: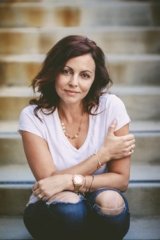 Renée Carlino is a screenwriter and the bestselling author of Sweet Thing, Nowhere But Here, After the Rain, and Before We Were Strangers. She grew up in Southern California and lives in the San Diego area with her husband, two sons, and their sweet dog June. To learn more, visit www.reneecarlino.com.
Website | Facebook | Twitter |