Today it is my pleasure to welcome 2014 RITA® award-winning author 
Laura Drake

to HJ!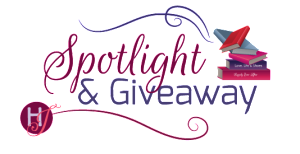 Hi Laura and welcome to HJ! Thanks for stopping by to share your favorite scenes from your new release, Sweet on You!
A Love as Bold as a Texas Sunset . . .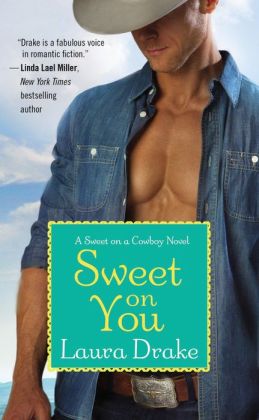 Ex-army medic Katya Smith has always healed other people's pain. Now she has to deal with her own. Taking a job as an athletic trainer on the Pro Bull Riding circuit seems like the perfect escape from her grief-except Katya doesn't know anything about bulls, and even less about the tough men who ride them. She doesn't expect to fall for the sport, or for one tantalizing cowboy who tumbles her defenses.
For rodeo champion Cam Cahill, fifteen years of bucking bulls have taken their toll on his body. Before he retires, he wants a final chance at the world title-and he doesn't need some New Age gypsy telling him how to do his job. But when the stunning trainer with the magical hands repairs more than his worn muscles, everything changes. Soon Cam finds himself trying to persuade Katya to forgive her past so she can build a future . . . with him.
Here are Laura's 5 favorite scenes from the Sweet on a Cowboy Series
Bull Bucking –The Sweet Spot
I love this scene, because it's the heroine, finally beginning to remember the good parts about her marriage, and considering taking her ex back.
As her eyes followed Jimmy's loose-hipped stroll, she twitched again. Okay, I can admit it; I miss sex. Sweaty, back to her animal origins sex that swept through in a wave, leaving her body spent and her mind gentled. She squirmed on the seat and pried her gaze away to watch cars pull into the parking lot. They'd always been relaxed with each other about sex. She remembered one weekend, when Daddy traveled with Junior to a stock convention. They'd tried their best to have sex in every room in the house. JB had come up with some pretty inventive ideas. One night, she'd cooked dinner in nothing but an apron. Well, she'd tried to. They ended up giggling and four covered, making love on the kitchen counter in the middle of her biscuit dough.
As much as the sex though, she missed the intimacy she shared with JB. Sitting silently at the kitchen table in the morning, sipping coffee, trading sections of the newspaper. Never having to search for a key, because he always hung them on the peg next to the back door. Knowing without looking, when he came in the mud room door, he'd use the boot-jack to pry off his boots before padding in his socks to the kitchen to say, "What's cookin' Baby?"
There's comfort in knowing someone as well as you know yourself.
The Clip n Curl Scene – The Sweet Spot
I love this scene because it shows so well the difference between the heroine and her new friend. It also shows a lot about their deepening friendship, when Char chooses Bella over the attitudes of town she grew up in.
She leaned across the seat and clicked open the passenger side door. "I didn't think to tell you, but women hereabouts don't generally dress up for a trip to the Clip 'n Curl."
Bella slinked in and slammed the door, her sea of black curls taking up almost as much space as her body. Her earrings matched the silver chains on her boots, and one strand stretched to a diamond stud in her nostril. She noticed Char's stare. "Don't worry, it's a magnet, not a piercing." She reached for the seat belt. "I figure, I've got a closetful of New York, Badass black, and if there ever was a day for it, it's today." The buckle snapped with a decisive click.
Char glanced down at her own outfit. An old lady seersucker blue and white striped blouse with embroidered daisies, pedal pushers, and slip on tennis shoes. "How about I drop you off and I'll go shopping? I owe you a manicure for working on the ranch, but I don't need to go."
Bella stared through the windshield, a muscle working in her jaw. "If you think I'm going into that wolf's den alone, you'd better think again."
Char chuckled and put the car in gear. "Don't tell me a tough city girl like you is afraid of a bunch of good 'ol country gals. I don't believe it." She wheeled out of the apartment complex into the traffic on North Washington.
"You're kidding, right? Those women would eat their own young, then gossip while they picked their teeth with the bones." Bella fingered the rings on her necklace as if they were prayer beads.
First date – Nothing Sweeter
I like this first 'date' because it's SO opposite the gruff hero's personality, that that alone shows the reader that he's falling for Bree.
"Come with me." He led her to the door.
She tugged at his hand. "If we're going somewhere, I need to put some clothes on."
"You meet the dress code, just like that." He took his time, his glance wandering over her body. "Maybe just some shoes."
He waited as she reached under the cot. When she straightened, she had loafers in one hand and what looked like a prescription bottle in the other. Before he could ask, she dropped it in the trash can and dusted her hands. She stepped into the shoes. "I'm ready."
Offering his arm, he led her around the rear of the stable to a grassy area between the building and the pasture fence. It was full dark and the damp grass released a cool, fresh scent. Hundreds of crickets chirped backup to a single locusts' solo. He heard her breath catch when she saw his surprise; a round café table for two, covered in white linen, and a vase full of wildflowers. All illuminated in the flickering light of half a dozen votive candles.
He escorted her to a chair and settled her in before pouring the wine.
No, decanting. That's what Wyatt called it. He sank into his chair.
Her smile was luminous, as if he'd given her the moon. "This is some surprise, Max." She sighed and reclined, tilting her head back. "I'd never seen stars like they are here. I go outside nights just to stare at them."
Max pulled his focus from her lean abs and tilted his head back to share the view. "I go to nature to be soothed and healed, and to have my senses put in order." He dropped his gaze to find her studying him. "John Burroughs."
"Yes. That's just right."
He raised his glass. "May the saddest day of your future be no worse than the happiest day of your past."
The crystal rang as she touched her glass to his. "Amen to that."
He'd seen a wince, lots of times. But he'd never before heard one.
Date Night – Sweet on You
This isn't their first date, but when they're really getting interested in each other. This scene leads to the first sex scene!
Katya looked around the restaurant. Surrounded by trees outside, the interior was exposed timber and glass, giving The Wild Side the feel of a hunting lodge in the woods. The fieldstone fireplace with its cheery gas log fire and the trophy animal heads on the wall carried out the theme.
"Well? What do you think?" Cam smiled at her from across the linen-covered table, the dimple in his cheek deepening.
"That gazelle looks pissed. I think he wants his body back." The unblinking stare of the animals on the walls gave her the willies, so she kept her eyes on Cam. Well, maybe that wasn't the only reason. His royal blue Western-cut shirt showed off his washed-blue eyes. The candlelight fractured in them, and she had a hard time looking anywhere else. He'd taken off his hat when he sat down, but it left a mark in his short, hollow-gold hair. She took a sip of her white wine to cool off. God, if he were on the menu, this place would be overrun with women.
He chuckled, and when the waiter walked over with menus, he held up a hand. "Will you trust me to order?" He gave her a one-sided smile, an eyebrow raised in challenge.
"I guess I'll trust you that far."
Not much farther though. She had no doubt that smile had separated dozens of women from their panties.
Trip to his cabin – Sweet on You
I love this scene, because to me, it shows a typical country guy, in a typical country life – the kind you can't help falling in love with!
Katya ignored the suitcase wheel that wanted to return to the terminal and followed Cam to the long-term parking lot. San Antonio didn't care that it was autumn. Heat waves rose from the asphalt and shimmered above the pavement.
One week.
For one week, she'd leave the past unjudged and the future unforeseen. She was so tired of balancing on the knife edge between what had happened and what could happen, dreading the fall on either side. She was taking a vacation.
It may not last, but dammit, she was going to enjoy every second that it did.
Their boots thumped in cadence and Cam's hand at the small of her back felt just right. That kiss…holy smokes. It lured her like a siren's call. And, oh how she wanted to be lured. To dive into this world with him as if it were warm water, buoying and sustaining her. A week. She had a whole week to wallow in his world. And him.
And then…
Nope. Not going there.
Her lips pulled taut in the smile she had no need to hold in. She raised her face to the sun.
"Here's the old red mare."
Cam stopped by the side of an old ranch truck. Dented, scraped and well-used, the burned-paint hood ended in a rusty cattle guard bumper. He unlocked the driver's side door, opened it, and gestured her in before stooping to heft their suitcases into the bed.
She stepped on the running board, inhaling hot air filled with the scent of dirt, musty leather and hot metal. Scooting across the butt-sprung bench seat, she cranked down the passenger window. Tried to, anyway. It stuck halfway down. An antenna ball with a face in a Dallas Cowboys helmet hung smiling at her from the rearview mirror..
Cam hoisted himself into the cab and hung his cowboy hat on the rifle rack in the back window. He leaned across her, banged his fist on the door panel, then rolled the window down the rest of the way. "Sorry about that. It sticks."
So this was how the slick-packaged world champion really lived. She clicked her seat belt. "I love this truck."
"She's been rode hard and put up wet a time or two, but Cha-Cha gets it done."
"Cha-Cha?" She raised an eyebrow.
"Trucks run better when they know you love them." He rolled his eyes to the roof of the cab, his lips moving in what might have been a prayer as he cranked the engine. It fired up and settled into a jouncing rumble. "See?" He shifted the old column-mounted gear stick into first and eased the truck into the traffic.
Giveaway:

2 Print copies of SWEET ON YOU
To enter Giveaway: Please complete the Rafflecopter form and Post a comment: 

What did you think of the excerpts spotlighted here?  
Please leave a comment for Laura on your thoughts about the book. 
About Laura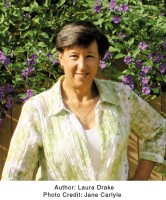 Laura Drake grew up in the suburbs outside Detroit, though her stories are set in the west. A tomboy, she's always loved the outdoors and adventure. In 1980 she and her sister packed everything they owned into Pintos and moved to California. There she met and married a motorcycling, bleed-maroon Texas Aggie and her love affair with the West was born. Laura rides motorcycles: Elvis, a 1985 BMW Mystic, and Sting, a 1999 BMW R1100.
In Texas, Laura was introduced to her first rodeo, and fell in love. She's an avid fan of Pro Bull Riding (PBR,) attending any event within driving distance, including two PBR National finals.
Laura now lives in California with her family. She is hard at work on her next novel.
For more information on Laura Drake, please visit:
http://lauradrakebooks.com/
Twitter: @PBRWriter
Facebook: www.facebook.com/LauraDrakeBooks