Today it is my pleasure to Spotlight  

Curve Appeal

, a new series by Ellora's Cave that celebrates big, beautiful women and the partners who love them.
Sweetly Bad by Anya Breton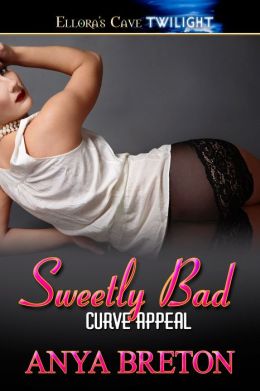 Drew couldn't imagine anything worse than being stranded in a two-cellular-bar town with a broken-down Ferrari…until his mother—his own mother!—marked him as a rogue Air witch and canceled all his credit cards. Now he's kill-on-sight in the Underground, and the only person willing to help him is the curvy human mechanic who towed his car. A strangely delectable curvy human mechanic…The last thing Erica needs is a yuppie playboy freeloading in her garage. Still, she can't bring herself to turn Drew out into the sultry heat, even if he is a bit of an ass.
A gorgeous, incorrigible, everything-your-mother-warned-you-against ass. Soon the heat isn't the only thing sultry in the garage and self-control is the last thing on her mind. They agree to a one-night stand, but Drew's magical secrets are dangerous—and catching up to him fast.
The Conception of Curve Appeal – Raelene Gorlinsky, Publisher, Ellora's Cave Publishing
Once or twice a year, the editorial/publishing staff at Ellora's Cave have a brainstorming session to come up with our special theme calls for story submissions for the next year. We, of course, accept all categories of stories all year 'round. But we will pick a few themes we'd like to do a set of focused stories about. We look for ideas that we think would be popular with readers, perhaps book categories where we want to beef up our catalog with more books, topics that would create enthusiasm and energy with authors.
Last year a small group of us were sitting in the meeting, throwing out ideas. I don't remember who suggested more stories with Rubenesque heroines. But I recall looking around the room then—a group of intelligent, competent, energetic, enthusiastic women, all of whom wear double-digit-sized dresses. EC's CEO and our founder were not present, but both of them fall into that category too.And yet we've all experienced situations where some people think we must be lazy or weak-willed or stupid because we are "fat". Hell yes, let's encourage more stories that show women like us as being perfectly normal (well, I think above-normal), worthy of love and capable of giving and receiving sexual pleasure!
We were also pretty clear on stories we did not want. No stereotypical funny fat friend sidekick, the one who gets described as "She has such a pretty face; if only she'd lose weight she could get a guy." And no stories where the overweight heroine has a miserable life that becomes perfect as soon as—and just because—she becomes Miss Size-Zero: her boss notices her and gives her a promotion; the hunky guy who has always treated her as a sister suddenly is drooling over her; her shyness and self-esteem issues go away because she knows she's beautiful now that she's skinny.
Really, the stories didn't even need to focus on the woman's size or make that an issue for her. They just had to present a plus-size heroine in a positive way, where she was judged by what she is rather than what she looks like.
And then, after selecting this special theme call for story submissions, we of course had to come up with a clever title. That actually is the hardest part. Something that will grab the attention of readers, that authors will feel represents their stories, that we can use effectively in promotions. That meant finding the word we felt appropriate to represent the concept. Curvy/curves/curvaceous was the top choice for positive image. I think it was Kelli who came up with Curve Appeal. (She's great with the puns. She's already suggested a cops-and-firefighters theme call for next year, which she's labeled Guns 'n' Hoses!)
Ellora's Cave has always published and encouraged romances with larger-sized heroines. There is a "Rubenesque" category on our own webstore—interested readers can click on that for a list. I think it currently has over fifty books, including evocative titles like Full Bodied Charmer, Voluptuous, Extra Love. The Curve Appeal special theme set—six stories released in September—has focused more attention on that type of story and has been a big hit with readers.
We're always open to suggestions of types of stories to feature, ideas for special theme calls. And of course we'd love to hear your opinions on any of our stories! Feel free to email your ideas comments@ellorascave.com.
Raelene Gorlinsky is lead publisher at Ellora's Cave. Strangers know her for those fabulous hats. Editors, authors, agents and staffers know her for her maniacal attention to detail, her prodigious organizational skills and capacity for work, and her knowledge of and leadership in the romance and epublishing industries. For more information about Raelene or EC, visit www.ellorascave.com.
Giveaway:

SWEETLY BAD (ebook)
To enter Giveaway: Please complete the Rafflecopter form and post a comment to this Q:

If you were writing a romance novel, what would be the defining characters of your heroine? Why?