Today it is my pleasure to Welcome author
Carole Mortimer
to HJ!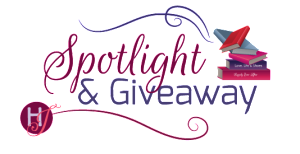 Hi Carole and welcome to HJ! We're so excited to chat with you about your new release, Tamed by the Earl (Regency Unlaced 9)!
Hi Everyone
Please tell us a little about the characters in your book. What first attracts your Hero to the Heroine and vice versa?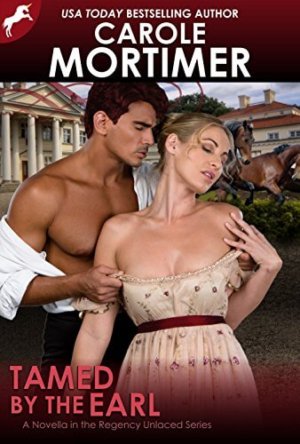 Daniel is an earl and a man determined never to marry again because his first marriage was such a disaster.
Jo/Josephine is a young lady running away from a forced marriage to a man many years older than her.
At the beginning of the book Josephine is masquerading as a boy, which totally confuses Daniel when he finds himself attracted to him/her. This leads to some rather amusing conversations and scenes.
Josephone can't help but be attracted to Daniel's obviously handsome looks–the scene where Daniel is stripped off to the waist working in the fields helping to bring in the harvest is very sensual. But she also loves to his strength of character and the way in which everyone who works for him likes and looks up to him. He is the total opposite of her cousin, who is her guardian.

What's your favorite line(s) from the book?:
This is my favorite amusing line from the book – it is the heroine speaking to the villian of the book.

"I warn you, if you do that again, I will grab you by your tiny balls and squeeze until you squeal like a woman."

As you can see, Jo is a very feisty heroine!
When you sat down to start this book, what was the biggest challenge you faced? What were you most excited about?
The biggest challenge of writing Tamed by the Earl is that it's the last book of the Regency Unlaced series, and I wanted the series to end with a bang, so to speak!
This was aided by the fact the hero of this book is in the very first book of the series, The Duke's Mistress. He is the brother of the heroine, so this final book brought the series round full circle.
My editor and copy editor both told me this is the most enjoyable book of the series, I hope you all think so too.
What, in your mind, makes this book stand out?
The Regency Unlaced series is a total of 9 books, Tamed by the Earl being the last book.
They are short – 40,000 words – very sensual reads that have been consistently in the #1 & Top100 spots on Amazon.
They are also much more sensual and the language more graphic than my previous books.
The First Kiss…
His head lowered, and he claimed her mouth with his own.
Claimed was an apt description of the devastation of that kiss as Daniel's tongue swept along the seam of her lips, licking against the bloodied swelling of the top one before parting them and plunging inside. His arms held her so tightly, it was impossible for Jo to move, her hands clenching and then unclenching against his burning-hot flesh as she felt her own desire rise to match the thick and throbbing length of Daniel's desire pressed against her abdomen.
That marauding tongue searched and laid siege to every part of her mouth, licking and tasting, each caressing stroke revealing that Jo's own tongue was highly sensitive. Even her teeth seemed to tingle in awareness as her body was crushed against his much larger one. Her breasts were aching, the tips hard and throbbing.
If your book was optioned for a movie, what scene would you use for the audition of the main characters and why?
The scene where Daniel discovers that Jo is actually Josephine.
Daniel's total belief in Jo being a boy and then discovering she's female would allow for a huge range of emotions on behalf of the actor and actress.
"Let go of me!" There was a desperate sob in the boy's voice now as he tried to swat Daniel's hands away.
A totally ineffective stratagem, as Daniel continued to pull the shirt upward, his scowl deepening as he saw the tight strapping covered the whole of the top of Jo's torso. "Who did this to you?" he demanded as he released the fastening and then began to unravel the strapping.
"Stop it!" Jo sounded completely panicked now, nails digging into Daniel's wrists as he attempted to push his hands away.
Daniel's movements stuttered and then stopped completely as he peeled away the last of the strapping to reveal—
Breasts.
Firm, uptilting, mature, and very feminine breasts.
If your hero had a sexy-times play list, what song(s) would have to be on it?
As the book is set in the Regency period I'm not sure that this is an applicable question.
But some Mozart might be nice.
What do you want people to take away from reading this book?
I hope the readers will find this as fun and exciting a read as it was to write. It is also a book of a the return of a gentleman's belief in love.
What are you currently working on? What other releases do you have planned for 2017?
I am currently writing Wicked Torment (Regency Sinner 1). This is the first book in a brand new Regency series. This book is already available for pre-order and will be released on April 28th.
March sees the release of Enticing Ian (Knight Security 5) – a hot contemporary romance
April is Wicked Torment (Regency Sinners 1) – a hot Regency romance
May is Ethan (Knight Security 6) – a hot contemporary romance
June will see the release of Wicked Surrender (Regency Sinners 2) – a hot Regency romance

Thanks for blogging at HJ!
Giveaway:

An epub or mobi copy of Wicked Torment (Regency Sinners 1) by Carole Mortimer
To enter Giveaway: Please complete the Rafflecopter form and Post a comment to this Q:

Is there a particular storyline/trope that you enjoy reading more than others?
Excerpt from Tamed by the Earl:
This is the first meetin between the hero and heroine.
Daniel's brows rose upon hearing the sound of raised voices—and their content—drifting in through the open window of his now halted carriage. He used that same aperture from which to attain a view of two adversaries.
There was a group of half a dozen men and boys standing round watching two more of their group, all of them stable lads from the look of their serviceable clothing. One of the two in the middle of the throng looked to be about nineteen or so, and was tall, dark and muscular. Daniel recognized him as Mickey Bates, one of the stable lads. The other was younger and much slighter, only an inch or two over five feet, and wearing clothes that appeared far too big for him. He had a dirt-streaked face and untidy shoulder-length hair Daniel believed should have been fair in color but was currently so greasy and dirty, it was difficult to tell. Daniel did not recall ever having seen him before.
"I don't need no army to defeat a low-bellied worm like you!"
Surprisingly it was the slighter of the two who was threatening the much bigger one. A threat he didn't hesitate to carry out as he launched himself at the larger man by seeming to climb the man's body, punching him soundly on the nose, before leaping agilely back to the cobbled stable yard.
Mickey let out a howl of pain even as he raised a hand to his face to try to stem the flow of blood now gushing from his nose. "You little fucker!" His eyes had turned dark and feral as he stalked toward the younger boy, his intention obviously to administer suitable retaliation with a clenched and beefy fist.
A retaliation Daniel feared might prove fatal for the other lad, considering the difference in the size of the adversaries.
He did not hesitate by so much as a second as he stepped out of the carriage and pushed his way through the watching stable lads, before grasping the smaller of the two aggressors by the back of his grimy shirt collar and lifting him bodily out of harm's way. "Stand down, Bates," he growled at the other lad.
Either the boy hadn't heard Daniel or he was completely lost to the blood lust coursing through him as he continued stalking toward them. The blood was still pouring from his nose and tracking down his chin. His malevolent dark gaze was fixed murderously on the boy Daniel still held suspended several inches off the ground, despite the thrashing of his arms and legs to be put down. Not only was the boy short of stature, but he also weighed next to nothing.
Closer proximity revealed he also smelt rather unpleasant, as if he had been rolling about in the soiled straw of the horses he cared for rather than merely mucking out their stables.
Excerpts. © Reprinted by permission. All rights reserved.
Book Info:
Lord Daniel Somersby, the Earl of Latham, is relieved to be returning to his country estate in Kent after suffering through the boredom of yet another tedious London Season, as well as avoiding the more determined women set on marriage. He certainly doesn't appreciate arriving home to find a brawl taking place in his stable yard.
Having disguised herself as a young boy in order to escape the unwanted marriage being forced upon her by her cousin, heiress Lady Josephine Kendall is set upon by thieves within days of her desperate flight, and her money and possessions stolen from her. A week later, with no money to buy food or lodgings, she is in dire straits, and that night seeks refuge in the stables of the absent Earl of Latham. The head groom finds her asleep there in the morning and takes pity on her by offering her employment. Giving her name as Jo Turner she continues to dress in her male clothing, and quickly learns to swear and curse like the rest of the men working on the estate. The only fly in the ointment is the jealousy of one the other stable lads when Jo's horsemanship finds favour with the head groom.
Unfortunately the earl arrives home unexpectedly at the very moment Jo punches and bloodies said stable lad's nose.
Lord Daniel Somersby is more handsome than any man has a right to be, and it sets Jo's heart aflutter just to look at him. He also brings a swift end to the altercation in his stable yard, and afterwards announces it is his intention to take a personal interest in "taming" Jo Turner into more acceptable behaviour.
Faced with the choice of returning to the open road, along with possible detection by her cousin, or accepting the earl's "taming" of the lad Jo Turner, she decides to opt for the latter. For the moment. Because if the earl discovers the stable boy is not a boy at all then Jo knows she will have no choice but to run again.
Will Daniel discover Jo's secret? And if he does what will he do about it?
Or will Jo's cousin find her first and drag her back home to marry a man she could never like let alone love?
Book Links:
Meet the Author: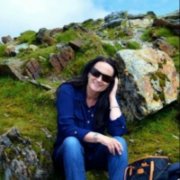 Carole Mortimer has written over 220 books, in contemporary and Regency romance, and is the Recipient of the prestigious 2015 Romance Writers of America's Lifetime Achievement Award. She is an Entertainment Weekly Top 10 Romance Author—ever. 2014 Romantic Times Pioneer of Romance author. She was recognized by Queen Elizabeth II in 2012, for her "outstanding service to literature".
Website | Facebook | Twitter |