Today it is my pleasure to welcome romance author

Jessica Lemmon

to HJ!

Hi Jessica, Welcome to HJ
What would you say are the defining characteristic of your novels?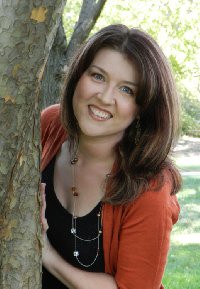 Sexy, sassy romances with a squeeze of humor.
5 best things about being a writer?
1) Creating a world of my choosing
2) Finding photos of sexy heroes for inspiration
3) Book release day!
4) Hearing from a reader who loved the book
5) Wearing pajamas to work.
If you were a heroine in a book, your character would be – The girl next door, the damsel in distress, Kick-butt take charge heroine or the aloof ice queen and why?
I'm definitely the girl next door. I am most likely to be found wearing jeans instead of dresses, cracking open a bottle of beer rather than wine, and I'm rarely intimidated by the opposite sex.
Let's talk about your newest release: TEMPTING THE BILLIONAIRE
If you had to summarize Tempting The Billionaire for the readers here…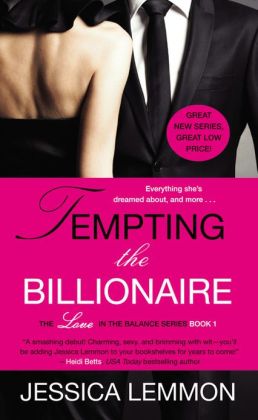 An all business billionaire realizes there's more to life than a bottom line when he hires his sweet, sexy personal assistant.
Please tell us about the characters in your book
Shane is a self-made man who has vowed not to settle down with a woman. He's suffered some loss in his life and isn't willing to feel that kind of deep pain again. His solution? Keep his relationships surface. Crickitt is a recently divorced woman who is finding her footing and rediscovering her confidence. She isn't interested in starting a relationship so soon after her marriage imploded, but she's so attracted to Shane, it might not be possible to stay away…
What scene did you have the most fun writing? Why?
The first kiss. Watching Crickitt lay one on Shane and catch him completely off-guard was too much fun. She literally runs away! Here's a taste:
He looked up at the same time, bringing their noses inches apart.
She froze like a butterfly on a board, pinned into place by his golden gaze. Shane's eyes dropped to her mouth for the briefest second before he emitted a low grunt of approval, and she could swear he leaned in just the slightest bit closer. And then it was as if every cell in her body moved in conjunction with his. Like a magnet being pulled to metal, she breached the distance between them and touched her lips to his. His mouth was firm, warm, and tasted every bit as good as it looked. The low moan rumbling between them came from her this time. Her eyes flew open.
What had she done—or, more accurately, since her lips were still fused with his—what was she doing? She pulled back, their lips making a smooching sound as she did.
Crickitt stood, the notebook on her lap clattering to the floor. "Oh, my gosh." A smudge of lip gloss decorated his bottom lip. "Oh, my gosh," she repeated.
She bolted from the room, and somewhere beyond the sloshing heartbeat in her eardrums, registered Shane calling her name.
What scene was the hardest to write? Why?
The scene after Shane's plane ride home from Mexico. I must have written three different endings to this book. I won't spoil it, but I can give you a teaser:
There, in her numbered spot, was a gleaming black Porsche.
Shane.
Hands shaking uncontrollably, Crickitt maneuvered her car into the guest spot next to it, her mind whirring. What was he doing here? He couldn't see her like this, desperate, pining for him. Did she even still have makeup on? She reached for her visor to check her reflection, then froze in place as she spotted him.
His long frame filled her doorway as he stood sentinel in a pair of casual cargo shorts and loose-fitting t-shirt. A pair of dark sunglasses covered his eyes, keeping her from seeing the love for her that wasn't there.
On unsteady feet, she stepped from the car, forcing herself to stand straight. She couldn't have him here. This was her house, her sanctuary, the only place she went that wasn't marinating in Shane-themed memories..
"You weren't at work," he said as she shut her car door.
"I took a personal day. It's personal," she snapped at her reflection, irritated she couldn't see his eyes.
"I needed you today."
I needed you, too.
"I'll be back in tomorrow," she said, making a show of finding her house key on the chain in her hand. "I can help you then."
She tried to step up to the door, but one tanned, sinewy arm launched out in front of her, successfully blocking the way. "I didn't mean at work."
Who would you cast in the role of your characters if your book was optioned for a movie?
I based Shane on Henry Cavill after I fell ass-over-teakettle in love with the actor while watching The Tudors (there's even a Tudors reference in the book!). So definitely him. And Crickitt? A reader had a wonderful suggestion for her: Cobie Smulders from How I Met Your Mother. She's a brunette and looks great with chin-length curly hair.
What are you currently working on? What other releases do you have planned for 2013 into 2014?
I'm currently working on edits for my April 2013 release, THE MILLIONAIRE AFFAIR which is book #3 in the Love in the Balance series. I love this book. Landon is a rigid millionaire who I've paired with a vintage, chatty heroine who has had a crush on him for over a decade. I do have plans for 2014 but I can't share them yet! Although, if you were to peruse my Pinterest board [www.pinterest.com/lemmony] you might find some hints. *wink*
Where can readers get in touch with you?
The best place to go is www.jessicalemmon.com where there are links to my books, blog, and newsletter signup. I can also be found loitering on Twitter @lemmony and on Facebook at www.facebook.com/authorjessicalemmon
Thank you for stopping by HJ!
GIVEAWAY:

2 print copies of TEMPTING THE BILLIONAIRE
To enter Giveaway: Please complete the Rafflecopter form and post a comment to this Q:

Shane has a rather secret superpower: He bakes amazing chocolate chip cookies! Do you have a secret superpower?