Today it is my pleasure to Welcome author
Ophelia London
to HJ!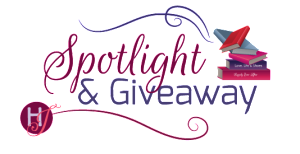 Hi Ophelia and welcome to HJ! We're so excited to chat with you about your new release, The Amish Cowboy's Homecoming!

Hi there, HJ! I'm so happy to be back with you!

Please summarize the book a la Twitter style for the readers here: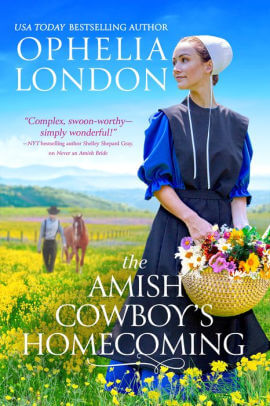 See what happens when a hunky–tho traditional–horse whisperer clashes with an unconventional–tho irresistibly beautiful–horse trainer within the charming Amish community of Honey Brook.

Please share the opening lines of this book:
Isaac King slowly ran his fingers down the center of her nose, ever so gently.
"Morning, sweetheart."
He felt her take in a breath, responding to his simple touch.
When she made a sound, he stepped closer, placing a hand on the sides of her face. "I know, I know," he whispered, looking into her eyes. "I hate to leave, but it's something I have to do."
Please share a few Fun facts about this book…
In some of the less strict Amish communities, women are sometimes allowed to have jobs outside the home–just like Grace!
I love writing romantic scenes set in the rain. This book has one of my favorites!
Amish love goat yoga, too!
Barn raisings are a real thing in Amish Country. The whole community pitches in and completes the project in a single day.
Ever since I got married, I've included my husband's name in every book.
What first attracts your Hero to the Heroine and vice versa?
Isaac first sees Grace from afar while she's working with a wild horse. He is instantly captivated by her training style, and by her beauty.
Grace can't help being instantly intrigued by the adorable single dad who makes her laugh and who'd do anything for his daughter.

Using just 5 words, how would you describe Hero and Heroine's love affair?
Secret.
Romantic.
Silly.
Playful.
Deep.

The First Kiss…
Ahhhh. I might have given a little hint about this earlier…at least about where it takes place. Grace and Isaac are already on the path to falling in love when they finally decide to kiss. Kissing in most Amish cultures is saved until the couple is married, engaged, or until their future is secure. Grace and Isaac might have jumped the gun a bit, but when there's a midnight thunderstorm, and Isaac's shirt is wet, and they're trapped in a dimly-lit horse barn…I'm not about to stop them!
Without revealing too much, what is your favorite scene in the book?
I love the early scenes when Isaac spends a lot of time observing Grace, and learning how different she is from the other Amish women he knows. Here's a little snippet of one such scene…
Isaac stopped walking when he realized he'd absentmindedly passed by the Chupps' farm and was standing in the front pasture of the Zooks'. Grace was in the side field, working with the horse she'd been with the first time he'd seen her.
He felt a grin stretch across his face as he watched her stomp through the mud, trying to get the horse to pull a plow. The gelding was not having it. Isaac's impulse was to run out and help, but he knew full well she would resent him for it. To her, it was bad enough that he was "helping" her train Cincinnati.
She's definitely a modern Amish woman, he thought as she hiked up the bottom of her dress, showing muddy boots and knees, her apron smeared with dirt and who knew what else.
The most non-traditional Amish woman I've ever known.
Isaac's grin dropped and he began chewing on the inside of his cheek, still watching her, torn between intrigue and the need to look away and pray.
If your book was optioned for a movie, what scene would be absolutely crucial to include?
Oh, that's a tough one. It's a toss up between the mud sale and the barn raising! I'll go with the barn raising since it has a big cast, so much humor and romance, not to mention a lot of action. I would love to see it come to life! Here is a snippet from the beginning of that scene…
Grace climbed out of the back of the buggy, clad in a peach-colored dress, appearing as clean and fine as ever.
"Can I help you with that? Here, let me carry—"
"You certainly will not," Grace said, turning a shoulder to him, guarding the two large bags of potatoes she was holding in her arms. "You know very well what my job is today and what yours is." She lowered her voice. "And you're not to treat me differently."
Isaac stepped back, grinned, and crossed his arms. "Oh aye. I'd never do that." He tapped his chin and motioned with his head. "House is that way, but I'm sure you knew that."
"Danke," she said, holding eye contact with him longer than was necessary. Or discreet.
"Danke!" Sarah cheerfully echoed as she practically bounced out of the buggy and headed toward the farmhouse, lugging a stack of Dutch ovens.
When he looked at Grace again, she only gave him that same mysterious shrug.
"I'll see you at lunchtime," she said.
He took off his hat. "Danke, Grace, for all you do for me."
"Oh stop it," she whispered under her breath. "You're making me blush."
Isaac didn't say another word. He didn't have to. He just gazed at her, feeling happy and warm as they stood together under the morning sunshine.
Readers should read this book …
Fun question! Well, I think readers will love the chemistry and slow burn of the romance between Isaac and Grace. It's just so fun to watch them go from annoyed training partners to two people who would risk everything from the other. It's a gentle love story, but it's packed full of big, colorful scenes with fun characters who I've fallen in love with. AND! If you're a horse lover, there are plenty of scenes you'll adore.
What are you currently working on? What other releases do you have planned?
Right now, I'm (sloooowly) working on the final book in my Sugar City series…you know, the ones that take place in Hershey, PA…the sweetest place on earth!
Thanks for blogging at HJ!
Giveaway:

$25 Amazon gift card
To enter Giveaway: Please complete the Rafflecopter form and Post a comment to this Q:

Do you prefer to be swept off your feet? Or do you enjoy the friends first–kissing later kind of romance?
Excerpt from The Amish Cowboy's Homecoming:
"You offered to drive earlier," Isaac said, needing to clear his head. Thinking about Grace Zook in that way wasn't going solve anything, either. "Do you mind?"
Grace lowered her chin and looked at him through her eyelashes. "Please," she scoffed lightly. "Didn't I tell you once that I probably drive a buggy better than you?"
Isaac laughed, then slowed the buggy to a stop. Normally, if they were going to switch seats, one of them would climb out of the buggy while the other would slide over. Instead, Isaac simply leaned back and placed his hands on Grace's waist, pulling her to stand then across his lap as he slid over.
"Mercy," she whispered after taking in a sharp breath.
"Did I shock you?"
A hand was at her throat, shoulders rising and falling with her quick breaths, keeping her eyes away from him. Isaac reckoned she would be just fine.
"I'm sure you know that the Ordnungs in Honey Brook and Silver Springs vary a bit, jah? Did you know the courting allowances are quite different, too?" he asked conversationally, teasingly, as he handed her the reins.
"N-no," Grace said, still staring straight ahead.
"We're allowed to touch, hold hands, even before the first date if there's a known intention between the couple. And when you're dating, me touching you like I just did…" He paused, waiting for her reaction, not disappointed when she sent him a lightning-fast glance. "Well, that'd be perfectly acceptable."
"We're not…dating," Grace said, finally turning to face him. Her cheeks were pink, as Isaac knew they would be.
"True." He tapped his chin with an index finger, teasing her again. "Nor has it ever once crossed my mind."
Excerpts. © Reprinted by permission. All rights reserved.


Book Info:
Grace Zook has always held a talent with horses, ever since she was a child growing up in her quaint Amish village of Honey Brook. Now, as an adult, she's become a master trainer—but still struggles to prove to her father that she is worthy of taking over the family's horse farm. With a fiery new stallion coming soon, Grace knows this challenge is her chance to prove she can finally take the reins.
When widower and horse whisperer Isaac King is offered the lead training job on a new farm out of town, he's thrilled to finally make a name for himself and provide some permanent roots for his young daughter. But not only is the stallion seemingly unbreakable, so, too, is the owner's headstrong daughter Grace, who has drastically different ideas about how to handle the impossible horse. Yet somehow, he can't seem to get the confident, beautiful woman out of his mind…even though as his boss's daughter, she is completely off-limits.
There's too much at stake for Isaac to gamble his future on Grace…even though suddenly, he can't imagine one without her.
Book Links: Amazon | B&N | iTunes | Goodreads |

Meet the Author:
USA Today bestselling author Ophelia London was born and raised among the redwood trees in beautiful northern California. Once she was fully educated, she decided to settle in Florida, but her car broke down in Texas, and she's lived in Dallas ever since. She enjoys cupcakes, treadmills, reruns of Dawson's Creek and obsessing over her Italian Greyhound, Peanut. Ophelia is the author of THE AMISH COWBOY'S HOMECOMING, book #2 in her Honey Brook series of Amish romances! As well as the Sugar City series, the Perfect Kisses series, the Abby Road series, and other adult, NA and YA sweet romances. Visit her at ophelialondon.com, but don't call when she's streaming The Walking Dead.
Website | Facebook | Twitter | | Instagram |