Today it is my pleasure to Welcome author
Janna MacGregor
to HJ!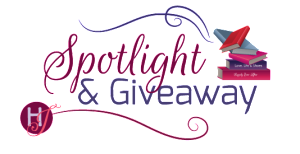 Hi Janna and welcome to HJ! We're so excited to chat with you about your new release, The Bad Luck Bride!

Thank you so much for inviting me. I'm delighted to be at Harlequin Junkies today! I can't imagine anything more fun than meeting new people and discussing romance.

Please summarize the book for the readers here: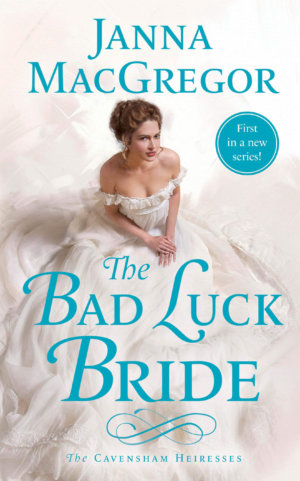 The Bad Luck Bride, aka Lady Claire Cavensham, believes in curses, specifically she believes she's cursed. After three failed engagements, she discovers her fourth fiancé has just jilted her at a very public ball. Alex Hallworth, Marquess of Pembrooke, swoops in like a knight in shining armor and declares in front of everyone that Lady Claire has agreed to marry him. Completely shocked, Lady Claire walks away not believing he's serious. Oh, but Alex is quite serious. He is determined to marry Lady Claire as an act of vengeance against her fourth fiancé who Alex believes mistreated his sister. What appears as a simple marriage of convenience quickly turns into something special between Claire and Alex. However, when Claire discovers the truth behind his proposal, the couple has to fight to save their marriage. As they find their way together, both come to realize they must forgive not only others, but themselves if they want a happy ever after.

Please share the opening lines of this book:
The raw wind pounded every inch of Alexander's body and lashed at what little remained of his compassion. As Marquess of Pembrooke, Alex had fought years to cultivate the fine art of patience. Today proved that to have been a waste of time.
Please share a few Fun facts about this book…
I'm a huge baseball fan-Kansas City Royals. I always have a character named after a baseball player-not necessarily a KC Royals player though.
I spent days researching historical curses in England. Many of them came from the Roman invasion. It's a whole history lesson in and of itself.
Lady Claire Cavensham, aka The Bad Luck Bride, is loosely based on Mary Eleanor Bowes, Countess of Strathmore and Kinghorne, the great-great-great-great-grandmother of Queen Elizabeth II. Mary Eleanor was a famous heiress who made a despicable match with a horrid man name Andrew Robinson Stoney. I kept on thinking what would have happened if Mary Eleanor had married a man who wanted her for who she was and not her mass fortune.
Please tell us a little about the characters in your book. As you wrote your protagonist was there anything about them that surprised you?
Wounded in so many ways, Claire practically gives up hope of ever marrying. She's the brunt of continual jokes and taunts from the ton and the various gossip rags. Through it all, she possesses a strength of character that allows her to persevere through all the cruel bullying. But with Alex, she starts to shed that protective outer shell, and begins to believe that she can have a happy life. What surprised me most about Claire? No matter how many times life dealt her a bad hand, she brushed herself off with the attitude that she'd find another way to make her dreams come true.
Alex and Claire share a strong sense of family and community. Their values and outlook on their responsibilities to each other and their estate's interests mirror one another. Alex faces his own demons. He sees himself as a failure for not protecting his youngest sister. Not only is he out for vengeance, but he needs to protect Claire from his enemy. For him, if he can save Claire from making a mistake, then he believes he can forgive himself for not protecting his sister—hopefully allowing his conscience to rest easier. However, even though his heart is in the right place, he goes about it all wrong.
Alex makes mistakes. When he realizes how perfect Claire is for him, he understands his actions have jeopardized his marriage and the person most important in his life.
If your book was optioned for a movie, what scene would you use for the audition of the main characters and why?
Lady Anthony's Garden Scene in Chapter One of the book. Claire has just discovered that fiancé number four has jilted her right before the announcement of their engagement at the biggest ball of the season. Desperate to escape the public embarrassment that will soon erupt, she escapes to the garden. Alex follows to comfort and present a solution to her problems-namely marry him. Their interaction is sweet but tart with a perfect seasoning of humor thrown in. The excerpt below is a part of that scene.
Alex smiled in earnest. "I would never allow you to be humiliated in front of society. I'm trying to help you." Somehow, he had to convince her of that fact, then the idea of marrying him would be much easier to accept.
She blinked rapidly, then turned back to him and, for an instant, appeared startled to see him there. "That's very gallant, my lord. Truly, thank you for the effort. But I must leave."
This night could not end with her escaping, so he tried another tactic. "You need to protect your Wrenwood estate and your wealth from lechers who would feed upon your vulnerability. Not to mention stop that ridiculous curse."
"I have two." She held up two gloved fingers.
"Two? Two what? Curses?" No one at his club had uttered a peep about another curse.
"Estates. I have two estates, Wrenwood and Lockhart." She returned his stare.
Her answer was unexpected, but his business experience had taught him to show nothing. The report from his private investigator had not mentioned additional properties. Thoughts were percolating if she chose to disclose this information.
A razor of lightning split the sky. She flinched and took a step closer to him, but her reaction had nothing to do with him. It was the storm.
Her gaze darted to the exit of the alcove, then she returned her attention to him. With a slight shrug of her shoulders, his evening jacket fell into her hands. She offered it to him. "My lord, good night." Outside their hideaway, the voices of a man and a woman floated in the air.
Alex put his hand on her shoulder to prevent her escape. "Will you give me some assistance? I seem to have lost my valet." He quirked an eyebrow. "Besides, if you leave now, whoever is out there will see us."
She ventured a halfhearted grin and held his jacket in two hands. With a little persistence, he wrestled his way into the evening coat. Her hands smoothed the material across his shoulders and back, causing a pleasant sensation to cascade through him at the slight touch.
Claire took several steps toward the pathway. In a flash, he moved beside her and grasped her elbow. When he brought her close, something flared between them as he gazed into her haunted eyes. Whether the desire to keep her next to him was passion or the need to protect a vulnerable woman made little difference. He pulled her into the shadows and brought his mouth to her ear. "Wait until they pass." The warmth from her skin beckoned.
A flash of lightning lit the gardens and the alcove.
With a gentle hand, he pushed her against the wall and stood to the side so he blocked her body from view.
A clap of thunder cracked as if the sky were breaking. It rolled into a loud rumble that refused to die.
"Please." Her whisper grew ragged as she struggled for breath. In one fluid motion, she pulled the lapels of his evening coat toward her. She buried her face against his chest and pressed the rest of her body to his, almost as if she sought sanctuary inside. "Don't leave me." Her voice had weakened, the sound fragile, as if she'd break into a million pieces.
"I won't. I promise." Alex pulled her tight. One hand sank into the soft satin of her skirts while the other slid around the nape of her neck to hold her close to his chest. It was the most natural thing in the world to hold her. Her body fit perfectly against his.
With the slightest movement, she pulled away. Her eyes wildly searched his. For what, he couldn't fathom.
He lowered his mouth until his lips were mere inches from tasting her. Madness had consumed him. All he wanted was to kiss her thoroughly until she forgot her fear—until she forgot everything but him.
Her breath mingled with his, and the slight moan that escaped her was intoxicating. Nothing in his entire life felt as right as this moment. He bent to brush his lips against hers.
"Pembrooke? Have you seen Lady—"
Claire leaned back and released his lapels. Without her warmth, he experienced a sudden loss of equilibrium. He turned with a snarl to greet the intruders.
Immediately, Lord Fredrick Honeycutt and his sister, Lady Sophia, took a step back as their eyes grew round as dinner plates.
The first to recover, Honeycutt announced, "I see you found Lady Claire." He bowed his head slightly, then lowered his voice. "The Duke of Langham is looking for his niece and is directly behind us."
A sense of wariness flooded Alex's mind when Claire's uncle strolled forward and came into sharp focus. As he stood, his feet spread shoulder width apart, the duke's presence commanded everyone's attention. His visage held the hint of a smile, but the two large fists resting by his sides were the real barometer of his mood. "Claire, are you all right?" The affection in his voice was at odds with the fury flashing in his eyes.
Excerpt. © Reprinted by permission. All rights reserved.
What do you want people to take away from reading this book?
Sometimes your best intentions end up hurting the people you love the most. True love allows forgiveness and nurtures that most precious gift. Throughout the story, we come to believe that the heart is the most resilient muscle. As Alex and Claire find their way together, both come to understand they must forgive not only others, but themselves if they want a happy ever after. It's so true in real life. We all make mistakes. How we atone for our actions reveals our true character.
What are you currently working on? What other releases do you have planned for 2017?
The next story in the series, The Bride Who Gets Lucky releases October 31. It's the story of Lady Emma Cavensham and Nicholas St. Mauer, the Earl of Somerton. Lady Emma is Claire's cousin and Nicholas is Alex's best friend. It's a friends to lovers story. Emma isn't like other marriage-minded woman of the ton. She constantly questions society's strictures and perceptions of women while bucking the constraints of acceptable behavior. When she pursues justice for women—no one can stop her, except perhaps the irresistible Nick St. Mauer. The third book, The Bride's Own Luck, features Michael Cavensham, the Marquess of McCalpin, who is Claire's oldest male cousin and Miss March Lawson, a viscount's daughter who is an embezzling sheep farmer. March is introduced in book two.

Thanks for blogging at HJ!
Giveaway:

An autographed copy of her debut novel THE BAD LUCK BRIDE (The Cavensham Heiresses) by Janna MacGregor
To enter Giveaway: Please complete the Rafflecopter form and Post a comment to this Q:

Roman book curses, blood curses, curse tablets, philia love curses, and of course, witch's curses! Who knew there were so many curses in Regency England? Have you ever wondered why misfortune strikes? Why sometimes you hit a streak of bad luck that will last for a week? I certainly have, and such mayhem is hard to explain or rationalize.
Book Info:
All were shocked at the announcement of the "cursed" Lady Claire Cavensham to Lord Alexander Hallworth, the Marquess of Pembrooke, especially since she is already engaged to another unfortunate Lord. Perhaps she will make it to the altar this time with one of these fine gentlemen! ―Midnight Cryer
No one is left breathless at the imperious pronouncement of her engagement to Lord Pembrooke more than Claire. She hardly knows the dangerously outrageous man! But after three engagements gone awry and a fourth going up in glorious flames, she isn't in a position to refuse…
Alexander requires the hand of his enemy's fiancée in marriage in order to complete his plans for revenge. It's his good fortune that the "cursed" woman is desperate. However, what begins as a sham turns into something scandalously deeper…
Book Links:


Meet the Author: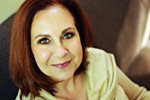 Following the doctor's cheerful announcement of triplets, the first thing Janna MacGregor did was pick her darling husband off the floor. The second thing she did was make a decision about what to do with all her newfound free time. Take her word for it, mandatory bed rest can skew one's perceptions. During her sojourn in bed, Janna remembered her attorney-husband's sage advice that successful attorneys always have the last word in an argument. Taking these wise words to heart, she became an attorney and soon was managing partner of his law firm. She is certain he and their triplets rue the day he ever made that comment.
After living in a variety of Midwestern cities, she settled in Kansas City Missouri, the crown jewel of the Midwest and home of her favorite team, the Kansas City Royals. Through all her wanderings, she has always found time to read passionate, sweeping romances. It didn't take long for her to decide to add Author on her resume. Practicing law by day, she writes sexy historicals set in the Regency period whenever she is not in court arguing those last words. Her debut novel, The Bad Luck Bride, was published in May of 2017 with St. Martin's Press, and the second book in that Cavensham Heiresses series arrives on bookstore shelves later this autumn.
Join her and escape in stories about compelling and powerful heroines meeting and falling in love with their equally matched heroes. Remember—every romance should be messy, carnal and forever.
Website | Facebook | Twitter | Instagram |