Today it is my pleasure to Welcome author
Kristen Proby
to HJ!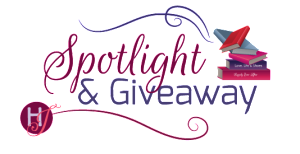 Hi Kristen and welcome to HJ! We're so excited to chat with you about your new release, The Beauty of Us!
Please summarize the book for the readers here: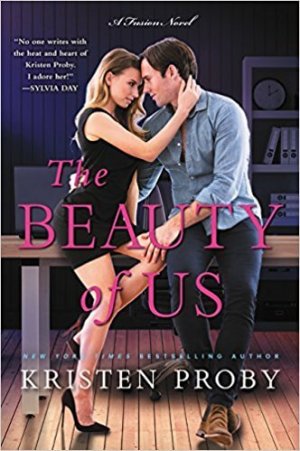 The Beauty of Us is the fourth book in the Fusion series. Riley, the co-owner and publicist for Seduction, a posh new restaurant in Portland, is working closely with Trevor, a producer at Best Bites TV. Things heat up between these two as they work together to get a TV show about the restaurant filmed for the national cable station.

Please share the opening lines of this book:
"I'm done," I announce as I stomp into the bar and see two of my four business partners both behind it. Kat, the bar manager and maybe the coolest woman I know, has her flaming red hair up in ringlets and Mia, the master chef, has pulled off her chef hat and let her long black hair down around her shoulders.
They both look as exhausted as I feel.
Please tell us a little about the characters in your book. As you wrote your protagonist was there anything about them that surprised you?
These characters were fun to write! Riley was definitely more family-driven than I expected her to be. Trevor entertained me with his love of Star Wars and video games. It was fun to write an alpha male who has a geeky side.
If your book was optioned for a movie, what scene would you use for the audition of the main characters and why?
I think the opening scene would be a fun one to submit. It's funny and sexy, all at once.
"I'm done," I announce as I stomp into the bar and see two of my four business partners both behind it. Kat, the bar manager and maybe the coolest woman I know, has her flaming red hair up in ringlets and Mia, the master chef, has pulled off her chef hat and let her long black hair down around her shoulders.
They both look as exhausted as I feel.
"What, exactly, are you done with?" Mia asks as she pours herself a glass of red wine, batting Kat's hands out of the way. "I can do this myself."
"I have a system," Kat says, earning an eye roll from Mia, who passes the bottle to her, takes a sip from her glass, and walks around the bar to sit on a stool.
"Men," I say as I take the stool next to hers. The bar is pretty empty, as it's nearing closing time in the middle of the week. There's just the three of us and a man sitting at the far end of the bar, nursing what looks to be a Jack and Coke.
And I'm not even going to think about the fact that his profile is hot.
"You say that at least once a month," Mia says.
"I mean it," I reply and nod when Kat offers me a glass of Mia's wine. "Fill the glass to the top."
"You're both killing me with your wine habits," Kat grumbles. "There's a correct way to pour a glass of wine."
"We're not fancy like you," I reply and offer her a smile when she passes me my glass.
Kat simply shrugs and goes to work washing the few glasses in her sink. "So why has the male species pissed you off this time?"
"So, I went out last night with this guy," I begin and take a sip of my wine, gathering my thoughts. "Let's say he was… not my type."
"In what ways?" Mia asks. "I mean, did he have blond hair instead of dark? Or didn't drive the right car?"
"You make me sound shallow," I say with a frown. "Those things aren't the deal breakers."
"We don't think you're shallow," Kat says. "What are the deal breakers with this one?"
"Well, he was super sweaty. Like, just walked out of the gym sweaty. And at first I thought, well, maybe he's just nervous. I mean, we haven't gone out before, so that's pretty normal."
"Sure," Mia says with a nod.
"But, the longer we sit there, the more he sweats. And I'm talking, he has to use his dinner napkin to keep wiping the sweat away the way Whitney Houston did when she was in concert."
"So, he's a sweater," Kat says, then grimaces. "Can you imagine how much he probably sweats during sex?"
"Ew." I wrinkle my nose, almost gagging at the thought. "No. No, I don't want to think about that. So, he's super sweaty and smelly. And it's really the smell that did us in."
What do you want people to take away from reading this book?
As with all of my books, I want readers to walk away with a warm heart and a smile. I want them to believe in HEA.
What are you currently working on? What other releases do you have planned for 2017?
I just finished Savor You, the final installment in the Fusion series. Next up is Charming Hannah, part of my Big Sky series. The next release will be No Reservations, a 1001 Dark Nights novella on December 5th.

Thanks for blogging at HJ!
Giveaway:

Print copy of THE BEAUTY OF US by Kristen Proby
To enter Giveaway: Please complete the Rafflecopter form and Post a comment to this Q:

One of the reasons that Riley and Trevor begin to see more of each other is because Trevor wants to show her how a woman should be treated on a date. What is your dream date?
Excerpt from The Beauty of Us:
"What are you thinking?" she asks. My gaze finds hers.
"I have an idea," I reply.
"Okay."
"I'm going to take you out on a date. I'm going to show you how a woman should be treated."
She tips her head to the side. "What if I say no?"
"You can't."
She busts out laughing. "Trust me, I can say no."
"Okay, I'm hoping you won't say no. I have a fragile ego."
"I call bullshit on that as well," she says with a smile. "What do you have in mind?"
"Let me worry about the details. I'll pick you up tomorrow around four."
"I'll be at the restaurant then."
I grin and nod. "So will I."
"Convenient."
I nod and push my glasses up my nose, already forming a plan.
"What should I wear?" she asks.
Nothing at all.
"Whatever you want. We'll start out with something casual."
"Okay." She smiles. "Has anyone ever told you that the glasses are sexy?"
Many times. But I grin and shake my head no.
"Well, they are."
"So, you think I'm sexy?"
She giggles. "I didn't say that. I said the glasses are sexy."
Excerpt. © Reprinted by permission. All rights reserved.


Book Info:
New York Times bestselling author Kristen Proby delivers another sizzling novel in her delectable and sexy Fusion series.
Riley Gibson is over the moon at the prospect of having her restaurant, Seduction, on the Best Bites TV network. This could be the big break she's been waiting for. But the idea of having an in-house show on a regular basis is a whole other matter. Their lives would be turned upside down, and convincing Mia, her best friend and head chef of Seduction, that having cameras in her kitchen every day is a good idea is daunting. Still, Riley knows it's an opportunity she can't afford to pass on. And when she meets Trevor Cooper, the show's executive producer, she's stunned by their intense chemistry.
Trevor's sole intention is to persuade Riley to allow Best Bites TV to do a show on her restaurant. But when he walks into Riley's office, he stops dead in his tracks. The professional, aloof woman on the phone is incredibly beautiful and funny. But can he convince her that he's interested in Riley for himself? Or is he using the undeniable pull between them to persuade her to agree to his offer?
Book Links:

Meet the Author: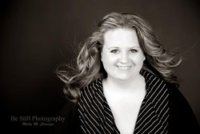 Kristen was born and raised in a small resort town in her beloved Montana. In her mid-twenties, she decided to stretch her wings and move to the Pacific Northwest, where she made her home for more than a dozen years.
During that time, Kristen wrote many romance novels and joined organizations such as RWA and other small writing groups. She spent countless hours in workshops, and more mornings than she can count up before the dawn so she could write before going to work. She submitted many manuscripts to agents and editors alike, but was always told no. In the summer of 2012, the self-publishing scene was new and thriving, and Kristen had one goal: to publish just one book. It was something she longed to cross off of her bucket list.
Not only did she publish one book, she's since published close to thirty titles, many of which have hit the USA Today, New York Times and Wall Street Journal Bestsellers lists. She continues to self publish, best known for her With Me In Seattle and Boudreaux series, and is also proud to work with William Morrow, a division of HarperCollins, with the Fusion Series.
Kristen and her husband, John, make their home in her hometown of Whitefish, Montana with their two pugs and two cats.
Website ** Facebook ** Twitter** Newsletter Sign Up   THE BEAUTY OF US Goodreads ** Kristen Proby Goodreads