Today it is my pleasure to Welcome author
Elisabeth Hobbes
to HJ!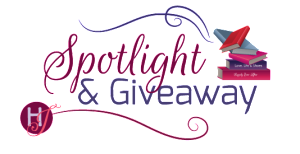 Hi Elisabeth and welcome to HJ! We're so excited to chat with you about your new release, The Blacksmith's Wife!

Hi, thanks for having me back

Tell us about the book with this fun little challenge using the title of the book: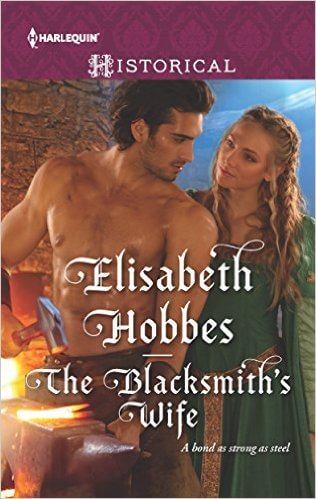 B- Brokenhearted heroine.
L– Located in my hometown
A– Ambitious hero
C– Crossed wires
K– Kindred spirits discovering each other
S– Secrets
M– Misunderstandings
I– Isolated moorland setting
T– Troublemaking villain
H– Happy ending, naturally
What's your favorite line(s) from the book?:
Hal's eyes followed hers. 'Do you fear his disapproval so much that you will not dance with me?'
'Of course not!' Joanna said. 'I just don't want to dance yet.'
He snorted. 'I don't believe you. You were jigging up and down like a fiddle player on a carthorse.'
Please tell us a little about the characters in your book. What first attracts your Hero to the Heroine and vice versa?
Joanna is an orphan living with her uncle, a master of the smith's guild. Her uncle never made any secret of the fact she was unwelcome in his house and she's clung to this idealized version of Sir Roger, a knight who she believes will eventually ask for her hand.
She takes time to see that Hal is the better man but her attraction develops when she realises he sees her as more than a plaything. Catching him working half-naked in his forge helps too.
Hal is the bastard son of a baron who was brought up alongside his younger, legitimate brother with the expectation he would serve as Roger's squire. He rejected this role and chose to learn the profession of his maternal grandfather, a blacksmith. Although Hal is fond of his brother, he disproving of Roger's attitude towards women, knowing firsthand what could result from his affairs.
Hal is ambitious and Joanna's connection to the guild is what attracts him initially. He knows she is in love with his brother but accepts that as the price of fulfilling his ambition.
When you sat down to start this book, what was the biggest challenge you faced? What were you most excited about?
Because Hal is a blacksmith I wanted to show him at work and make it clear that he was good at his job. The challenge was making sure I didn't make any glaring mistakes in what he does.
I was excited about setting the book in the city where I grew up and the North York Moors which I love. York is a beautiful city that goes back to Roman times and has layer upon layer of history. It's impossible to turn a corner without coming across some reminded of the past, from Viking Medieval guildhalls and Georgian assembly rooms. I hope I've captured some of the city in the story and that people visit as a result.
What, in your mind, makes this book stand out?
A tough, working hero with the odds stacked against him. Historicals often feature dukes or influential heroes but I like reading (and writing) about the ordinary people who most of us would have encountered if we'd lived back then.
The First Kiss…
Takes place at Joanna and Hal's wedding. She has only been kissed by Sir Roger before now, who treated her with roughness and disrespect so Hal's gentleness comes as a surprise.
'There was stillness and the churchyard filled with an expectant hush. Finally Joanna raised her eyes to meet those of her husband.
'I believe a kiss is customary,' Hal said quietly.
'Oh! Of course.' Joanna obediently raised her face.
Hal hesitated before stepping towards her. He put his hands at either side of Joanna's face. They were warm and rough. The hands of a craftsman, not a noble. His fingers spread wide so that his thumbs caressed her cheeks and the little fingers brushed against the base of her skull. He leaned down, closing his eyes as he moved towards her.
Much gentler than Joanna had expected he brushed his lips across hers.'
If your book was optioned for a movie, what scene would you use for the audition of the main characters and why?
This is Joanna's wedding night. I'd be looking to see the chemistry between the characters, how the actress captures the anxiety at the prospect of her first time and how the actor portrays the mix of desire and disappointment knowing he isn't the man she wants to be with.
Hal's eyes followed the movement and his brows knotted into a frown.
'I'm not going to hurt you,' he said.
Joanna nodded. Hal reached a hand to her cheek and stroked it softly. He took hold of both her hands, drawing them gently away from her chemise until they were by her side, still enclosed in his.
Joanna closed her eyes.
Let it be quick, she pleaded silently.
Perhaps not silently after all, as Hal abruptly released her hands. The floorboard creaked. Joanna opened her eyes to find he had moved away. He was leaning over the table with both hands resting on it and his broad back to Joanna. She crossed the room and stood behind him.
'I'm sorry,' she whispered.
Hal poured a cup of wine and drained it before facing Joanna.
'You have nothing to apologise for.' He saluted her with a bleak grimace. 'Happy wedding day, my dear wife!'
He looked weary and remorse flashed through Joanna. The first time would be the worst but that would only happen once. With her eyes fixed on the floor she unlaced the ribbon and pulled the neck of her chemise open, slowly lowering it until her breasts were almost exposed.
'What are you doing?' Hal asked harshly. He seized Joanna's hands, his grip firmer than before, and prevented her lowering the chemise any further. His eyes were flashing with fury.
'I made promises to be a dutiful wife and within the day I have broken them,' Joanna said.
'Put your clothes back on,' Hal instructed. He crossed to the bed and began to pull on his boots.
'What are you doing?' Joanna asked in confusion.
'I'm going out,' Hal said. 'Your promises and "duty" will wait. I doubt either of us would get much pleasure out of anything we do tonight.'
If your hero had a sexy-times play list, what song(s) would have to be on it?
Hal would go for music that would appeal to working men. Bruce Springsteen is one of my all time favourite songwriters and 'I'm on Fire' would definitely set the mood. It conjures up images of desperate, hot nights lying awake torn by unrequited love and is one of the sexiest songs I can think of.
What do you want people to take away from reading this book?
I want people to decide it's better to talk to each other when they have issues rather than steaming in private. A lot of the misunderstanding and resentment between Joanna and Hal happens because they aren't honest with how they feel towards each other. Neither of them wants to be the first to put their heart on the line and admit how they feel but someone has to make the first move.
Lack of communication and secrets is a common romance trope (and one which I know meets with a mixed reception) but it's something that in real life contributes to so many relationships breaking down or failing to get off the ground in the first place.
If readers decide to visit North Yorkshire as a result that would be great too.
What are you currently working on? What other releases do you have planned for 2016?
I'm editing my next Harlequin Historical called The Saxon Outlaw's Revenge. It's set in Cheshire, where I live now, and takes place a decade after the Norman Conquest.
Once I've finished that I plan to write Sir Roger's story. There are reasons he acts the way he does and I think he's got potential to be redeemed as a hero, but only after he's suffered enough to earn it.

Thanks for blogging at HJ!
Giveaway:

One print copy of The Blacksmith's Wife, open to readers in the US and UK.
To enter Giveaway: Please complete the Rafflecopter form and Post a comment to this Q: Joanna adopts a dog she names Simon. I've got two cats called Doctor Sausage and Captain Jamie Ankles.
What is the best pet name you've come across or thought of?
Excerpt from The Blacksmith's Wife:
Joanna tapped her foot impatiently as the serving girl filled an earthenware jug with maddening slowness, all the while wondering what her uncle and Hal had been discussing. When she first saw him her heart had leapt, believing for one blissful moment that Sir Roger had changed his mind and sent his brother as messenger. Of course that had been foolish. From what she was learning of Hal he was too proud to consent to carry out such a task. This was not merely a visit for courtesy, however. From the way her uncle had dismissed her she knew there was more to Hal's appearance and she was determined to find out what it was.
She arrived back at the foundry with heels skidding in the mud. The two men were facing each other, arms folded and legs set wide, consciously or unconsciously mirroring each other's stance. They were both talking and smiling, but when Joanna entered Hal's face became serious.
'Bring the ale quickly, Joanna,' her uncle instructed. 'We have something to drink to.'
Obediently Joanna walked to the table at the back of the room and filled two cups. She picked them up and turned to find Hal standing close behind her.
'Let me help,' he said, taking the cups from her hand. He stared down at Joanna with an intensity that sent warm shivers running across her scalp.
'Come here, girl!' Simon called. As she joined them his jowly face split into a smile. 'I said last night I would find you a husband if you could not find your own. Master Danby here has asked for your hand and I have agreed.'
The room spun and grew hotter. Joanna looked at the furnace to check if it had flamed suddenly, but it burned as steadily as always.
'You must have misunderstood,' she said. 'Surely he means on behalf of Sir Roger.'
Simon snorted contemptuously. 'Of course he doesn't. You can forget any dreams of Sir Roger asking you. I know I have. The sooner you get him out of your head the happier you'll be.'
'I don't believe you.' Her voice echoed in her ears.
'Believe it, you silly chit,' Simon snapped. 'Master Danby has excellent prospects and will make a good husband. What possible objections could you have?'
'I don't know him!'
'You were happy enough to go flitting about the city with him yesterday like a common wench with no regard for your name!' Simon barked.
'He's a bastard!' Joanna faltered. Hal's head whipped up as though she had struck him physically. His eyes bored into her, the pupils large and black, pinning her to the spot with their intensity. 'I'm sorry…' she began.
'I bear my father's name and I hold land on his estate,' Hal said curtly. 'My status does not shame me.'
'Master Danby is right. What does that matter?' Simon asked. 'He is a lord's son by birth and his children will be legitimate.'
Children. Joanna's stomach heaved at the thought of children and what creating them would entail. The thought of anyone touching her in the way Roger had made her want to scream.
Simon gripped Joanna by the arm and pulled her to the back of the room out of Hal's hearing. His face was stern.
'It is good fortune you happened upon someone who did not take advantage and make you completely unmarriageable, but enough is enough,' he growled. 'I have wasted three years while you waited for his brother and I'm not prepared to wait any longer. Master Danby has clearly seen the advantages such a match will bring. I suggest you do the same. This man or Thomas Gruffydd, but no more waiting.'
He dropped her arm and stormed out, leaving Joanna in no doubt that he intended to be obeyed. Hal was watching closely, his mouth a thin line.
'What advantages does he mean?' Joanna asked as soon as Simon was out of earshot. She closed her eyes as the answer struck her with sudden clarity.
'No, I understand. It's guild business, isn't it? How did you manage to coerce him?'
'The idea was not mine. Your uncle suggested it.' Hal frowned. 'Why do you assume I want the marriage any more than you do?'
A feeling of nausea told her he was speaking the truth. Hadn't Simon threatened to find her a husband only last night?
'So you're buying me?' Joanna said, her voice shaking. 'Do you gain admittance to the guild as a reward?'
'Actually, I don't!' Hal said. 'I'm not buying you. I gain nothing at this time other than a wife and the promise that I can petition for membership sooner than the customary year is up if I feel able. I'm not sure I get the best out of the deal.'
Hal stepped closer and put a hand gently on her shoulder. Joanna shrugged it off again violently.
'I don't love you,' she said coldly.
Hal raised an eyebrow. 'Nor I you. It would be rare if we did after such a short time knowing each other. I don't expect you to feel for me what you did my brother, but perhaps in time we will become fond of each other.'
Joanna crossed her arms, the mention of her adored knight sending waves of misery through her. 'If Sir Roger knew he would never let this happen. I need to speak to him.'
Hal's expression became blank.
'My brother has already left the city.'
Joanna's shoulders sagged and she stifled a sob.
'In truth, I have no real desire to marry you, knowing you are in love with him,' Hal said. 'However, as your uncle said, there are advantages for me. For both of us.'
'What is the advantage for me?' Joanna asked quietly.
'Perhaps nothing,' Hal admitted. 'If you would prefer to wait and see which alternative husband your uncle can find for you I will not stand in your way.'
Those words were all it took. He was right; Simon Vernon would find her a husband and, being anxious to be rid of her, would take less care than he did over choosing his belt. Thomas Gruffydd's face swam before her eyes and she shivered.
Joanna walked to the front of the workshop where the breeze cooled her cheeks and she could think more freely. Hal did not follow, though she could feel his dark eyes on her. She examined him out of the corner of her eye: a tall figure, handsome when he stopped frowning, but so like Roger that the sight of him tore her to shreds inside. Simon thought him honourable. Perhaps he was right. Hal had come to her aid in the camp when the guards had made their lewd comments and last night he had insisted on accompanying her home. For some reason known only to himself he had set himself as her protector.
Uncle Simon came back inside. 'You've had enough time to think, so what is it to be? Make your choice, girl.'
Joanna swallowed, summoning the courage to speak. 'I do not wish to marry this man, but you leave me no choice.' Simon grunted his agreement. Joanna bunched her fists to stop her hands trembling and forced a smile she did not feel in the slightest.
'Master Danby, I will be your wife.'
Excerpts. © Reprinted by permission. All rights reserved.
Book Info:
A passion forged from fire
Rejected by her favoured knight, Joanna Sollers knows she will never love again. Especially when the man she's now forced to marry is none other than her beloved's half-brother!
For blacksmith Hal Danby, marrying Joanna makes his life-long dream of entering the Smiths' Guild possible, even if the secrets in his past mean he'll forever keep his distance. But everything changes with one stolen night, and in the arms of his new bride, Hal wonders if this loveless arrangement could transform into something real…
Book Links:


Meet the Author: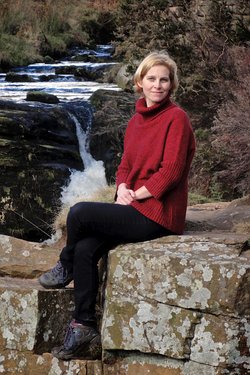 Elisabeth grew up in York, where she spent her teenage years looking for a handsome Roman or Viking to sweep her off her feet. After a degree in History and Art History she trained as a Secondary teacher, moved to Greece, returned to England and now works as a Primary teacher.
She achieved her dream of becoming a writer after finishing third in Harlequin's SYTYCW13 and being offered her first two-book contract. The Blacksmith's Wife is her third Harlequin Historical.
Elisabeth now lives in Cheshire with her husband, two children and two cats with ridiculous names. When she isn't writing, she spends her time reading and is a pro at cooking while holding a book.
Website | Facebook | Twitter |