Today it is my pleasure to welcome NY times Bestselling Author,

Barbara Freethy

to HJ
Barbara welcome to HJ! Would you please introduce yourself to the readers here, what would you say are the defining characteristics of a Barbara Freethy novel?
Barbara: Hi everyone! I'm so happy to be here, and I'm looking forward to hearing your comments and answering any questions you may have.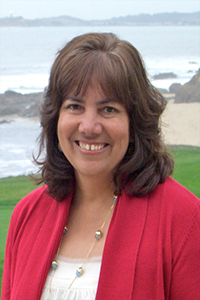 I started publishing about twenty years ago, and sold my first book to Silhouette Romance under the pen name Kristina Logan. I wrote seven books for Silhouette and then moved on to single title romance. Since then I've written 27 single title novels ranging from contemporary romance to romantic suspense and women's fiction. I've been published by four publishers, and in January of 2011, I began self publishing both backlist and original titles. Since then, I'm thrilled to announce I've sold more than 2.8 million self-published ebooks!
The defining characteristics of Barbara Freethy novel would be lots of emotion and plenty of twists and turns. I love to write layered stories and characters with flaws.
In your opinion, what ingredients are needed to make up a good love story?
Barbara: Great characters, lots of emotion, and a plot that enhances the love story. I really like writing about ordinary people caught up in extraordinary adventures.
What is your writing process like, what comes first, characters or story?
Barbara: It depends on the books. Sometimes a story begins with a character. Other times, it begins with a "what if" type question and launches from there. My story ideas come from everywhere – a snippet of conversation, an interesting character trait, a real-life event… I never know when a new idea will spring into my head. But I do have a really BIG imagination, so that helps.
What are the five best things about being a writer?
Barbara:
1) I get to tell stories and make a living off my imagination. That's really fun!
2) I can work from anywhere. I can write at home, in the car, while waiting for my kids, or on vacation… So, while I'm tied to my computer, I'm not tied to one location.
3) I get to express myself through my writing. Whatever emotions or experiences I'm going through can end up in a book. They're always changed, of course, but writing can be a cathartic experience.
4) Now that I'm self publishing. I not only to get write the book but also pick just the right cover and book description. So now the writing is even more fun.
5) I get to touch people's lives in ways I never imagined! I have one book, ONE TRUE LOVE, about a couple who lost a child and got divorced because the tragedy was too much. Years later they reconnect. I received lots of mail and one letter from a woman who said that she'd been through a similar experience in her life. After reading my novel, she called her ex-husband and they started talking again. For me, that was a really touching story. Readers can take things from your books that you never expected!
Please tell us about The Callaways, your newest 8 book series 
Barbara: I'd been wanting to write a connected family series for a long time and The Callways were the perfect choice. They're a blended family. The father had four sons. The mom had two daughters. And together they had twins. Now the eight siblings are grown and each will have their own adventure and love story. The family's motto is to "serve and protect" and many of the siblings are San Franciso firefighters or serve in other ways, one in search in rescue, another in medicine, etc. Of course there is one rebel rock star in the bunch. The series began in January of this year with ON A NIGHT LIKE THIS (Callaways #1)
Let's talk about your newest release SO THIS IS LOVE (Callaways #2), If you had to sum up the book for the reader here…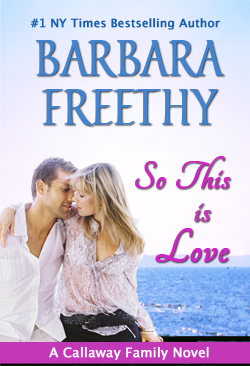 Barbara: SO THIS IS LOVE, which was released in March, pits Emma Callaway, a sexy arson investigator with a lot of passion against Max Harrison, a cool, calm detective who simmers underneath all his guarded layers. There are other family secrets beginning to unravel as well…
What was your biggest challenge while writing this book?
Learning about arson investigation! I wanted Emma to be a believable investigator, but I also didn't want the story to get too procedural, because this is a relationship/romance novel.
If you had to pick your favorite scene …
There are so many – that's a tough question! Emma has to battle against a firebug at one point, and when the hero sees her bruised face afterwards, he's more than a little amazed by her bravery but also finds her competitive endearing when she tells him that the other guy looks a lot worse! Emma is a really fun character. She grew up with five brothers, so she has some toughness, but she's still very much a woman. And she has women friends a well as men friends. Max is one of those darker heroes, who has a lot of secrets, and after some bruising has put his heart under lock and key. But his determination to stay single is no match for the beautiful, sexy, smart Emma.
Who would play Emma and Max in the movie version of your book? And why?
Barbara: I can never answer this question. I just don't think of my characters in terms of actors/actresses. If I had to guess, I'd probably pick another Emma – Emma Stone for the lead, because I like her sexy quirkiness. And the hero might be someone like Ian Somerhalder from the Vampire Diaries.
What are you currently working on? What other releases so you have planned for 2013?
Barbara: I'm going to write two more Callaway books that will be released in the summer and fall! So lots more books on the way!
Giveaway: 3 copies of
ON A NIGHT LIKE THIS

, the first book in my Callaway Series, either print or ebook.
To enter Giveaway: Please complete the Rafflecopter form below and post a comment to this Q:
As a reader so you prefer stand alone books or connected stories (series) and why?
About On A Night Like This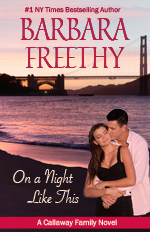 Aiden Callaway liked to make his own path. The second oldest of the Callaway clan, he veered from the family tradition of urban firefighting and became a smokejumper, never questioning his choice until the job took the life of his friend, Kyle, and left Aiden with injuries and fractured memories. Everyone blames Aiden for what happened, but he doesn't remember, nor is he sure he wants to remember. The truth may clear Aiden of blame but destroy Kyle's reputation and hurt the people he left behind.
Aiden seeks help from an unlikely partner…
Sara had always been untouchable, sweet, innocent, his sister's best friend, and the girl next door. But one reckless night in their youth took their relationship to a new level. Then Aiden brought it crashing down. Sara has never forgiven or forgotten, but she's no longer that girl with the crazy crush. She's a woman in search of her own truth.
The sparks between Aiden and Sara have been smoldering for a very long time. Sara is afraid to take another chance on a man who broke her heart, and Aiden knows better than anyone how dangerous an intense fire can be.
As teenagers they weren't ready for each other. Are they now?