Today it is my pleasure to welcome author 

Margaret Dilloway

to HJ!
Hi Margaret, For all of our readers who may not be familiar with your work, could you tell us a bit about yourself and your books?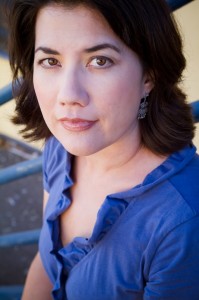 I have three kids (girl, boy, girl) and a husband. I've lived in San Diego for my whole life except for short stints in Washington State (when my husband was an Army Ranger) and Hawaii (relocated for a non-military job). I like gardening (trying my hand at giant pumpkins this year), hiking with our Goldendoodle, Gatsby, knitting (slowly), and tennis.
I write about relationships, which my characters always seem to struggle with. They all need to let go of the past and focus on the present to find happiness. I guess that's a big theme for me: how do you find happiness when the life you'd envisioned for yourself doesn't pan out? How do you appreciate the richness of everyday life?
In your opinion, what ingredients are needed to make up a good love story?
Unconditional love that overcomes all obstacles because the characters know each other's souls. Boom. That's it.
Tell us a little about your process. Do you start with an idea? A character? What is the easiest part of writing for you?
What's the hardest? It really varies depending on the book. With this book I began with the concept of growing roses. I'd wondered where all these new rose varieties come from, and discovered there's a whole world of amateur rose breeders– many of them are retired engineers and scientists who have a meticulous nature. Then I created Gal, who is sort of based on my late sister-in-law, who had three kidney transplants– but Gal is still some kind of iteration of me, too.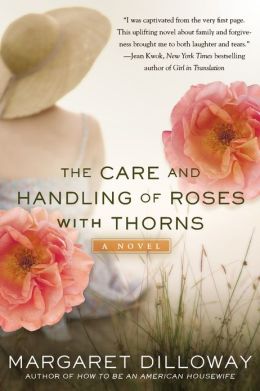 The hardest part of writing a book is finding the story. That means I write a draft that might not be all that good because I'm sort of circling around what the novel wants to be. So I might write too much exposition, or backstory, or boring details which will all end up cut, but helps me out.
The easiest part is editing, because if you wrote a lot for the first couple of drafts, it might just take some reshuffling and cutting to get it into shape.
One book you read in the last 6 months that has left a lasting impression and why?
Shine Shine Shine by Lydia Netzer, because not only does it have a love story that seems like destiny, it's got a bunch of interesting details about engineering robots and space shuttles.
Let's talk about your newest release: The Care and Handling of Roses With Thorns
If you had to summarize The Care and Handling of Roses With Thorns for the readers here …
High school biology teacher Gal Garner has one big passion: breeding rare roses in the hopes of winning a major rose show and catapulting herself out of her humdrum life. Gal uses roses to take her mind off of her kidney failure, which forces her to have dialysis every other day. Both the disease and the roses sort of serve as a barrier to Gal forming real, in-depth attachments. But when Gal's unreliable sister, Becky, suddenly sends Gal's niece Riley to live with her, Gal finds her strongly coded sense of order getting thrown upside down.
Please tell us about the characters in your book: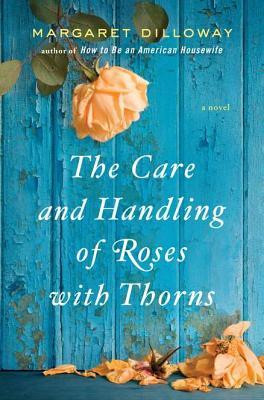 Gal is opinionated and funny. She's not afraid to tell people if they're wrong, but she believes she's doing it for their own good. Gal's niece, Riley, is one of those good kids who's sort of messed up due to her upbringing: vulnerable and not sure how to do simple things, like organize her homework. When you meet each character, you form an idea of how you think they're going to act, but then they surprise you (and they surprised me!).
What scene did you have most fun writing? why?
The scene where Riley meets Gal, because I had a lot of fun describing Riley and wanted to capture Gal's shock.
Who would who cast for the characters in your book if it were optioned for a movie?
Michelle Williams would make a great Gal– sparky and vulnerable. Jason Segel for George Morton. Chloe Grace Moretz for Riley. Amy Adams for Dara. Daniel Craig as Byron. Val Kilmer as Mark Walters.
What are you currently working on? What other releases so you have planned for 2013?
I'm working on a book about two sisters who reconnect over their mother's illness and a book about a real -life female samurai she left for them.
Where can readers get in touch with you?
On Facebook (Margaret Dilloway, Author); my website (www.margaretdilloway.com); Twitter (mdilloway) or Tumblr (my 14 year old just made it for me! margaretdilloway.tumblr.com)
Thank you for stopping by HJ!
Giveaway:

2 print copies of The Care and Handling of Roses With Thorns
To enter Giveaway: Please complete the Rafflecopter form and post a comment to this Q: 

One of Gal's traits is how she tells people what they're doing wrong. But at one point, Gal's friend Dara also needs to tell Gal she's being unreasonable. Do you think true friends sometimes need to speak the truth to help out friends who are making bad decisions, or do you think true friends should keep their mouths shut and only offer support?
Excerpt:
I take a deep breath. I go through all the possible kids who could have complained. There are too many, so I give up. I shuffle inside.

Someone sits in the guest chair opposite O'Malley's desk. It is not a parent, out for blood. It's a kid, a teenaged girl, with long, dyed black hair and too-white makeup. Raccoon eyeshadow. She wears a polo shirt, orange with a big pink horse on the chest, the collar turned up like it's 1985, with torn and safety-pinned black jeans, flocked pink Doc Martens, and a black overcoat. She looks like the lead singer of The Cure, by way of Ralph Lauren.