Today it is my pleasure to Welcome romance author
Lynn Raye Harris
to HJ!

 Hi Lynn, Welcome to HJ
If you were a heroine in a book, your character would be – The girl next door, the damsel in distress, Kick-butt take charge heroine or the aloof ice queen and why?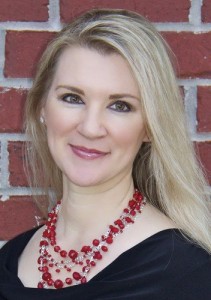 I hope I'd be the kick-butt take charge type! Because I really don't manage to sit idly by very well when things need doing. I am very Type A.
Let's talk about your newest release: The Change in Di Navarra's Plan
If you had to summarize the book for the readers here
Oh, it's a hot and sexy reunion story about a cosmetics tycoon, the virgin he threw out after one night of passion, and the baby he doesn't know he helped create….
But there's also a bonus book! Unnoticed and Untouched features the gorgeous motorcycle champion Lorenzo D'Angeli and his loyal PA Faith Black. When Renzo needs Faith to accompany him to an event, he's more than a little surprised by his reaction to seeing her outside of the office and her usual staid suits….
Please tell us about the characters in your book?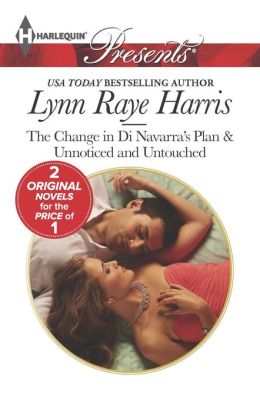 Drago di Navarra is a sexy Italian with a tragic background. He doesn't like to be used at all, and he's pretty sure that Holly Craig was just using him. Holly starts the book as a naive, sweet girl with a dream. But after Drago kicks her out, she learns the world is a pretty hard place.
Was it love at first sight for your characters? If not what was the pivotal moment of change?
There was definitely something between them because they ended up in bed together the very first night! For Holly, it probably was love. For Drago, all he knows is that Holly is unlike anyone else.
If your characters could go back in time and change one thing what would it be? Why?
Drago would probably want to change quite a few things, including how harsh he was to Holly when he thought she was using him. Holly would wish she could have a do-over on her night with Drago — except for the baby they created. She wouldn't trade her baby for anything.
What scene did you have the most fun writing? Why?
I really enjoyed when Drago and Holly meet again a year later. Holly is so tough now. She's not the naive little thing Drago remembers, and she won't be pushed around! Here's a snippet:
"I never forget a face." He let his gaze fall to her lush breasts, straining beneath the fabric of the tight white shirt the casino made her wear. "Or a body."

Her chin lifted imperiously. He would have laughed had he not sensed the loathing behind that gaze. Her plan hadn't worked and now she hated him. How droll.

"Well isn't that fortunate for you?" she said, her Southern accent drawing out the word you. "If you will excuse me, sir, I have work to do."

"Still angry with me, cara? How odd."

She blinked. "Odd? You seduced me," she said, lowering her voice to a hiss. "And then you threw me out."

Drago lifted an eyebrow. She was a daring little thing. "You cost me a lot of money with your deception, bella mia. I also had to throw out a day's worth of photos and start over. Far more regrettable than tossing you out the door, I must admit."

The corners of her mouth looked pinched. But then she snorted. "I'm waiting tables in a casino and you talk to me about money? Please."

"Money is still money," he said. "And I don't like to lose it."

She was trembling, but he knew it wasn't fear that caused it. "Let me tell you something, Mr. Di Navarra," she began in a diamond-edged voice. "I made a mistake, but it cost me far more than it cost you. When you spend every last penny you have to get somewhere, because you've staked your entire future on one meeting with someone important, and then you fail in your goal and lose your home, and then have to provide for your—"

She stopped, closed her eyes, and swallowed. When she opened them again, they were hot and glittering. "When you fail so spectacularly that you've lost everything and then find yourself at rock bottom, working in a casino to make ends meet, then you can be indignant, okay? Until then, spare me your wounded act."
What scene was the hardest to write? Why?
I don't know which scene was the hardest to write! Possibly where Drago finally realizes the truth….
He kept waiting for her to explain. To tell him why her baby was three months old and not two. Not that it meant anything that the child was three months old. It didn't make the boy his. He kept telling himself that.
How did your character spend the week just before the story starts?
Drago was going over reports, planning marketing campaigns, and generally doing what a rich tycoon does. Holly was frantically preparing for her trip to New York and praying she had enough money to get her there for her meeting with Drago and back again.
Who would you cast in the role of your characters if your book was optioned for a movie?
I am never any good at this….. I have absolutely no idea! Sometimes I create Pinterest boards with lots of photos…and sometimes I don't. This one was one I didn't create a board for. I could just see the story so well in my head!
What are you currently working on? What other releases so you have planned for 2013 into 2014?
I'm currently working on Book 2 in my Hostile Operations Team series. There have been 3 stories so far, but two of them are novellas. Book 2 is called Dangerously Hot and it features Kevin "Big Mac" MacDonald. It will be out in the spring. I also have three Harlequin's coming next year: two books in my Heirs to the Throne of Kyr series, about sexy sheikhs, and another book about my very first Greek tycoon.
I'm planning a third full length HOT story, Hot Shot, about team sniper Jack "Hawk" Hunter in the summer, and who knows what else? I'm constantly working and I have tons of ideas! I may publish something with some hot, tattooed rockers, or maybe I'll veer into my small town series about four brothers and the dark secret that drove them all away from home for so long.
Thanks for blogging at HJ!
Giveaway:

One reader will get a signed paperback of The Change in Di Navarra's Plan & Unnoticed and Untouched along with some LRH swag.
To enter Giveaway: Please complete the Rafflecopter form and Post a comment to this Q:

It's almost Christmas! What are you hoping to find under the tree this year? I still don't have a clue, which drives Mr. Harris insane because how can he shop if I don't tell him?
Except
"You, get up."

Holly Craig looked up at the man standing so tall and imposing before her. Her heart skipped a beat at the sheer masculine beauty of his face. He had dark hair, piercing grey eyes, and a jaw that had been chiseled out of Carrera marble. His nose was elegant, tapered, and his cheekbones were so pretty that supermodels must surely swoon in envy at the sight.

"Come on, girl, I don't have all day," he said, his tones sophisticated and clipped. And Italian, she realized. He had an accent that wasn't thick. Rather, it was refined and smooth, like fine wine. Or fine perfume.

Holly clutched her case—a secondhand case that wasn't even real leather—to her chest and shifted on the couch. "I—I'm not sure you have the right—"

He snapped his fingers. "You are here to see me, yes?"

Holly swallowed. "You are Mr. Di Navarra?"

He looked irritated. "Indeed."

Holly jumped up, her heart thrumming a quick tempo. Her skin flushed with embarrassment. She should have known this man was the powerful head of Navarra Cosmetics. It wasn't as if she'd never seen a photo of the man who might just hold her entire future in his hands. Everyone knew who Drago di Navarra was.

Everyone except her, it would seem. This meeting was so important, and already she'd gotten off on the wrong foot. Easy, ma belle, her grandmother would have said. You can do this.

Holly stuck her hand out. "Mr. Di Navarra, yes, I'm Holly—"

He waved a hand, cutting her off. "Who you are isn't important." His gaze narrowed, dropped down over her. She'd worn her best suit today, but it was at least five years out of season. Still, it was black and serviceable. And it was all she'd had. She lifted her chin, confused by this strange meeting thus far, but not yet willing to ruin it by calling him on his rudeness.

"Turn around," he ordered.

Holly's cheeks flamed. But she did it, slowly turning in a circle until she faced him again.

"Yes," he said to an assistant who hovered nearby. "I think this one will do. Let them know we're coming."

"Yes sir," the woman said, her manner cool and efficient as she turned and strode back toward the office they'd both emerged from.

"Let's go," Drago said. Holly could only stand and watch him stride away from her, bewilderment muddling her head and gluing her feet to the floor.

He seemed to realize she wasn't with him because he stopped and turned around. He looked impatient rather than angry, though she suspected angry was next on the agenda.

"Are you coming or not?"

Holly had a choice. She could say no, she wasn't coming. She could tell him he was rude and appalling and she'd come here for an appointment, and not to be talked down to, scrutinized, and ordered around.

Or she could go, figure out what his strange manner was all about, and get her chance to pitch him her ideas. The case in her hands was warm, fragrant with the samples she'd tucked inside. It reminded her of home, of her grandmother and the many hours they'd spent together dreaming about taking their perfumes to the next level, instead of only blending them for the friends and townspeople who purchased their custom combinations.

She'd come a long way to see this man. She'd spent every bit of savings she had getting here, with only enough for her lodging and the return trip home again. If she lost this opportunity, she lost far more than money. She lost her dream. She lost Gran's dream. She'd have to go home and start over again.

Because Gran was dead and the house would soon be gone. She couldn't afford to keep it any longer. Unless she convinced Drago di Navarra that she had something worth investing in. Something worth taking a chance on.

And she would do whatever it took to get that opportunity.

"Yes," she said firmly. "I'm coming."
Book Info:
This month, you get TWO new books by Lynn Raye Harris for the price of ONE. In this boxed set, get:
The Change in Di Navarra's Plan
The scent of success
Holly Craig once naively gave in to the practiced charms of playboy Drago Di Navarra…but now she'll prove he's met his match!
Drago never forgot the girl who betrayed him. But when he uncovers the secret she's been hiding, all of his carefully laid plans will unravel!
Unnoticed and Untouched
Putting the personal in PA!
Gold diggers are an occupational hazard for Lorenzo D'Angeli. So he extends his PA's job description to cover evening events!
Renzo loses his cool when he sees his formerly frumpy PA dressed to kill…but Faith Black knows this playboy well—she'll guard her heart fiercely!
Book Links:
Author Bio
USA Today bestselling author Lynn Raye Harris burst onto the scene when she won a writing contest held by Harlequin. A former finalist for the Romance Writers of America's Golden Heart Award and the National Readers Choice Award, Lynn lives in Alabama with her handsome former military husband and two crazy cats. Lynn writes about hot military heroes, sizzling international billionaires, and the women who dare to tame them. Her books have been called "exceptional and emotional," "intense," and "sizzling."
If you want to keep up with the news from Lynn, sign up for her newsletter here: http://bit.ly/14xyA65 Every month, she gives away a $50 giftcard to a random subscriber. All winners announced in the newsletter, which comes as often as Lynn has a release (not quite monthly, but not once a year either).
Website | Facebook | Twitter |