Today it is my pleasure to Welcome romance author
Avril Tremayne
to HJ!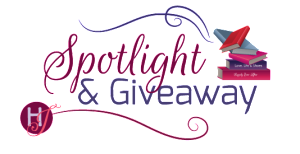 Hi Avril and welcome to HJ! We're so excited to chat with you about your new release, The Contract!

Thank you – and thanks for the opportunity to talk about one of my favourite books.

Please summarize the book a la Twitter style for the readers here: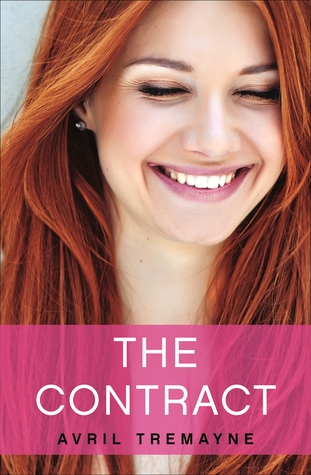 Having failed Sex 101, analytical economist Lane sees nothing wrong with hiring a sex tutor – but Adam has a different lesson plan in mind.

Please share your favorite line or quote from this book:
I love this line so much! Adam is thinking about the suggestion he's just made to Lane on the phone just to shock her – that she spank him – and wonders…
What was he—a G-rated Marquis de Sade?
Please share a few FUN facts about this book…
The idea for The Contract came about when a guy I used to work with suggested I make one of my heroes an economist, just like him. I thought it would be fun to twist that notion and make the heroine an economist instead, and the whole book actually grew out her career choice.
This book started its life on Wattpad, where it was hugely popular – popular enough to convince me I could chuck in my corporate life and write full-time.
The working title of the book was Signed, Sealed, Delivered, and there are still references to that title in there.
Please tell us a little about the characters in your book. As you wrote your protagonist was there anything about them that surprised you?
Lane has spent so many years studying and working hard, trying (unsuccessfully) to make her mother proud of her, she hasn't had time for any sexual experimentation along the way. She's smart, uptight, and logical – a straight-A student who believes she can learn anything with the right tutor. Hence her decision to be businesslike when it comes to learning about sex.
Adam's a love-em-and-leave-em type, courtesy of a long line of stepparents. Used to women flinging themselves at him, he's never met anyone quite like Lane, who seems to view him as nothing more than a collection of body parts.
At heart, they are both control freaks, each of them very sure they are in complete control of whatever is going on between them. But their businesslike relationship slowly unravels to the point where things are not only completely out of control, but heading for chaos.

What kind of research did you do for this book?
To be honest, this book didn't require as much research as most of my others.
I used to work in banking administration, so the scenes in Lane's office came to me easily. The characters all live in locales I'm very familiar to me, and even the Italian restaurant they go to is based on one I went to many years ago in Florence.
There's also a bit of an art theme that starts in this book, and having a long-time interest in art, that came fairly naturally to me as well – although I did have to do some research into art values.
Having said all that, with Adam being an architect, I became interested in the monthly architectural discussions being held at my local library.(And incidentally, I'm still going to those talks because they are fascinating.)

The First kiss…
It's a scorcher, in the lobby area of Lane's office building when Adam picks her up for their first 'date'. I actually can't resist sharing just the start of it!
Lane knew it was going to be an awkward moment and cast around in her head for a suitably safe topic of conversation. He was a builder so…house prices maybe? Because she'd seen some research today that indicated a boom in the Sydney market, which could create a dilemma for the Reserve Bank. And with city house prices set to rise by—

Oof.

She was suddenly in Adam's arms, looking up, and she couldn't remember what she'd been thinking. Something to do with ten percent…or was it—

Ahh.

His mouth was on hers, his rock hard chest plastered against her.

And her brain went dead.

His mouth was firm and soft at the same time. It was like he was…ohh…massaging her mouth with his. Insistent, nudging, nuzzling. She realized her breath was stuck somewhere in her chest, and opened her mouth to drag in more air. Then his tongue—his tongue, God, God—was inside her mouth, pushing, licking at her own.

She felt his hands slide down her back, down, down, and cup her bottom. He pulled her closer, fitting her to his pelvis.

She heard a soft moan and wondered where it had come from. He deepened the pressure on her mouth, his tongue sliding rhythmically, luxuriously, licking into her like she was warmed honey and he was searching out every taste. Another moan. Oh, God, it had come from her. She was moaning. And she couldn't seem to stop herself.
Was there a scene in this book that was harder to write than others?
The restaurant scene was incredibly difficult to write. Adam has had to work hard to persuade Lane to come out to dinner with him in the first place, and it ends up being the first time they reveal something of their pasts. It had to be a little bit uncomfortable, a little bit serious, and a little bit funny…
An awkward silence descended as they started eating. Lane didn't know how to break it, so she was relieved when Adam did, asking, "So Lane, what about you? Why economics?"

She took a sip of wine. "Like you, I followed in my father's footsteps." Good—her voice gave no sign of her rattled state. "But he's dead, I'm sure Sarah told you that."

"Yes, she did. I'm sorry."

"It was thirteen years ago—old news."

"But it still matters, Lane."

She blinked hard. "You're right, it does matter. But life goes on."

"I'm sure he would have been proud of you."

"I…I hope so."

"And I'm sure your mother and your brother are proud."

"Not so much. I'm gawky and clumsy and nerdy and they're…not," she said and then, before he could drag any more out of her, she changed the subject. "So…why don't you?"

"Don't I…?"

"Want a commitment."

He smiled slowly. "See, I knew you wanted to know. Well, Lane, it's simple. Divorce, that's why."

Her eyes widened. "You're divorced?"

"No, and I don't want to be."

"But…there are lots of married people who aren't divorced."

"And lots who are. My father has three under his belt. My mother is heading for number four. My two aunts and one uncle—one apiece. Best friend—just filed."

"What happens if you fall in love?"

"I look at it like this. Relationships are like curveballs. You have to accept that life sends you curveballs—but you can choose whether to catch them or let them go. And I choose to let them go." He sent a mischievous smile across the table. "And in any case, who needs love when you can have lust?"

Lane put down her cutlery. "I'd settle for lust," she said. "Or a full-hearted grope. And I promise not to propose." Subtle, Lane, subtle.

He laughed. "God, the things you say!" He took a sip of wine, and choked on it as another laugh escaped. "You know what, Lane? Laugher is an aphrodisiac—that's Lesson Number Five." He reached across the table and flicked his finger along her cheek. "So keep it up and who knows what will happen?"
If your book was optioned for a movie, what scene would be absolutely crucial to include and why?
The scene where they first meet, and go through the contract Lane has prepared. Lane is trying hard to appear cool, calm and collected, while making sure Adam agrees to her terms. Adam is equally determined to scare her off the whole idea – but is goaded past bearing and ends up signing. This is just a little sample…
"I'm very conscious that this is an unusual proposition and that it is not going to be easy for either of us," she said. "But if we keep things…well, businesslike, I'm sure we'll get through it."

"Ah, businesslike sex. Who wouldn't want that?"

She raised her eyebrows. "I was under the impression you had more women flinging themselves at you than you could handle. Someone with a less desperate approach should be a welcome change. Certainly less exhausting."

"Oh, a change, definitely. I can honestly say I've never met anyone like you. But less exhausting…?" He smiled his wolfish smile. "I don't think so, Lane."

Another clear of her throat. "While we're on the subject of desperate women flinging themselves at you, I should reiterate the importance of the fidelity clause. In the interests of…of health, you understand."

His smile widened, but didn't warm. "Reiterate away. Wouldn't want to catch anything after going to the trouble of a blood test."

He shot his signature across the second copy of the contract then looked at her. "But we'd better get you up to speed pretty quickly." No more smile. "A stud like me needs it pretty good and pretty regular."
What do you want people to take away from reading this book?
This book is really about commitment – both letting go, and holding on. Lane and Adam have very different experiences of commitment from their parents' lives, and they almost miss out on their chance for happiness by being too mired in those experiences. So the message is to find your own way , rather than looking at others' examples of what it means to be together.

What are you currently working on? What other releases do you have planned for 2015?
I've just started writing a story for Sarah, Adam's sister from The Contract, and it's already looking like it is going to be great fun. And I'm hoping the book I've recently finished – which is Chloe's story from Wanting Mr Wrong – will be out later in the year.

Thanks for blogging at HJ!
Giveaway:

Three Amazon Kindle copies of The Contract.
To enter Giveaway: Please complete the Rafflecopter form and Post a comment to this Q:

The relationship between Lane and Adam starts with something outrageous. What's the most outrageous thing you've ever done in the pursuit of love?
Excerpt from The Contract:
This little exchange takes place after Adam has taken Lane shopping for a more seductive wardrobe.

"I'm just not sure I'll ever have the nerve to wear any of this."

Adam smiled. "Well you know what they say—no time like the present." He gestured for the shop assistant to remove the tags. He then took the dress, shook it out, and handed it back to Lane.

"You mean put it on now?" she asked.

"Yep." He held out another shopping bag. "And these, too."

"The dress and the shoes?"

He nudged her towards the change room. "Move."

Lane was shaking as she came out. The dress exposed too much leg. And the shoes—nude, pointy-toed pumps, four inches high—made her feel like a giant.

But Adam whistled appreciatively. "Very nice," he said. "But don't hunch your shoulders. You're with me and I'm six feet three—you're practically a pygmy by comparison."

Lane, obligingly thrusting her shoulders back but blushing and fiddling with the neckline (far too swingy and therefore too revealing in the breast department), followed him to the jeep.

He opened the back and together they loaded the shopping bags.

And then, "One more thing," he said, and pulled the elastic off her hair. "Better."

"I don't think it suits me," Lane mumbled.

Adam smoothed her hair then made a tiny adjustment to the neckline of the dress. "You look gorgeous," he said. "So gorgeous, I am going to give you a lesson as we drive."

What did that mean? Because she knew people did it in vehicles. And he'd come so close to actually doing it last night. But it was broad, bright daylight. Still, maybe…maybe… "W-What lesson?" she asked a little tremulously.

"The lesson about getting fondled in inappropriate places. Lesson Number Nine."

He took her face between his hands and she felt a rush of heat between her legs that made her eyes want to close. But she was almost at eye level in the new shoes, and he was staring at her so intently, so…intimately, she needed to see him. "Inappropriate…where?" Her voice was hardly more than a breath.

"In this case, we've got two inappropriate destinations at hand. My jeep. And your legs. Well, I'll start with your legs, anyway. My hand might climb a little higher as we go."
Excerpts. © Reprinted by permission. All rights reserved.
Book Info:
Learning the art of seduction has never been so much fun.
Lane Davis has never had time for love. Hard work, dedication and focus got her through uni and now she's a successful economist with qualifications in all areas – except the bedroom.
When a colleague airs those bedroom sheets in public, Lane decides it's time to upskill. She's always studied her way to success, so why not hire a teacher to help her out now? It's just a business deal – three months of private tutoring, no strings attached. Easy – or it would be, if the lessons didn't make her weak at the knees . . .
Her proposed teacher, Adam Quinn, has his own agenda. His sister – one of Lane's best friends – wants him to scare Lane into giving up her crazy scheme. But once he meets Lane, he can't quite bring himself to reject her.
If Adam's going to teach Lane just one thing, it's that love can get in the way of even the best intentions . . .
Meet the Author: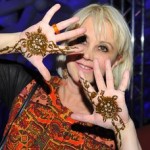 Avril Tremayne took the scenic route to becoming a writer, having tried her hand at shoe selling, nursing, teaching and public relations. Along the way, she also studied acting, singing, pottery, oil painting, millinery, German and Arabic – with very mixed results. She figures it's a perfect background for telling romantic stories. She is a committed urbanite, and lives in Sydney, Australia, where her husband and daughter try to keep her out of trouble – not always successfully. When she's not writing or reading, Avril can generally be found eating – although she does not cook – drinking wine, and obsessing about shoes!
Website | Facebook | Twitter |