Today it is my pleasure to Welcome romance author
Rachel Higginson
to HJ!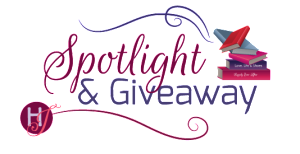 Hi Rachel and welcome to HJ! We're so excited to chat with you about your new release, The Five Stages of Falling in Love!

Hi! Thank you so much for having me on!

Please summarize the book for the readers here: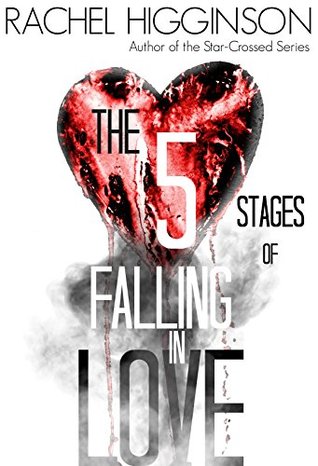 The Five Stages of Falling in Love is about a woman that loses her husband to cancer. They had this great marriage of ten years and built a life for themselves and worked to create their happily ever after. They also had four kids. They were pretty much this average, idyllic couple. And then Grady gets sick and Liz has to watch the love of her life die.
Chapter One starts six months after Grady's death and the rest of the story follows Liz as she tries to pick up the pieces of her life and manage her grieving children. She's pretty much a mess and struggling with her own loss. Then, the house next door sells and a single guy moves in.
Ben Tyler is a typical bachelor, working hard on a career and just finally ready to settle down. When he meets Liz, her life is in shambles and she's struggling just to make it through the day. She is hesitant about him at first, not even wanting to be friends with him. But slowly, over time she learns to rely on him and trust him in ways she didn't think she was capable of. They first become friends and he helps her around the house and as she deals with her grief. But then he starts to have feelings for her and pretty soon she can't deny that she has feelings for him too. But Liz is struck with guilt at the thought of caring for someone besides her dead husband. She has to overcome a lot of heartache and pain to learn to love again. Ben helps her every step of the way. He teaches her how to live again after death.

Please share the opening lines of this book:
"Hey, there she is," Grady looked up at me from his bed, his eyes smiling even while his mouth barely mimicked the emotion.

"Hey, you," I called back. The lights had been dimmed after the last nurse checked his vitals and the TV was on, but muted. "Where are the kiddos? I was only in the cafeteria for ten minutes."
Please share a few Random facts about this book…
Even though this book has a lot of heartbreaking moments, there are a lot of fun moments! Like Liz, I also have four kids, right at those same ages. I wrote it like that on purpose because I knew I would be able to make the overwhelmed-late-crazed mom thing real! And I especially wrote Abby a lot like my second born. Sometimes I wonder if I did that as a therapeutic way to share with the world what I go through on a daily basis!
The entire plot came to me one night while I was cooking dinner with my husband. We were having a late meal together and The Way You Look Tonight just happened to come on. It was like I was hit by lightning with this plot. Suddenly it was all there. The prologue. The first chapter. Exactly how I wanted to set it up and follow the five stages of grief. I started bawling in my kitchen, right over the dinner. My husband had no idea what was wrong with me. Thankfully, he is a very patient man! 🙂
Please tell us a little about the characters in your book. As you wrote your protagonist was there anything about them that surprised you?
There weren't many things that surprised me about my characters, but I think the reason that I knew them so well was because this book took me over a year and a half to write. I started it in the summer of 2013, but didn't get back to writing it until the fall of 2014. During that long in-between period, I had a lot of time to reflect on this story and mentally develop my characters. By the time I actually sat down to write their story, I knew where everything was going to go and how they would develop throughout the story.
One of the things that makes them special, in my opinion, is that they are kind of unspecial. These are normal people. You could know them or be friends with people just like them. There just isn't anything about them that is extraordinary. Liz is a stay-at-home mom of four little kids. She spent the last ten years of her life married to her college sweetheart and building this beautiful life with him. Before Grady died, she volunteered at the kids' school and made dinner every night. She was a lot of my mom friends or even me, as I have four little ones of my own. After Grady dies, she just drowns in her grief and every little thing becomes a mountain she can't climb. I love Liz though. She is smart and sarcastic, but she's also loving and very human. You watch her struggle and it's almost painful because everything is so hard for her.
But that's where Ben comes in. Ben is like Liz, in that he is a lot like the thirty-something guys that I know. He has an established job and he just bought his own house and he's finally to that point where he's looking to settle down. Of course, he never expected to fall for a widow of four kids, but he is laid-back enough to adjust. And I think that's what I love most about him. He is just a super laid-back guy. He's not a dominating alpha male, although he has his moments. He's just Ben and he just loves Liz because she's Liz. He's patient with her. Sometimes overly so… But I imagined him as a friend for Liz first. And an outsider into her family. He's careful with her. Slowly as he gets to know her better, he stops being careful, but he never stops being patient. Which is exactly what Liz needs.

What, in your mind, distinguishes this book from other books out there in the same genre?
The Five Stages of Falling in Love is labeled an adult contemporary romance, but honestly it is so much more. And it really is not a traditional romance. The story follows Liz as she suffers through the five stages of grief while simultaneously falling in love with Ben Tyler. So, already you have a romance paralleled with a tragedy. And that intense emotion of losing her first husband does not ease up throughout the book. I also think this book is achingly real in a lot of ways. I wrote it with nothing particularly special about the hero and heroine. These are people you could know in every day life, but their love story is what sets them apart. And I hope this book is a journey for you. I would love for you to feel everything that Elizabeth feels and have the emotional connection with her as she goes through her ups and downs and finally learns how to live again.

The First kiss…
Liz and Ben's first kiss is kind of a cheater. It is not the huge makeout scene that explodes off the page with lust and sexiness and male domination of the mouth. 🙂 It is a very subtle thing. But for Liz, it is earth-shattering. And that's what I love about it. It's understated and just so in line with Ben's personality. Like most of the book, he leaves Liz completely unbalanced and unprepared. I just love how it happens. Now, the next time they kiss… total male domination of the mouth!

Did any scene have you crying or laughing (or blushing) while writing it?
I think I cried through the entire book! From the first page to the last. This book really hit an emotional chord with me that I hope translates to every reader. I was a sobbing mess while writing it! I also have to say that there was definitely some blushing during the chapter 24. I usually write clean YA, so this was the first book where my characters got to go all of the way! 🙂 Even though I consider the whole chapter very mild, it was still the first time I had to write anything beyond kissing!! I don't think I've ever appreciated wine as much as I did that night!
He took a step back and rubbed his fingers roughly along his jaw. "Beautiful," he breathed.

And in that moment I didn't feel like a used woman or a mother of four children. I didn't feel mid-thirties with gravity working against every part of me.

I felt beautiful. He breathed that word into existence and there had never been a purer, more honest moment than right then.

I stepped out of my dress and ran my fingers over his stomach, settling them on the waist band of his jeans. I played with the button, shocked at my courage and at the undeniable need I felt for this man.

I watched my fingers move as I remembered how to unfasten a man's pants. I pushed them down to his ankles and he stepped out of them in only boxer briefs. My eyes traveled the length of him, memorizing every inch of his body, every part of this incredible man that had changed my life so profoundly.

"Are you sure, Liz? I only want to do this if you're sure."

"I am," I promised him. "I'm ready."
If your book was optioned for a movie, what scene would you use for the audition of the main characters?
I would use the first time Liz and Ben drink wine together. I would want to see Liz with her grief on display and at the end of a hectic, crazy day try to be polite to this pushy stranger. And I would want to see Ben's charm as he tries to break down some of Liz's walls. I'd also need to see their restrained chemistry. In the scene, you can see that they have a spark, that there is this undercurrent of electricity, but they both hold back. I would need to see that the actors could have that with each other without making it too obvious or rushing the relationship. Here is a snippet of that scene!
"Liz!" Ben's voice boomed through the quiet night and my spiraling thoughts.

"Hi, Ben." I cursed the floodlight for destroying any hopes of invisibility. He probably wanted to go for a swim, but now felt awkward about it. My yard was at a significant slope. The part closer to the house was higher than his and that gave me a great view into his backyard, even though there was a fence.

"I didn't want to scare you again," he grinned at me. "I thought I should give you some warning."

"Thank you," I tried to laugh. It fell flat.

"Want some company?"

I could honestly say that was the very last thing I expected him to say. But how to decline politely? I didn't want company. I didn't even know why he offered.

"I have wine!"

Well, that changed things. "Alright," I conceded. "Bring the wine!"

He disappeared into the house and I had two minutes to severely regret my decision. I didn't want to spend my peaceful evening sharing wine with my weird next door neighbor! I didn't even want to spend tonight with myself.

I had come out here for escape. And now this…

This didn't feel like escape.

This felt like punishment for my reluctance to be nice to the guy.

Yet… I had been wishing for a glass of wine. Desperately.

Damn, why was I such a lush?

I heard the gate open and the crunch of his feet as he padded his way over. He paused when he reached me, looming tall and dark, waiting for me to acknowledge him.

I looked up to his smiling face and felt myself relax just a bit. I didn't understand my reaction. He usually made me so uncomfortable that my rudeness was unforgivable. But tonight, he felt like relief. He felt like… a breath of fresh air.

Maybe I had been more afraid to spend time with the thoughts in my head than the harmless man that lived next door to me.

He held out a stemmed glass. The floodlight glinted off the shiny surface. I twirled the glass in my fingers while Ben pulled a corkscrew from his pocket and went to work opening the bottle. The glug-glug-glug of wine pouring into my glass was the only sound that broke our silence.

Eventually he pulled the bottle back, after a very generous pour, filled his own glass and slid gracefully into the seat next to me. His long legs extended in front of him and he draped his arms over the chair as though he'd sat here hundreds of times before.

I gave him a double take before I allowed this reality of him to set in. He was the cool kid in school, the cool kid wherever he went. He had the natural ability to feel at home wherever he was. I could see that about him. And now the arrogant grin made sense.

"Thanks for the wine," I finally broke the quiet that he didn't seem in any hurry to end.

He looked over at me and smiled. "You looked like you could use some company."

"Yeah, I guess. Mostly I just needed the wine." I grinned back at him and took a sip of a very nice red. I didn't know what it was and it was too dark to read the label from this distance, but Ben had great taste in libations.

"The cupboards are bare?"

I shook my head and laughed lightly. "Have you ever taken four kids into a liquor store?"

"I cannot say that I have. But I could only imagine the stress for all parties involved."

"Exactly. Luckily my new neighbor is very generous." I took another sip and settled back into the comfortable chair.

"Luckily."
If you could have given your characters one piece of advice before the opening pages of the book, what would it be and why?
What a tough question! 🙂 I think I would have sat Liz down and promised her that things would get better. That's a hard piece of advice to give to her given her situation, but I would have just wanted her to not be so hopeless and trust that good things would come again. And for Ben, I probably would have warned him about pushing Liz to fast, too son. But then, I guess it wouldn't be the story that it turned out to be!

What are you currently working on? What other releases do you have planned for 2015?
I am currently in the middle of Season Three of my Zombie novella series! Love and Decay is about a girl that lost everything except her best friend to an outbreak of Zombies. Three years later, she still has her best friend and they've teamed up with a family of five brothers to fight their way through the Zombie Apocalypse. There is definitely a healthy mixture of romance mixed in with all the blood and gore. Think Zombies for the CW!
I also have a NA Contemporary coming up in April! It's a stand alone, but in a series. The first book is called Bet on Us and it is a very sweet college romance. Bet on Me will be out April 28th! And my next adult contemporary, Every Wrong Reason, will be out in September!

Thanks for blogging at HJ!
Giveaway:

A signed paperback of The Five Stages of Falling in Love and two ebooks of The Five Stages of Falling in Love
To enter Giveaway: Please complete the Rafflecopter form and Post a comment to this Q:

It's a very difficult scenario to picture, but how do you imagine reacting to a sexy but pushy neighbor if you were in Liz's situation? Like Liz? Or would you handle things differently?
Excerpt
I surfaced, sputtering water and shivering from the cool morning air pebbling my skin. "Abigail, when I get you out of this pool, you are going to be in so much trouble."

"Okay," she agreed happily. "But first you have to catch me."

She proceeded to swim around in circles while I reached out helplessly for her. First thing I would do when I got out of this pool was throw away every electronic device in our house just to teach her a lesson. Then I was going to sign her up for a swim team because the little hellion was too fast for her own good.

We struggled like this for a few more minutes. Well, I struggled. She splashed at me and laughed at my efforts to wrangle her.

I was aware of a presence hovering by the edge of the pool, but I was equally too embarrassed and too preoccupied to acknowledge it. Images of walking my children into school late again, kept looping through my head and I cringed at the dirty looks I was bound to get from teachers and other parents alike.

"You look hungry," a deep masculine voice announced from above me.

I whipped my head around to find an incredibly tall man standing by my discarded pajama pants holding two beach towels and a box of Pop-Tarts in one arm, while he munched casually on said Pop-Tarts with the other.

"I look hungry?" I screeched in hysterical anger.

His eyes flickered down at me for just a second, "No, you look mad." He pointed at Abby, who had come to a stop next to me, treading water again with her short child-sized limbs waving wildly in the water. "She looks hungry." With a mouth full of food he grinned at me, and looked back at Abby. "Want a Pop-Tart? They're brown sugar."

Abby nodded excitedly and swam to the edge of the pool. Not even using the ladder, she heaved herself out of the water and ran over to the stranger holding out his breakfast to her. He handed her a towel and she hastily draped it around her shoulders and took the offered Pop-Tart.

A million warnings about taking food from strangers ran through my head, but in the end I decided getting us out of his pool was probably more important to him than offering his brand new neighbors poisoned Pop-Tarts.

With a defeated sigh, I swam over to the ladder closest to my pants and robe, and pulled myself up. I was a dripping, limp mess and frozen to the bone after my body adjusted to the temperature of the water.

Abby took her Pop-Tart and plopped down on one of the loungers that were still stacked on top of two others and wrapped in plastic. She began munching on it happily, grinning at me like she'd just won the lottery.

She was in so much trouble.

I walked over to the stranger, eying him skeptically. He held out his remaining beach towel to me and after realizing I stood before him in only a soaking wet tank top and bikini briefs, I took it quickly and wrapped it around my body. I shivered violently with my dark blonde hair dripping down my face and back. But I didn't dare adjust the towel, afraid I'd give him more of a show than he'd paid for.

"Good morning," he laughed at me.

"Good morning," I replied slowly, carefully.

Up close, he wasn't the giant I'd originally thought. Now that we were both ground level, I could see that while he was tall, at least six inches taller than me, he wasn't freakishly tall, which relieved some of my concerns. He still wore his pajamas: blue cotton pants and a white t-shirt that had been stretched out from sleep. His almost black hair appeared still mussed and disheveled, but swept over to the side in what could be a trendy style if he brushed it. He seemed to be a few years older than me, if I had to guess thirty-five or thirty-six, and he had dark, intelligent eyes that crinkled in the corners with amusement. He was tanned, and muscular, and imposing. And I hated that he was laughing at me.

"Sorry about the gate," he shrugged. "I didn't realize there were kids around."

"You moved into a neighborhood," I pointed out dryly. "There're bound to be kids around."

His eyes narrowed at the insult, but he swallowed his Pop-Tart and agreed, "Fair enough. I'll keep it locked from now on."

I wasn't finished with berating him though. His pool caused all kinds of problems for me this morning and since I could only take out so much anger on my six-year-old, I had to vent the rest somewhere. "Who fills their pool the first week of September anyway? You've been to New England in the winter, haven't you?"

He cleared his throat and the last laugh lines around his eyes disappeared. "My real estate agent," he explained. "It was kind of like a 'thank you' present for buying the house. He thought he was doing something nice for me."

I snorted at that, thinking how my little girl could have… No, I couldn't go there; I was not emotionally capable of thinking that thought through.

"I really am sorry," he offered genuinely, his dark eyes flashing with true emotion. "I got in late last night, and passed out on the couch. I didn't even know the pool was full or the gate was open until I heard you screaming out here."

Guilt settled in my stomach like acid, and I regretted my harsh tone with him. This wasn't his fault. I just wanted to blame someone besides myself.

"Look, I'm sorry I was snappish about the pool. I just… I was just worried about Abby. I took it out on you," I relented, but wouldn't look him in the eye. I'd always been terrible at apologies. When Grady and I would fight, I could never bring myself to tell him I felt sorry. Eventually, he'd just look at me and say, "I forgive you, Lizzy. Now come here and make it up to me." With anyone else my pride would have refused to let me give in, but with Grady, the way he smoothed over my stubbornness and let me get away with keeping my dignity worked every single time.

"It's alright, I can understand that," my new neighbor agreed.

We stood there awkwardly for a few more moments, before I swooped down to pick up my plaid pants and discarded robe. "Alright, well I need to go get the kids ready for school. Thanks for convincing her to get out. Who knows how long we would have been stuck there playing Finding Nemo."

He chuckled but his eyes were confused. "Is that like Marco Polo?"

I shot him a questioning glance, wondering if he was serious or not. "No kids?" I asked.

He laughed again. "Nope, life-long bachelor." He waved the box of Pop-Tarts and realization dawned on me. He hadn't really seemed like a father before now, but in my world- my four kids, soccer mom, neighborhood watch secretary, active member of the PTO world- it was almost unfathomable to me that someone his age could not have kids.

I cleared my throat, "It's uh, a little kid movie. Disney," I explained and understanding lit his expression. "Um, thanks again." I turned to Abby who was finishing up her breakfast, "Let's go, Abs, you're making us late for school."

"I'm Ben by the way," he called out to my back. "Ben Tyler."

I snorted to myself at the two first names; it somehow seemed appropriate for the handsome life-long bachelor, but ridiculous all the same.

"Liz Carlson," I called over my shoulder. "Welcome to the neighborhood."

"Uh, the towels?" he shouted after me when we'd reached the gate.

I turned around with a dropped mouth, thinking a hundred different vile things about my new neighbor. "Can't we… I…" I glanced down helplessly at my bare legs poking out of the bottom of the towel he'd just lent me.

"Liz," he laughed familiarly, and I tried not to resent him. "I'm just teasing. Bring them back whenever."

I growled something unintelligible that I hope sounded like "thank you" and spun on my heel, shooing Abby onto the lawn between our houses.

"Nice to meet you, neighbor," he called out over the fence.

"You too," I mumbled, not even turning my head to look back at him.

Obviously he was single and unattached. He was way too smug for his own good. I just hoped he would keep his gate locked and loud parties few and far between. He seemed like the type to throw frat party-like keggers and hire strippers for the weekend. I had a family to raise, a family that was quickly falling apart while I floundered to hold us together with tired arms and a broken spirit. I didn't need a nosy neighbor handing out Pop-Tarts and sarcasm interfering with my life.
Book Info:
Elizabeth Carlson is living in the pits of hell- also known as grief.
Her husband of eight years, the father of her four children and the love of her life, died from cancer. Grady's prognosis was grim, even from the start, but Liz never gave up hope he would survive. How could she, when he was everything to her?
Six months later, she is trying to pick up the pieces of her shattered life and get the kids to school on time. Both seem impossible. Everything seems impossible these days.
When Ben Tyler moves in next door, she is drowning in sorrow and pain, her children are acting out, and the house is falling apart. She has no time for curious new friends or unwanted help, but Ben gives her both. And he doesn't just want to help her with yard work or cleaning the gutters. Ben wants more from Liz. More than she's capable of ever giving again.
As Liz mourns her dead husband and works her way through the five stages of grief, she finds there's more of her heart to give than she thought possible. And as new love takes hold, she peels away the guilt and heartache, and discovers there's more to life than death.
Meet the Author: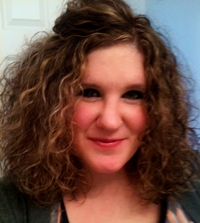 Rachel Higginson is the creator of The Star-Crossed Series, Love & Decay Novella Series, The Starbright Series, The Siren Series, Bet on Us and the soon to be released, The Five Stages of Falling in Love! She is also the co-creator of the podcast "Zach & Rachel Take Over the World."
She was born and raised in Nebraska, and spent her college years traveling the world. She fell in love with Eastern Europe, Paris, Indian Food and the beautiful beaches of Sri Lanka, but came back home to marry her high school sweetheart. Now she spends her days raising four amazing kids. In the few spare moments she has to herself, she is either reading for hours on end or writing her own stories.
Website | Facebook | Twitter |