Today it is my pleasure to welcome author 

Linda Francis Lee

to HJ!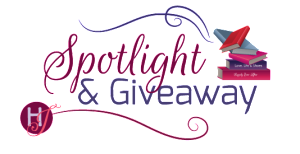 Hi Linda, Welcome to HJ 🙂
Thank you for having me!
What would you say are the defining characteristic of your novels?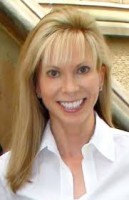 Finding yourself through love and laughter.
Are you a plotter or a panster? Tell us a little bit about your writing process.
I am a plotter. Although I will say, as much as I would like it to be different, the story never turns out exactly as I plan. But I like to have a basic road map for where I am going. I generally plot in a three-act structure. It helps me with pacing, especially in that horrid murky middle!
Let's talk about your newest release: The Glass Kitchen: A Novel of Sisters
If you had to summarize the book for the readers here…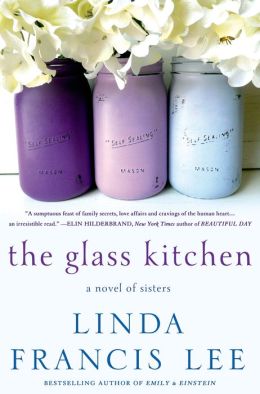 It's about a woman who flees Texas in a storm of betrayal, only to find herself "shipwrecked" on the island of Manhattan with her grandmother's centuries-old cookbooks. She meets the man upstairs and his two daughters, Ariel and Miranda. Once they meet, none of their lives will ever be the same again.
Please tell us about the characters in your book
There is Portia who shows up in Manhattan after a lifetime in Texas. As a born and raised Texan living in New York, I love exploring the differences between the two worlds. It's a little bit of a stranger in a strange land. There are her sisters, and also two daughters of the man who lives upstairs. Gabriel is a man who is a ruthless businessman, but between his two young daughters and Portia downstairs, his well-ordered world is turned upside down when none of them instantly do exactly as he says.
As you wrote your protagonist was there anything about them that surprised you?
For a woman who is devastated by a betrayal in Texas, and coming to a new world in New York, Portia ended up with a whole lot more spunk than I envisioned. I love her!
What scene did you most enjoy writing? Why?
I loved writing the scenes where Gabriel comes down the fire escape to see Portia. He is such a strong, alpha man, but Portia is the one woman he can't stay away from. She makes him act in ways that he can hardly believe. How can a man who thrives on control lose that control around this one woman?
Last night he had come down the fire escape in that way he did. When she had opened the door, she found him standing there, his hair still damp from a shower, raked back with his hands. He stepped inside without asking, as if he couldn't do anything else, a strong man giving in to her in a way that made her feel heady with a foreign sort of power. This man wanted her. This man couldn't stay away from her. A thrill ran through her at the thought.
Standing at the door, there was no trace of the civilized businessman who stepped out of his towncar every evening. He walked into the room as if he owned it, and pulled his t-shirt over his head, throwing it to the side.
The twist in Portia's stomach at the sight of him was so raw and primal that she couldn't shape words.
"Portia," he said finally, the word dragged out on a breath, then just stood there.
"Gabriel, are you okay?"
He pressed his eyes closed, blowing a hard breath out his nose. "No."
Then he dragged her into his arms and took her over to the old wrought iron bed. They made love with a kind of ferocity that made the bed slam against the wall.
What scene was the hardest to write? Why?
The scenes where Gabriel, who is used to people doing whatever he says, suddenly finds himself at a loss for how to deal with his oldest daughter. Commands and directives do no good. As with Portia, Gabriel must find a way to reach his own emotional center if he is going to connect with the woman he loves and his own daughters. While it was fun to watch his frustration in dealing with Portia, it was heartbreaking to watch him trying to navigate the waters with his daughter who needs him far more than she is willing to admit.
He looked at Portia. The hard planes were back in place. "What in the hell is going on?"
Portia took a deep breath. "The girls were upset when I got here. Miranda's boyfriend broke up with her."
He narrowed his eyes at the boyfriend mention.
"But the real problem, Gabriel, is that they feel they can't talk about their mother."
"I'm paying a fortune to a shrink so they have someone to talk to!"
"They need to talk to you."
Who would you cast in the role of your characters if your book were optioned for a movie?
Can I pick David Gandy for Gabriel Kane? I would be happy to just look at him! As to the sisters: for Portia, I think Rachel McAdams; Olivia, Krysten Ritter; Cordelia, either Reese Witherspoon or Rose Byrne. For teenage Miranda, Sarah Hyland, and for Ariel . . . I just can't figure out someone who embodies her age and precocious wisdom!
If you could have given your characters one piece of advice before the opening pages of the book, what would it be and why?
Allowing people you love to see your vulnerabilities doesn't make you weak. Strength is borne out of being who you really are and being at peace with that. Too often people try to be what the world wants them to be. While you can maintain that short term, there is no way to maintain it long term without undermining yourself.
What are you currently working on?
After THE GLASS KITCHEN: A Novel of Sisters, my next book will be out in Summer of 2015. It is set in an historic landmark building on Central Park West in Manhattan and on the wide-open beaches of Eastern Long Island. And it is the story of a woman who hits a bump in the road and must find a way to move forward.
Where can readers get in touch with you?
LFranLee@gmail.com
www.lindaleebooks.com
www.facebook.com/lindafrancislee
www.twitter.com/lindafrancislee
Thank you for stopping by HJ!
I loved being here!
GIVEAWAY:

2 print copies of THE GLASS KITCHEN
To enter Giveaway: Please complete the Rafflecopter form and post a comment to this Q:

In your family, does everyone expect everyone else to retain the personalities they had when they were younger? Or does your family allow everyone to become older and wiser?
Excerpt:
After hours of Portia reading her grandmother's old cookbooks . . .
Portia jerked up, the book falling to the ground. Enough!
She scrambled out of the apartment, the cool morning air hitting her like a gasp of relief. She just stood there for a second, the Keds dangling in her fingers, breathing, in, out, before she finally sat down to pull on the flowered sneakers.
She had just finished tying the last shoelace when she saw him.
He was tall, lean with broad shoulders, dark brown hair. He looked primal, with a firm jaw and hard brow, walking toward her with a fluidity that seemed physically impossible given his size. There didn't seem to be anything practiced or politically correct about him. From the look of him, she imagined he was one of those New York businessmen she had heard about who traded stocks like third-world countries trade rulers, easily and ruthlessly.
She knew the minute he saw her, the way his eyes narrowed as if trying to understand something. She felt the same thing, as if she knew him, or should.
Images of food rushed through her head, surprising her. Fried chicken. Sweet jalapeno mustard. Mashed potatoes. Biscuits. And a pie. Big and sweet, strawberries with whipped cream—so Texan, so opposite this fierce New Yorker.
Good news or bad, she wondered before she could stop herself.
"No, no, no," she whispered. The images of food meant nothing at all. She wanted nothing to do with him, with any guy at this point in her life. And she definitely didn't want anything to do with the kind she felt certain wielded power like a club.
When he reached the steps, he stopped, looking at her with an intensity that felt both assessing and oddly possessive. It might have been an hour, or a second, no smile, no awkwardness, and her breathing settled low. She became acutely aware of herself, and him. Everything about this man pulled her in, which was ridiculous. He could be a serial killer. He could be demented, insane. With a body like that, he probably didn't eat sugar. A deal killer for sure.
His head cocked to the side. "Do I know you?"
Portia smiled—she was Texan after all, and had learned manners at a young age, even if it was out of a library book her mother "accidentally" forgot to return—and his expression turned to something deeper, richer like a salted hot fudge.
"No," she answered, the word nearly sticking in her throat. "Should you?"
Desire had caused the storm that left her shipwrecked in Manhattan—the desire her husband felt for another woman. But there had been her own desire, too, the desire for intensity and excitement in her own life, which she had suppressed when she married Robert. Sitting there, she felt that desire stir inside her like the first bubble rising in a pot of caramelizing sugar.
"I guess not," he said. "But you seem familiar." He put his foot on the bottom step, his hand on the railing, bringing him into her space with a confidence likely born of always getting what he wanted. "Do you run in the park?"
She glanced down at her flowered sneakers and wrinkled her nose.
"Okay, so I haven't seen you running," he said, his voice still rich and creamy but sliding into humor. Peppermint, she thought, the corner of his mouth hitching at one corner.
Portia laughed outright with the sort of ease she hadn't felt in months. Somehow this man who looked like he knew his way around darkness had chased hers away.
"You don't approve of my shoes?"
"Is that what those are?" His lips hitched higher, a curl of his slowly drying hair falling forward and making him look more approachable.
"What are you, the fashion police?"
That caught him off guard. "Me? Hardly."
Portia stood up, skipped down, and stopped. Two steps still separated them, but given the difference in height, they stood nearly face to face. His laughter fled, and his eyes narrowed as he looked at her mouth. Her breathing slowed, and everything around her disappeared. She could make out the sparks of cognac in what she had thought were solid brown eyes. His nose was large, but somehow went perfectly with his strong face and jaw. His mouth was full, sensual. No one would call this man pretty, but something about the way his features came together drew her in. She felt a need, an urge to reach out, touch him. Which was crazy.
A truck turned the corner, hitting a crack in the asphalt with a loud bang, and she blinked. The man straightened.
Portia glanced around, took in the backside of the Dakota Apartment Building with its Gothic façade, antiquated moat, and wrought-iron balustrade around the perimeter, as if everything in her world hadn't shifted at the sight of this man.
He straightened abruptly, that sense of control settling back around him. "Can I help you with something?"
"No. No. I was just tying my shoelaces."
"Ah, then, fine."
He started up the stairs. She went stiff.
He stopped and raised his hands. "I live here."
"You live here? As in, you live in this place? Right here?"
His brow furrowed. "Yes."
This was her upstairs neighbor. More specifically, this was Gabriel Kane, the owner of the rest of the townhouse, the man she—or rather, Robert—had agreed to sell her apartment to before she refused at the last minute.
"Then these are your steps. Wow! Great place," Portia managed inanely.
Initially, she had sent word that she wasn't prepared to sell, at least not yet. No contracts had been signed. She had needed time to get her thoughts together. That was a month ago. Then the minute she made the final decision that she was keeping the property, she had left a message with Gabriel Kane's lawyer herself, explaining the unexpected changes in her life.
She had apologized up and down, but hadn't heard back. Granted, she had only left the message the day before, but she had assumed she'd hear right away. She had slipped into the apartment late last night using the old key in hopes of avoiding Kane for as long as possible.
She didn't doubt for a second that the man was furious with her for backing out of the contract after he'd already bought the rest of the building from her sisters. There was no question in her mind that he would try forcing her to sell. Chicken that she was, she was counting on his lawyer to convince him otherwise. Even she knew a deal wasn't a deal until documents were signed.
"Have a great day!"
She practically leapt to the sidewalk, catching sight of an old man who was sitting in the window next door, peering out at her as she dashed toward Columbus Avenue.
Book Info:
With the glass kitchen,
Linda Francis Lee has served up a novel that is about the courage
it takes to follow your heart and be yourself.
A true recipe for life.
Portia Cuthcart never intended to leave Texas. Her dream was to run the Glass Kitchen restaurant her grandmother built decades ago. But after a string of betrayals and the loss of her legacy, Portia is determined to start a new life with her sisters in Manhattan . . . and never cook again. But when she moves into a dilapidated brownstone on the Upper West Side, she meets twelve-year-old Ariel and her widowed father Gabriel, a man with his hands full trying to raise two daughters on his own. Soon, a promise made to her sisters forces Portia back into a world of magical food and swirling emotions, where she must confront everything she has been running from. What seems so simple on the surface is anything but when long-held secrets are revealed, rivalries exposed, and the promise of new love stirs to life like chocolate mixing with cream.
The Glass Kitchen is a delicious novel, a tempestuous story of a woman washed up on the shores of Manhattan who discovers that a kitchen—like an island—can be a refuge, if only she has the courage to give in to the pull of love, the power of forgiveness, and accept the complications of what it means to be family.