Today it is my pleasure to Welcome romance author
Hanna Martine
to HJ!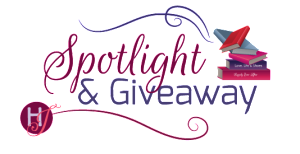 Hi Hanna and welcome to HJ! We're so excited to chat with you about your new release, The Good Chase!
I'm so thrilled to be here. Thanks for having me!
Please summarize the book for the readers here: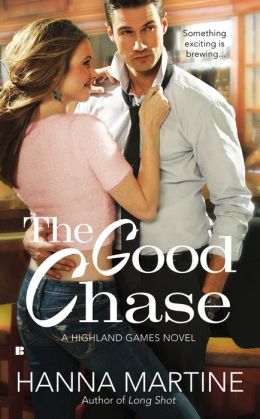 She's the country's foremost expert on whiskey. He's big-money Wall Street during the week and a rugby bruiser on the weekend. They like each other!
Please share the opening lines of this book:
I need a hot guy in a kilt.
Shea Montgomery snorted a most unfeminine snort as she read the text that had just come through from her best friend, Willa.
Gently moving aside a box cradling some pretty divine bottles of Scotch whisky, Shea nudged back a flap of the white tent that would be her home for the day.
Please share a few Random facts about this book…
I drank a lot of whiskey, watched a lot of rugby, and asked my best friend—whose husband works in a sick-money NYC business—about what kinds of clothes he had to wear. She took photos of his tie racks (yes, plural) and told me all about where a guy like Byrne would shop and live in Manhattan.
Please tell us a little about the characters in your book. As you wrote your protagonist was there anything about them that surprised you?
Shea and Byrne both came from humble beginnings and have managed to make a name for themselves, albeit in very different ways. On paper, before I started writing, I thought that maybe they shouldn't belong together because their preconceived notions about who they should be with and how they should act greatly contradicted each other. But then I got them talking, and I was completely surprised by how well they got along. They'd found their soul mate, no question. I ran with it. I adore the ease of their dialogue.
What, in your mind, distinguishes this book from other books out there in the same genre?
Hands down, the ability to shape reality into exactly what you want. With paranormal you get to make everything up, but with contemporary, the concept of what if is so much more powerful. As you write/read, you think Wow, this could possibly happen! And also, Where can I get a guy just like this one?
The First kiss…
…is my most favorite scene in the whole book! I remember being giddy when I came up with the idea to have it happen as Shea is giving Byrne a private whiskey tasting…to intertwine the taste of the drink with the taste of her mouth. I love their interaction in the scene, with the two different layers of action, so to speak. (A part of that scene is posted below.)
What scene was the most difficult for you to write?
Without giving too much away, there's a scene toward the end where Byrne is really upset over something that has happened to him. While his emotions have nothing to do with Shea, she happens to be the one trying to comfort him, and she bears the brunt of his anger. I feel like this is what happens in real life—when we are riding high on emotions, people get caught in the crosshairs. But as a romance novel hero, I also had to make sure that he didn't come across as a blatant asshole, that he was sympathetic, and that he later absolved himself. It was a tough scene to balance. I'm happy with the way it turned out, and satisfied I didn't soften it too much to the point of being saccharine or boring. It was really important to me that Shea and Byrne as a couple kept their realism and their edge.
Excerpt:
She gasped. "Oh my God. Byrne, I . . . holy shit. You're not going to a hotel. Come stay with me. Please."

A cab finally swung next to the curb and Byrne opened the door. "I don't know—"

"I insist. Don't be alone right now. The thought of you staying in a hotel when I'm right here . . ."

He was torn. He desperately wanted to see her, to hold her, to just sink into her—and he didn't even mean sexually—but he was balancing on a very fine edge, and he had no idea which way his mood was going to go.

"You can stay as long you like," she said. "I'm at the corner bodega right now, but I'll be home in a few minutes."

"Yo!" shouted the cabbie as he rotated in his seat to glare at Byrne. "You gettin' in or not?"

Byrne couldn't guarantee that the fury he was feeling wouldn't be taken out on an innocent hotel room à la a nineteen-seventies rock star, so he said to Shea, "Is this what it takes to finally get an invitation to your place?"

It was a bad attempt at levity, grasping for their usual easy rapport, but he was strung out and desperate to feel anything else.

"Is this what it would take," she replied softly, "to give you a little peace?"
When Byrne walks into a room full of people, what song is playing? For Shea?
Haha, the first thing I thought for Shea was "Barracuda" by Heart. For Byrne? "Sharp-Dressed Man" by ZZ Top? (I'm totally laughing as I type this.)
If you could have given your characters one piece of advice before the opening pages of the book, what would it be and why?
In The Good Chase, both Shea and Byrne are challenged by the fact that the other person encapsulates something they never thought they'd accept. It is my hope that readers think about the judgements they've made or perceptions they've created around certain people. (or maybe even: what kinds of romance novel characters they are attached to)
What are you currently working on? What other releases so you have planned for 2015?
Proposals for brand new projects in both contemporary and paranormal! I'm very excited. And scared out of my ever-lovin' mind.
Thanks for blogging at HJ!
Giveaway:

2 Print copies of THE GOOD CHASE
To enter Giveaway: Please complete the Rafflecopter form and Post a comment to this Q:

Chase, Shea's grandfather changed her life for the better. What family member has meant the most to you?
Excerpt
Under the pretense of getting more comfortable on the hard wood bench, he inched closer to her. "Do you add water to your whisky?"
She licked her lips. My God.
"Sometimes."
Though he clutched the blue-and-white mug in his hand, it seemed nonexistent. Completely unimportant. The only thing he saw was Shea.
"Aren't you going to taste it?" she whispered.
He was already leaning in. "Absolutely."
And then her mouth belonged to him, her sweet whisky lips impossibly perfect, their movement open and yielding. He sank a little deeper and her mouth let him in. Cupping a hand around her neck, he couldn't believe how soft her skin was underneath that fall of hair.
God, this kiss. This kiss. A whole year of anticipation had been backed up behind it, and now the taste of her rocketed through his body. The delicious whisky taste of her.
When she tilted her head more and he felt the smooth slide of her tongue against his, he made some sort of unintelligible sound. She smiled against his lips and pulled back. His hand on her neck loosened.
"I like that you're here," she said. "In this place. With me."
He nudged closer. Their legs touched. Where his whisky mug had gone, he had no idea. Didn't care.
"Not gonna lie," he said. "I straight up want you."
A small line of conflict appeared between her eyebrows, but then it vanished as she touched his face. "I want you, too, but—"
He strained for her mouth and kissed her again. Kissed away whatever but was about to come out. He loved the way her hand curled around his head.
"—but I have those rules," she continued, breaking away again.
He groaned. "Right, right."
"I've been thinking, though." A little tease of a kiss. A troublemaker's gleam in her eye.
"Yeah?" Suddenly he felt like a dog whose owner was dangling a leash by the front door.
"About how I've already basically bent them. And how it might be fun to completely break them. Just for tonight."
"Yes." He grabbed her around the waist and hauled her up against him. She was tall but also whisper thin, and she came to him fast.
"But—"
"No buts."
She laughed. "But all I have is the tent. I don't do car sex. This is kind of a big stretch for me as it is."
"Tent sex sounds amazing. In fact, the thought of it really turns me on."
She still seemed a little worried. "I think there needs to be some sort of sign that I'm doing the right thing."
"How about this?"
Now he had her whole body up against him as he kissed her, and he felt her everywhere.
The hand on his head slid around so she had a death grip on his neck, while her other hand made a fist over the Wharton emblem on the front of his sweatshirt. Her mouth pressed harder onto his, and he wanted to tell her to go ahead and be as strong or violent as she wanted, because if she was going to stretch her rules for him, he wanted her to be as happy as he was at that moment.
The whisky taste faded, and then it was just her flavor, and she was ten times more delicious.
Book Info:
The second in the Highland Games series, following Long Shot
Gleann, New Hampshire's annual highland games always deliver the best of Scottish culture—rowdiness, rugby, whiskey, and unexpected romance…
Even though Shea Montgomery's swanky bar and distinguished palate have made her a highly regarded whiskey connoisseur, she's happiest bringing her favorite spirit to various highland games around New England. Her demanding ex made her wary of men obsessed with money and status, and she's now more comfortable in the country than in the city. Still, when a gorgeous rugby player straight from Wall Street barrels into her whiskey tent, she's tempted to change her mind…
J.P. Byrne went from poor beginnings to international high roller by using his charisma and wit, and holding fast to his dreams. A strong, independent woman like Shea is exactly what he's looking for, only he has no idea how to prove he's more than his three-piece suits—especially when he's spent years doing just the opposite.
But as Shea and Byrne battle old demons, they discover together that the best remedy for past pain is a good, stiff shot of present pleasure….
Buy The Good Chase here (available ebook or paperback):
iBooks: http://bit.ly/iBooksTheGoodChase
Amazon: http://bit.ly/ebookTheGoodChase
Nook: http://bit.ly/BNTheGoodChase
Google Play: http://bit.ly/GPTheGoodChase
Kobo: http://bit.ly/KoboTheGoodChase
Meet the Author: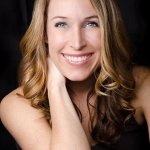 Hanna Martine has loved stories—particularly the romantic kind—since she was very young. She spent a decade working in an office but has since dedicated herself to writing. She's traveled to many wonderful places around the world, including the haunted Scottish castle in which she got married. Though she lives outside of Chicago
Website: http://www.hannamartine.com
Newsletter: http://bit.ly/MartineNewsletter
Facebook: http://www.facebook.com/HannaMartineBooks
Twitter: http://twitter.com/hanna_martine
Goodreads: https://www.goodreads.com/author/show/5335920.Hanna_Martine