Today, HJ is pleased to share with you Scott Hildreth new release: 

The Gun Runner

Walk on the wild side with The Gun Runner. Readers will lose themselves in this story of all-consuming passion and dark deals.
Tripp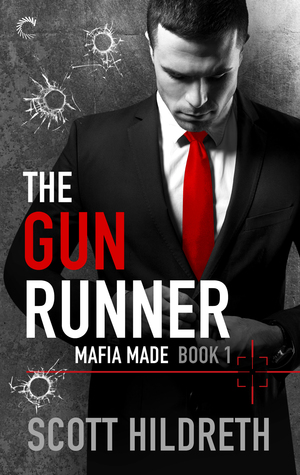 Once, I took down terrorists on the front lines as a marine.
Now I'm in the business of bad.
I've sold guns to people others might not approve of.
I've eliminated the criminals, the lowlifes and the thugs who've tread on my turf.
And I looked the Sicilian Mafia boss in the eye and told him to f*** off.
No one tells me no, unless it's their last word.
I didn't just act the part of bad—I lived it. Then she stumbled into my life.
I tried to stay away from her. Tried focusing on moving my merchandise. But one smile from Terra was like a shot to the heart.
She's mine now. And no one threatens what's mine.

Terra

I've seen a lot of terrible things in my life.
I grew up around lies and deception, and I ran away from all of them.
Until I met him.
I knew he was corrupt. I knew he was dangerous.
I should have stayed away, but my attraction to him, my need for him, overrode my logic.
Now I love him.
If he finds out who I am, we're done and I'll be nothing.
I never wanted to be the Mafia princess they tried to make me, but mia familia had other plans. And what mia familia wants…it gets.
Only Michael Tripp can save me.

HJ Review of The Gun Runner
What a thrilling story! The Gun Runner was an exciting blend of erotica, suspense, and straight-up romance. From the can't-keep-their-hands-off-each-other chemistry between our hero and heroine and the secrets they were both hiding, I didn't want to put this book down for even a second.

Right off the bat this book had two things going for it as the storyline centered around the Mafia and ex-military members. Seeing those two very volatile worlds collide proved to be every bit as interesting as it sounds. Read More
Giveaway:

Ted Baker Bow Tote Bag, Kat Von D Sephora Set, and a Free eCopy of The Gun Runner!

Fine Print:
Giveaway sponsored by Harlequin.
Prize Value: Approximately $110
Winner Eligibility: Open to residents in the US and Canada (excluding Quebec). Must be 18 years and over
Contest starts August 1, 2016 and closes August 8, 2016.

To enter Giveaway: Please complete the Rafflecopter form and:

Leave a comment with your thoughts on the book…
Meet the Author:
Scott Hildreth is a hybrid author who has published more than two-dozen romance and erotica novels. He has spent his entire life pushing boundaries, and his writing is no exception. Addicted to riding his Harley-Davidson, tattoos, and coffee, he can generally be found in a tattoo shop, on his Harley, or in a local coffee house when not writing. He lives in Kansas with his wife and six children.
Connect:
Twitter: @ScottDHildreth
website: www.scotthildreth.com
Buy links: Carina Press | Harlequin | Amazon | Barnes & Noble | Google Play | Kobo | iBooks