Today it is my pleasure to Welcome author
Eliza Knight
to HJ!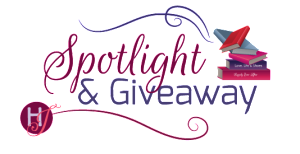 Hi Eliza and welcome to HJ! We're so excited to chat with you about your new release, The Highlander's Gift!

Thank you so much for having me! I'm thrilled to share my latest Highland adventure with you!

Please summarize the book for the readers here: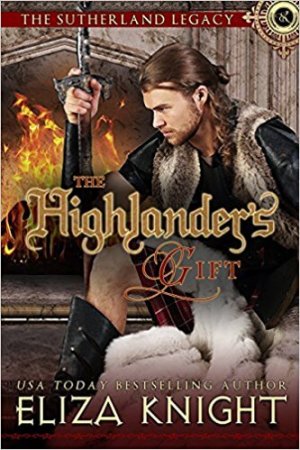 This is the first in a new spin-off from my bestselling Stolen Brides series, titled The Sutherland Legacy, in which I get to bring all five children from The Highlander's Reward to life and love! In this book, Bella Sutherland can marry anyone she wants, and her parents are pretty adamant she needs to make a choice soon. The problem is, she doesn't want a husband. She's perfectly happy living at home, training with her bow & arrows, and helping her mother out with castle chores. But when her parents give her an ultimatum, she decides that a husband in name only will do, and she's got just he man to fill that role– Sir Niall. Betrothed to a spoiled princess who despises him because of his injuries, Sir Niall Oliphant is glad to step aside and let her marry his brother. He's more than content to fade into the background with his injuries and remain a bachelor forever, until he meets Bella, a lass more beautiful than any other, and who makes him want to stand up and fight again. They both think they're agreeing to a marriage of convenience, but love and fate have other plans… The story starts out with a prologue of the hero and heroine when they first meet at a children's tournament and they have to go up against each other…

Please share the opening lines of this book:
"I want to be knight for the day." A petulant lass with golden locks crossed her arms over her chest and glowered at the line of grubby lads with their wooden swords tucked into the corded belts of their plaids. For the first time in her short life, she had the chance to prove something.
Please share a few Fun facts about this book…
I love to share fun facts about the stories I'm writing!
In The Highlander's Gift, I had to do some research not only on archery, but on whether a one-armed man could still use a bow and arrow. The answer is a resounding AYE! Not only did my research drag me down a fascinating rabbit hole, but I got to watch some amazing videos, including a little girl who competes using a bow, and hasn't let her disability get in her way! So inspiring!
Whenever I'm writing a medieval, I always crave homemade, straight outta the oven, baked bread, slathered in golden butter… I love making bread, and my family benefits greatly from this writer's craving! LOL! That said, I also crave drinking wine out of silver goblet, which I definitely do during emotionally charged scenes!
A song that listened to on repeat while writing this book was Celtic Woman's, The Butterly.
Please tell us a little about the characters in your book. As you wrote your protagonist was there anything about them that surprised you?
I'm always surprised by my characters! When I start writing a book, I have an idea of who they are, but it isn't until I've written the first few chapters that I really get to know them. Consequently, the first few chapters often get deleted, because they are really me working through who they are. From the beginning, I knew that Bella was going to a strong-willed woman, and she would need a strong man, who was willing to let her stay that way. That would have been extremely rare back in those times, but I think Niall was the perfect man for her. He had his own struggles, and he needed a strong woman who could stand up not only to the darkness he was fighting, but be strong enough in herself that she could lift him up. They really compliment each other greatly, and help each other fight through the barriers that hold them back from love and happiness, to come out on the other side entirely whole!
If your book was optioned for a movie, what scene would you use for the audition of the main characters and why?
Below is a scene from when the hero and heroine speak to each other for the first time since meeting as children. And in this scene, he has already been challenged by her father to fight in a tournament to win her hand, which he accepts, because he wants to prove to the world that though he's lost an arm, he is still a worthy opponent. In the scene, they go back and forth between a bit of seriousness, teasing, flirting, and reveal things about each other that they might not have to anyone else.
"Why would ye choose me when ye can have any man ye want?"
Bella let out a short, sarcastic laugh and stood. He watched the gentle sway of her hips as she approached him, feeling an ache of desire deep inside.
When she stopped in front of him, the answer she gave was like an arrow straight to his heart, and it hurt like bloody fire. "Because ye canna be a true husband to me."
He narrowed his eyes. "What is that supposed to mean?"
She gestured to his arm. "With your injury."
"What has that got to do with being a true husband?" Och, but she had the power to ignite every emotion inside him. Anger. Desire. Compassion. Humor. Fury. Humiliation.
Her face flamed with color and she avoided his gaze. "Ye know what I mean."
"Do I?"
Uncertain eyes met his. "Dinna toy with me, Sir Niall."
"I fear I am lost," he ground out.
"Then let me save ye." There was a slight tremor in her jaw that showed she was vulnerable behind the strength and the teasing, too. But how? Why? "Now go ahead and kiss me."
"Kiss ye?" He stared at her lush lips, wanting more than anything to do what she asked.
"Aye. I did not entertain ye. Take your prize."
Niall stared down at her creamy face, her wide blue eyes, and felt his body stir. She was so beautiful. So cunning. So ornery. Lord, but he wanted her. Wanted to fight to prove he could have her. To prove to her he wasn't broken. "A kiss from ye is not a prize, but a gift."
"Then accept your gift," she whispered.
What do you want people to take away from reading this book?
In every story I write, I want being to escape their every day world and immerse themselves in a story that is full of emotion, passion, adventure and ultimately gives them a satisfying journey! I suppose the theme in this book, is that despite the injuries/hurts we have both emotionally and physically, we can rise above it, and find love, beating back anyone who might tell us we are not worthy. We are all worthy of love and happiness.
What are you currently working on? What other releases do you have planned for 2017?
I have just finished the draft of The Highlander's Quest, which is a novella that will be published first in the Ladies of the Stone anthology! After edits on that, I will begin working on the next book in the Sutherland Legacy series, as yet to be titled, but which features Bella's oldest brother, Magnus aka Strath.

Thanks for blogging at HJ!
Giveaway:

I would love to give away a signed, print copy of the book. (US and Canada only)
To enter Giveaway: Please complete the Rafflecopter form and Post a comment to this Q:

If you could have any one ability/skill what would it be? Have you tried to obtain it?
Excerpt from The Highlander's Gift:
This excerpt is the longer scene from the snippet above, and ends right where the scene above starts!

Niall ducked into the first door he found, closed it and sagged his forehead against the wood paneling. Too late, the floral scent of a woman reached him. Niall whirled around, fearing he'd stepped into a lady's bedchamber. He found himself both relieved and panicked to realize he was in a solar, without a bed in sight.
Lady Bella was perched on an ornate chair with a thick sheaf of parchment in her hands. Golden candlelight glinted from the glorious golden curls framing her face, and violet eyes taunted him. Her rose-red lips quirked in a teasing grin.
"Well, sir, this is most inappropriate. Our betrothal has not even been formally announced." Saints, but her voice and the way her lips moved when she formed words took his breath away.
"My lady." He bowed, swallowed hard and then managed to find his tongue. "How can ye be so certain I have accepted our betrothal?"
She pursed her lips. "Have ye not?"
He shrugged, and at that noncommittal movement, the mirth that had filled her eyes dimmed slightly.
"What are ye doing here in my solar, Sir Niall, if not to find me?"
Ballocks, but he'd not meant to offend the lass. He glanced toward the door. The sounds of feminine laughter filtered through, and for one fearful moment, they seemed primed to enter, but then they passed. There was no use but to be honest with Bella. "Escaping."
He glanced back at her to gauge her reaction and was glad he did. She winged a golden brow, and he had a similar response to his blatant honesty. The lass seemed to tear down his defenses without him even realizing it. He could have told her anything, like how his heart was pounding or that he was glad to see her.
"From whom?" she asked.
"The princess…" But his throat tightened, and he found himself unable to finish his sentence.
She waved the papers at him in dismissal of his words. "Say no more. Come and sit. I will tell ye a story."
Sit with her? Nay. There was no way in bloody hell he was going to get closer to her. Just being in the same room made him feel witless. Besides, even if he had agreed to fight in the tournament to prove himself to Magnus and accepted the challenge in order to win her hand, they should not be alone together. "I canna."
"Why not?"
Why did her voice have to be so smooth and melodic? "As ye said, my lady, 'tis most inappropriate."
That taunting smile remained. Not much had changed from when they were young, and he wanted to slink closer to sit beside her and tug her onto his lap. To ask her all of the things he wanted to know about her. To kiss her.
"Did my father speak with ye?"
Niall cleared his throat, trying to clear his mind of his improper thoughts. "Aye," he barely croaked out.
"And?" Her eyes bore into him, seemingly reading every thought that dared cross his mind.
Niall leaned his back on the door and considered barring it from anyone who might want in. He considered charging forward, crowding her space, pinning her there and pressing his lips hard to her taunting mouth. "If I do well in the tourney, we shall wed."
She frowned, clicked her teeth with a fingernail. "Ye may not recall, Sir Niall, but I've seen ye fight before. I've every confidence ye will please my father on the morrow and we shall be wed, so sit." She tapped the arm of a wooden chair to her left.
Niall glanced at her, a little surprised at her certainty of his doing well. He was also warmed by the fact she remembered him. There appeared to be no doubt in her mind of his skill, and he found it unnerving. How could she believe in him when she knew full well he was missing an arm—the limb that should protect him from a blow when his other was on the assault? But rather than ask, he simply said, "Nothing is guaranteed, my lady."
She uncurled her legs from beneath her, tiny slippers touching the bearskin rug before her chair. "Well, there are some things that are guaranteed, such as we all die sometime. And that I will not relent on ye listening to my story."
How effortlessly she changed the subject. How easy it was to be with her. He wanted to shout with joy and run with fear. "Ye're a stubborn lass." Still, he didn't move, though he did find himself smiling.
Bella grinned widely, leapt to her feet and dipped into a mocking curtsy. There was such vibrancy about her it made him want to laugh. A feeling he'd not had in a long time. In fact, he couldn't remember the last time he'd smiled.
She was making it so uncomplicated. As if his being in her solar was an everyday occurrence. The chair beside her beckoned, and her scent tugged him forward. For the first time in over a year, Niall's mind skipped over his weaknesses and leapt right into flirtation. "Verra well, my lady, what will ye give me if I sit and listen to your story?"
She sat back down and pursed her lips at him, those golden arched brows dancing upward on her forehead. "I didna realize I had to give ye anything. Is my story not entertainment enough?"
"We shall see," he teased, the corner of his mouth quirking into a smile.
"And if it is not, what will ye demand of me?"
Och, but that was a loaded question, one he could not help give a goaded response to, one that shocked him even as it left his mouth. "A kiss."
Violet eyes widened in surprise, but not with disgust. Nay, in fact, her gaze held a hint of interest. "It will be verra entertaining then, I assure ye."
Oh, what a clever tease. The sound of his laugh was foreign, as though hearing something from a long-lost friend. He even startled himself when he did it. But Niall couldn't help but chuckle at her certainty, and what it meant—that she didn't want to kiss him, or perhaps she was afraid to, for there had been interest sparking in her gaze. Curious, considering she had requested her father arrange for them to be wed. What did she hope to gain from the union?
The lass gestured for him to sit, a stern look on her face. Just as when they'd been younger, Niall was loath to disappoint her. On legs that were sturdier than an hour before, he crossed the room. She smiled up at him as though she'd won a battle, and his chest squeezed in response. Her floral scent was all the more powerful now he was standing this close to her. In the candlelight, he could see her creamy skin was perfection, and he had to fist his hand to keep from reaching forward to touch her and see if it was as soft as he imagined.
Saints, when her father said she was unique, he might have also mentioned how bossy she still was. Niall wouldn't quite call her a shrew, because she was charming as she dictated what she wanted. Just as she had been when they were children. The insight brought on another smile—as he realized the woman he'd dreamed her to be was also just as commanding.
"Can I get ye a glass of ale or wine?" Lady Bella's voice sounded deeper, throatier, and the arch of her cheekbones had taken on a pink twinge.
Niall bit the tip of his tongue and then muttered. "Nay, I thank ye."
"All right." She cleared her throat. "Then so we shall begin." Again, she indicated for him to sit, and he did so swiftly, without taking his eyes from hers.
"I'm all yours, my lady."
She raised a brow at that, and he winked. Dear God, he was flirting. The lass had opened up a whole ocean of emotion and desire he'd keep locked up tight and threatened to never see again.
The delicate blush creeping over her cheeks deepened at his wink. "Well, then, I shall begin. Listen carefully, and prepare to be entertained. On a dusky morning, a warrior returned from battle, hardened by the things he'd seen and wounded by his enemy's blade."
Niall frowned, gaze locked on hers as he realized she wasn't reading from the parchment but staring straight into his soul. It was unnerving. And yet he couldn't tear himself away. Her face was full of admiration, and it made him want to run once more.
"This warrior's name was Strength."
Niall shook his head. "'Tis not a name, but a trait."
"Shh," she admonished, reaching forward and tapping him where he rested his elbow on the arm of the chair, "Let me tell the tale."
"Verra well." His skin sizzled where she'd tapped him.
"Strength had been tested. He'd been pushed to his limits and still did not falter, not even when his enemies took parts of him that would never heal."
Was the lady taunting him? Throwing his wounds back in his face? He frowned, moving to cross his arms over his chest and nearly breaking down when he realized the position was rather awkward with only one arm. It was a wound he wished away, a wound he knew would forever make him lame in the eyes of all. In her eyes. Gritting his teeth, he stood and marched to the window, her voice trailing behind him as she spoke of the empty village mirroring the emptiness in the warrior's heart.
"With all his prospects hanging in the balance, his lost love dead in a siege, Strength was certain he'd not the will to go on."
Niall wanted to hate her. Wanted to go back in time and instead of letting her thump on him in hand-to-hand combat, to lay her on the ground and pin her there, where she couldn't beat him.
"But a fairy came to him, beautiful and golden, she rose majestically from the mist and offered him a different future."
Niall turned around then, leaning against a tapestry, the thickness of it not hindering the biting chill of the stone beneath it. He narrowed his eyes and glanced at her with all the pent-up frustration he had inside. What, did she think she was his savior? He had thought briefly in her father's study that the proposal might be one of pity, and now he was almost certain. "Let me guess, the fairy offered him marriage?"
She cocked her head to look at him, interest in her eyes that he'd not seen from any woman since he'd lost his arm. Interest and something deeper that had him questioning his theory on pity. "Nay. She did not offer him marriage, for what marriage could they possibly have? Instead, she offered him a truce."
"A truce?" he asked mockingly.
"A wish," she countered with a delicate shrug.
"A penance," Niall growled.
But Bella only smiled. "The fairy was in need of a protector, and the warrior was in need of—"
"I dinna need anything, lass."
Lady Bella tsked. "How conceited of ye to think this story is about ye, Sir Niall." She pushed out her lower lip in a pout.
"Isna it?" He hated the harshness in his tone and admired her all the more for being seemingly immune to it.
"Nay. Any similarities are merely a coincidence." Again, that hint of a smile.
He laughed harshly this time, not mirroring at all the joy in the sound earlier. "I am not entertained."
Lady Bella harrumphed from across the room. "Well, that is indeed a shame. I was trying to be clever."
"About?"
"A lady never divulges the inner workings of her mind."
"Humor me."
"If ye insist."
"I do."
"Fine." Bella shrugged and set her parchment aside. "I was merely trying to give ye my reasons for wishing a marriage betwixt us in a more interesting fashion than blurting them out like milkmaid."
"I'm a warrior, not a child, lass. I dinna need fairytales, I need facts."
She twirled a lock of hair around her finger, and he had the sudden urge to be the one doing so. To grab her. To shake the truth out of her. To rail at the world for the loss of his arm and this mocking lass.
"Believing in a little magic now and then never hurt anyone." Her soft words put a dent in his anger.
"It wouldna have saved me, either." He glanced down pointedly at his empty shirtsleeve.
"Perhaps it will now." Her voice was soft, having lost all the sarcasm she'd dared imbue earlier. There was a sweetness that drew him in. It made him want to lay his head in her lap and feel her stroke his hair. Och, but I'm so weak.
"Tell me why, and be done with it," he demanded. "I dinna want your pity, and I dinna need saving."
She let out a great sigh and locked her gaze on his. "I am in need of a husband, Sir Niall, though I dinna want one. Ye're in a need of a wife, and given your reaction, or lack thereof, to being rejected by the princess, ye dinna want a wife—but whether ye want one or not, ye need one. Ye're the heir to the Oliphant Clan."
He shrugged, still frowning. "I'll pass that title on to my brother and his wife."
"Fine, then for your own pride."
Again, that bitter laugh escaped him. "I've verra little pride left."
"I dinna believe ye." She'd straightened her shoulders, and her teasing eyes were replaced by something stronger, that resolute lass he'd first met.
Excerpt. © Reprinted by permission. All rights reserved.


Book Info:
Betrothed to a princess until she declares his battle wound has incapacitated him as a man, Sir Niall Oliphant is glad to step aside and let the spoiled royal marry his brother. He's more than content to fade into the background with his injuries and remain a bachelor forever, until he meets the Earl of Sutherland's daughter, a lass more beautiful than any other, a lass who makes him want to stand up and fight again.
As daughter of one of the most powerful earls and Highland chieftains in Scotland, Bella Sutherland can marry anyone she wants—but she doesn't want a husband. When she spies an injured warrior at the Yule festival who has been shunned by the Bruce's own daughter, she decides a husband in name only might be her best solution.
They both think they're agreeing to a marriage of convenience, but love and fate has other plans…
Book Links: Book Links: Amazon | B&N | iTunes | kobo | BAM |


Meet the Author: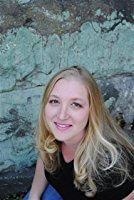 Eliza Knight is an award-winning and USA Today bestselling indie author of over fifty sizzling historical romance and erotic romance. Under the name E. Knight, she pens rip-your-heart-out historical fiction. While not reading, writing or researching for her latest book, she chases after her three children. In her spare time (if there is such a thing…) she likes daydreaming, wine-tasting, traveling, hiking, staring at the stars, watching movies, shopping and visiting with family and friends. She lives atop a small mountain with her own knight in shining armor, three princesses and two very naughty puppies.
Website | Facebook | Twitter | Instagram | GoodReads |