Today it is my pleasure to Welcome author
Elizabeth Michels
to HJ!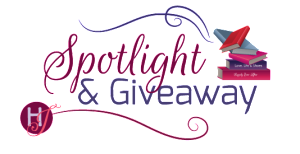 The Spare Heirs Society Cordially Invites You to Meet Ethan Moore: The Scoundrel

Thanks so much! I'm happy to be here. This book is the first book in the Spare Heirs series, and I couldn't be more excited about it!

Please summarize the book for the readers here: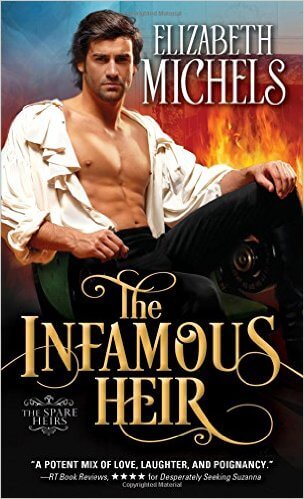 This series follows the gentlemen of the Spare Heirs Society. The Spare Heirs is a secret society of second, third, and fourth sons from titled families who have banded together for survival in society, hidden from the watchful eyes of the ton. No one knows of this secret club's existence, their scandalous ways, or their control over most of London. But when a few of the members become entangled with ladies, all bets are off.
The heroine of this story, Roselyn, first made an appearance in Must Love Dukes. She is Devon Grey, Mad Duke of Thornwood's younger sister. When we catch back up with Roselyn in The Infamous Heir, it's one year later and finally time for her come-out season. She has everything arranged and in order from her gowns and accessories down to the gentleman she will soon marry.
Then Ethan Moore arrives in town. When this reckless pugilist, and younger brother of her intended, reappears after a long absence, things begin to unravel. Soon disaster strikes for Ethan's brother, and Roselyn is left to face a very different season from the one she had designed. Of course organizing plans is something Roselyn does quite well.
Her new plans include, sneaking around London and gathering clues to prove Ethan Moore is the worst sort of scoundrel—a murderous scoundrel. She also plans to wear her new "spy shoes," otherwise known as black dancing slippers with rose embroidery on the toes.
Ethan isn't the sort of gentleman who makes plans, but he is certain with the help of the Spare Heirs, he can solve the mystery of his brother's demise and—if he's lucky—gain back Roselyn's trust in the process.

Please share the opening lines of this book:
Another punch skimmed past Ethan's ear. The rush of air and cheers of the other men closed in on him as the blow sailed by. He put his weight behind his next swing, his knuckles colliding with his opponent's jaw. He watched as the man toppled to the floor with an echoing thud, and he waited.
Please share a few Fun facts about this book…
The house at the beginning of the story is named after the area where I lived when I was in England the first time at 18 years of age. Ormesby Bank became Ormesby Place, though the home in the book is located nearby but not exactly in the same location.
Although it's part of a different series, this book takes place in the gap in time in between two of my books already on shelves. Therefore there's a peek at the happily ever after of one couple from a previous story, (Devon and Lily from Must Love Dukes,) and also a look at the heroine of another story before her book begins, (Katie from How to Lose a Lord in 10 Days or Less.)
There's a character who flits through the background of one scene named Lady Mantooth. She has this name because one of my friends dared me to name her that, and so I did. *grins* My friend and I had watched the movie, Anchorman together one night, and we thought the name mentioned in one scene was hilarious. There might have been some wine involved.
If your book was optioned for a movie, what scene would you use for the audition of the main characters and why?
What an exciting thought! If The Infamous Heir was optioned for a movie, first I would flail my arms and jump up and down in glee, then I would select the following scene for auditions. Of course appearance of the actors as well as characterization of two estranged childhood friends who have changed drastically during their time apart, are important elements. But I think it's most important that the characters have chemistry with one another. That connection would certainly be evident in the beginning of the story when these characters meet. In this scene there is an interesting mix of curiosity, dislike, and attraction between the two that displays glimpses of who the characters truly are at their core.
To set it up, Ethan has returned home after years spent on the continent. His family is throwing a house party for the occasion and Roselyn arrives from a neighboring estate on a rainy afternoon. Though the two were friends as children, seeing each other for the first time in the drive as adults changes things a bit… Meet cute, take one. And action!
"You can't spare a footman to haul my trunks and valise inside?" Roselyn asked.
Mr. Ethan Moore didn't seem to mind the rain that splashed down on them in the drive. "I'm afraid not."
"Not a single servant to assist your guests as they arrive? And I thought Ormesby Place to be a welcoming, organized home. The devil it is." She muttered the last bit under her breath, sure he hadn't heard her.
"What was that, my lady?" he asked, leaning in.
"Oh, nothing." How had he heard her comment? She always tried to be so careful of such things. It was as if the ugly habits she'd worked so diligently to eliminate from her life were rising to the surface against her will. And she blamed Mr. Ethan Moore for every bit of it.
"If your precious possessions mean so much to you, princess, I will personally assist you with your things."
Finally he was going to see reason. She smiled in relief. "Well, that was all I required. Thank you."
He bent and lifted the small valise from the top of the pile of trunks, slinging it over his shoulder with a grin. "That trunk looks light enough. You should be able to manage it." With those careless words, he turned and began to stroll away toward the door.
Was he whistling? What an infuriating man!
Roselyn stood rooted to the ground in shock for a moment, watching him walk away through the rain. Then, something snapped within her. The gently bred lady she tried to portray was stripped away, leaving behind the young, reckless girl she thought she'd outgrown years ago. He couldn't walk away from her in such a manner.
She took two steps to the edge of a flower bed, scooped up a fistful of fresh soil within her white- gloved hand and flung it as hard as she could at Mr. Moore's back. Watching as it splattered across his upper arm, slinging droplets onto his cheek, she felt a moment of visceral triumph. Then she gaped at him.
What had she done? She hadn't even considered doing anything so childish in years— not since that summer when she'd set a trap to trip him as he crossed one of the fields, then laughed as he tugged her down into the dirt with him. The memory of her laughter faded as reality set in. Her plans! What had she been thinking? But, of course, she hadn't been thinking.
He turned, an affronted look crossing his face as he stared at her.
In that moment, in spite of their current ages, he was the boy next door again, chasing Katie and her through the woods as they cackled with glee. She bit her lip to keep from laughing.
He glanced down at his arm in disbelief, dropped her valise to the ground, and began prowling toward her. Oh. Perhaps this had been a mistake. A challenging gleam filled his eyes, turning them as dark as black water in a cold lake.
Oh dear. She blinked once, twice, then turned and ran.
She'd made it to the corner of the house where the edge of the lush gardens overlooked the moors when she felt a large hand wrap around her upper arm, dragging her to a halt. She could feel the heat of him behind her. She had never been so close to a man before. Her heart hammered within her body. Even Lord Ayton had never dared touch her like this. She'd never felt a gentleman's body pressed into hers as Mr. Moore's was now.
"Leaving so soon?" he murmured, his lips almost grazing the rim of her ear.
What do you want people to take away from reading this book?
More than anything, I want people to be entertained by the story of these characters. I want them to laugh with them, cry with them, and find joy in their romance. But if I were to convey any message through my books it would be that love is possible even in the worst circumstances if you're willing to jump from solid ground, grab it, and not let go. Anyone can overcome life's obstacles to reach their own happily-ever-after.
What are you currently working on? What other releases do you have planned for 2016?
I'm currently wrapping up the Spare Heirs. Since there are four books in this series, I'm working on the ending now. I recently turned in the edits for The Rebel Heir, due to release this fall, and I should have a cover to reveal for that book soon. There are always other stories brewing in the background, but right now I'm really looking forward to sharing the wild gentlemen of the Spare Heirs series with the world.

Thanks for blogging at HJ!
Giveaway:

Print copy of The Infamous Heir (Spare Heirs)
To enter Giveaway: Please complete the Rafflecopter form and Post a comment to this Q:

What are you looking forward to the most in 2016? A vacation this summer? Spring flowers in bloom? Let's chat.
Excerpt from The Infamous Heir:
In this scene, Roselyn is nursing a sprained ankle at a ball. And Ethan comes to her rescue by taking her out to the terrace during a dance.
Roselyn stepped through the door to the stone terrace and breathed in the scent of leaves on the cool evening air.
"It's a shame there isn't seating outside. It's such a lovely night, but I confess my ankle is beginning to ache even with that small amount of walking."
Ethan turned to survey the empty terrace. "Allow me to assist." With a quick movement she hadn't time to brace for, he lifted her from the ground and sat her on the top rail of the stone wall that ran the length of the space.
She gasped and gripped his upper arms for support in her precarious position. "I'll fall into the garden below."
"You've room to sit," he said with all the confidence she lacked. "It's the best I can offer at the moment."
"I'd feel better standing." But the pain in her ankle was already fading as she sat, swinging her legs below her. She glanced over her shoulder at the bushes in the garden at her back. It wasn't far enough to break bones if she slipped, but that didn't mean she wished to experience it.
"I won't let you fall," Ethan said, reading her thoughts. The heat of his gaze burned a trail down her neck, drawing her attention back to him. He'd settled his hands on her waist where he left them, the warmth of his grasp seeping through her gown and through her veins until her feet stopped swinging below her.
This is no different than a waltz, Roselyn told herself. There was closeness when dancing and that was an acceptable activity. This was simply the still version of a waltz. But it was more than a dance and she knew the truth of that. Theirs was a near- embrace, alone on a moonlit terrace.
"This seems rather scandalous if anyone were to see us," she said in a breathless voice.
"You're injured and needed to rest your foot." He shrugged. "And I made sure you were in the shadows of Sutton House. I wouldn't want to damage your reputation again."
"Your reasoning seems quite sound." She released her grip on his arms to slip her hands to his shoulders.
Although she wanted more than anything to wrap her arms around him and hold on to this moment and secure her place within it, she settled for a polite touch. Even through layers of clothing, gloves, coat, and shirt, she could feel the warmth of his body close to hers. The steady rhythm of his breaths pulsed beneath her palms. Time could only be measured in heartbeats and the increasing longing she had to kiss him.
The wall had brought her to eye level with him. His lips were so close to her own. What would he taste like? Was he wondering the same? And then a terrible thought occurred to her— what if he wasn't wondering the same? What if he was only being a gentleman and assisting an injured lady in need?
"Roselyn?"
"Mmmm?"
"I want to smash your reputation to a point beyond repair right now."
Her gaze lifted from his lips to his eyes— dark eyes that reflected the dangers of being alone with him. "You do?" she asked in a small voice as hope soared through her body. She bit her lip to try to hold back the words but lost the battle after a second. "How would something of that nature begin?"
"Don't ask me that," he warned as his fingers bit into her sides.
Did he not want to kiss her as she did him? She didn't want to be the only one thinking such tantalizing thoughts. But she would never know either way if she didn't ask. She took a small breath. "Why not?"
"Because I'll show you." His gaze dropped to her mouth.
One part of her silently pleaded for his touch, to taste his lips, just as the other remained mortified at the brazen thoughts hanging in her mind. She pursed her lips as she looked at him. Did she dare? Her heart pounded in her ears as she drew the courage to speak. "Show me."
He slipped his hands to her lower back, drawing her in to his body. He was so close. If she stretched forward only a breath, he would be hers. Her gaze was focused there on the beckoning temptation of his mouth. Please, kiss me; please, kiss me, her heart chanted until finally his lips met hers in a soft caress. Her eyes drifted closed into darkness as the warm touch of his lips invited her farther into his embrace.
The heat of his skin beneath her hands. The press of his lips to hers. She didn't know what she was doing, but she knew she wanted more. Like a decadent serving of sweets of which one couldn't take only one bite, he filled her senses and left her begging for more. What began as something tender quickly turned needful. Her grasp on his shoulders tightened as he traced the seam of her lips with a teasing lick of his tongue. They melted into one another in a frenzy of desire and seeking kisses.
She bit at his lower lip, sucking into her mouth the only soft part of this world- hardened man. One hand came up to cup her cheek as he slipped past the barrier of her lips to taste her. Matching his movements, she tangled her tongue with his. She dug her fingers into his shoulders with greedy grasps, wrinkling his coat beneath her hands. She didn't care. The bulky garment was only another barrier between them. He shifted forward a fraction and pulled her into his embrace as their kiss deepened.
A moment later she realized she was no longer sitting on the wall but poised on its edge as Ethan held her close and kept her from falling. She ripped her glove off and slid her hand into his hair, soft warm strands weaving in and out of her fingers as she clung to him.
He wouldn't let her fall. She wasn't sure where the thought came from but she knew it was true. As long as he was with her, she didn't have to strain for stability. She didn't have to hold on to anything but him. It was odd that hanging a second from falling and losing oneself in passionate kisses with a man she once feared left her free. Unplanned, reckless freedom— he tasted of it, and she licked it from his lips.
She could remain here forever. Freedom and intoxicating kisses should last forever. But Ethan had made her no promises…
Excerpt. © Reprinted by permission. All rights reserved.

Book Info:
Lady Roselyn Grey's debut has finally arrived, and of course, she has every flounce and flutter planned. She'll wear the perfect gowns and marry the perfect gentleman…that is, if the formerly disinherited brother of the man she intends to marry doesn't ruin everything first.
Ethan Moore is a prize-fighting second son and proud founding member of the Spare Heirs Society-and that's all he ever should have been. But, in an instant, his brother's noble title is his, the eyes of the ton are upon him, and the lady he's loved for years would rather meet him in the boxing ring than the ballroom.
He's faced worse. With the help of his Spare Heirs brotherhood, Ethan's certain he can get to the bottom of his brother's unexpected demise and win the impossible lady who has haunted his dreams for as long as he can remember…
Spare Heirs:
The Infamous Heir
The Rebel Heir
The Wicked Heir
The Unsuitable Heir
To order your copy of The Infamous Heir:
Amazon: http://goo.gl/tIlDIR
Barnes & Noble: http://goo.gl/2pcYC0
Kobo: https://goo.gl/XysoXd
Google Play: https://goo.gl/wVyRus
iBooks: https://goo.gl/3jSTvj


Meet the Author: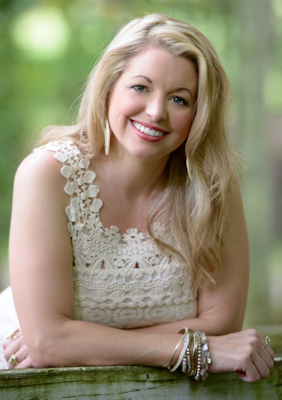 Elizabeth Michels is an award-winning Regency romance author, known for her Tricks of the Ton series and now her Spare Heirs series. She grew up on a Christmas tree farm in rural South Carolina. After tip-toeing her way through school with her focus on ballet steps and her nose in a book, she met a boy and followed him a thousand miles away to Kansas City, Missouri where she lived for many years. Together, they spent their summers with his family in England, soaking up culture and history. Elizabeth attended Park University where she graduated Magna Cum Laude with a BA in Interior Design.
​Elizabeth now spends her days creating plots and concocting characters in a lake-side town in North Carolina. When she is not typing as fast as human movement will allow, she is caring for her husband and little boy. Elizabeth Michels is a lover of happily-ever-afters. Whether in her writing life or in her home life, she spends her days with one word on her lips: love. She invites you to read her stories, get lost and enjoy. www.elizabethmichels.com
Website | Facebook | Twitter |