Today it is my pleasure to Welcome romance author
Jennifer Hayward
to HJ!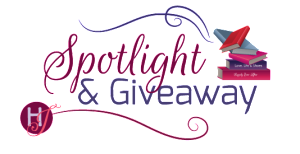 Hi Jennifer and welcome to HJ! We're so excited to chat with you about your new release, The Italian's Deal For I Do!


Hi everyone – I always love being here at HJ! Thanks for having me!

Tell us about the book with this fun little challenge using the title of the book: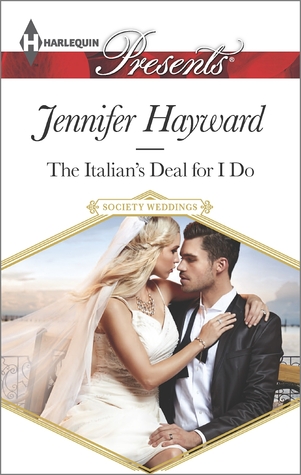 I – is for sexy, broody Italian, Rocco Mondelli, my hero
T – is for how terribly Rocco treats my heroine Olivia on their first meet!
A – is for how awesome a hero Rocco turns out to be as he helps Olivia recover her soul
L – is for the laughter I had when I wrote my favourite scene
I – is for intense. That's how I'd describe Rocco and Olivia's relationship. Captial I.
A – is for how amazing the entire Society Wedding quartet is with Michelle Smart, Tara Pammi and Andie Brock's books!
N – is for Navigli the beautiful canal area in Milan where Rocco first seduces Olivia. He would have had me too!

What is the significance of the title: The Italian's Deal For I Do
The title refers to the classic marriage of convenience story that this book is, but I hope I've put a fun, purely Jennifer Hayward spin on a classic trope! I loved writing this book SO much!

Please share the opening line of this book:
"HE WILL NOT make it through the night."

The grizzled old priest had served almost a century of Mondellis in the lakeside village of Varenna. He rested his gnarled, weathered hand on the ornately carved knob of the inches-thick, dark-stained door of Giovanni Mondelli's bedroom and nodded toward the patriarch's two grandchildren.
Please share a few Fun facts about this book…
I worked very closely with my Italian friend Valentina to find the perfect spots in Milan to set the story. I think the canals of Navigli must be one of the most romantic spots ever.
The creatures in Maurice Sendak's, Where the Wild Things Are, inspired Rocco's sea monsters.
I wrote a prequel story for the Society Weddings Series called Society Wedding Secrets which gives you an introduction to all four sexy bachelors and the extreme shenanigans they cause at a glitzy wedding at a French chateau. You can read it here: http://www.harlequin.com/articlepage.html?articleId=1969&chapter=1
What first attracts your Hero to the Heroine and vice versa?
Oh it's old fashioned physical lust at first. Rocco is a mysterious dark Italian Olivia can't resist and she's the golden-haired American former supermodel that graced every magazine cover. Rocco doesn't want to want her for so many reasons, but he can't help himself. And he hates himself for it!

The First Kiss…
Oh I love this kiss. Such mixed emotions. Rocco has seduced Olivia into taking him home under false pretences and she is so caught up in him, but she also can sense everything is not as it seems…

Something glimmered in his gaze. "Aren't you going to invite me in for an espresso to cap the evening off?"

"I don't know," she answered honestly, knees weak.

"Oh, come on, Liv," he chided, that glimmer darkening into a challenge. "Men are territorial. Would you expect a man like me not to be?"

No. Yes. Her head swam.

He closed the gap between them until he was mere inches from her. His palm came up to cup her jaw, his gaze dropping to her lips. Her own clung shamelessly to that lush pout she'd been staring at all night, had been wanting to kiss all night. And he knew it.

He lowered his head and rocked his mouth over hers. Smooth, questing, he exerted just the right amount of pressure not to frighten her away, and that mouth, that mouth, was sensational. She anchored her palms against the solid planes of his chest, her bones sinking into the hard line of the wall as he explored the curves of her mouth. He kissed her so expertly she never had a chance. All she could do was helplessly follow his lead. When he delved deeper, demanded entrance to the heat of her mouth, she opened for him.

Their tongues slid along each other's in an erotic duel that rendered her knees useless. She dug her fingertips harder into his chest, breathing him in, registering how delicious he smelled. He was a potent combination of heady male and tangy lime, and she was completely and irrevocably lost.

He pulled back, his gaze scouring her face. "Your key," he prompted harshly.

Her brain struggled to process the command. Blood pumping, head full, she rummaged through her purse, found her keys and handed them to him.
Without revealing too much, what is your favorite scene in the book?
This scene made me laugh so much writing it. Olivia is playing Rocco's fake fiancee as they meet one of his best friends, Stefan, for the first time, trying to convince him their engagement is real. Olivia has just realized Rocco is attracted to her after rejecting the idea and bruising her ego. And now it's payback time.
A smile curved Olivia's lips. "He picked me up in a café after scaring my girlfriends away… It was more…lust than love at first sight."

Humour darkened his friend's eyes. "That sounds more like him. What isn't like him is to fall flat on his face like this. He's usually much more careful. I always said if he'd ever marry he would choose a blue-blooded Italian to carry on the Mondelli line and live a very premeditated life."

Olivia blinked at the backhanded compliment. Rocco put up his hand. "I'm still here fratello, in case you'd forgotten."

His friend shrugged. "You have to admit, this is knee-jerk behavior for you. If we were in my wine cellar, you'd spend half-an-hour choosing the vintage, then decide perhaps it needed more thinking on."

Olivia put her water down with a deliberate movement, those amazing blue eyes of hers glittering as she recovered. Rocco almost jumped out of his seat when she curved her palm around his thigh underneath the table and squeezed. "Apparently we are compatible on other levels. Although Rocco attempted to deny it at first."

A muscle jumped in his jaw at the twin sensations of Olivia's hand burning into his thigh like a brand and the anger emanating from her like a physical, living entity despite the smile plastered across her face.

"There was a slight miscommunication between us at first," he managed. "We moved past it."
Olivia's fingers splayed wider on his thigh, caressing muscles far too alert from that close encounter in the dressing room.

Stefan's gaze sharpened on his fiancée. "That was you at Giovanni's funeral."

Olivia nodded. "Rocco and I had had a lover's quarrel. Not the most appropriate place I admit, but he was green with jealousy over my former relationship with Guillermo Villanueva. I managed to convince him there's simply nothing left there."

"There's a first." Stefan's mouth quirked. "I'm not sure I've ever seen Rocco care enough about a female to go running after her."

Rocco gritted his teeth, unable to remove Olivia's disturbing hand because his right hand was covering hers on the table. He squeezed it hard. "I did not run after you."

"Of course you did, sweetheart." She gave him a saccharine-sweet smile and closed her fingers over his thigh in another firm squeeze. "You showed up on my doorstep with flowers and poetry."
She angled a look at Stefan. "Can you imagine, big bad Rocco writing poetry? It was outrageously cute. Anyway," she said, looking adoringly back at her fiancée, "he really had nothing to worry about. He knows I only have eyes for him."

A hot flush spread its way across his cheeks. His brain was catching up with his groin now and it hit him what was happening. Olivia had read his attraction in that dressing room, had figured out he was lying. And this was payback.

He released her hand and captured the one on his thigh, bringing it to his lips. "I do know that, il mio amore. Now stop spilling our secrets. I'll never be able to live them down."

"On the contrary," Stefan demurred, "I am highly entertained."
If your hero had a sexy-times play list, what song(s) would have to be on it?
Sexual Healing – Marvin Gaye – Rocco & Liv when they finally make love… It's spiritual to me
Anticipation – Carly Simon – Liv has Rocco on the edge as she plays his wife-to-be over dinner with best friend sexy Stefan Bianco.
Brass in Pocket – The Pretenders – Rocco and Liv's hot sexy relationship to a T
Misunderstanding by Genesis – The ending. Will Rocco's bride show—or not?!

What do you want people to take away from reading this book?
That sometimes to heal, to become more powerful, you have to make yourself vulnerable to someone else.It's almost counter intuitive. In doing that for each other, Rocco & Liv learn to be whole again.

What are you currently working on? What other releases do you have planned for 2015?
I am working on a trilogy for 2016 about a royal family in a Mediterranean island kingdom I've created. Fun! In June and Oct this year I have my Tenacious Tycoons duo coming from Harlequin Presents – my two ying and yang, American automotive tycoons who couldn't be more different but will both find love in two very amazing women! Tempted by Her Billionaire Boss comes in June and Reunited For The Billionaire's Legacy in Oct.

Thanks for blogging at HJ!
Giveaway:

2 signed, autographed copies of The Italian's Deal for I Do – open internationally
To enter Giveaway: Please complete the Rafflecopter form and Post a comment to this Q:

One of the biggest lessons I've learned in my life is not to judge other people until I've walked a mile in their shoes. Rocco certainly learns this by the end of the book. How about you? What is your biggest lesson learned?
Book Info:
The Irresistible Italian: Married for Business
He's conquered global markets and immeasurable hearts, but to regain control of the fashion empire that's rightfully his, Rocco Mondelli must prove his playboy days are over. His secret weapon? Supermodel-in-hiding Olivia Fitzgerald…and the power to ruin her if she refuses to play his loving fiancée!
But returning to the world stage revives Olivia's old demons, and instead of walking down the aisle toward her gorgeous groom—she flees! The world holds its breath: Can the indomitable Rocco get his wayward bride to the altar on time?
The world's sexiest billionaires finally say "I do"!
Book Links:

Meet the Author: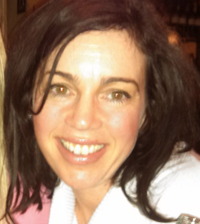 JENNIFER HAYWARD has been a fan of romance since filching her sister's novels to escape her teenaged angst.
Her career in journalism and PR, including years of working alongside powerful, charismatic CEOs and traveling the world, has provided perfect fodder for the fast-paced, sexy stories she likes to write, always with a touch of humour.
A native of Canada's East coast, Jennifer lives in Toronto with her Viking husband and young Viking-in-training.
Website | Facebook | Twitter |