Today it is my pleasure to welcome author 

Eleanor Moran

to HJ!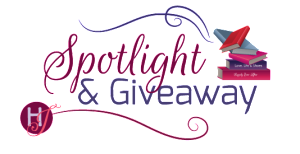 Drawing literary inspiration from Melissa Bank's warm-hearted insights into contemporary life in The Girl's Guide to Hunting and Fishing, and from Daphne Du Maurier's passionate, classic melodrama Rebecca, Moran's The Last Time I Saw You offers a gripping plot, deepened by a heartfelt, relatable examination of friendship and love.
What was your inspiration for THE LAST TIME I SAW YOU? How did you first get the idea for the story?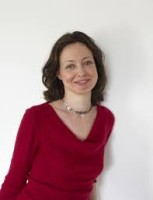 The Last Time I Saw You came out of two experiences – a hypnotic, seductive friendship I had at university which exploded in my mid twenties. It took me a long time to process the viciousness of the 'break up' and I wanted to write about the ambiguity and treachery of female friendship gone wrong. I also wanted to write about the 'haunting' that can take place in relationships we have in our thirties and forties. Livvy's sister tells her "men move on, they can't stand the silence" and I think it's true. I wanted to write about that.
Do you have a favorite character from the book? One who was a pleasure to right? Difficult?
I love all my characters! I fell in love with William, despite him being such a stuffed shirt. I sort of have to when I write a love interest. I loved the complexity of Sally, and I loved her, despite her selfishness and how bad she was for Livvy. She is mercurial and a trickster, and in drama those characters are vital. She can do unexpected, wild things. Livvy has a lot of me in her, as all my heroines do.
If you could give just one piece of advice to fellow writers what would it be?
Gosh, I wouldn't presume to advise other writers at my stage, but to new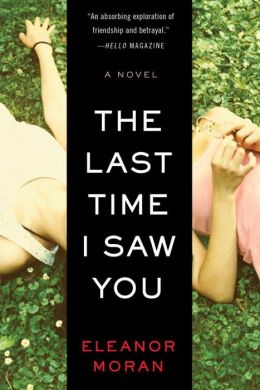 bies I would say… Do you know, I don't know! Understand the market, but don't be handcuffed by it, as you need to find your own voice.
Who are your favorite authors? Who has inspired your writing?
I adore Rebecca. Daphne Du Maurier found something universal, and then wrote a deeply specific story. Beautiful Ruins. Loved that. The Fault In Our Stars. The Help. Heartburn. The Time Traveler's Wife. For me it's the books about rounded, flawed characters doing their very best in believable ways. If you look at my website – eleanormoran.co.uk – I wrote about my 10 favorite love stories. And romantic films.
What's next? Are you working on your next book?
I am hard at work on book 5. It's about a young female psychotherapist who is forced to confront her past.
Visit Eleanor Moran's Website: http://www.eleanormoran.co.uk/
Follow Eleanor Moran on Twitter: @EleanorKMoran
GIVEAWAY:

Winner's choice of Print or e-copy of THE LAST TIME I SAW YOU
To enter Giveaway: Please complete the Rafflecopter form and post a comment:

Please leave a comment for the author on your thoughts about this book. 
Excerpt
"I know. I'm saving you from yourself."
He's towering over me, ruddy and damp from the gym,
smelling not of sweat or of aftershave, but of a smell peculiar
to him. He's gingery- blond, with a boyish lankiness that
suits the irrepressibility of his personality. He's bendy and
springy and unstoppable, constantly in motion, and yes,
before you ask, I'm more than a little bit in love with him. I
always have been, ever since he walked into my high school
politics class, his timing impeccable: my parents were in
the middle of their gruesome separation and I was ripe for
distraction.
James was an army brat, the youngest of three boys, and
the family had recently been transported to Northwood, the
boring north London suburb we lived in, which was dominated
by the naval base. A life spent being uprooted from place
after place could go two ways. For James, rather than making
him shy and mistrustful, it had given him the cast iron certainty
that he could walk into any situation and charm his
way to the very heart of it. It wasn't oiliness or manipulation,
it was pure self- belief combined with an innate knowledge
that he was attractive.
It was that age and stage where boys and girls fi rst peek
over the barricades and try out being "friends"— a funny
old version of friendship in which you can snog furiously
at a party one night and go back to being mates the very
next day. Or at least other people could do that. James and
I had one such night at school, an hour spent kissing in the
boys' cloakroom during the fi rst- year Christmas prom— it
was brief and clumsy and awkward, and yet I did nothing
but daydream about it for months, staring wistfully through
my clumsily applied eye makeup and playing "Wuthering
Heights" on a loop, while he remained utterly oblivious.

I hoped with every fi ber of my being that he'd come back to
me, that I'd be able to prove myself the second time around,
but he'd already moved on, climbed back aboard the romantic
merry- go- round and recast me as his long- lost sister.
That's not strictly true, there was one more time but now—
now is not the time to think about it. Sally whispers across
my consciousness but I push her away. Perhaps it's the ferocity
with which I suppress her that makes her continue to
surge up, like those schlocky horror fi lms where the hero
tries more and more elaborate methods to destroy the invincible
slasher.
James leans across me, digging the wooden spoon into
the pan and taking a greedy mouthful.
"Perfect," he says, grabbing a bottle of wine from the
fridge and plunking down plates on the table.
"It needs another ten minutes," I protest.
"Yeah but you've got a date."
It's yet another soul- destroying Internet date born out
of necessity— I'm thirty- fi ve, and most of my contemporaries
are coupled up, though not necessarily happily. Even
so, I don't think many of those discontented partners are
looking to roll the dice again, and even if they were, I never
envisioned being someone's diffi cult second album. I want
to be the answer to a question they've never been able to
phrase, for me to feel the same way about them, rather than
a compromise born out of a disappointment.
It's not like I haven't tried the compromise route. My last
proper boyfriend was a perfectly nice man called Marco
whom I met at a Christmas party a few months after my
sister Jules had got married. I was secretly, silently panicking,
and I managed to convince myself that I'd alighted
on my one true love, rather than admitting that it was the
romantic equivalent of a game of pin the tail on the donkey,
the two of us fl ailing around in the dark, desperate to
believe we'd somehow found the sweet spot. We moved in
together far too quickly, and immediately started arguing
about the kind of piffl ing, trifl ing things, like whether
the pepper should live on the table or in the "condiment
cupboard," that made it clear that when we had to make
decisions about things that really mattered, we wouldn't
survive. As I wept fat, salty tears of disappointment on
James's shoulder he came up with the brilliant suggestion
we should live together and here we are, eighteen months
on. He's an employment lawyer— unlike me, he easily earns
enough to live alone— but I think that he values having
someone to come home to just as much as I do.
By now he's shoveling the curry into his mouth like he's
rescuing a very, very small casualty who is trapped under
the rice.
"Let me have a look at him then."
"Who?"
I know perfectly well who.
"I'll get your laptop."
As he goes off to fi nd it, I try not to brood about the
unfairness of the fact that he doesn't have to submit himself
to this kind of indignity. Women just seem to appear
in his life, like fruit fl ies around a mango, and, while he's
not exactly a bastard, he's not exactly not. Take last month's
victim (Anita? Angela . . . something beginning with an A).
I met her shaking the last of my granola into a bowl. When I
futilely rattled the empty box she fashioned her mouth into
a theatrical "oh!" and promised to replace it. She was as
good as her word, leaving a replacement on my bed the very
next day with a sweet, fl owery postcard saying how much

she was looking forward to getting to know me better. No
time: before I'd got so much as halfway through it James
had fi nished with her, spooked by the seven individually
wrapped presents she'd lovingly bestowed for his birthday.
"How did she take it?" I asked, knowing from even those
brief fragments of contact how gutted she'd be. "It was like
shooting a fawn," he said, shoving his gym bag into a backpack,
and I thanked my lucky stars for how it had played out
between us.
It's not like I'm one of those weird masochists who marries
serial killers and gaily drowns out the sound of their
victim's screams with the vacuum cleaner: James as a
friend is a million miles away from James as a boyfriend.
He truly is my best friend— the only person in the world
that I'm as close to is Jules— and until I meet someone I feel
a real heart connection to I'm truly grateful to have him
there to shield me from the chill.
"Do you really want to go out?" he says, coming back
in, with my ancient laptop whirring into life between his
hands.
Of course I don't, what I want to do is slob out on the sofa
watching The Apprentice and getting drunk with the person
I like being with most in the world, but 365 more days
like that equals another whole year consigned to a loveless
wasteland.
"Yes," I say, slightly unconvincingly, "sort of." I'm fi ghting
to stop myself from melting in the face of his obvious
glee that I might nix my plans and stay in with him. "Anyway,
I have to."
"We haven't hung out for days," he says, turning the
machine toward me so I can log on, while he gives me
puppy- dog eyes from over the top of it.
"And whose fault is that?"
"I miss you," he says. "It's been a mad week. But here I
am, your willing slave, ready to go out and buy more wine
and watch Siralan kick some corporate butt."
"You know perfectly well he's Lord Sugar," I say, swiveling
the computer back toward him so he can check out Luke, a
quantity surveyor with kind eyes, who at this very moment
is probably sitting in his offi ce mentally rehearsing a few
witty opening gambits in his head. I hate Internet dating.
"Why are you meeting him so late?"
"I told him I'd probably get stuck in the offi ce."
"Or is it because he looks like the spawn of Mr. Baxter?"
"He does not!"
Mr. Baxter was our chubby, well- meaning history
teacher, whose sweaty hands invariably left a damp imprint
on your essay when he handed it back.
"Look at those cheeks. He's defi nitely got a bulimic hamster
vibe going on."
"Don't be mean!" I say, peering critically at his picture.
He's not madly good looking, it's true, but there's something
honest about his gaze, and I liked the way his profi le didn't
read like a psycho's shopping list of nonnegotiable attributes—
he sounded like a proper human being. Sounds.
"Just saying, Livvy, I don't think we've found the one."
It was half an hour later when I stepped out of the house,
having guiltily and inevitably canceled my date, and somehow
ended up volunteering to be the person to go to the
liquor store. James called me as I got to the end of the road.
"I know, I know. I won't get anything rank just because
it's on special."
"Livvy, you need to come home."
"I'll only be fi ve minutes."
"Seriously. Turn around now," he said, his voice shaking.
James never sounded like that.
"What is it?" Slivers of dread crawled down my back like
icy raindrops down a window pane. "Tell me."
"I'm just going to say it," he said, steeling himself.
"Sally's dead."
About the book:
When Olivia Berrington gets the call to tell her that her best friend from college has been killed in a car crash in New York, her life is turned upside down. Her relationship with Sally was an exhilarating roller coaster, until a shocking betrayal drove them apart. But if Sally really had turned her back, why is her little girl named after Olivia?
As questions mount about the fatal accident, Olivia is forced to go back and unravel their tangled history. But as Sally's secrets start to spill out, Olivia's left asking herself if the past is best kept buried.
THE LAST TIME I SAW YOU by ELEANOR MORAN
Quercus
April 1, 2014
$15.99, 400 pages
ISBN 978-1623651336