Today, HJ is pleased to share with you

Maddie Dawson's

new release: 

The Magic of Found Objects

From the bestselling author of Matchmaking for Beginners comes a feel-good story about becoming who you were meant to be all along.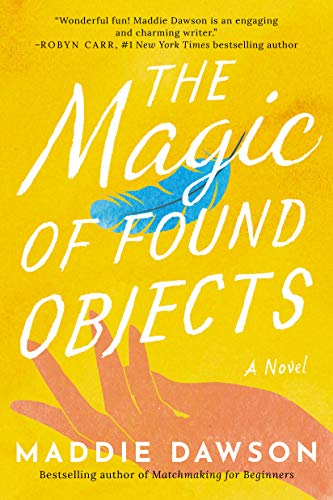 Phronsie Linnelle was conceived at Woodstock in a serendipitous liaison between a free-spirited hippie and a farmer's son and was born with magical wonder flickering in her DNA and rationality knit into her bones. All her life she's been torn between the two. But now that she's been betrayed by both love and the mother she once idolized, her rational side is winning.
So when her best friend from childhood proposes that they give up on romance and marry each other, Phronsie agrees. Who better to spend your life with than your best friend? Maybe the connection they already have is love. Maybe there's no falling to be done. But immediately after they announce their engagement, she encounters someone who makes a very charming and compelling argument for revisiting romance.
While her even-keeled stepmother argues for the safety that comes with her new engagement and her mother relays messages from the universe to hold out for true love, Phronsie must look to her own heart to find the answers that have been there all along.
Enjoy an exclusive excerpt from The Magic of Found Objects: A Novel 
I wake up the next day realizing I'm as close to a panic attack as I've been since Steve Hanover walked out on me. Mr. Swanky stares at me with his head tilted to the side, as I down two pharmaceutically required cups of coffee and start pacing around the apartment.
"Am I really considering marrying Judd?" I ask him. "Because that's insane, right?"
He lies down with his head on his paws. I can tell he's thinking it over.
"Well, you're right. I can't be serious. There are absolutely forty-nine obvious reasons not to marry him that I didn't even begin to think of last night."
As soon as it is even a remotely decent hour, I call Talia. She's married to Dennis, a surgical resident who works about nine thousand hours a month, so she'll be able to come up with at least a few reasons why marriage might not be the best thing ever.
"Not to alarm you or anything, but I'm afraid I'm having a possible psychological emergency," I say to her as soon as she answers. "Can you meet me at Franco's?"
"Oh my God," she says. "Do not tell me you're moving out of the city."
"No, no."
"And it can't be that you have an incurable disease either. Please. Although if you do have an incurable disease, forget I said that insensitive thing."
"No. It's good news. I think. It might be. I mean, you'll tell me if it is. It's about marriage."
"Okay. Don't give me any more details until I see you. If this is about one of your forty-three dates suddenly proposing marriage, I'm going to need some liquid fortification."
I see her immediately upon arrival at Franco's. She's dressed in an electric-blue tunic and leggings, with her red hair up in a bun, waving her arms in the air and calling, "Yoo-hoo!" She's managed to get our favorite table over by the window.
The waiter comes over to take our order—mimosas and cranberry scones, our usual—and as soon as he's gone, I put my napkin in my lap and say, as casually as I can, "So . . . it's Judd. He proposed to me last night."
"Holy shit!" she says. "I'm going to need about four of these drinks!" She studies my face. "Hmm. Let me think. Not saying he's the candidate I would have expected, but still . . . a good guy. I like him. Dennis likes him. As much as Dennis likes anybody who's not working at the hospital. So what brought this on, if I may ask?"
I give her the rundown of Judd's proposal: friendship over romance, no jealousy or drama, partners forever, babies, security, on and on. "It actually made a little bit of sense at the time, but then I couldn't sleep all night, and now I've had two cups of coffee, and I'm hyperventilating, and I just feel . . . crazy. I asked him what about being in love, and he said that hadn't worked out so well for me in the past, and that life shouldn't look like a romantic comedy, and if this companionship we have isn't love, then he doesn't want to live in the world anymore. Or something. I don't know what to do." I'm so tired I just want to put my head down on the table and rest awhile. "So, that's crazy, isn't it? Nobody should get married for those reasons. Right? This is nuts."
Talia is trying to hide a smile.
"Well, for starters, he has a little bit of a point," she says. "Call it what you will—love or friendship is all semantics—but I think it's possible that this has been the path you two have been on for years. It's just taken some wide detours. Like the Steve Hanover detour, for instance."
She leans closer. "Have you slept with him?"
"No! Judd's not—he's never acted like we were anything but pals."
"So you're saying you've never had sex with him. Never?"
"Never."
"Not even for boredom? Or availability? In all these years? Why not?"
"We haven't had sex because we . . . just haven't. It's not that kind of relationship."
She frowns. "Well, you're definitely going to want to make sure that part works before you sign on. He's not against it, is he? Oh my God, is he one of those guys who dates supermodels but actually he's really gay?"
"No. I know this dude. It's always been women for him."
"Okay, then. Well, you'll have sex with him, and then you'll know if you should marry him."
"It's probably going to be embarrassing. You know. Because we know each other so well . . . but haven't been attracted in that way. Last night he kissed me and all I could think of was that his nose hairs were tickling me. Is that a bad sign?"
"You just have to do a little mental adjustment. Move him out of the friend zone and into the hot boyfriend zone. It takes some imagination. Luckily, he's really handsome. And built. So it shouldn't be hard."
"Yeah. He is." I look down at my hands.
Talia sees my face and reaches over and touches my arm. "Honey. It's fine, trust me. Some love stories don't follow the usual trajectory. Also, for some people, sex isn't the main thing. Just jump his bones, and you'll see what's what."
"I guess so. I'm a little concerned, though. I want it to be hot sex. Everybody wants a life with hot sex. What if he's not attracted to me?"
Talia says, "Of course he's attracted to you. He wouldn't be suggesting you get married if he wasn't attracted to you." She folds her napkin. "Maybe it's time for me to let you in on a little secret. I hate to break it to you, but sex is not all that hot once you've been married for a couple
of years. And, also, really now, consider how little good sex you're actually getting in your life these days. You've been on forty-three of the craziest dates I've ever even heard of. Remember the guy who brought a rubber snake with him just to see if you were afraid of them? And the one who said he's on his tenth lifetime and that he thinks you were his naughty nursemaid back in the eighteen hundreds?"
"I know. It's been a bad run."
"Okay. So if you're asking, I think you should marry him," says Talia. "He'll be loyal to you for the rest of your life. He'll be like your own personal Saint Bernard. Unlike your stupid ex-husband, whom I would still like to go punch in the face, you can count on Judd."
We sit there in silence for a moment, me picturing all the tears I'd shed over Steve Hanover. And realizing how much I'd let that bad experience keep me from ever trusting again. Talia reaches over and takes my hand.
"I know, honey," she says. "Everything else aside, Judd makes you laugh, he loves the same movies you do, and he loves your dog, and—I think this is huge—he won't bring rubber snakes around you or try to get you to quit your job so you can take care of his every need. You
already like being with him, and that's worth everything. You're just having trouble letting your heart trust again. But Judd isn't going to break your heart, sweet pea. He wouldn't have asked you to marry him if he didn't truly want to spend his life with you. He's a grown-up, and
he's dated enough that he knows what he wants, and it's not supermodels. It's you."
I wipe away a stray tear. "And I can have a baby," I say.
She sees my face. "And you can have a baby. Only don't move to New Jersey when you do, unless I'm going there, too."

It's a beautiful fall day, and so I walk through the park to my offce. I need to pick up a file about the proposed book tour for one of my more controversial authors. But mostly I'm heading there because I love going in on Saturdays and working on my novel when it's just me. I can sit at my desk and type for hours without interruption; no Mr. Swanky to ask to go in and out, no coffee shop patrons talking out loud next to me. No people. Just me and my novel.
But then suddenly I find myself next to a playground, which feels very auspicious, filled as it is with adorable little humans, all running and laughing and shouting.
And their parents—ah, the parents seem to me to be beautiful, stylish-looking, well-adjusted adults—both men and women—holding paper cups of coffee and talking and smiling.
I am going to belong here. I'm going to be one of those women pushing a stroller with a new baby in it, while my adorable little boy runs over to the climbing structure—he's just like his father, loves to climb. That's what I'll say to the mom next to me, as I take the baby out of her stroller, and I'll smile down at the baby as she curls her little fist around my finger and coos. And that night, Judd will give them a bath while I cook dinner, and then while he does the dishes (he loves to do dishes), I'll put the children to bed and sniff their sweet-smelling hair and nuzzle their soft little cheeks, and then I'll work on my novel, propped up on pillows on our bed, while Judd—well, I don't know what Judd is doing. Push-ups in the living room or something. Figuring out somebody's physical fitness plan.
Last year when my friend Sarah told me that she couldn't take her eyes off babies everywhere she went, I was like, "But why?" And she gave me a funny look and said, "Because they're so cute. And they're the future and the meaning of life, and I love the way their cheeks are so fat, and the way they have such goofy smiles, and . . ." And she went on for a lot longer than was absolutely necessary, listing every little thing about babies she could think of, even expounding about their toes and their eyelashes, until we reached the subway and I had to say good-bye to her. And when I got on the A train and settled into my seat, I felt like I'd just escaped from a very boring movie or a political rally by a not-very-galvanizing candidate.
But now. Now I get exactly what she was talking about. I really could get married to Judd. All I have to do is make a few minor, minor adjustments to my expectations, a few tweaks—and we could be just like these parents, right here in the park.
I watch for a few more delicious minutes, and then I tear myself
away.
Excerpt. ©Maddie Dawson. Posted by arrangement with the publisher. All rights reserved.


Giveaway:

A print copy of The Magic of Found Objects by Maddie Dawson
To enter Giveaway: Please complete the Rafflecopter form and post a comment to this Q:

What did you think of the excerpt spotlighted here? Leave a comment with your thoughts on the book…
Meet the Author:
Maddie Dawson grew up in the South, born into a family of outrageous storytellers. Her various careers as a substitute English teacher, department-store clerk, medical-records typist, waitress, cat sitter, wedding-invitation-company receptionist, nanny, day care worker, electrocardiogram technician, and Taco Bell taco maker were made bearable by thinking up stories as she worked. Today Maddie lives in Guilford, Connecticut, with her husband. She's the bestselling author of seven previous novels: A Happy Catastrophe, Matchmaking for Beginners, The Survivor's Guide to Family Happiness, The Opposite of Maybe, The Stuff That Never Happened, Kissing Games of the World, and A Piece of Normal. For more information visit https://maddiedawson.com/.
Buy: Amazon