Today it is my pleasure to welcome back Harlequin romance author 

Melissa McClone

to HJ
Melissa welcome, For all my readers who may not be familiar with your work, could you tell us a bit about yourself and your books?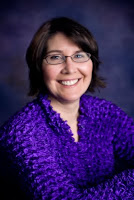 I'm from the Pacific Northwest, married with three children, two dogs and lots of cats. I'm a former mechanical engineer turned stay-at-home mom/writer. I write contemporary romance for the Harlequin Romance line. My books are category romance and would be considered "sweet" though there is sexual tension.
Please summarize your latest release The Man Behind the Pinstripes for the readers here ….
The Man Behind the Pinstripes is about a two people with trust issues. Caleb Fairchild is the CEO of his family's skincare company. Becca Taylor is a dog handler. Both have been wronged in the past and are wary about letting down their guard. Here's the back cover copy:
His pinstripe suit is normally his armor…
Becca Taylor has worked hard to overcome her troubled past and start a new life. But when Caleb Fairchild marches into her life, the instant attraction between them is the last thing she needs!
CEO Caleb has learned the hard way not to suffer fools and to be careful of whom to trust. Why should Becca, gorgeous as she is, be any different? But he can't help but be drawn to her, to want to get close to her. So when her secrets are blown out into the open, betrayal seems inevitable. Unless the truth can start to crack the iron walls he's built around his heart.…
Please introduce to HJ readers your character

Caleb Fairchild

from your novel

The Man Behind the Pinstripes
How would you describe Character in one sentence?
Caleb is ultra-responsible and watches out for everyone in his life from his family to his employees.
What is his strongest character trait? Weakest?
I think his strongest character trait—being so responsible—is also his weakest because he oversteps, butting into others' lives, and he also overthinks what he should be doing.
What does your character do for a living?
Caleb is CEO of Fair Face, his family's skincare company.
Is your character ruled by emotion or logic or some combination thereof?
Caleb would say he's ruled by logic, but he's really ruled by emotion masked as logic due to what's happened to him in the past.
Who is your character's Love interest in the book?
Becca Taylor is a woman trying to rebuild her life after getting out of prison. Her parents and lawyer convinced her to accept a plea bargain, even though she wasn't guilty. Becca's a certified veterinary technician and shows dogs. Her dream is to be a fulltime professional dog handler. She much prefers the company of four-footed, fur-covered friends to humans.
Was it love at first sight for your character? If not what was the pivotal moment of change?
It was not love at first site. Caleb wanted nothing more than to get Becca away from his grandmother. He thought she was a scammer/con artist.
The pivotal moment of change occurred when Becca was completely honest with Caleb about her past mistakes, even though she knew he would likely hold them against her.
If you character could go back in time and change one thing what would it be? Why?
Caleb would change having proposed to his ex-fiancée. He would likely go back and change that he'd ever met her. She was only using him and marrying him for his money, the same as his mother did with his father, but Caleb couldn't see that for himself. He feels stupid for falling for her tricks and almost repeating his father's mistake.
How has your character evolved from when the novel began to when it ended?
Caleb realizes he doesn't have to take care of everyone, but can allow someone to take care of him now. He also learns that you can't always mitigate risk, especially in matters of the heart. He must trust himself and others.
If your character had a free day and your his/her mission was to enjoy themselves what would he/she do?
Before meeting Becca, he would have gone into the office and worked. After Becca, he would have grabbed a picnic and gone to a park with her and a couple of his grandmother's dogs.
How did your character spend the week just before the story starts?
Caleb spent the week working, preparing for the upcoming launch of his company's new baby skin care line.
What are you currently working on? What other releases so you have planned for 2013?
I'm currently working on a new series set in a small town on the Washington coast, featuring a large family. I have one more release in November 2013. A Little Bit of Holiday Magic is a Christmas book set on Mount Hood featuring a fire fighter/mountain rescue volunteer hero and the widow of an Army Ranger.
Where can readers get in touch with you?
My website: http://www.melissamcclone.com
Facebook: http://www.facebook.com/MelissaMcCloneBooks
Twitter: http://www.twitter.com/melissamcclone
Thank you for stopping by HJ!
Giveaway: $10 amazon card.
To enter giveaway: Please complete the Rafflecopter form and leave a comment for Melissa.
An excerpt:
The sun's rays warmed Becca Taylor's cheeks. The sweet scent of roses floated on the air. She walked across the manicured lawn in Gertie's backyard with two dogs—Maurice, a Norwegian elkhound, and Snowy, a bichon frise.

The two show dogs sniffed the ground, looking for any dropped treats or a place to do their business.

She tucked her cellphone into her shorts pocket. "Don't get sidetracked, boys. Gertie is waiting for us on the patio."

Becca had no idea what her boss wanted. She didn't care.

Gertie had rescued Becca the same way she'd rescued the foster dogs living at the estate. This was only a temporary place, but being here gave them hope of finding a forever home.

Maurice's ears perked.

"Do you hear Gertie?"

The two dogs ran in the direction of the patio.

Becca quickened her pace. She rounded a corner.

Gertie and a man sat at the teak table underneath the shade of the umbrella. Five dogs vied for attention, paws pounding on the pavement. Gertie waved.

The man next to her turned around.

Whoa. Hello, Mr. Gorgeous.

Tingles skittered from Becca's stomach to her fingertips.

None of the dogs growled or barked at the guy. Points in his favor. Dogs were the best judges of character, much better than hers.

She walked onto the patio.

The man stood.

Another wave of tingles made the rounds.

Most guys she knew didn't stand. Didn't open doors. Didn't leave the toilet seat down. This man had been raised right.

He was handsome with classical features—high cheekbones, straight nose, strong jawline. The kind of handsome women showed off to girlfriends.

The man stepped away from the table, angling his body toward her. His navy pinstriped suit was tailored, accentuating wide shoulders and tapering nicely at the hips. He moved with the grace of an athlete, making her wonder if he had sexy abdominal muscles underneath.

Very nice packaging.

Well, except for his hair.

His short, cookie-cutter, corporate hairstyle could be seen walking out of every high rise in downtown Boise. With such a gorgeous face, the man's light brown hair should be longer, a little mussed, sexy and carefree, instead of something so…businesslike.

Not that his hair mattered to Becca. Or anything about him.

His top-of-the-line suit shouted one thing—Best in Show.

She might be a dog handler, but she didn't handle his type.

They didn't belong in the same ring.

She'd tried playing with the top dogs, the wealthy dogs, once before and landed in the doghouse, aka jail.

Never again.

But looking never hurt anybody.

Gertie looked up from the dogs at her feet. "Becca. There's someone I want you to meet."

He was tall, over six feet. The top of her head came to the tip of his nose.

Becca took two steps closer. "Hello."

His green eyes reminded her of jade, a bit cool for her taste, but hey, no one was perfect. His eyelashes more than made up for whatever reserve she saw reflected in his gaze. If she had thick, dark lashes like his she would never need to buy mascara again.

She wiped her hand on her shorts then extended her arm. "I'm Becca Taylor."

His grip was strong, his skin warm.

A burst of heat shot up her arm and pulsed through her veins.

"Caleb Fairchild." His rich voice reminded her of melted chocolate, rich and smooth and tasty.

Wait a minute. Fairchild. That meant he was…

"My grandson," Gertie said.

The man who could make Becca's dream of working as a full-time dog handler come true.