Today it is my pleasure to welcome New York Times and USA TODAY bestselling author

Kristan Higgins

to HJ!
Hi Kristan, welcome to HJ!
What would you say are the defining characteristic of your Novels?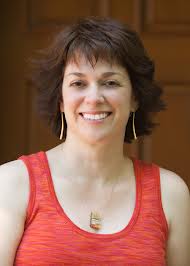 Humor, definitely, and a lot of emotional depth. Family involvement, food, beautiful, realistic settings; I don't idealize anything too much. Characters who feel like your friends.
5 Random facts about you?
1. I'm a middle child with all the inherent insecurities attached to that.
2. I wanted to be a doctor and somehow became a romance writer instead.
3. I can parallel park like a god.
4. But I can't for the life of me pull straight into a regular parking spot.
5. I was engaged to McIrish six weeks after our first date.
What is your favorite trope to read, one you will never get tired of?
I love any situation in which the hero and heroine are legitimately stuck in a small space together, be it tiny motel room or elevator, and they're fighting. What could be more fun than that?
If you were a heroine in a book, your character would be – The girl next door, the damsel in distress, Kick-butt take charge heroine or the aloof ice queen and why?
I'd like to be the mouthy, blunt friend. Probably because I tend to be a mouthy, blunt friend. ; )
What are you currently reading?
The Newcomer by Robyn Carr, and Life After Life by Jill McCorkle. I'm usually reading several books simultaneously.
About your New Release: The Perfect Match
If you had to summarize The Perfect Match for the readers here ….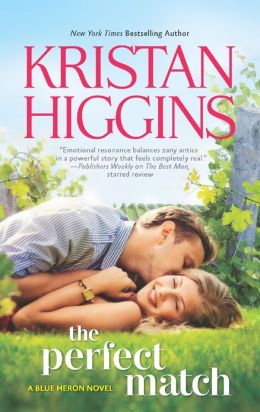 When Honor Holland's first (and only) love proposes to her best friend, desperate measures are called for. Honor agrees to meet Tom Barlow, a man looking for a wife. With no better prospects on the horizon, and because Tom isn't as much of an ass as he seems to be at first meeting, Honor figures what the heck? It's not like someone better is waiting in the wings.
Please tell us about the characters in your book.
Honor is like a lot of us—she's engrossed in her work, works too much, and always thought she'd have settled down by now. She's very matter-of-fact, a problem-solver and a closet romantic…something she tries not to acknowledge. As for lovely Tom, he's British, extremely irreverent and completely devoted to a horrible teenager named Charlie. He's a hard person to get to know, but he's a lot of fun to be around. And he's wicked, wicked hot.
What scene did you have most fun writing? Why?
I love the scene where Tom and Honor meet for the second time. Honor's just been given some devastating news by Brogan, her first love, and she needs the Marines to come to the rescue, as it were. And there's Tom, who's completely willing to play the part of her boyfriend. I loved it because Tom's such a flirt, and so good at this kind of thing…and Honor is not.
Who would who cast in the role of hero and Heroine if your book was optioned for a movie?
Well, my celebrity crush for Tom was Tom Hardy (and yes, my Tom is named after Mr. Hardy…but it's a good, solid name, too). So I'd pick the lovely Tom Hardy, and for Honor, I'd go with Laura Linney, because she's got such an understated appeal and depth of character.
What are you currently working on? What other releases so you have planned for 2013?
I've got THE PERFECT MATCH on October 29th; THE NEXT BEST THING being reissued (and that's one of my favorites…Ethan Mirabelli is so wonderful, I defy readers not to fall deeply, deeply in love with him. Also, there's a lot of dessert in that book of the pastry kind).
As I write this blog, I'm finishing up WAITING ON YOU, the third Blue Heron novel, and the story of Colleen O'Rourke, the local expert on romance…except when it comes to her. She got burned years ago by Lucas Campbell, her first love, and when he comes back into town for a family emergency, the expert finds she's not quite as smooth as she thought…and maybe her first love deserves a second chance.
Where can readers get in touch with you?
www.kristanhiggins.com; www.Facebook.com/KristanHigginsBooks.
Thank you for stopping by HJ!
You're very welcome, Sara! Thanks for inviting me!
GIVEAWAY:

Signed copy of THE BEST MAN.
To enter Giveaway: Please complete the Rafflecopter form and post a comment to this Q: 

Have you ever met someone, disliked them at first and then found that they were completely different than they seemed? What made that first impression so wrong?
Excerpt:
The only trouble was that men were hard to find in a town of seven hundred and fifteen.
You know, it was funny. When Honor had seen Goggy's friend's nephew in the bar the other night, she…felt something. Her heart did this weird twist, and hope rose so quickly and so hard that she literally stopped in her tracks.
Tom Barlow wasn't middle-aged or odd-looking. He was…he was…well, not quite handsome. Straight brown hair cut very short. Normal enough features. But there was something about him—maybe it was just the surprise that he was actually age-appropriate and not a balding, big-toothed math teacher who smelled like mothballs—but no, even past that, Honor liked that face. It wasn't a perfect, beautiful face, like Brogan's, but she had the feeling she could look at that face for a long, long time and not get bored.
His eyes were dark, though she couldn't exactly tell the color, and a scar cut through one eyebrow, and even though she realized she shouldn't be aroused by the mark of some past injury, she kinda was. His mouth was full and―holy ChapStick, Batman, suddenly, she could see things happening between the two of them; she could feel a strong squeeze not just in her chest, but also from Down Under, the killer combination, and suddenly the eggs were primping in front of a mirror.
In a flash, Honor had imagined laughing with Tom Barlow about their fix-up and strange circumstances, and he'd be so grateful she came to meet him, and heck, what was this? A spark. A connection. He'd walk her to her car, then lean in and kiss her, and she'd bet both thumbs and a forefinger it'd be fantastic.
Tom Barlow had looked up. Smiled. His front tooth was just slightly crooked. For some reason, it made her knees go soft and weak, and those bridge-playing eggs of hers made a rush for the door.
And then he spoke, and thus died the fantasy.